From the keyboard of Thomas Lewis
Follow us on Facebook
Follow us on Twitter @Doomstead666
First published at The Daily Impact  September 28, 2014
I Hear America Rotting
She was elderly, spry, energetic, and she lived alone in the remains of a genteel Southern plantation, with its Tara-like mansion and sprawling lawns. She was not without means, but she was entirely without staff.  She was telling me how she had recently paved with flagstones the banks of a fairly sizable pond near the mansion's rear patio. Herself. Mightily impressed, I asked her what she did with her spare time. "Oh," she sighed, "I like to get a glass of iced tea and just sit out here and listen to the house rot."
Which is what we Americans have been doing since 1980, when we decided that taxes are evil and must never be raised again for any reason. We've been sitting around listening to the country rot. Here is what we've heard in the past few weeks:
1. Water Soluble Water Mains. On Friday, a water main break in Hollywood, California, sent nearly 10,000 gallons of water a minute gushing down Sunset Boulevard, one of the city's main thoroughfares. The 36-inch steel pipe was installed 98 years ago, and 57 years ago, in a cheapskate attempt to extend its life, it was lined with cement. Just two months ago, on the same street, a water-main rupture turned to swamp a large section of the campus of the University of California. For LA, just a day in the life: the city has three breaks a day in its 7,000 miles of aged water mains.  The whole country — most of whose water mains were built a century ago — experiences roughly 660 breaks a day.
And what is not breaking is leaking. Houston Texas, for example, estimates it is losing one quarter of its treated, potable water to hidden leaks from old pipe.
But LA is the poster child for America the Rotten; its sidewalks are buckling, its streets are pot-holed, its storm drains overwhelmed and the system that brings fresh water to the city needs $4 billion in maintenance. Increase the sales tax? Off the table. Increase the water rates? Not possible. And the breaks go on.
2. Rotting Roads. The video of an interstate-highway bridge in Minneapolis collapsing during rush hour, killing 13 people and injuring 145,  electrified the nation in 2007 — for about two news cycles. Then it was back onto the patio to listen to the roads rot. Since then, a buckling Interstate bridge near Seattle, a dangerously deteriorated Champlain Bridge between upstate New York and Vermont, and a suddenly tilting Interstate 95 bypass around Wilmington Delaware have done their best to drive home the point that the 60-year-old Interstate Highway system (for the most part, the best highways in the country)  is at the end of its lifespan, is carrying far more traffic than it was built for, and is not being repaired, let alone being replaced as needed.
3. Leaking Levees. A report just out from the American Society of Civil Engineers says that in the aftermath of Hurricanes Katrina and Sandy, the nation has failed to assess, let alone prepare for, the threat posed by floodwaters in an era of rising water and intensifying storms.
"We do not have a sound analysis of the potential risk to the nation from flooding," the report said. Congress authorized a national flood vulnerability assessment in 2007, but has provided no money for it. "We are operating in the dark as we continue to underfund our flood risk mapping program," the report said. "The public at large and many public officials clearly do not understand the risk we face." It said much of the nation's flood infrastructure, mostly levees, "remains in marginal condition and there is no realistic plan in place to deal with or improve these conditions."
"The question is." says one of the report's authors, "why aren't more people listening to what's been said about flood risk in report after report after report?"
Well, they are otherwise engaged. Sitting on their patios, listening to the country rot.
***
Miracle of the Loaves, Fishes and New Home Sales
First published at The Daily Impact  September 26, 2014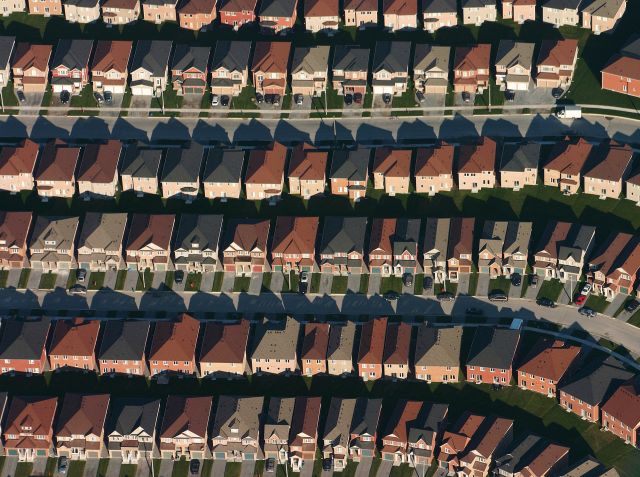 To call it a miracle is to misunderestimate it by at least an order of magnitude: according to the US Commerce Department, sales of new single family homes in August surged 18% from July, and 33% from last year, "offering confirmation," swooned CNBC, "that the housing recovery remains on course."
Even while humming its charming little refrain of "Happy," CNBC, like the many others who sang from the same sheet music, slipped in a few clunkers without elaborating or explaining: one, that new home sales account for only nine percent of the market, and thus (despite CNBC's offered confirmation) are hardly determinative; and two, that despite the rise in sales, the stock of new houses still unsold hit its highest level in four years. Wait, what? You sell more than you have in six years, and end up with more unsold inventory than you've had in four years?
Either somebody has been on an ungodly — and ill-advised — building binge, or somebody is cooking the numbers. It would take a quant to analyze the numbers themselves. For example, what does the Commerce Department mean, exactly, when it says its numbers are "seasonally adjusted?" And why does it admit to margins of error from 16.3% to 21.7%? 
What if, instead, one looked at KB Home, one of the largest builders of new homes in the country, to see how well they are doing in this six-year high? On the very day that the Commerce Department offered us all a hit on the recovery bong, KB Home lost ten percent of its share value after reporting third-quarter profits that were up four percent from last year.
Wait, what? They report increased earnings and take a major stock-market hit? Welcome to this side of the looking glass, Alice. The two problems with the earnings report were that it was much less than analysts expected, which on Wall Street is just one step shy of bankruptcy; and although earnings were up, the number of houses KB actually sold was down. Wait, what?
The average selling price of KB homes was up 9 percent over last year's third quarter — more than twice the increase in KB's profit. The number of homes KB sold dropped from 1825 in last year's Q3 to this year's 1793. Keep in mind that if you sell two million-dollar homes and one $200,000 home, the average price of the homes you sold is over $700,000. The demand for high-end homes has remained strong throughout the Great Recession, the problem is with the other 99 per cent.
As luck would have it, we have a report on that from RealtyTrac, out the same day as the hopium dream offered by the Commerce Department. August sales of all US residential properties were down half a percent from July and 16 per cent from a year ago. It was the fourth consecutive month of declining sales, offering confirmation that the housing recovery remains on course for hell in a handbasket.
It is becoming more and more obvious every day that high-end new homes cannot lead the market to recovery. KB specializes in the .o1 per cent, and has reached the point where its liabilities are about equal to its assets and its cash flow is positive only after filtering through a large team of creative accountants.
The only sense in which the housing recovery in the US remains on course is the sense in which, after its collision with the iceberg, the Titanic remained "on course" for New York.
***
Thomas Lewis is a nationally recognized and reviewed author of six books, a broadcaster, public speaker and advocate of sustainable living. He also is Editor of The Daily Impact website, and former artist-in-residence at Frostburg State University. He has written several books about collapse issues, including Brace for Impact and Tribulation. Learn more about them here.