From the keyboard of Surly1
Follow us on Twitter @doomstead666
Like us on Facebook
Composite Eclipse August 21, 2017 Copyright Impact Photography 2017
Originally published on the Doomstead Diner on August 27, 2017
---
"I've seen a total eclipse from every continent – including Antarctica. And it's been a wonderful way to see the world. The eclipses take you to really unusual, off-beat places that you might not normally plan a vacation to, but they're wonderful places to go."
–Fred Espenak​, Goddard Scientist Emeritus, and retired NASA astrophysicist
---
The Great Eclipse of 2017, the first total eclipse visible in the continental U.S. in over 38 years, first intruded upon my awareness toward the end of last year.
It was only during the spring that my plans began to crystallize. Photography being both my avocation and a part-time job, it occurred to me that if I did not make a good faith effort to get inside the zone of totality with a camera, I would regret it for the rest of my days. What kind of real photographer would not try? The die was cast.
So how do you photograph the sun? You need a filter and a long lens, plus a tripod. I read articles to learn how.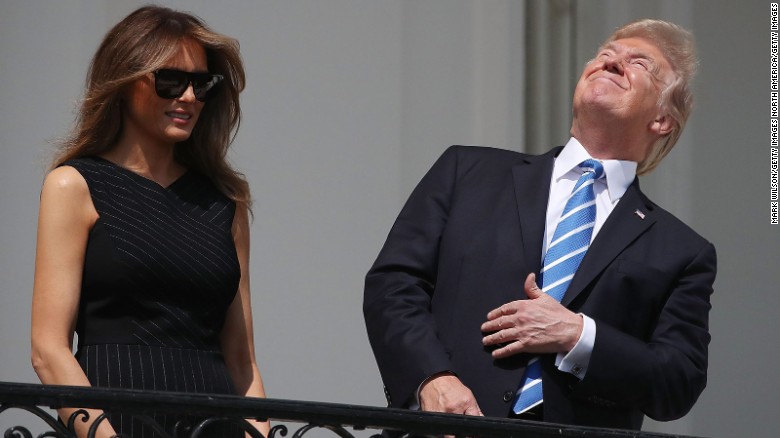 You have to start with a solar filter. Even if 99% of the sun is covered by the moon, the remaining 1% is dangerous to view with the naked eye and can damage eyes or cause blindness, no matter what Orange Twitler did.
There are several options, including cheap filter sheets. Full-aperture solar filters are preferred because the filter completely covers the front of the lens. Even though expensive, I decided to suck it up and purchase a 77mm solar filter, an "ND100000," which refers to the neutral density filter factor in play. Welder's visor, indeed. It fit perfectly on my Nikkor 70-200mm lens.
Totality is the only time it is safe to look directly at the event. So when shooting an eclipse it is important to remember that at totality you must REMOVE the filter to make exposures of the sun's corona.
Yes, my lens was only a 200mm. The smart kids or those with deeper pockets recommend shooting at focal lengths from 900mm (for a Nikon DX camera) to 1400mm for an FX (full frame sensor) camera. Longer lenses with good optics are hellishly expense, and someone who weighs whether or not to drop $100 on a filter will clearly balk at a four-figure purchase that will likely get limited use in the future. I even weighed purchasing a Nikkor teleconverter at the time I ordered the solar glasses and filter, but Jefferson on the nickel in my pocket shrieked and clung desperately. Later, when I decided to pull the trigger, none were to be had, all on backorder. So the disk images I would gather would be small.
Thus equipped, we drive to South Carolina. I had hoped to catch Lucid Dreams and Gypsy Mama since we were at least in the same state, but they had relatives visiting and were not available. So we made our way to Fort Mill, SC, near where Contrary's son and family live.
I-85 south was being "improved," with traffic restricted to one lane in either direction. We had the opportunity to stand for several hours in this unmoving mess, and as we inched forward, we eventually learned why. Three large SUVs and trucks, all late model, were wedged up against the jersey wall amidst a shower of fiberglass, fenders, torn tires, and broken dreams, an evident case of jockeying for some imaginary advantage due to testosterone poisoning. When we eventually arrived in Fort Mill after the ninth hour of our six hour ride, our hotelier made us welcome with effusive good humor, for which one weary traveler was grateful.
The next day, Contrary's son Adam joined us so the boys could swim in the hotel pool and we could enjoy a civilized cocktail. My original plan, informed only by looking at maps, was to head toward Columbia, nearly dead center in the zone of totality. It dawned on me that I might not be the only person to have that thought, and that the highways might offer a Mad Max traffic scenario. So we determined to head southwest, which would put us more quickly in the zone of totality and might relieve us from some of the crowds. Adam determined that Laurens County in rural SC had a park which might offer a good place to view. A park is important for old people because bathrooms. Also because kids need something to do while waiting. A plan unfolded.
The next day we got there about five hours ahead of the eclipse, and a number of people were already ensconced under tarps and in chairs. We were able to commandeer a picnic table under a large tree, offering shade and proximity to those all-important bathrooms. We unloaded our gear, set up and wait.
An eclipse is a slow motion phenomenon as the disc of the moon slowly nibbles at the solar orb. I brought the camera out and found myself wrestling with it. One has to point it alost straight up in the air, a position which makes framing problematic. I tried to solve this my using the "live view" (video display) mode on the back of the camera. Viewing an LCD screen in bright sunlight while wearing a white shirt is virtually impossible. So I attempted to re-rig the tripod to shoot in a seated position, a position which worked except for the unfortunate tendency of the tripod to tip backwards towards me at all times. SO I held the tripod in place with one hand, while triggering my remote shutter release with the other. And I made a few images.
One of the things the experts will tell you is the importance of bracketing your exposures. Writing for Nikon, Fred Espenak recommends:
Shoot the mid-day sun at a fixed aperture, (choose an aperture between f/8 and f/16) using every shutter speed from 1/4000 second to 1/30 second. Looking at the exposures, choose the best shutter speed/aperture combination and use them to photograph the partial phases of the solar eclipse. Your camera's histogram function is an excellent way to evaluate the best exposure.
And so I did.
Diamond Ring 1 Copyright Impact Photography 2017
Near totality Copyright Impact Photography 2017
Totality 8-21 Copyright Impact Photography 2017
The Laurens County location proved a good choice, but on the drive home as we joined a major northbound highway, traffic looked like the road out of Kuwait after the first Gulf War. Siri took us off the beaten path on some old bootlegger roads and around the press of traffic. Contrary and I were having a celebratory toddy before dinner when her son called. He was ahead of us in traffic, and still stuck. They took another 90 minutes to get home. Had the good sense to engage and listen to our onboard AI.
In the scheme of things, a minor adventure and a successful short trip.
---
So aside from some decent images, what did it all mean? This tally from Inc.:
Travel
Besides the 12 million people who already live in the path of totality, many people were expected to travel to those areas with the best viewing. Estimates in advance of the eclipse were that between 1.8 and 7.4 million people would travel to the eclipse zone. There was concern that this interest would create massive traffic problems.

Overall, the travel industry came out on top as winners. There was a spike in the hotel and other tourism businesses.
Certainly the case for us.
Viewers
Even if you couldn't make it in person, you were able to view the total eclipse as it made its way across the country. This was due to a live broadcast from NASA. According to their reports, as many as 40 million people tuned in on TV or online to watch the event.
Some estimates had 70 million travelers moving in and out of the zone of totality. It seemed that half of them were on the roads in SC.
Eclipse Glasses
It is estimated 207,000 pairs of these glasses were sold just through their network of Amazon sellers. That would mean almost seven million eclipse glasses were sold just through Amazon alone.

SellerCloud also reported the average selling price for each unit was over $7. However, in the days leading up to the eclipse, the price increased due to demand and product scarcity.
I had the good sense to order several sets of eclipse glasses early, enough for us and our family, plus a supplemental paper set for my employees who would be viewing a partial eclipse back home. Am glad I did. In spite of rumors that some were substandard, ours worked fine.
Scientific Research
The eclipse was also a great opportunity for scientists. This eclipse was the only chance to view the sun's corona, also known as the outer layer. Thousands of scientists traveled to the eclipse path to photograph the sun during totality. This opportunity required billions of dollars' worth of equipment.

Cameras, telescopes, balloons, and supersonic jets were used to conduct experiments and gather data during the few minutes of total darkness.
This bonanza of data gathered will keep scientists busy for years to come.
Future Eclipses
The next visible eclipse in the U.S. is seven years away. It will occur on April 8, 2024. The path of that eclipse will span Texas to Maine, crossing through the South, Midwest, the Great Lakes, and New England.

There will be even people along its path as it crosses major metropolitan areas, such as Dallas, Cleveland, and Buffalo.
Assuming I'm still alive and able to walk, Contrary and I will be in Buffalo in April for the next one.
In speaking with those who stayed home, there is a profound difference from viewing a total eclipse. In totality the temperature drops, the disc is totally up obscured, and at long last the corona of the sun is visible as the moon blocks old Sol. Even though it only lasts for two minutes and 40 seconds, it is an experience unlike any other. Animals behave oddly; crickets begin chirping in earnest; odd light phenomena occur, and the horizon is lit as if in sunset, but without sunset colors.
A total eclipse is a bucket list item as as moving as it Is ephemeral. If you have the opportunity in 2024, don't miss it.
---
Surly1 is an administrator and contributing author to Doomstead Diner. He is the author of numerous rants, screeds and spittle-flecked invective here and elsewhere, and was active in the Occupy movement. He lives in Southeastern Virginia with his wife Contrary. He will have failed if not eventually blocked by Twitler.