Off the keyboard of Jim Quinn
Follow us on Twitter @doomstead666
Friend us on Facebook
Published on The Burning Platform on May 25, 2014
Discuss this article at the Economics Table inside the Diner
The definition of death rattle is a sound often produced by someone who is near death when fluids such as saliva and bronchial secretions accumulate in the throat and upper chest. The person can't swallow and emits a deepening wheezing sound as they gasp for breath. This can go on for two or three days before death relieves them of their misery. The American retail industry is emitting an unmistakable wheezing sound as a long slow painful death approaches.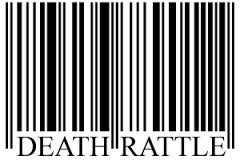 It was exactly four months ago when I wrote THE RETAIL DEATH RATTLE. Here are a few terse anecdotes from that article:
The absolute collapse in retail visitor counts is the warning siren that this country is about to collide with the reality Americans have run out of time, money, jobs, and illusions. The exponential growth model, built upon a never ending flow of consumer credit and an endless supply of cheap fuel, has reached its limit of growth. The titans of Wall Street and their puppets in Washington D.C. have wrung every drop of faux wealth from the dying middle class. There are nothing left but withering carcasses and bleached bones.
Once the Wall Street created fraud collapsed and the waves of delusion subsided, retailers have been revealed to be swimming naked. Their relentless expansion, based on exponential growth, cannibalized itself, new store construction ground to a halt, sales and profits have declined, and the inevitable closing of thousands of stores has begun.
The implications of this long and winding road to ruin are far reaching. Store closings so far have only been a ripple compared to the tsunami coming to right size the industry for a future of declining spending. Over the next five to ten years, tens of thousands of stores will be shuttered. Companies like JC Penney, Sears and Radio Shack will go bankrupt and become historical footnotes. Considering retail employment is lower today than it was in 2002 before the massive retail expansion, the future will see in excess of 1 million retail workers lose their jobs. Bernanke and the Feds have allowed real estate mall owners to roll over non-performing loans and pretend they are generating enough rental income to cover their loan obligations. As more stores go dark, this little game of extend and pretend will come to an end.
Retail store results for the 1st quarter of 2014 have been rolling in over the last week. It seems the hideous government reported retail sales results over the last six months are being confirmed by the dying bricks and mortar mega-chains. In case you missed the corporate mainstream media not reporting the facts and doing their usual positive spin, here are the absolutely dreadful headlines:
Wal-Mart Profit Plunges By $220 Million as US Store Traffic Declines by 1.4%
Target Profit Plunges by $80 Million, 16% Lower Than 2013, as Store Traffic Declines by 2.3%
Sears Loses $358 Million in First Quarter as Comparable Store Sales at Sears Plunge by 7.8% and Sales at Kmart Plunge by 5.1%
JC Penney Thrilled With Loss of Only $358 Million For the Quarter
Kohl's Operating Income Plunges by 17% as Comparable Sales Decline by 3.4%
Costco Profit Declines by $84 Million as Comp Store Sales Only Increase by 2%
Staples Profit Plunges by 44% as Sales Collapse and Closing Hundreds of Stores
Gap Income Drops 22% as Same Store Sales Fall
American Eagle Profits Tumble 86%, Will Close 150 Stores
Aeropostale Losses $77 Million as Sales Collapse by 12%
Best Buy Sales Decline by $300 Million as Margins Decline and Comparable Store Sales Decline by 1.3%
Macy's Profit Flat as Comparable Store Sales decline by 1.4%
Dollar General Profit Plummets by 40% as Comp Store Sales Decline by 3.8%
Urban Outfitters Earnings Collapse by 20% as Sales Stagnate
McDonalds Earnings Fall by $66 Million as US Comp Sales Fall by 1.7%
Darden Profit Collapses by 30% as Same Restaurant Sales Plunge by 5.6% and Company Selling Red Lobster
TJX Misses Earnings Expectations as Sales & Earnings Flat
Dick's Misses Earnings Expectations as Golf Store Sales Plummet
Home Depot Misses Earnings Expectations as Customer Traffic Only Rises by 2.2%
Lowes Misses Earnings Expectations as Customer Traffic was Flat
Of course, those headlines were never reported. I went to each earnings report and gathered the info that should have been reported by the CNBC bimbos and hacks. Anything you heard surely had a Wall Street spin attached, like the standard BETTER THAN EXPECTED. I love that one. At the start of the quarter the Wall Street shysters post earnings expectations. As the quarter progresses, the company whispers the bad news to Wall Street and the earnings expectations are lowered. Then the company beats the lowered earnings expectation by a penny and the Wall Street scum hail it as a great achievement.  The muppets must be sacrificed to sustain the Wall Street bonus pool. Wall Street investment bank geniuses rated JC Penney a buy from $85 per share in 2007 all the way down to $5 a share in 2013. No more needs to be said about Wall Street "analysis".
It seems even the lowered expectation scam hasn't worked this time. U.S. retailer profits have missed lowered expectations by the most in 13 years. They generally "beat" expectations by 3% when the game is being played properly. They've missed expectations in the 1st quarter by 3.2%, the worst miss since the fourth quarter of 2000. If my memory serves me right, I believe the economy entered recession shortly thereafter. The brilliant Ivy League trained Wall Street MBAs, earning high six digit salaries on Wall Street, predicted a 13% increase in retailer profits for the first quarter. A monkey with a magic 8 ball could do a better job than these Wall Street big swinging dicks.
The highly compensated flunkies who sit in the corner CEO office of the mega-retail chains trotted out the usual drivel about cold and snowy winter weather and looking forward to tremendous success over the remainder of the year. How do these excuse machine CEO's explain the success of many high end retailers during the first quarter? Doesn't weather impact stores that cater to the .01%? The continued unrelenting decline in profits of retailers, dependent upon the working class, couldn't have anything to do with this chart? It seems only the oligarchs have made much progress over the last four decades.
Retail CEO gurus all think they have a master plan to revive sales. I'll let you in on a secret. They don't really have a plan. They have no idea why they experienced tremendous success from 2000 through 2007, and why their businesses have not revived since the 2008 financial collapse. Retail CEOs are not the sharpest tools in the shed. They were born on third base and thought they hit a triple. Now they are stranded there, with no hope of getting home. They should be figuring out how to position themselves for the multi-year contraction in sales, but their egos and hubris will keep them from taking the actions necessary to keep their companies afloat in the next decade. Bankruptcy awaits. The front line workers will be shit canned and the CEO will get a golden parachute. It's the American way.
The secret to retail success before 2007 was: create or copy a successful concept; get Wall Street financing and go public ASAP; source all your inventory from Far East slave labor factories; hire thousands of minimum wage level workers to process transactions; build hundreds of new stores every year to cover up the fact the existing stores had deteriorating performance; convince millions of gullible dupes to buy cheap Chinese shit they didn't need with money they didn't have; and pretend this didn't solely rely upon cheap easy debt pumped into the veins of American consumers by the Federal Reserve and their Wall Street bank owners. The financial crisis in 2008 revealed everyone was swimming naked, when the tide of easy credit subsided.
The pundits, politicians and delusional retail CEOs continue to await the revival of retail sales as if reality doesn't exist. The 1 million retail stores, 109,000 shopping centers, and nearly 15 billion square feet of retail space for an aging, increasingly impoverished, and savings poor populace might be a tad too much and will require a slight downsizing – say 3 or 4 billion square feet. Considering the debt fueled frenzy from 2000 through 2008 added 2.7 billion square feet to our suburban sprawl concrete landscape, a divestiture of that foolish investment will be the floor. If you think there are a lot of SPACE AVAILABLE signs dotting the countryside, you ain't seen nothing yet. The mega-chains have already halted all expansion. That was the first step. The weaker players like Radio Shack, Sears, Family Dollar, Coldwater Creek, Staples, Barnes & Noble, Blockbuster and dozens of others are already closing stores by the hundreds. Thousands more will follow.
This isn't some doom and gloom prediction based on nothing but my opinion. This is the inevitable result of demographic certainties, unequivocal data, and the consequences of a retailer herd mentality and lemming like behavior of consumers. The open and shut case for further shuttering of 3 to 4 billion square feet of retail is as follows:
There is 47 square feet of retail space per person in America. This is 8 times as much as any other country on earth. This is up from 38 square feet in 2005; 30 square feet in 2000; 19 square feet in 1990; and 4 square feet in 1960. If we just revert to 2005 levels, 3 billion square feet would need to go dark. Does that sound outrageous?
Annual consumer expenditures by those over 65 years old drop by 40% from their highest spending years from 45 to 54 years old. The number of Americans turning 65 will increase by 10,000 per day for the next 16 years. There were 35 million Americans over 65 in 2000, accounting for 12% of the total population. By 2030 there will be 70 million Americans over 65, accounting for 20% of the total population. Do you think that bodes well for retailers?
Half of Americans between the ages of 50 and 64 have no retirement savings. The other half has accumulated $52,000 or less. It seems the debt financed consumer product orgy of the last two decades has left most people nearly penniless. More than 50% of workers aged 25 to 44 report they have less than $10,000 of total savings.
The lack of retirement and general savings is reflected in the historically low personal savings rate of a miniscule 3.8%. Before the materialistic frenzy of the last couple decades, rational Americans used to save 10% or more of their personal income. With virtually no savings as they approach their retirement years and an already extremely low savings rate, do retail CEOs really see a spending revival on the horizon?
If you thought the savings rate was so low because consumers are flush with cash and so optimistic about their job prospects they are unconcerned about the need to save for a rainy day, you would be wrong. It has been raining for the last 14 years. Real median household income is 7.5% lower today than it was in 2001. Retailers added 2.7 billion square feet of retail space as real household income fell. Sounds rational.
This decline in household income may have something to do with the labor participation rate plummeting to the lowest level since 1978. There are 247.4 million working age Americans and only 145.7 million of them employed (19 million part-time; 9 million self-employed; 20 million employed by the government). There are 92 million Americans, who according to the government have willingly left the workforce, up by 13.3 million since 2007 when over 146 million Americans were employed. You'd have to be a brainless twit to believe the unemployment rate is really 6.3% today. Retail sales would be booming if the unemployment rate was really that low.
With a 16.5% increase in working age Americans since 2000 and only a 6.5% increase in employed Americans, along with declining real household income, an inquisitive person might wonder how retail sales were able to grow from $3.3 trillion in 2000 to $5.1 trillion in 2013 – a 55% increase. You need to look no further than your friendly Too Big To Trust Wall Street banks for the answer. In the olden days of the 1970s and early 1980s Americans put 10% to 20% down to buy a house and then systematically built up equity by making their monthly payments. The Ivy League financial engineers created "exotic" (toxic) mortgage products requiring no money down, no principal payments, and no proof you could make a payment, in their control fraud scheme to fleece the American sheeple. Their propaganda machine convinced millions more to use their homes as an ATM, because home prices never drop. Just ask Ben Bernanke. Even after the Bernanke/Blackrock fake housing recovery (actual mortgage originations now at 1978 levels) household real estate percent equity is barely above 50%, well below the 70% levels before the Wall Street induced debt debacle. With the housing market about to head south again, the home equity ATM will have an Out of Order sign on it.
We hear the endless drivel from disingenuous Keynesian nitwits about government and consumer austerity being the cause of our stagnating economy. My definition of austerity would be an actual reduction in spending and debt accumulation. It seems during this time of austerity total credit market debt has RISEN from $53.5 trillion in 2009 to $59 trillion today. Not exactly austere, as the Federal government adds $2.2 billion PER DAY to the national debt, saddling future generations with the bill for our inability to confront reality. The American consumer has not retrenched, as the CNBC bimbos and bozos would have you believe. Consumer credit reached an all-time high of $3.14 trillion in March, up from $2.52 trillion in 2010. That doesn't sound too austere to me. Of course, this increase is solely due to Obamanomics and Bernanke's $3 trillion gift to his Wall Street owners. The doling out of $645 billion to subprime college "students" and subprime auto "buyers" since 2010 accounts for more than 100% of the increase. The losses on these asinine loans will be epic. Credit card debt has actually fallen as people realize it is their last lifeline. They are using credit cards to pay income taxes, real estate taxes, higher energy costs, higher food costs, and the other necessities of life.
The entire engineered "recovery" since 2009 has been nothing but a Federal Reserve/U.S. Treasury conceived, debt manufactured scam. These highly educated lackeys for the establishment have been tasked with keeping the U.S. Titanic afloat until the oligarchs can safely depart on the lifeboats with all the ship's jewels safely stowed in their pockets. There has been no housing recovery. There has been no jobs recovery. There has been no auto sales recovery. Giving a vehicle to someone with a 580 credit score with a 0% seven year loan is not a sale. It's a repossession in waiting. The government supplied student loans are going to functional illiterates who are majoring in texting, facebooking and twittering. Do you think these indebted University of Phoenix dropouts living in their parents' basements are going to spur a housing and retail sales recovery? This Keynesian "solution" was designed to produce the appearance of recovery, convince the masses to resume their debt based consumption, and add more treasure into the vaults of the Wall Street banks.
The master plan has failed miserably in reviving the economy. Savings, capital investment, and debt reduction are the necessary ingredients for a sustained healthy economic system. Debt based personal consumption of cheap foreign produced baubles & gadgets, $1 trillion government deficits to sustain the warfare/welfare state, along with a corrupt political and rigged financial system are the explosive concoction which will blow our economic system sky high. Facts can be ignored. Media propaganda can convince the willfully ignorant to remain so. The Federal Reserve can buy every Treasury bond issued to fund an out of control government. But eventually reality will shatter the delusions of millions as the debt based Ponzi scheme will run out of dupes and collapse in a flaming heap.
The inevitable shuttering of at least 3 billion square feet of retail space is a certainty. The aging demographics of the U.S. population, dire economic situation of both young and old, and sheer lunacy of the retail expansion since 2000, guarantee a future of ghost malls, decaying weed infested empty parking lots, retailer bankruptcies, real estate developer bankruptcies, massive loan losses for the banking industry, and the loss of millions of retail jobs. Since I always look for a silver lining in a black cloud, I predict a bright future for the SPACE AVAILABLE and GOING OUT OF BUSINESS sign making companies.
      In these northern climes, this turning into the year's final quarter feels written in the blood, or at least into the legacy code of culture. The leaves skitter across the streets in an early twilight, chill winds daunt man and dog, the landscape buttons itself up for the long sleep, and human activity moves indoors — including the arduous festivities around the spooky solstice. We take the comfort that we can in all that. But a strange torpor of event attends this year's turning. In the year's final happenings, nothing seems to happen, and what little does happen seems not to matter. The world sits with frayed nerves and hears a distant noise, which is the cosmic screw of history turning.
      The nation gets over everything without resolving anything — fiscal cliffs, debt ceilings, health care implosions, domestic spying outrages, taper talk jukes, banking turpitudes, the Syria bluster, the Iran nuke deal fake-out. It's dangerous to live as though there was no such thing as consequence. Societies have a way of reaching a consensus about something without ever stating it outright. The American public has silently agreed to sit on its hands though one more Christmas and after that things shake loose.
      What happens, for instance, in the limbo months of ObamaCare ahead, when people either won't sign in for health insurance, or can't because of the stupidity of the website design, and the failure of its work-arounds, and the number rises of people falling seriously ill without insurance, and the ludicrously extortionate hospital bills start rolling in and the machinery of bankruptcy and re-po turns the screws on tens of thousands of families — while the insurance company executives spend their 2013 bonus money on Beemers and McMansion additions? There must be some threshold for criticality there, some breaking point that prompts a swindled population to break out its fabled arsenals.  Say, somewhere in America a child tragically dies after being hit by a car and three unsuccessful surgeries to try to fix the damage, and thirty days after the funeral, the uninsured dad gets a bill for $416,000? I doubt a society can withstand many insults like that.
     Above all, this big nation has failed to reckon the central quandary of our time: the fatal hypertrophy of finance. This ghastly engine of rackets and swindles is the enlarged heart of a dying body politic, and all we know how to do is feed it more monetary Cheez Doodles. This has been going on far longer than the doctors and the witch doctors thought possible, and there is a foolish hope among the credulous that the larger organism of the economy must therefore be immortal. But the reality-based minority stoically awaits the final congestive infarction.
     Everything points to 2014 as the moment the pretending stops and things get real. Nobody believes anymore that the Federal Reserve can replace an economy of authentic transactions with promissory notes. There is only one final thing that can happen with the Fed, and that is losing all control over rising interest rates. Janet Yellen is being set up as one of the epic chumps of history, and proof of her academic fecklessness is the mere fact that she accepted the post as Fed chair. She will preside over a fabulous disappearance of wealth in America. The blame for it will be epic, too, but it will not represent any genuine understanding of what happened.
     Much is being made of the loneliness of Barack Obama these days. He also occupies a rather tragic niche in history — or the arc of his story at least points that way these days. Right now, it is very hard to tell whether he has been a hostage or a fool. He could have moved to break up the big banks in January of 2009, and any time since then he could have sent a memo to the Department of Justice instructing the prosecutions of financial crime to begin in earnest (or replaced the Attorney General). Didn't happen. Was he being blackmailed by the likes of Jamie Dimon and Lloyd Blankfein, or did he just not know what was at stake?
     The history of Barack Obama will be one long record of omissions to act, not just overt failures. He is the Bartleby the Scrivener of our politics. He "prefers not to…." Hence, the powerful lure of the charismatic figure who is sure to act. Adolf Hitler was very clear about his proposed program in the early 1920s, a decade before he came to power. He spelled it out unmistakably in his speeches and his political testament, Mein Kampf: do away with pain-in-the-ass democracy and destroy the Jews. He couldn't have put it more plainly. The residual admiration for Hitler among the extreme right-wingers of today derives mainly from the simple fact that the man actually did what he said he would do. You can't overstate the potential hunger for that sort of thing. The current climate of US politics being Weimar-on-steroids, I'm sure that an American corn-pone Hitler would have huge appeal for a beaten-down citizenry.
      The means for such a coup of the zeitgeist are rather frightful now: drone aircraft, computer surveillance, militarized police, a puppet press. It makes thoughtful folks queasy. My bet, though, is that a fascist takeover of the US would end up being as inept and ineffectual as ObamaCare. It is one of the great hidden blessings of our time, actually, that anything organized on the massive scale is doomed to failure. But it is likewise the great mission of our time to prepare to get local and smaller, something we're not really ready for and certainly not interested in. The intertwining of these dynamics will be the story in the year to come.
***
James Howard Kunstler is the author of many books including (non-fiction) The Geography of Nowhere, The City in Mind: Notes on the Urban Condition, Home from Nowhere, The Long Emergency, and Too Much Magic: Wishful Thinking, Technology and the Fate of the Nation. His novels include World Made By Hand, The Witch of Hebron, Maggie Darling — A Modern Romance, The Halloween Ball, an Embarrassment of Riches, and many others. He has published three novellas with Water Street Press: Manhattan Gothic, A Christmas Orphan, and The Flight of Mehetabel.
Off the Keyboard of Jim Quinn
Published on The Burning Platform on July 23, 2013
Discuss this article at the Economics table inside the Diner
"I mean—hell, I been surprised how sane you guys all are. As near as I can tell you're not any crazier than the average asshole on the street." – R.P. McMurphy – One Flew Over the Cuckoo's Nest
"Years ago, it meant something to be crazy. Now everyone's crazy." – Charles Manson
"In America, the criminally insane rule and the rest of us, or the vast majority of the rest of us, either do not care, do not know, or are distracted and properly brainwashed into acquiescence." – Kurt Nimmo
I have to admit to being baffled by the aptitude of the Wall Street and K Street financial elite to keep their Ponzi scheme growing. I consider myself to be a rational, sane human being who understands math and bases his assessments upon facts and a sensible appraisal of the relevant information obtained from trustworthy sources. Of course, finding trustworthy sources is difficult when you live in a corrupt, crony-capitalist, fascist state, controlled by banking, corporate and military interests who retain absolute control over the mainstream media and governmental propaganda agencies. Those seeking truth must pursue it through the alternative media and seeking out unbiased critical thinkers who relentlessly abide by what the facts expose. This is no time for wishful thinking, delusions and fantasies. In the end, the facts are all that matter. As Heinlein noted decades ago, the future is uncertain so facts are essential in navigating a course that doesn't lead you to ruin upon the shoals of ignorance.
"What are the facts? Again and again and again – what are the facts? Shun wishful thinking, ignore divine revelation, forget what "the stars foretell," avoid opinion, care not what the neighbors think, never mind the un-guessable "verdict of history" – what are the facts, and to how many decimal places? You pilot always into an unknown future; facts are your single clue. Get the facts!" ― Robert A. Heinlein
Facts are treasonous and dangerous in an empire of lies, fraud and propaganda. It is maddening to watch the country spiral downward, driven to ruin by a psychotic predator class, while the plebs choose to remain willfully ignorant of reality and distracted by their lust for cheap Chinese crap and addicted to the cult of techno-narcissism. We are a country running on heaping doses of cognitive dissonance and normalcy bias, an irrational belief in our national exceptionalism, an absurd trust in the same banking class that destroyed the finances of the country, and a delusionary belief that with just another trillion dollars of debt we'll be back on the exponential growth track. The American empire has been built on a foundation of cheap easily accessible oil, cheap easily accessible credit, the most powerful military machine in human history, and the purposeful transformation of citizens into consumers through the use of relentless media propaganda and a persistent decades long dumbing down of the masses through the government education system.
This national insanity is not a new phenomenon. Friedrich Nietzsche observed the same spectacle in the 19th century.
"In individuals, insanity is rare; but in groups, parties, nations and epochs, it is the rule."
The "solutions" imposed by the supposed brightest financial Ivy League educated minds and corrupt bought off political class upon people of the United States since the Wall Street created 2008 worldwide financial collapse are insane and designed to only further enrich the crony capitalists and their banker brethren. The maniacs are ruling the asylum. John Lennon saw the writing on the wall forty five years ago.
"Our society is run by insane people for insane objectives…. I think we're being run by maniacs for maniacal ends … and I think I'm liable to be put away as insane for expressing that. That's what's insane about it." – John Lennon, Interview BBC-TV (June 22, 1968)
The world is most certainly ruled by a small group of extremely wealthy evil men who desire ever more treasure, supremacy and control, but the vast majority of Americans have stood idly by mesmerized by their iGadgets and believing buying shit they don't need with money they don't have is the path to happiness and prosperity, while their wealth, liberty and self-respect were stolen by the financial elite. Our idiot culture, that celebrates reality TV morons, low IQ millionaires playing children's sports, egomaniacal Hollywood hacks, self-promoting Wall Street financers, and self-serving corrupt ideologue politicians, has been degenerating for decades.
"We are in the process of creating what deserves to be called the idiot culture. Not an idiot sub-culture, which every society has bubbling beneath the surface and which can provide harmless fun; but the culture itself. For the first time, the weird and the stupid and the coarse are becoming our cultural norm, even our cultural ideal." – Carl Bernstein -1992
The examples of our national insanity are almost too vast to document, but any critical assessment of what we've done over the last one hundred years reveals the idiocracy that has engulfed our collapsing empire.
The Madness of Crowds
"In reading The History of Nations, we find that, like individuals, they have their whims and their peculiarities, their seasons of excitement and recklessness, when they care not what they do. We find that whole communities suddenly fix their minds upon one object and go mad in its pursuit; that millions of people become simultaneously impressed with one delusion, and run after it, till their attention is caught by some new folly more captivating than the first." – Charles MacKay – Extraordinary Popular Delusions and the Madness of Crowds
We have become a nation that seamlessly goes mad every five years in pursuit of some new delusionary fantasy sold to us by the ruling class, only to see those dreams shattered like a wooden ship on the reef of reality. You can never underestimate the power of human stupidity. Ben Bernanke and his Federal Reserve cronies have printed $2.6 trillion of new money out of thin air since September 2008 in order to prop up their Wall Street owners, who had engineered the largest control fraud (mortgage debt/housing bubble) in world history, recklessly gambled in their ravenous appetite for sordid profits, and drove their firms into insolvency. It took the Federal Reserve 95 years to accumulate a balance sheet of $900 billion of safe U.S. Treasuries.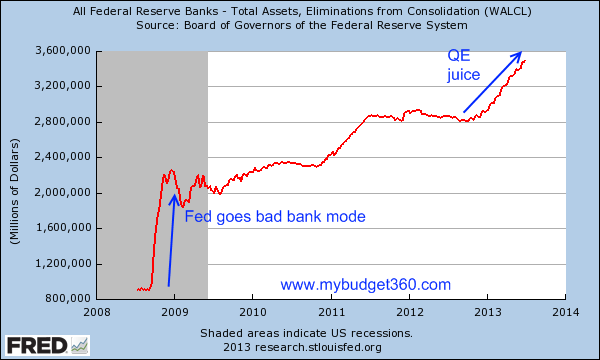 They have insanely quadrupled their balance sheet in the last 5 years by accumulating toxic mortgage debt from Wall Street banks and purchasing the majority of new Treasury debt being issued to fund the Federal government's insane trillion dollar annual deficits. Bernanke, the corporate media, government apparatchiks, and captured political class act as if this is normal, when it is clearly the act of a desperate ruling class in its final death throes. Bernanke has leveraged his balance sheet 60 to 1. Lehman and Bear Stearns were leveraged 30 to 1 when they collapsed. The 100 basis point move in rates over the space of two months has resulted in Bernanke losing $200 billion and effectively wiping out his $55 billion of capital.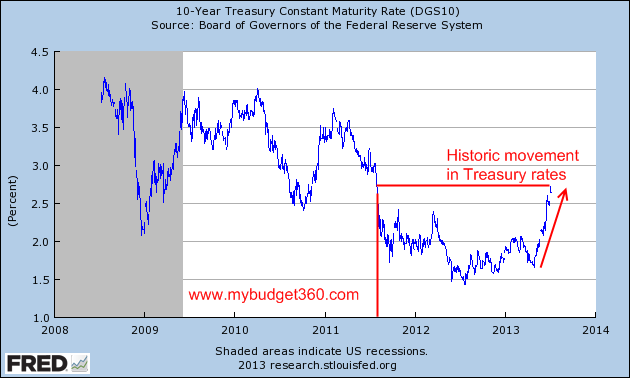 Of course, in a corrupt regime accounting fraud is encouraged and applauded by the status quo. Just as the spineless accountants on the FASB buckled to threats from Bernanke and Paulson in early 2009 and reversed the requirement that assets be marked to market so the felonious Wall Street banks could fraudulently hide their insolvency, the Federal Reserve has decided their losses don't matter. The Federal Reserve classifies their losses as an asset. Don't you wish you could classify your 401k losses and your home value losses as an asset? The tapering bullshit storyline is just another attempt to distract the masses from focusing on the fact that Bernanke will never stop expanding his balance sheet because if he stops the financial system will collapse in a catastrophic implosion. The Ponzi scheme will continue until loss of faith leads to a scramble away from the U.S. dollar.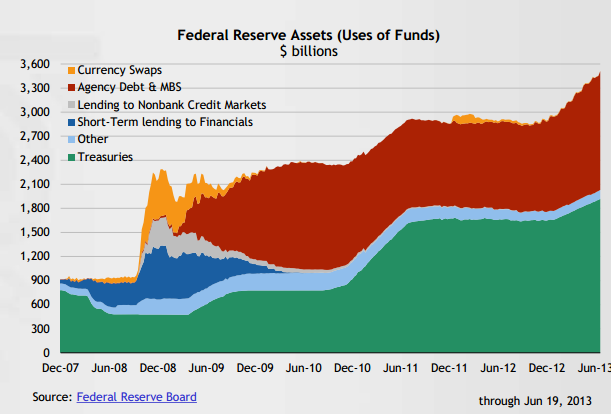 Since the infamous creation of the Federal Reserve by a secretive cabal of bankers and politicians in 1913, the ultimate destination of the American empire was set. Every fiat currency in world history has collapsed. Our entire system has been based on infinite exponential growth. The fallacy of American exceptionalism has been built on an underpinning of pure stupid luck and the issuance of more and more debt. The American empire grew to epic proportions due to the discovery of cheap easily accessible oil in the late 19th century and the physical and economic destruction of Europe, Russia and Japan during World War II. The accumulation of debt was fairly moderate during the glory years after World War II, but began to accelerate after the fateful year of 1971 when U.S. oil production peaked and Tricky Dick Nixon removed the last vestiges of restraint from central bankers and politicians by closing the gold window. With the shackles removed from the wrists of corruptible knaves and shysters, America's future depended upon the wisdom, honesty and financial acumen of Washington politicians and Wall Street financers. Once the citizens realized they could vote for more bread and circuses, our ultimate demise was set in motion. A nation that had produced real annual growth of 4% during the 1950's and 1960's has seen a steady decline for the last four decades.
The term pushing on a string describes the Quantitative Easing (literally money printing) and Keynesian debt financed pork spending efforts of our increasingly frantic owners. The insanity of what we've done since 1971 is almost too crazy to comprehend. In the first 182 years of our existence the leaders we elected to steward the nation accumulated $400 billion of national debt. By 1981, unleashed from any semblance of spending control, the politicians and bankers had added another $600 billion of debt, a 150% increase in 10 years. By 1991 our beloved leaders had added another $2.6 trillion of debt, another 160% increase in 10 years. By 2001 another $2.2 trillion had been accumulated, only a 60% increase due to the end of the Cold War and a one-time tax surge from the Dot.com stock bubble. Bush's worldwide War on Terror, expansion of the police state, tax rebate stimulus idiocy, and expansion of the welfare state (Medicare Part D) drove the national debt up by another $2.2 trillion in just eight years, a 40% increase.
The insane amassing of debt since 2008 has put a final nail in the coffin of the ridiculous Keynesian theory, as the Federal government has increased annual spending by 35% over the last five years and the economy is still moribund. Our fearless leaders have driven the national debt from $7.8 trillion to $16.7 trillion in less than five years, a 110% increase. The country continues to add $2 to $3 billion of debt per day. Consider how insane it is that we now accumulate more debt in half a year than we did cumulatively over the first 182 years of our existence as a country. And our elected, or should I say selected, leaders, cheer on the intellectually bankrupt academics like Bernanke whose only solution to every crisis is to print moar and then lie to the American people about his true purpose, act as if annually spending $1 trillion more than we collect while knowing there are over $200 trillion of unfunded promises to fulfill is a reasonable and realistic way to manage the national finances. Any sane person knows our current path will lead to ruin. When you need to issue new debt in order to honor old debt, the end is in sight.
The multitude of insane responses to a financial crisis created by a few greedy psychopathic bankers will be looked upon by historians with contempt and scorn. Future generations will wonder "What were they thinking?" Trillions in wealth were vaporized due to the actions of a small secretive league of highly educated, egocentric psychopaths whose warped sense of morality led them to pillage the wealth of the nation through fraudulent financial products, bribing regulatory agencies, stabbing clients and competitors in the back, and peddling lies, propaganda and misinformation to the public through their captured media mouthpieces. Not only haven't any predator bankers been thrown in jail, but these villains have grown their parasitic entities to enormous proportions while paying themselves obscene billion dollar bonuses. Jon Corzine stole $1.2 billion directly from the accounts of his customers to cover his gambling losses and he remains free to laze about in one of his five gated mansions. The largest banks on earth have been caught red handed forging mortgage documents, rigging LIBOR, front running the muppets with non-public economic information, insider dealing, and using their HFT supercomputers to manipulate the markets at their whim. Government spy agencies regularly use the U.S. Constitution like toilet paper while accumulating electronic dossiers on every citizen in the country. The rule of law does not exist for the ruling class.
Only in a world gone insane would we be celebrating Wall Street generating all-time high profits through the use of accounting fraud and Bernanke filling their coffers with trillions of interest free money while bilking senior citizens out of $400 billion per year of interest income through his dastardly ZIRP "save a Wall Street banker" scheme. Bernanke has stolen close to $2 trillion from the bank accounts of little old ladies since 2008 and given it to Jamie Dimon, Lloyd Blankfien and the rest of the Wall Street scumbags. While Wall Street and the crony capitalist mega-corporations report record profits, Main Street is left with 5 million less full-time jobs than they had in 2007 and a real unemployment rate exceeding 20%. While the government has insanely reported a recovering economy since mid-2009, the food stamp rolls have grown from 33 million to 47 million. The ruling class cheers the record highs in the stock market that overwhelmingly benefit the top .1% because they are the .1%. Meanwhile, the average schmuck out in the hinterlands is paying double the price they were paying for gas in 2009 and their everyday living costs are rising by greater than 5% annually. Luckily for the financial elite, the average American would rather watch Honey Boo Boo than try to understand the evilness of Federal Reserve created inflation. The economic recovery storyline is obliterated by the fact that real household income is still 9% below its 2008 peak and amazingly 8% below its 2000 level.
Since the 2009 low, the household net worth of the wealthiest 7% has grown by 28%, while the other 93% have seen their net worth decline by a further 4%. The profits accrue to those who run the show, buy the politicians, write the laws, command the media propaganda machine and control the currency. As a sane person in this insane world I'm flabbergasted that there is virtually no outrage at the perpetrators of these crimes against humanity. Americans have earned the moniker – ignorant masses. Bread and circuses have won the day in our declining empire. The oligarchs thank you.
The blame doesn't rest solely on the shoulders of the evil men running the show. They have only done what we allowed them to do. From top to bottom our society has hopped on the crazy train. The lack of national morality, sense of civic duty, inter-generational responsibility, and willful ignorance regarding sensible financial policies has led us to a tipping point. Decades of feckless self-serving political leadership making entitlement promises they could never honor to win votes, combined with a parasitic financial class peddling debt to millions of witless, narcissistic, math challenged, materialistic morons, has left the country in debt up to its eyeballs with no escape other than cataclysmic default. Michael Lewis documents the bleeding out of our society in his recent book:
"The people who had the power in the society, and were charged with saving it from itself, had instead bled the society to death. The problem with police officers and firefighters isn't a public sector problem; it isn't a problem with government; it's a problem with the entire society. It's what happened on Wall Street in the run-up to the subprime crisis. It's a problem of taking what they can, just because they can, without regard to the larger social consequences. It's not just a coincidence that the debts of cities and states spun out of control at the same time as the debts of individual Americans. Alone in a dark room with a pile of money, Americans knew exactly what they wanted to do, from the top of the society to the bottom. They'd been conditioned to grab as much as they could, without thinking about the long-term consequences. Afterward, the people on Wall Street would privately bemoan the low morals of the American people who walked away from their subprime loans, and the American people would express outrage at the Wall Street people who paid themselves a fortune to design the bad loans." – Michael Lewis – Boomerang
The insanity of our debt accumulation in relation to our pathetic economic growth is clearly evident to even an Ivy League educated economist or a bubble headed CNBC anchorwoman. Since 1971 nominal GDP has grown by a factor of 14. Over this same time frame total credit market debt (household, corporate, government) has grown by a factor of 32. Real GDP (even using the fraudulent BLS manipulated CPI) has only expanded by a factor of 3.5 since 1971. The exponential growth model is clearly failing, with debt going hyperbolic, while GDP has stagnated.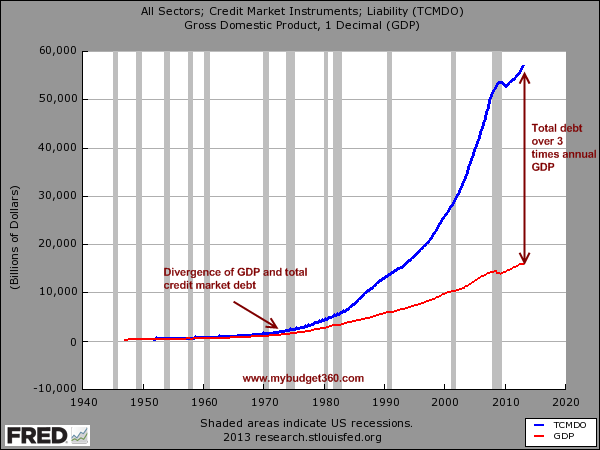 Since 2007 real GDP has gone up $500 billion while total credit market debt has gone up by $6 trillion. Only an insane society would allow itself to be convinced by the perpetrators of the financial crimes that collapsed our economic system that accelerating the level of debt in our system will resolve the dilemma of Too Big to Trust banker insolvency. Transferring the immense losses of greedy sham capitalist gambling addicts from their insolvent balance sheets onto the balance sheets of the taxpayer has allowed the criminals to retain and expand their wealth, while sovereign states shift the pain and suffering onto the backs of the sinking middle class. This is a worldwide phenomenon perpetuated by central bankers at the behest of their crony capitalist co-conspirators. They call it capitalism when the scams, dodges and swindles work and the profits accrue to the schemers. When the gamblers and extreme risk addicts roll craps they use their crony capitalist connections, bought with blood money, to socialize their losses. The game is rigged and your owners don't care about your hopes and dreams or your children's future. They care about their own wealth and lifestyles of luxury. When the richest 300 people in the world have a greater net worth than the poorest 3 billion people on earth, a sane person realizes a chaotic end of the existing social order beckons.
"All over the world people borrowed vast sums of money they could never repay. The honest toting up, and taking, of the losses is being delayed. There's a reason for this. The bad debts are owed, largely, to big banks. The big banks (even bigger than they were at the start of this crisis) and the people who own them enjoy a wildly disproportionate amount of political influence. And so, even now, five years into this mess, we remain at the mercy of the failed financial institutions that sit at the center of our capitalism. Geithner & Bernanke, along with their European counterparts, are doing everything in their power to prevent banks from failing. But the effect of this new financial order is bizarre: capitalism for everyone but the capitalists. Ordinary workers remain fully exposed to the increasingly harsh collisions in the marketplace while the highest paid financial elites ride protected by a passenger airbag." – Michael Lewis – Boomerang
Clearly we've entered the final phase of our debt financed orgy of narcissistic materialism and self-absorbed avarice. The unsustainability of our course is a fact. Our society has gone mad en-masse but we are only recovering our sanity one by one. The global financial system is insolvent. A fractional reserve fiat money based system requires continuous growth or it collapses. The global banking system is overleveraged and real global growth is stagnant. Central bankers are not smart men. They have one response to every crisis – print!!! Bernanke and his fellow banker cronies are printing at hyper-speed in order to prop up the terminally ill mega-banks. Bernanke feigns confusion at the fact that his QE to infinity and ZIRP have only benefitted his banker puppet masters and the richest .1%, while further impoverishing senior citizen savers and the working middle class.
The anger at the true Wall Street malefactors manifested itself in the Tea Party movement and Occupy Wall Street movement, but both efforts were quickly hijacked by neo-con right wingers and socialist left wingers for their own ideological purposes. The existing social order continues to hold the reins of power, but their grip is growing precarious. The anger, dismay and resentment in the country simmer beneath the surface. The average person senses that all is not well, but most absurdly continue to believe the lies and propaganda spewed at them on a daily basis by the ruling class and their corporate media pawns. When the next shoe drops and billions of stock market and housing wealth are wiped out again, the national anger will sweep away the corrupt social order in a torrent of blood and retribution. Innocent and guilty alike will suffer the consequences. Michael Lewis is somewhat perplexed by the lack of outrage and violence so far.
"A lot has happened. And yet, given the provocation, it's amazing how little has happened. No one on Wall Street has been shot, or even jailed – and the existing social order has not been seriously challenged. There's a reason for this, too. The anger arising from the financial crisis finds no natural channel. In another era – an era before catastrophic experiments with radical socialism and nationalism – we would be watching market capitalism being displaced by something far uglier. But today there is no natural place for anger to flow, and so the anger flows haphazardly, like raindrops down a windowpane. The only political ideology that anger benefits these days is anarchy. From the point of view of those who enjoy political stability, it's a stroke of luck that anarchists have no natural talent for organizing themselves. But how long will it take them to learn?"  – Michael Lewis – Boomerang
Staying sane in a society gone mad is not easy. Millions of people believe themselves to be sane, but they have really just adapted to an insane society, so they appear sane within the warped paradigm of that insane society. The truly sane people appear to be insane in an insane society. It's enough to drive a man crazy. The immense forces of normalcy bias and social inertia have led millions to refuse to understand the mathematical certainty of the coming collapse. The worldwide banking system is like a great white shark that needs to keep moving or it dies. Exponential growth and continuous credit expansion have been the essential ingredients to expanding the American empire, but the growth has stopped, while the debt keeps growing. Infinite growth on a finite planet is impossible. As natural resources deplete and become more expensive to obtain, while the planet's population continues to grow, the fractional reserve banking system and the nation states who continue to pile up trillions in debt will suddenly suffer a catastrophic collapse. We are in the end stages of a confidence game. Your government will not give you warning. We need to come to our senses one by one, until there are enough sane people to tip the scales in our favor. I've concluded that I live in a dishonest, insane, intolerable world and consider it my duty to spread discontent among those I can reach. I'm a dangerous man in the eyes of our corporate fascist surveillance state. So be it.
"The most dangerous man, to any government, is the man who is able to think things out for himself without regard to the prevailing superstitions and taboos. Almost inevitably he comes to the conclusion that the government he lives under is dishonest, insane and intolerable, and so, if he is romantic, he tries to change it. And even if he is not romantic personally he is apt to spread discontent among those who are." – H.L. Mencken
In Part 2 of this article I will attempt to figure out why mass insanity has gripped the world and ponder what might happen when sanity returns.