From the keyboard of Surly1
Follow us on Twitter @doomstead666
Like us on Facebook
Anthony Freda
Originally published on the Doomstead Diner on January 22, 2019
"The future is here. It's just unevenly distributed."
–William Gibson
---
UPDATE January 27: On Friday Jan. 25 Trump had signed a three-week stopgap bill to reopen those parts of the government shuttered through February 15. Democrats are happily spiking the ball in the end zone, but as the reliable and prescient Dahlia Lithwick writes in Slate, the utterances of Trump, Lara Trump, Wilbur Ross et al may have played as clueless out here in the cheap seats, but served to reinforce traditional Paul Ryan small government talking points, where every social calamity can be addressed via a bake sale or barn raising.
It's too easy to say that the enduring lesson of the shutdown is simply that Trump and his plutocrat Cabinet are hilariously clueless about how most of us live. The real story is much more grim: They are also trying to other us against one another, positing government workers as unpatriotic if they decline to work for free, and lazy for being unwilling to put the president's interests ahead of their own.
Government workers have bought a brief respite from further financial calamity for a few weeks, but there is nothing currently on the political horizon that indicates we won't be right back here in three weeks. At least Trump won't have to face the specter of plane delays in and out of Atlanta for the Super Bowl. (Had he interfered with the High Rollers getting their footbaw on, they'd have been burning crosses on the White House lawn on Monday.)
And nothing changes the central thesis of the article: that the mass of Americans are two-three paychecks away from the economic abyss.
---
Within the Diner much discussion revolves around understanding the various vectors of collapse: fast collapse, slow collapse, Seneca cliff, plague, Carrington/electromagnetic pulse event, climate catastrophe,… how will collapse overtake us? This screed's purpose is to suggest that collapse is already here.
Testifying to Congress in the Clinton years, Fed Chair Alan Greenspan explained the success of the boom economy he led as based on what he called "growing worker insecurity," and thus created the notion of "the precariat." In Greenspan's terms, when working people are insecure, they are unlikely to make demands. Good for business, good for investors.
Noam Chomsky summarized:
… If working people are insecure, if they're part of the precariat, living precarious existences, they're not going to make demands, they're not going to try to get better wages, they won't get improved benefits. We can kick 'em out, if we don't need 'em. And that's what's called a "healthy" economy, technically speaking. And he was highly praised for this, greatly admired.
We should have expected nothing less from Greenspan, a member of the inner circle of Ayn Rand, Satan's vicar on earth. The current government shutdown, wholly created by the Orange Shitgibbon, now reaches its fourth week and reveals a new layer of precariat. Look around– over 10 million federal workers, with supposedly middle class jobs, find themselves playing insulin- or groceries- or rent- roulette.
Like most Americans, federal workers live paycheck to paycheck, and have to scramble to meet their obligations. Since Individual-1 has a long and ignoble history of stiffing people who worked for him, this shutdown might have been expected. Yet the wall, that fetish object of the right, might have been advanced by legislation at any time over the last two years. Yet it was not, for the simple reason that most border state Republicans realize it's an idiotic thing to do with billions of dollars, and don't want any part of it. Only after the Democrats took control of the House did "the wall" rise to the level of "emergency."
That the rich get richer and the poor get poorer seems baked in to American life. "Middle class" means today that you're poor, but without a meth habit. In spite of the fact that we're told that the economy is strong, with unemployment at all-time low, most Americans do not have as much as a paycheck in savings and cannot withstand a major unplanned expense. Aside from the fortunate few who maintain an employer-supported 401(k), fewer workers have adequate savings for retirement.
The functional cutoff point for being middle-class is whether the family has health insurance. Meaning real health insurance, as opposed to those predatory options that cost $600 dollars a month with $5000 deductibles, rendering them useful only in catastrophe.
One step, one inch at a time..and all by design. The squeeze on workers has been incremental and has unfolded over time, enabled by politicians who have dutifully passed the legislation handed them by the donors who own them. All leading to a pervasive sense of helplessness, and a collectively inability to imagine fixing what's broken: not only the flawed distribution of income, but larger issues like climate change. Complicated issues require long-term thinking, which is difficult to entertain when the wolf is at the door and you're figuring how to "stretch" your insulin to stay alive for the month.
A second generation of workers unable to save, living from paycheck to paycheck, and living in fear of uncertainty of the next missed paycheck comprise a new level of "precariat." Now swollen by 10 million federal workers, and sustained in part by spontaneous eruptions of generosity in the form of food pantries and relief efforts in evidence all over the country.
---
Two articles made similar points: that collapse American-style is already in progress and well on its way, the culmination of decades-long trends. The #Trumpshutdown brings those trends into relief.
Umair Haque describes Six Megatrends That Will Shape the Future, in terms readers of this website will recognize. He is not optimistic about summoning the political will to address the needs of ordinary people (working healthcare, higher education, safety nets, or retirement), because even  though those are what most Americans want, their efforts will run headlong into the waves of organized money marshaled to make sure such solutions never happen.
The average American's plight is so desperate that people in other rich countries can scarcely comprehend it. Dying from a lack of insulin? The elderly working at Walmart? Less than a week's pay in savings? It sounds like a dystopian film, not reality. Yet this points to my second megatrend. American incomes have been flat since the 70s — but all the while, the basics of life, all the things above, from retirement to healthcare, have grown in price…
Authoritarians don't need a majority — they never have, and that is foolish myth promoted by American intellectuals. It's enough for fascists and tyrants to capture perhaps 30–40% of a nation to take over its institutions, norms, and future — because that 30% is like a wrecking ball, that can be used to intimidate, bluster, threaten, and bully (as long as the rest is split). That fringe, lunatic 30% now controls America wholesale — not just making any kind of progress not just impossible, but demanding wholesale regress: banning books, taking science out of schools, putting fundamentalist religion into public life, and so forth. That is my fifth megatrend, authoritarianism, and I am sorry to have to tell you that it will not stop with this President — it will continue, gain strength, and shape America for the foreseeable future…

…my sixth megatrend: ignorance. It is not just American economics, politics, society, and culture which have failed — at a deeper level, American thought has failed. Its intellectuals cannot explain decline, its pundits predict it, its gurus understand it, or its leaders fix it. That is because American ideas became ideologies — capitalism, individualism, aggression, cruelty, rationalism, selfishness, greed — which are all obsolete now.
Normalcy bias keeps us underestimating the breadth of financial stresses on our neighbors, and blind to the human toll of living with collapse with the wolf at the door. We become numb to the overwhelming despair, rage, and anxiety of living in a collapsing society. Many have responded to our neighbors' need with spontaneous outpourings of relief for the affected. But such decency can only deflect the trends of larger American society that is increasingly broke, and as unable to keep its promises as it is to maintain paved roads.
---
Daisy Luther's article, Here's What an American Economic Collapse Could Actually Look Like, is worth the read.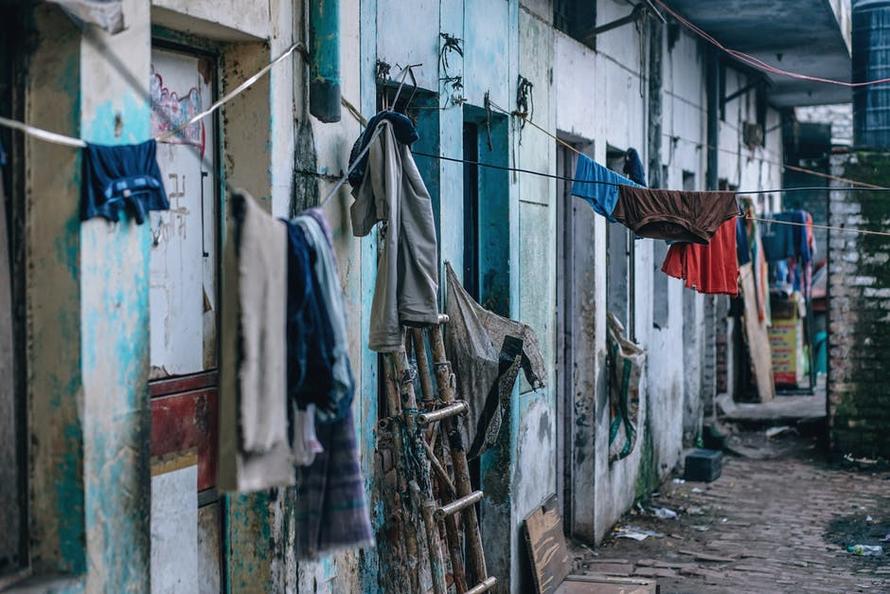 When we think of "economic collapse" we think of the desperation documented in places like Venezuela or Greece. Starvation, lack of medical care, and waves of suicide by people who simply can't cope: an apocalyptic breakdown that is immediately visible.
Here in America, Luther also notes collapse is gradual, It will seem like it's just individual families having a hard time, with money problems out of our hands. The shutdown illuminates a financial divide getting larger. Expenses that are normal will soon become luxuries. How much of a stretch is it to imagine that no one will afford to pay their utility bills?
Jefferson County in Alabama is the state's most populous county and also its poorest. One of the poorest of those poor areas is Birmingham, Jefferson County's largest city. Here water and sewerage bills have quadrupled in the last 15 years and with combined sewerage and water bills coming in at around $300 a month, this leaves the same amount out of the average social security check of $600 a month to cover everything else, food, clothing, and all other utilities. Low paid workers, of which there are many fare no better.

Many people have opted to buy drums of water from petrol stations rather than pay their ever increasing bills. They use these drums of water for drinking, washing and in their portable toilets which can be seen dotting back yards across the area, the modern version of the outhouse. They pay a fee to a sanitation company to remove the waste. It's cheaper than letting the city take care of it.
Rather than expecting single vectors of large scale catastrophe, look closer to home. Take a clear-eyed look at the decline that's already at hand, then consider our options in a world where only rich people can afford electricity, running water and food all at the same time. As we remember that the average American lifespan has decreased for the third consecutive year, and that many fellow citizens find themselves living hand to mouth in a developing nation.
---
Two existential threats shadow these observations and pose existential threats to humanity: the threat of nuclear war, with us since 1945. and environmental catastrophe, obscured by a propaganda system that tries to convince people that climate change is just a liberal hoax.
We find ourselves slipping bit by bit down the trajectory John Michael Greer has titled the Long Descent—the process by which every previous human civilization has ended in a dark age. Not something that can be stopped or reversed; merely observed as it unfolds. The normalcy bias noted above tells us that this is as bad as it can get— right? That things cannot possibly get much worse —  and at every juncture, we will go on being painfully wrong.
Collapse is not at hand in America. Collapse is here.
---
Surly1 is an administrator and contributing author to Doomstead Diner. He is the author of numerous rants, screeds and spittle-flecked invective here and elsewhere. He lives a quiet domestic existence in Southeastern Virginia with his wife Contrary. Descended from a long line of people to whom one could never tell anything, all opinions are his and his alone, because he paid full retail for everything he has managed to learn.
Off the keyboard of Surly1
Follow us on Twitter @doomstead666
Friend us on Facebook
Originally published on the Doomstead Diner on August 31, 2014
Discuss this article here in the Diner Forum.
 "The sooner we realize that we are locked in deadly warfare with our ruling, corporate elite, the sooner we will realize that these elites must be overthrown."― Chris Hedges
Tomorrow, September 1 and Labor Day, will mark the second anniversary of the death of Margaret Mary Vojtko, an adjunct French professor who, at the age of 83, had recently lost her job at Duquesne University.  Ms. Vojtko suffered cardiac arrest on a street corner in Homestead, right outside of Pittsburgh,  yards from the house where she had lived almost her entire life. Rushed to the hospital, she never regained consciousness. Vojtko was an adjunct professor of languages who, after decades of service, found out that her appointment would not be renewed. After decades of toiling in academic insecurity, she was unceremoniously dumped.
Vojtko was a member of the precariat. Most likely, so are you.
When the story moved, I took notice, as I had graduated Duquesne,  in days lost in the mists of the Anthropocene. Two and a half weeks later, Vojtko's lawyer, Daniel Kovalik, published an op-ed about Vojtko called "Death of an Adjunct" in the Pittsburgh Post-Gazette. In it, he noted
Margaret Mary was an adjunct professor, meaning that, unlike a well-paid tenured professor, Margaret Mary worked on a contract basis from semester to semester, with no job security, no benefits and with a salary of between $3,000 and just over $3,500 per three-credit course. Adjuncts now make up well over 50 percent of the faculty at colleges and universities.

While adjuncts at Duquesne overwhelmingly voted to join the United Steelworkers union a year ago, Duquesne has fought unionization, claiming that it should have a religious exemption. Duquesne has claimed that the unionization of adjuncts like Margaret Mary would somehow interfere with its mission to inculcate Catholic values among its students.
One thinks that Duquesne might have a better case arguing against contraceptive benefits for workers than against unionization on the basis of religious belief, but I will leave that one for the Holy Ghost Fathers (who operate Duquesne) to sort out. The following February, in remarks given by Noam Chomsky to a gathering of members and allies of said Adjunct Faculty Association of the United Steelworkers in Pittsburgh,  he explained how the adjunct professor's death was, at least in part, a direct consequence of what passes for economic policy in the Fascist States of America:
That's part of the business model. It's the same as hiring temps in industry or what they call "associates" at Wal-Mart, employees that aren't owed benefits. It's a part of a  corporate business model designed to reduce labor costs and to increase labor servility. When universities become corporatized, as has been happening quite systematically over the last generation as part of the general neoliberal assault on the population, their business model means that what matters is the bottom line. The effective owners are the trustees (or the legislature, in the case of state universities), and they want to keep costs down and make sure that labor is docile and obedient. The way to do that is, essentially, temps. Just as the hiring of temps has gone way up in the neoliberal period, you're getting the same phenomenon in the universities. The idea is to divide society into two groups. One group is sometimes called the "plutonomy" (a term used by Citibank when they were advising their investors on where to invest their funds), the top sector of wealth, globally but concentrated mostly in places like the United States. The other group, the rest of the population, is a "precariat," living a precarious existence.
It's too late for Margaret Mary Vojtko, but it's not too late for the rest of us. Back in the day, when Alan Greenspan was "St. Alan," chairman of the Federal Reserve and widely regarded as a seer more gifted than the Oracle at Delphi, he gave a speech, the remarks of which you can find here, and which Chomsky characterized:
 

When Alan Greenspan was testifying before Congress in 1997 on the marvels of the economy he was running, he said straight out that one of the bases for its economic success was imposing what he called "greater worker insecurity." If workers are more insecure, that's very "healthy" for the society, because if workers are insecure they won't ask for wages, they won't go on strike, they won't call for benefits; they'll serve the masters gladly and passively. And that's optimal for corporations' economic health. . . how do you ensure "greater worker insecurity"? Crucially, by not guaranteeing employment, by keeping people hanging on a limb than can be sawed off at any time, so that they'd better shut up, take tiny salaries, and do their work; and if they get the gift of being allowed to serve under miserable conditions for another year, they should welcome it and not ask for any more. That's the way you keep societies efficient and healthy from the point of view of the corporations. And as universities move towards a corporate business model, precarity is exactly what is being imposed. And we'll see more and more of it.
And that has been policy. Citibank, they of the serial taxpayer bailouts, had a very clear idea of where such policy was steering the economy, and advised investors accordingly. Citi's 2005 brochure for investors called "Plutonomy: Buying Luxury, Explaining Global Imbalances," urged investors to put money into a "plutonomy index." The brochure says, "The World is dividing into two blocs — the Plutonomy and the rest."  It was, of course, one thing for Citibank to say this quietly to investors, but when the general public caught on to the news, six years later and Occupy took to the streets to say the very same thing, they got a face full of pepper spray and mass arrests for their trouble.
So what did Citi's crystal ball tell its investors in 2005? You missed this:
What are the common drivers of Plutonomy?

1) Disruptive technology-driven productivity gains, creative financial innovation, capitalist-friendly cooperative governments, an international dimension of immigrants and overseas conquests invigorating wealth creation, the rule of law, and patenting inventions. Often these wealth waves involve great complexity, exploited best by the rich and educated of the time.

2) We project that the plutonomies (the U.S., UK, and Canada) will likely see even more income inequality, disproportionately feeding off a further rise in the profit share in their economies, capitalist-friendly governments, more technology-driven productivity, and globalization.

3) Most "Global Imbalances" (high current account deficits and low savings rates, high consumer debt levels in the Anglo-Saxon world, etc) that continue to (unprofitably) preoccupy the world's intelligentsia look a lot less threatening when examined through theprism of plutonomy. The risk premium on equities that might derive from the dyspeptic "global imbalance" school is unwarranted – the earth is not going to be shaken off its axis, and sucked into the cosmos by these "imbalances". The earth is being held up by the muscular arms of its entrepreneur-plutocrats, like it, or not.
Somewhere in Hell, Ayn Rand is smiling. How deeply comforting it must have been to receive this brochure in 2005 and read these words cosseting the "rich and educated" who would be reaping their just rewards as a result of the system in which they were savvy enough to invest. Christopaths like Joel Osteen call this sort of thing a "blessing." Others call it a reason to put heads on pikes.
The hard work of generations of plutocrats, and the investments of right wing financiers and public policy have borne a toxic and remarkably abundant fruit. And here it is for your consumption, citizen, in this survey conducted by Rutgers:  "Unhappy, Worried and Pessimistic: Americans in the Aftermath of the Great Recession." The summary: "The protracted and uneven recovery from the Great Recession has led most Americans to conclude that the US economy has undergone a permanent change for the worse, according to a new national study. Seven in 10 now say the recession's impact is permanent, up from half in 2009 when the recession officially ended."
Key findings include:
Despite sustained job growth and lower levels of employment, most Americans do not think the economy has improved in the last year or that it will in the next.

Just one in six Americans believe that job opportunities for the next generation will be better than for theirs; five years ago, four in 10 held that view.

Roughly four in five Americans have little or no confidence that the federal government will make progress on the nation's most important problems over the next year.
Much of the pessimism is rooted in direct experience, according … Professor Carl Van Horn, co-author of the report.

"Fully one-quarter of the public says there has been a major decline in their quality of life owing to the recession, and 42 percent say they have less in salary and savings than when the recession began," Van Horn said. "Despite five years of recovery, sustained job growth and reductions in the number of unemployed workers, Americans are not convinced the economy is improving.

He added that only one in three thinks the U.S. economy has gotten better in the last year, one-quarter thinks it will improve next year and just one in six believe that job opportunities will be better for the next generation of American workers, down from four in 10 five years ago.
It would appear that John Q. has finally looked up from the Doritos and beer to become aware of what Citi investors knew and profited from a decade ago.  Occupy arose directly from revulsion at the corporatization of every aspect of life. The thought was to get people in the streets, the better to influence public opinion and policy.  But Occupiers got arrests, tear gas, pepper spray and the full priapic majesty of the State for their trouble.  We used to chant, "Whose streets? Our streets!" But, as events in Ferguson have clearly illustrated, the streets belong to the owners, whose militarized police express their will. As a means to influence policy, demonstration is not nearly as effective as the legalized bribery known as "campaign contributions" from corporate lobbyists. And with corporate unionization as a percentage of the total workforce now ticking away at all time lows, it remains instructive to see the contortions to which companies will go to prevent any sort of worker organization.
So on this Labor Day weekend, when the charlatans and frauds and hired prostitutes who slavishly do the bidding of their corporate paymasters prattle on about the evils of unionization, do not fail to remember that the one thing that capital fears more than anything is working people banding together to make common cause.
***
Surly1 is an administrator and contributing author to Doomstead Diner. He is the author of numerous rants, articles and spittle-flecked invective on this site, and has been active in the Occupy movement. He shares a home in Southeastern Virginia with Contrary and is grateful that he is not yet fitted for a drool cup.