From the keyboard of Surly1
Follow us on Twitter @doomstead666
Like us on Facebook
Published on the Doomstead Diner on July 22, 2018
"I will tell you that President Putin was extremely strong and powerful in his denial today."
― Trump
---
I tried to keep this short, but the week wouldn't let me. Putin and Trump all but held hands during a news conference Monday, as each dismissed the idea that Russia wants to undermine American democracy — and that special counsel Robert Mueller's investigation into collusion between Russian operatives and the Trump campaign has any merits. This despite Mueller's indictment against 12 Russians for that very thing. Trump's use of the words "strong," "powerful" and "denial" are tells: self-absorbed, impressed by authority and at home in denial. This makes him easily unlikable to two-thirds of Americans but not necessarily treasonous. Treason, frankly, sounds a little high-flown for such a reckless, clueless assclown For nearly one out of every three days he has been president, Trump has visited a Trump Organization property, amounting to free publicity and a steady government income stream for the man who bankrupted three casinos. I'm old enough to remember when Jimmy Carter had to sell his peanut farm, because "emoluments." Good times.
---
#Treasonsummit

This week, the president* of the United States held a friendly meeting with the Russian leader who sabotaged an American election on the former's behalf, and who, in turn, has been rewarded by a pro-Russian policy pivot. Trump chose to meet alone with THE former KGB mastermind. What could possibly go wrong?
Putin made Trump wait for nearly an hour like his little stump-broke bitch, spoke first at the joint presser, and won every point. 45 abandoned any obligation to represent the American people and slobbered Russian talking points. It was clear who was master, and who was wearing the dog collar, to say nothing of the butt plug. As Ralph Peters said on CNN, "Putin pitched a shutout, while Trump got beat up in the locker room." Then came the press conference in which Trump uttered the above featured quote.
Standing next to Putin, Trump turned on America's intelligence services, and sided with our adversary. He attacked the clear-cut findings of U.S. intelligence and law enforcement agencies that Russian hackers interfered with the 2016 presidential election.
Trump's hangdog, looking-for-a-cookie body language stood in marked contrast to Putin's laid-back manspreading and expressions of obvious contempt. Putin even issued this order to his protege:
"It's difficult to imagine utter nonsense on a bigger scale than this. Please disregard these issues and don't think about this anymore again."
It did not take long for reaction to erupt all over the internets, even from those nominally in favor of All Things Trump.
From John McCain:
"Today's press conference in Helsinki was one of the most disgraceful performances by an American president in memory."
Or this from Arizona's other senator, Jeff Flake (R):
"I never thought I would see the day when our American president would stand on the stage with the Russian President and place blame on the United States for Russian aggression."
Former Rep. Joe Walsh (R-IL) released a statement on Twitter promising to "never" support President Donald Trump again after his unbelievable presser performance.
Look, I'm no big deal, but today is the final straw for me. I will never support Trump again. If that makes me a NeverTrumper, so be it. I am a tea party conservative, that will never change. But Trump was a traitor to this country today. That must not be accepted. Speak out.
The tweetstorm ensued:
Donald Trump's day so far: – Yep he's guilty of #treason – So is Rand Paul – Russian agent Maria Butina arrest – Newt Gingrich gives up on Trump – John McCain condemns Trump – Time to #ImpeachTrump – Then throw him in prison – Mueller has more coming – It's still only 8pm

John O. Brennan (@JohnBrennan)

Donald Trump's press conference performance in Helsinki rises to & exceeds the threshold of "high crimes & misdemeanors." It was nothing short of treasonous. Not only were Trump's comments imbecilic, he is wholly in the pocket of Putin. Republican Patriots: Where are you???

Never forget: If you had a day at work like the day @realDonaldTrump had today, security would be at your office waiting for you, asking for your key card, w/ all your possessions in a box, & a cup for you to pee in. #TreasonSummit #TrumpTreason #ImpeachTrump
There are no "Republican patriots. Rs are all in as the "party of Trump:" Party over country, bitch. Imagine if Obama had said he believed Russia over his own intelligence services. After landing, he would have been pulled from Air Force One by a bloodthirsty mob of Freedom caucusoids and crucified on the tarmac in front of his wife and daughters.
This started the week. As it unfolded, what used to be known as the "free-world" looked on in confusion, accompanied by bipartisan outrage— even concern that Trump may be compromised  was heard outside left media. And for all that, as the week drew to a close, Trump suffered no real consequences.
---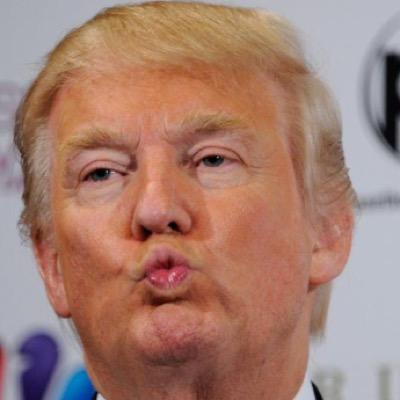 On Tuesday, Trump Tried to walk it all back by saying he "misspoke" when he threw the intelligence agencies under the bus and praised Putin.
Few were buying outside of his phalanx of infinitely re-programmable meat-puppets when he said that he "misspoke," and said "would" rather than "wouldn't." An excuse rejected by anyone capable of observation and deduction, bnut fig leaf enough to satisfy the Newt Gingriches of the world.
BREAKING: President Trump claims he misspoke while discussing election meddling during news conference with Putin: "In a key sentence in my remarks, I said the word 'would' instead of 'wouldn't.' … The sentence should've been: 'I don't see any reason why it wouldn't be Russia'.

"Could be other people also," Trump said on Tuesday.
CNN political reporter Chris Cillizza parsed those five key words:
Those five words not only totally undermine what Trump was trying to do with his post-Helsinki summit comments but also run afoul of the intelligence community's 2017 report on Russian interference in the election… Nowhere else in the IC report is there a mention of another country being even possibly responsible for the broad and deep election-meddling effort focused on the 2016 campaign.
---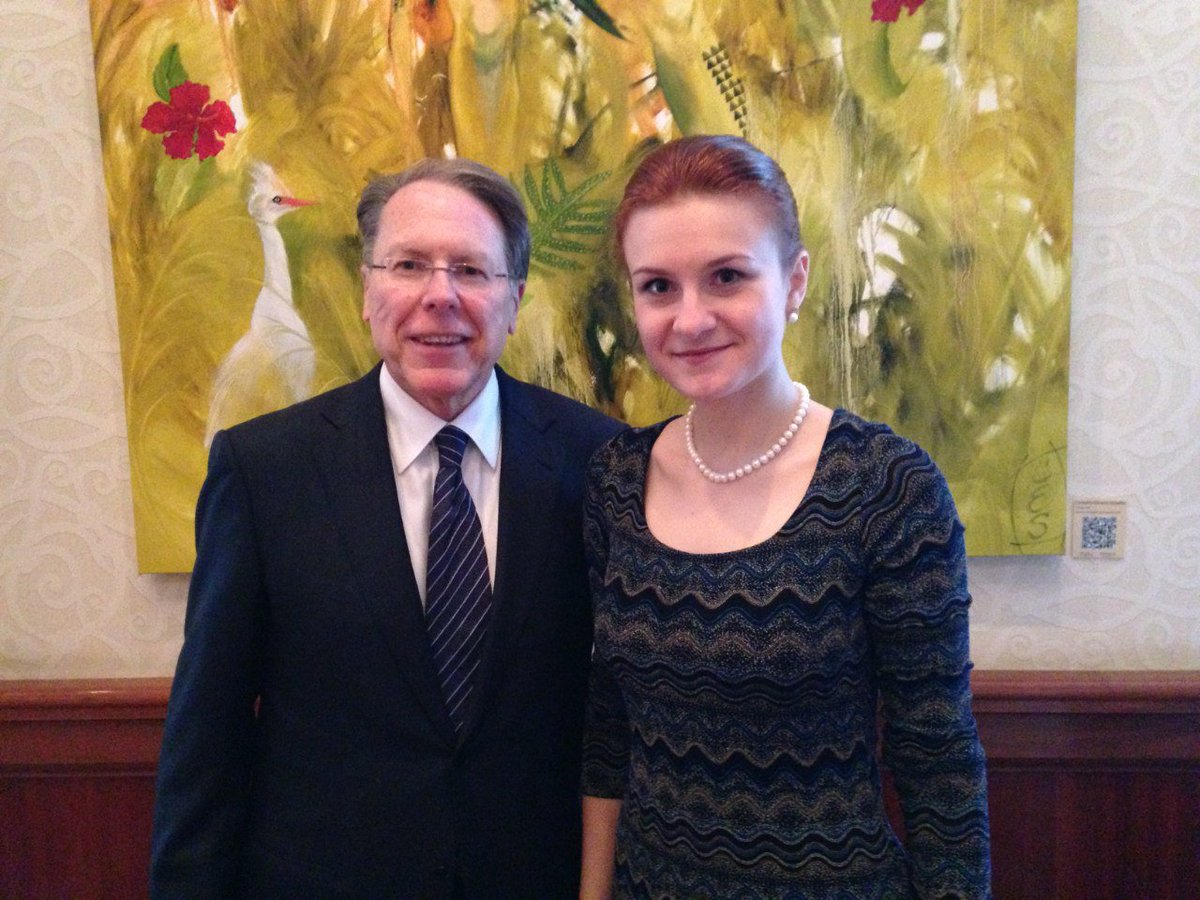 Just hours after Trump's disastrous press conference with Putin, the Justice Department announced the arrest of Russian national Maria Butina for secretly trying to influence US politics via a "gun rights organization (read NRA)." An affidavit filed by an FBI agent asserts that Butina tried to thus influence a major political party.
Though the affidavit does not name many of the people and groups involved, previous reporting and context clues make it clear that the gun rights group is the National Rifle Association, the party is the Republican Party, and the Russian official is Alexander Torshin.
Now we can surmise how all that sweet, sweet Russian money sloshed through the NRA and into the campaign coffers of every party whose name starts with "R." Let's be clear: Russian citizens do not have gun rights. They never had gun rights. No one is trying to take their guns, because they. do. not. own. guns. There aren't guns sold in grocery stores, pawn shops or gun shows. Butina's group is a sham organization set up to funnel money between Russians and Republicans. Every Republican Congresscitter who has accepted NRA boodle is complicit. Little wonder they are trying to nail the door shut.
By the end of the week, Russia's foreign minister Lavrov said that Butina was detained on "fabricated charges" and should be released. They want their asset back.
---
And the from the Dept. of You Can't Make This Shit Up, comes the news that Vlad would like to get his hands on former Ambassadors and other pains in his ass. Sarah Fuckleberry Slattern says, "Hell, that's an interesting idea, we'll get back to you."
The White House's refusal to rule out turning over former U.S. ambassador Michael McFaul to the Russians has current and former State Department officials seeing red.
As reported by Spencer Ackerman at The Daily Beast, this nation had gotten currently serving ambassadors speaking as if, well, they write this column:
Current and former American diplomats are expressing disgust and horror over the White House's willingness to entertain permitting Russian officials to question a prominent former U.S. ambassador.

One serving diplomat, who spoke on condition of anonymity, said he was "at a fucking loss" over comments that can be expected to chill American diplomacy in hostile or authoritarian countries – a comment echoed by former State Department officials as well.
Putin expressed keen interest in "interviewing" Bill Browder, with whom Putin has waged an open feud ever since Browder was instrumental in getting the US Congress to pass the Magnitsky Act, which mightily inconveniences Putin and a handful of Russian oligarchs. Putin is said to be keeping the Magnitsky Suite at the Butyrka prison in Moscow open for guests. He also raised the stakes to include wanting to interview Michael McFaul, former U.S. ambassador to Russia.
Mouths remained snapped open and outrage continued to fester. The Senate voted 98-0 to suggest this might be a bad idea.
With Trump, every time you think we've hit bottom, we break through to a new floor.
---
And then it turns out that Trump has definitively has known about Russia tampering with the 2016 election since two weeks before his inauguration. Every denail and claim of "witch hunt" since then has been a lie. The NY Times broke this on Wednesday night:
Two weeks before his inauguration, Donald J. Trump was shown highly classified intelligence indicating that President Vladimir V. Putin of Russia had personally ordered complex cyberattacks to sway the 2016 American election.

The evidence included texts and emails from Russian military officers and information gleaned from a top-secret source close to Mr. Putin, who had described to the C.I.A. how the Kremlin decided to execute its campaign of hacking and disinformation.

Mr. Trump sounded grudgingly convinced, according to several people who attended the intelligence briefing. But ever since, Mr. Trump has tried to cloud the very clear findings that he received on Jan. 6, 2017, which his own intelligence leaders have unanimously endorsed.
Trump is having trouble keeping up with and juggling his lies because there are so many of them.
---
Short Takes:

Trump sucked all the air out of the news cycles for the week, but some othe things did happen. You may want to take as peek before turning the page.
Trump's Trade Policy Is an Own Goal for American Consumers
Trump underestimated the resolve of EU policymakers, and consumers worldwide are about to pay for it.
British And Ecuadorian Authorities In Talks To Evict Julian Assange From London Embassy
The London Times reported that the British and Ecuadorian governments have been holding secret discussions on plans to evict WikiLeaks editor Julian Assange from Ecuador's London embassy,
Lab-grown burgers could be on menus by 2021
You may soon be able to go into a restaurant and order "one hamburger, hold the cow." Dutch startup Mosa Meat has secured funding to take lab-grown meat from an expensive laboratory experiment to an affordable commercial commodity. Yum!
Papa John's Founder Regrets Resigning, Whines About Board Making Him Step Down 'Without Any Investigation'
Feckless cunt John Schnatter is apparently ready to drag his former company down with him, now saying that he regrets resigning. We don't.
Jewish nation state: Israel approves controversial bill
The bill's passage gives color of law to Israels' continued oppression of Palestinians and the continuation of the Zionist Apartheid State.
Comcast Drops Out of Bidding War for Fox to Focus on Sky
Disney can now go ahead with its $71 billion offer to purchase Fox.
---
What a week. All Trump, all the time. It's exhausting, which is precisely what Trumptards everywhere are counting on– the demoralization of the opposition in the face of a unified (and increasingly Russian owned ) government. Any remedy lies with the House, which currently means the same Congressional Republicans whose political future is tied to Trump's survival. Their primary voters, pollsters (and donors) tell them so. Anything that weakens Trump weakens their 2018 reelection prospects, and with that their ability their ability to dispense tax cuts to billionaires, load the judiciary with Federalist Society hacks, and immiserate liberals, gays, women and browns. Their political lives depend on Trump. They are mobbed up.
All of which makes getting your sorry ass to the polls in November more important than ever.
---
Surly1 is an administrator and contributing author to Doomstead Diner. He is the author of numerous rants, screeds and spittle-flecked invective here and elsewhere, and got off the porch long enough to be active in the Occupy movement. Where he met the woman who now shares his old Virginia home and who, like him, is grateful to not be taking a dirt nap, and who will likewise be disappointed to not be prominently featured on a Trump administration enemies list.