Off the keyboard of Albert Bates
Follow us on Twitter @doomstead666
Friend us on Facebook
Published on Peak Surfer on February 7, 2016
Discuss this article at the Environment Table inside the Diner


"Denial is common among our kind of sapient apes and faith in the supernatural — angels, aliens, and economists — exposes our deeper fear of overdue reckonings."
When a person you know dies, a part of you must go too, like a thread being cut and a part of yourself unraveling. We are a weave of such threads, we two-leggeds, and our knits are a biochemical, emotional, electrical and microbial gestalt. We interweave with each other in ways that are seen and unseen, forming a fabric that we call, for lack of precision, "community."
We have been spending some winter months in recent years in a small village on the North coast of the Yucatán Peninsula. When we first arrived it was a not atypical coastal town with dirt streets and thatched or tin roofs. It is secure within one of Mexico's largest nature preserves, and it is here because the village pre-existed the reserve, so it was allowed to remain as long as it behaved, and then even when it didn't. Development has been very cruel to this region in recent years, has made it socially, economically and ecologically more fragile, and has set it up for a big fall in the not very distant future.
We are much more comfortable wintering here than in the cold north, in Tennessee, or in touristy trendy spots like Mazatlan, Puerto Vallarta, Cabo San Lucas or Playa del Carmen. Here we can find the quiet time we need to gather and sort our lost or jumbled thoughts, recover from our summer labors and travels and prepare for the work to come. We have written 5 books here and substantially contributed to at least twice that many more.
Before there was Cancún or the state of Quintana Roo, this had been just one more fishing village — a few hundred souls. It was known mainly for the quality of its hammocks and the beautiful seashells that washed up on its beaches. Because of its position along Cabo Catoche and the Straits of Cuba, it receives annual migrations of fish, birds, sea turtles and marine mammals and the biodiversity runs deep. The name of a nearby town is the Mayan word for manatee. The name for this place in Mayan is "black hole," a reference perhaps to the freshwater Yalahau cenote that for more than five centuries attracted whalers, pirates and explorers to refill their water casks. Among the older family lines you can recognize Russian, Nordic, Moorish, Maori and Portuguese lineages in facial hair, skin complexion, physical build and other features that are neither Yucatec nor Mestizo.
Here, where it is so full of life, is a strange place to think of death, but there come times when everyone needs to. Mexico has very different customs regarding death than its neighboring countries to the North. As Octavio Paz wrote in Labyrinth of Solitude:
"The Mexican … is familiar with death, jokes about it, caresses it, sleeps with it, celebrates it. True, there is as much fear in his attitude as in that of others, but at least death is not hidden away: he looks at it face to face, with impatience, disdain or irony."
When Hernan Cortes conquered the region that is now Mexico City, his conquistadors noticed a local ritual of making offerings to the goddess Mictecacihuatl, Queen regnant of Mictlan, the underworld, ruling over the afterlife. In the Aztec codices, Mictecacihuatl is represented with a defleshed body, jaw agape to swallow the stars during the day. Cortes' priests were quick to link the Aztec rituals to the Catholic observances of All Hallows Eve, All Saints' Day and All Souls' Day, just as they brilliantly connected the dark-skinned indigenous Madonna, the Virgin of Guadalupe, to the corn goddess, Chicomecoatl. Unlike the masses for the dead celebrated elsewhere, however, Dia de los Muertos is a happy occasion, with a carnivalesque atmosphere.
For the south of Mexico and in rural areas, death holds far greater social and cultural significance than in the north and large cities; families and communities may spend large parts of the year in smaller rituals and processions and it is not uncommon to find an altar in every home with images of the departed. The pre-Columbian concept of life and death was as part of a broader, never-ending cycle of existence, which dovetailed neatly with Christian and Asian traditions of veneration of the deceased, afterlife and reincarnation. In places and periods where unnatural death is a regular feature, as it was in much of Turtle Island after European contact and for 500 years, death becomes engrained as a cultural expression. As the artist Diego Rivera said in 1920: "If you look around my studio, you will see Deaths everywhere, Deaths of every size and color."
Our neighbor across the way on Calle Gonzalo Guerrero is Capitán Carmelo, a fisherman and whale shark diving guide. He is part of an old family in the town and an "abuelo" now, with grandchildren in their teens. A day ago his wife, Maria Coral de Sabatini, died and today the community laid her to rest. We are going to spend a few moments now describing that process, because it has a lot to say about the power of community, how it is built, how it is held, and how it passes between generations.
We started noticing Maria's cough a few years ago. She sort of shrugged it off, sitting as she did in her chair in front of her home every day, but we couldn't help but notice as it became deeper, more throaty and more painful. We suspected that because she and Carmelo neither drink nor smoke and neither does anyone else in their house, that it was not likely lung cancer but more probably tuberculosis. Her family simply called it las garras (the claws, or what we might call the grip). When we returned last year it had gotten so severe that she had lost a lot of weight and could not sit outside on dusty days. When we returned this year she was gone. We asked after her and Carmelo said she was in the hospital.
Then on Christmas she returned home. We asked her about her health and she said she lived day to day, "poca a poca," little by little. We understood her to be dying. She had come to do that at home, among friends.
The knowledge that a person will die, combined with the uncertainty of not knowing when the event will happen, can be very stressful for family members and we witnessed this as the family drew together over the holidays. Then she seemed to recover, was up and about, and we were happy to see her walking to the corner store for eggs or fruit again, frail but smiling. The family dispersed again, the kids back to school, Carmelo and his son-in-law to fish each morning before sunrise.
A few days ago Maria's condition worsened and the family was pulled back together. Then one morning she suffered an arrest and the paramedics were summoned, followed by the police with the village pickup truck that doubles as an ambulance. We watched from our home and after an hour or so, the medics and police left and soon the village priest arrived.
Maria was given last rites by the priest and anointed with holy oil. If she was able, the priest heard her final confession, provided communion and offered absolution. Then began the vigil.
The vigil was attended mostly by immediate family, close neighbors and friends and lasted a day and a night, until Maria passed, peacefully, in her sleep. In the morning the family closed off the street and erected a tent. Chairs were brought and placed in a circle. A white coffin arrived, and Maria was bathed, dressed, and placed in it, on a pedestal in the front room of her home. For the next 24 hours, everyone who knew her came to pay their respects and say goodbye. They filed into the home and then out to the tent, where they sat, told stories, ate, sang. Musicians — different ones, separately and in groups — came with instruments, some several times. Choirs appeared and serenaded. Prayers were recited. Children came and sat with their elders or wandered in to stare at the body in the open coffin. Candles were lit. Elders were helped in, touched her, held her hand, said a prayer and were helped back out to the street. More candles were lit. More hymns, more prayers.
The wake continued through the night. A heavy rain fell, the heaviest of the winter so far. The songs got louder to drown the rain. Because Carmelo and Maria were teetotalers, there was no alcohol. This was a time for friends and family members to share memories of the past, to speak of their concerns for their own families, the village, the future. It is a moment when the fabric of the tribe is being woven. Lost threads are recovered. Wrongs are forgiven. Apologies are made. Expressions of friendship, kinship and love patch tears in the fabric. The children witness it all. This is part of their formative experience.
Maria was royalty. She bears the family name of José María Sabatini, for whom the annual fishing tournament is named. Her family, and the family of Carmelo, go back to the group that endured the great hurricane that swept away the original village on the Southwest point of the peninsula and made new islands there. They migrated their ejido southeast and built the village that is here now. There are a few names that appear most often in the cemetery that mark these families: Moguel, Ancona, Betancort, Avila, Nuñez, Rosado, Coral, Sabatini. Notice that these are not Mayan names and some are also not Spanish.
At sunrise a pickup truck fords the deep puddles and backs up to the house. The coffin and flowers are raised into the truck bed and the procession of mourners follows it at a walking pace to the church. There the coffin is unloaded, brought to the front of the nave and opened for viewing again. It is 8 am. Now the village gathers.
Capitan Carmelo is a vicar in the church and normally it would be his duty to prepare the way, usher the family to seats, read part of the scripture, and make the collection. Instead, he takes his position in the front row with his family while his fellow deacons, dressed in white, perform those functions. A choir forms at the vestry door and sings energetically at various points in the service. Loudspeakers in the nave make their small number seem larger than it is, but they sing in a style that is definitely homespun and authentic, not canned.

The cement angel motions the dead to hush up and sleep
Midway through, the town's power is lost, a not uncommon daily occurrence in this place. The priest does not even pause to acknowledge the loss. Lit through stained glass and with acapella choir, his mass does not miss a beat.
After communion, the pallbearers return to stand beside the coffin and Carmelo leans in to plant one last kiss on Maria before the lid comes down. It is a touching moment.
Then the coffin and flowers are carried back onto the bed of the pickup, which gets stuck turning around in the mud, and once unstuck, the long procession passes slowly through town and out to the cemetery in a light rain.
In Mexico it is said the dead return on certain days of the year. Those days they are remembered through special ceremonies. The body must be buried, not cremated, for their return to occur. Because we are on the sandy coast, the cemetery consists of aboveground vaults, cemented and tiled to protect from the sea. During Hurricane Wilma, the entire cemetery, and the town, went a meter or more under the waves and although the cemetery wall had to be repaired, relatively few of the vaults were badly damaged. Maria's family names, Coral and Sabatini, are on several of headstones.
Afterward, the mourners gather back in our street for a meal and reception. This is a time for levity, good food, and comforting those who are still dealing with their grief. Then, after two or more days awake, the family gets to sleep a short while and Maria Coral de Sabatini is gone but not forgotten.
The tent remains for the next 8 days, and each day there are visitors. Twice each day the front room of the house is filled with voices raised in hymn and the recitation of the rosary. On the final day, it is an all-night ceremony.
The cemetery is particularly poignant because this is a town that is built on the coral sand of a barrier island. The highest point of land is no more than 3 meters above the sea. Wetlands approach the edge of the cemetery and trash is being dumped there to fill the sinkholes. Some of that trash includes old monuments and broken crypts of the departed whose names have been forgotten, the marks on their stones and crosses rubbed out by time and salt air.
It might be denied by the government or wishful thinkers, but this is an entire town on death watch. The vigil begins every June, when it enters hurricane season, because one more Wilma could erase everything but the memories. Already regular tides that coincide with the moon are bringing seawater inland to places it has not reached in the memory of the elders. Many seawalls that were constructed after Wilma are now nearly obsolete. The population here continues to grow on the strength of tourism and Catholic fecundity, but where it will go when the town vanishes is anyone's guess. It is likely that many of these families could break apart. This is a community of place.
How long does it have? That's anyone's guess too. It could be a decade. Maybe two. Three seems unlikely, because both the Caribbean and the Gulf of Mexico are warming dramatically and molecular thermal expansion of the water, combined with the westerly currents at this latitude which dictate that sea level rise here will be stronger and faster than most other parts of the Earth. Southeastern Mexico, Galveston, New Orleans and Miami are on the front lines of climate change. Miami Beach, like here, has been sinking one inch each year, one foot every 12 years, and that is accelerating.
Some here believe that some supernatural event will spare this place its preordained fate. Denial is common among our kind of sapient apes and faith in the supernatural — angels, aliens, and economists — exposes our deeper fear of overdue reckonings. Still, not even the most hopeful provisions of The Paris Agreement can alter the fate of coastal cities and low islands now.
In the not-too-distant future the only way to visit Maria will be with a mask and snorkel. Unless the government decides to relocate everything, an unlikely prospect, she will still be here, and probably alongside Carmelo, when the rest of us have moved to higher ground.
Off the keyboard of Albert Bates
Follow us on Twitter @doomstead666
Friend us on Facebook
Published on Peak Surfer on January 3, 2016
Discuss this article at the Environment Table inside the Diner
"Cities like Miami, New Orleans, Tokyo and Venice will squander billons to forestall the inevitable and for a while may even seem to succeed, only to lose it all in one spin of the wheel — a single bad day with some monster storm."

The wind billowing out the seat of my britches,
My feet crackling splinters of glass and dried putty,
The half-grown chrysanthemums staring up like accusers,
Up through the streaked glass, flashing with sunlight,
A few white clouds all rushing eastward,
A line of elms plunging and tossing like horses,
And everyone, everyone pointing up and shouting!
—Theodore Roethke, The Child on Top of the Greenhouse
Watching the development of the Arctic superstorm on earth.nullschool.net, our eyes drifted to the Eastern Mediterranean, curious about the lake effect of that large body of water on Palestine and the Middle East. We had seen a photo earlier in the week from Instagram of a trolley making its way through snow in Istanbul, and we knew Eastern Mediterranean weather was likely cold.
We latched onto two curious patterns. The first was that cold air mass descending out of the Russian steppes, crossing the Black Sea, passing through the Dardanelles and entering the Mediterranean, where the hot air mass in Africa wheeled it around to lash the shores of Gaza. It was no surprise to see our heroic permaculture pioneer there in Ramalla, Murad AlKhufash, bundled up against the cold.
The other pattern we saw was farther west, beyond the boot of Italy, where two air masses converge and bend up into the continent. The first comes in off the North Atlantic, collides with that hot high in North Africa and swings up into Provence. The second is a westward flow of cool Mediterranean air moving down from the Italian Alps, out through the San Remo Bay and then along the gold coast, past Nice, Cannes, Monaco, before suddenly sweeping north, drawn like a magnet to that same compass heading in the Golfe de Lyon.
We watched, rapt, this vacuum in Southern France, endlessly drawing warm air up into Southwest Europe. It is a weather pattern as old as human history. This is where the oldest known hominid settlement, a stick and sealskin family lodge around a central firepit, is found at Terra Amata, 400000 BCE. "Tautavel man" (possibly Homo heidelbergensis) built refuge there, moving along an annual coastal hunting route during the Mindel glaciation. The cave paintings at Lascaux date to the middle of that Ice Age, when this part of Europe was relatively warm and food was plentiful, although stone tools discovered at Lézignan-la-Cèbe in 2009 date humans in France to at least 1.57 million years ago.
What we are looking at now, with this modern satellite imagery, is the climate signature of very old refugia — the places to which our kind, the two-leggeds, repaired when climate changed abruptly.
As the weather warmed again, there was an expansion of peoples from southwest Asia into Europe from the Aegean and Eastern Steppes, about 8500 years ago, marked by the introduction of Indo-European speech. Vascons bear the remnant genome — related to none other in the world and retaining a fragment of Neanderthal DNA — and pre-Indo-European linguistic roots. These peoples were likely forced from the lowlands and pushed upland by Middle Eastern migrants from 6500 to 4000 BC, moving eventually into the Pyrenees, where they live today in the Basque region of Spain and Andorra.
As an aside, when we were researching the history of the conquistadors for The Biochar Solution, we came across the fascinating tale of Lope de Aguirre (1510-1561), nicknamed El Loco ('the Madman') who was psychotically depicted by Klaus Kinski in Werner Herzog's B-film, Aguirre: the Wrath of God, in 1972 (where our friend, the bioregional poet and singer, Christopher Wells, performed as an extra). Aquirre, a Vascon, was said to be nearly 7 feet tall and was uncomfortable in leather boots, which compells us to muse about the possibility of his Neanderthal bloodline. When Aguirre was sentenced to public flogging for his cruelty towards the indigenous peoples he conquered and enslaved, he endured his whipping but then pursued the judge who sentenced him. Over three years he ran 6,000 km (3700 miles) through the mountains and jungles on foot, unshod, on the trail of the judge, who slept in armor to protect himself. He caught and killed the judge but was pardoned in exchange for his Indian-fighting services, until once more atrocities and his open rebellion against the Spanish crown made him a hunted rogue agent, gone off the reservation, and he so was recaptured and terminated with extreme prejudice.
The people living in the highlands of what is today Bolivia might of thought they had a pretty good life for themselves in a place of great natural beauty until that guy showed up.
Five hundred years before Aguirre, the Southern French and Italian coast was the tribal homeland for the Ligurians, whose language carries as many Celtic words as Indo-European, and who were conquered in the Punic Wars by Rome. The ancient Roman port of Ventimiglia, on San Remo Bay, lies close to one of Europe's most treasured ecovillages, at Torri Superiori, which perches just back up that river valley, at the transition point where paved roads give way to mountain trails, and a days' walk will take you through many vacant, or nearly vacant, fieldstone towns and cobbled hamlet ruins in the foothills.
In 1834, Henry Brougham, Lord Chancellor Lord Brougham and Vaux, discovered the sleepy fishing village of Cannes and built a winter villa there with immense lawns of turf imported from Britain by sail. Lord Brougham, epitomizing Britain's ruling class, is remembered for his stern attack on the radical idea of providing public education:

I should regard anything of the kind as utterly destructive of the end it has in view. Suppose the people of England were taught to bear it, and to be forced to educate their children by means of penalties, education would be made absolutely hateful in their eyes, and would speedily cease to be endured. They who have argued in favour of such a scheme from the example of a military government like that of Prussia have betrayed, in my opinion, great ignorance of the nature of Englishmen.
— Report of the Parliamentary Committee on the State of Education (1834).
Trailing in Brougham's turfboat wake, wealthy Victorian scoundrels landscaped themselves along the gold coast and over the present Italian border to Bordighera, San Remo and other Ligurian villages (until 1860, Nice and Menton were in the Kingdom of Piedmont-Sardinia), building exotic terraced gardens and palatial estates befitting the rewards of extractive colonial empire. It was in a family villa near Ventimiglia that Lord Balfour hosted the San Remo conference to design the partition of Palestine, haughtily issuing "Israel's Magna Carta," and precipitating the Jerusalem Nebi-Musa riots of 1920-21.
It was not just the warmth and healthy winter climate that attracted the British gentry. The cost of living was lower there than in London, Belfast or Edinburgh, and if one had served her Majesty in one of her distant colonial outposts and remembered fondly being waited on by servants — and the cool tropical drinks out on the veranda — one could hire poor French peasants for a pittance. These were the years following Napoleon's ruin, when empirical overreach sank French fortunes in a foolhardy Russian winter campaign and then got mopped up and tossed into history's dustbin by Wellington and the Prussians.
To some British ex-pats, the Riviera was simply an escape from Victorian morals, a place for singles and gays to freak freely — as Somerset Maugham put it, "a sunny place for shady people."

Last week we listened to a Kunstlercast podcast in which James Howard Kunstler chatted with Chuck Marohn of StrongTowns.org. The two mused at how estate prices had fallen in the rust belt and how easy it would be for aspiring youth and young families of like-minded kith and kin to move in, build collaborative, regenerative local economies while incurring zero debt, and even be supported in that reclamation process by the greater city, state and county taxsheds interested in recovering misallocated and stranded assets amid cascading petrocollapse.
Personally, we think climate change should be a major consideration. As we listened to scientist emeritus James Hansen in his Paris talks last month, we heard the urgency of his concern for sea level rise and took that to heart. But no one can say with certainty how fast an individual section of coastline will give itself up to the waves and that provides some comfort to coastal dwellers. Cities like Miami, New Orleans, Tokyo and Venice will squander billons to forestall the inevitable and for a while may even seem to succeed, only to lose it all in one spin of the wheel — a single bad day with some monster storm.
In Climate in Crisis (1990) we speculated that the hot interiors of continents were not going to be pleasant places in the coming years. With some exceptions, most will become dreadfully hot and water starved, subject to tornadoes, wildfires and even dust bowl conditions. The Pacific Northwest will be more wet, as will the American Southeast, but that also means much greater humidity and unless you can power air conditioning with renewable energy, not very happy places in warm times of the year. Mosquitoes and biting flies will love the change, and will proliferate too in thawing regions closer to the poles. Much of the Amazon Basin (another lockbox of untapped viruses) is expected to desertify at 3 degrees above now, and that will alter rainfall patterns for a very large part of the world. Being on the Equator, their climate may begin to resemble the lower quadrant of Saudi Arabia in a few decades.
When we taught our most recent permaculture course in Iceland we thought that would be a lovely place for young people to settle and build ecovillages. Cape Breton Island, Nova Scotia, fits a similar mold. We used to think that might be a great place to relocate our family and maybe take up fishing. After watching earth.nullschool.net and the gigantic storm now churning through the Arctic, we have second thoughts.

One thinks of higher elevations as refuges, and indeed, some very spectacular real estate can be found in the Rockies, Alps and Snowy Mountains. Insofar as the rain-shadow effect of cross-mountain winds continues, these may provide some areas of refuge, albeit gradually shrinking. So may certain islands, if they rise up from the sea to secure elevations and can shelter from superstorms.


As refugees continue to pour north into Europe we are reminded what it may look like in these more comfortable microclimates like Southern France in the not distant future. Human numbers are already staggering, our fecundity rates show no sign of abating, and we add 220,000 to the number of us at procreating age, every day.

In the end, it matters not where we are. It matters who we are, and what we do with our knowledge and skills in the time we are given.

Through sunny fields
And valleys deep
Through noisy streets
And river's sweep

Although I may race
With the wind
I keep that quiet place
Within

My heart; a chamber
Safe and warm
To give you shelter
From the storm
Off the keyboard of RE
Follow us on Twitter @doomstead666
Friend us on Facebook
Published on the Doomstead Diner on July 26, 2015
Visit the New Diner News Page for Daily Updates from around the Collapse Blogosphere
Discuss this article at the Environment Table inside the Diner
Order the problems we face in Collapse from the most pressing ones to the least pressing ones in need of addressing First
Sea Level Rise

Atmospheric Carbon Content

Monetary System Collapse

Geopolitical Conflict/War

Fossil Fuel Energy Depletion

Human Population Overshoot

Loss of Liberty/Police State

Terrorism

Nuclear Power Plants/Spent Fuel

Food Production

Drought

Population Migrations/Refugees
The Big Climate Newz of the week was that James Hansen, considered by many to be the #1 Climate Scientist in the world released his latest report on the crappy state of the earth. Now, the report is up online and downloadable for Free in .pdf form, all 121 pages of it. You can peruse it at your leisure, but if you have been following the "climate debate" for any period of time and are not in a state of complete denial, it's not going to tell you anything real new that you don't intuitively know already, that the climate is changing and that change appears to be accelerating. In nice scientific fashion, Jim documents this, and about the only difference from earlier studies is that the tone gets increasingly more strident, trying to get people to DO SOMETHING ABOUT IT!
This follows on the heels of the Pope's recent encyclical, and Moonbeam Goobernator of Sunny and Very Dry CA Jerry Brown's warning that climate change is going to fuck us up if we don't DO SOMETHING. For Collapse Blogosphere fans, you can add to that Guy McPherson's uber-doom prediction of Human Extinction by 2030 or so.
Now again, while the rhetoric is getting more strident, this isn't a whole lot different than what we heard from Rachel Carson with Silent Spring in the 1960's, or from the Club of Rome with Limits to Growth in the 1970s. You never got any real changes out of those studies, why would you expect this will be any different?
The Industrial model isn't run by any one person or even a group of persons that can put the brakes on it. It's a set of systems that built up over time, with the choices made for that build up not made by the population at large, but rather by a few people in positions of control of credit and the war machine. The problem here is that the choices made in the past cannot now be reversed, at least not without a tremendous amount of social dislocation at the very least, and really in many places dependent on these system a whole lot of dead people. Which you will get eventually no matter what, but both individuals and entire civilizations tend to try to put of dying as long as they can, by whatever means they can.
The biggest problems I see with the Hansen study are twofold. First of all, even if you accept the theory that the current climate problems are generated mainly by fossil fuel burning, can stopping that burning now reverse the changes made already? This doesn't seem likely now. There is evidence of a 40 year lag time between when the fossil fuel gets burned and its end effect on the environment. There is also evidence that if you took the particulates created by burning fossil fuels out of the air, this would actually cause more rapid warming because more sunlight would make it through. Beyond that, Hansen doesn't address the corollary problem, which is that if you quit burning fossil fuels on a dime, even if it were possible to flick it off like a light switch, precisely how would we run all the systems that depend on this energy these days, like your electric lights, the sewage treatment plants in the Big Shities, etc?
The second major problem is the timeline question. Again, accepting Hansen's results here, even at the most rapid of glacial melting, it's going to take 20 years or more for sea levels to rise even 10m or so. The prospect of all these coastal cities underwater by say 2050 is certainly horrifying, but the issue is we have other more pressing problems likely to hit even before that.
First of is the ongoing collapse of the monetary system. This is the "glue" that holds many of the rest of our systems together, the energy extraction bizness, the transportation system, the electric grid and the communications network. Shut down the fossil fuel economy, the monetary system implodes right behind it. How are all the rest of those systems supposed to function here without fossil fuels and without a monetary system to do the trade and keep the stuff moving around?
Next up, you have the food production and distribution problem itself, affected by energy availability, population overshoot, topsoil degradation and water availability. To begin with, the huge ag yields of the industrial era come from fossil fuel based fertilizers. Quit using the fossil fuels to keep the sea level from rising, poof your yields drop. How exactly are you going to get what food you can still grow from the fields to the people living in the big shities before they are underwater? How exactly are you going to pump what water is left in Lake Mead over to the AG fields in central CA? If you follow Jim's prescription for saving the world from SLR, even if it could be implemented and would work (neither of which is very likely), then you run into the problem that everything else breaks down BEFORE the glaciers have a chance to melt enough for a 10M sea level rise. So why even bother with this discussion and political controversy? It's a WASTE OF FUCKING TIME!
Forget the Seawater arriving problem in 50 years, you have the Freshwater leaving problem ALREADY hitting! Just about everybody knows about the problems they have in sunny & dry Califronia already, most of the Doom community knows about Sao Paolo in Brasil, but then on top of THAT you have the fact the Ogalala Aquifer is drying up.
JOHNSON, Kan.

The prairie wind buffeted Brant Peterson as he stood in a half-dead field of winter wheat.

In front of him, a red-winged blackbird darted in and out of a rippling green sea of healthy wheat.

Behind him, yellowed stalks rotted in the ground.

The reason for the stark contrast was buried 600 feet under Peterson's dusty boots: Only part of the field – the thriving part – had been irrigated by water pumped at that depth from the ancient Ogallala Aquifer, one of the largest underground sources of fresh water in the world.

"If not for irrigation that whole field would look like this," Peterson said, nudging the dead wheat with the toe of his boot.

But irrigation soon could end on Peterson's southwest Kansas farm. The wells under his land in Stanton County are fast running dry as farmers and ranchers across the Great Plains pump the Ogallala faster than it can be replenished naturally.
You need to accept a few facts of life here:
1) The glaciers are likely to melt and sea levels will rise no matter what is done over the near to medium term.
2) You can't get a political consensus on what to do about that in any case.
3) Other Economic, Geopolitical and Climate problems are going to hit before ocean rise is a major problem.
So then you have to decide what you CAN do in the face of this
1) Where can I choose to live, if I have some kind of choice?
2) What will I need to survive as things spin down?
3) How long do I have before it gets REALLY bad where I currently am?
Jim took 112 pages to write his report, I can synopsize it all with one acronym, FUBAR, Fucked Up Beyond All Recognition. There is no way SLR is getting solved now, I doubt it was even possible to prevent this back when Rachel Carson wrote Silent Spring, and that is even assuming it's all Anthropogenic, which I don't think it is. It doesn't matter though whether this is primarily driven by Anthropogenic causation or Geotectonic causation, because either way the trajectory is basically the same, the sea levels will rise and a significant portion of Homo Saps currently walking the earth will no longer be doing so in a few years, or at most decades of time. Those who are still ambulatory won't be located where these current coastal cities are, which should indicate to you that a preponderance of the dieoff will come form these places. That is CFS.
I think a lot of people bog down here when presented with these BIG ISSUES of climate change that are going to play out over the next century or even faster than that over the next 50 years, complete with all the Scientific Documentation. For Jim Hansen as a Chicken Little on this one, instead of "The Sky is Falling", it's "The Oceans are Coming!". Which IMHO I think he is correct on, but we have much more pressing problems that will hit before those do, possibly in the next couple of years but no longer than a decade for many of them.
The other big problem you have is many people get overwhelmed by the scope of all the problems, considering it all so bad that absolutely nobody can survive, all the habitat on earth for other living creatures we depend on will be destroyed and we'll all go extinct, possibly leaving the globe to be taken over by the Tardigrades for a few millenia until they get fried too.
This is of course a possibility, but given the cycles the Earth has already gone through, and the fact populations do suffer knockdowns but then bounce back later, it's sure not written in stone here that Homo Sap will go extinct, and not on the 15 year timeline of Guy McPherson to be sure. If you go up in latitude, average temperature decreases. If you go up in altitude it does also. So really all one relatively small group of people needs to do is find one little valley somewhere to live in balance with the nature that surrounds them while the rest of the earth heals itself, which granted might take a few millenia, but seems likely to occur based on the geologic history.
75,000 years ago when the Supervolcano Toba went ballistic, the population of Homo Saps was knocked down to 10,000 Human Souls, or 1000 Breeding Pairs. There is a decent amount of debate over whether Toba actually was the cause of this, but the genetic record is pretty clear, and CFS should tell you that we started from a relatively small group of people, or even incipient people going back into pre-history far enough to Austrolopithecus and so forth.
From that small number, we bounced up to the current 7B, much of that current population fed on the stored thermodynamic energy in fossil fuels. We'll most likely never get that big in population again, but it is still no sure thing that we will go extinct either. It aint' OVAH till the Fat Lady Sings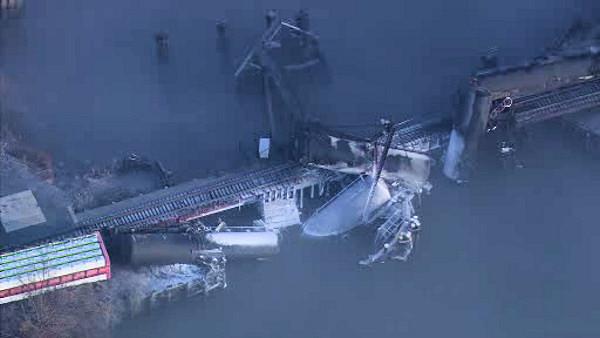 For the individual inside the Industrial Economy right now, it is much like riding a Chinese Bullet train headed for a Bridge across the Yangtze River you know will not support the train. You know it is destined to crash. Your problem is you don't know the exact speed at which the train is moving or the exact distance between where it is now and where the bridge is. So you can't know exactly how long it will take to get there. Right now, they are serving really nice Lobster & Filet Mignon in the Dining Car too, and who wants to leave that? Especially in order to leave you have to jump off a moving train into unknown territory, and convince your loved ones to jump with you too!
So it is pretty hard to quit on it, and really about all the people I have run into over the years who have quit are single and male, with a few exceptions of couples trying subsitence farming. That's obviously not rewilding, and in about all cases still relies on many inputs from the Industrial economy as well. There are not any cookbook solutions to this problem, but I do caution against obsessing over Sea Level Rise as the most pressing problem we face here, it is not. It can give you some window into deciding where you do NOT want to be, which obviously is any low lying Big Shity, but there are a few other obviously poor spots, like Las Vegas and Sao Paulo also. Of course, even Alaska isn't looking so great these days with all the wildfires, though we have had some rain and they have calmed down a bit. Still generally better than most places though.
Wherever you do end up, your survival will depend on luck and circumstance as much or more than any prepping you can do, but you can't do without the prepping either. It is also a pointless exercise to obsess about Extinction, which was always an inevitability, only the timeline was a question mark. All Living things Die, all Civilizations Collapse, all Species go Extinct. Perhaps if we had more Wisdom or Sapience as George Mobus on Question Everything puts it, we might have been able to keep this civilization going a bit longer than it did, but I doubt it. There are thermodynamic imperatives at work here that supercede the sapience of any individual, and we are only as smart as the whole network we create, which is only as smart as the dumbest node in there, and there are a lot of dumb ones out there, even in control of the levers of power.
Where we will be as a species in 10 years, 20 years or a century is anybody's guess. Where we will not be is no guess at all, we won't be Star Treking the Universe, that is certain. Where you or your progeny will be, also uncertain, but all you really can do as an individual is live another day, until you can't anymore. The imperative of life is to keep living as long as you can. You are not responsible or in control of what occurs to the entire race of Homo Saps no matter what you do, what choices you make. On the eternal level, you are only responsible for your own morality and your own ethics, and whatever they were or are, those are your legacy for your life. They will remain on your balance sheet for all eternity. Choose them well.