Follow us on Twitter @doomstead666
Friend us on Facebook
Published on the Doomstead Diner on March 13, 2016
Discuss this article at the Frostbite Falls Table inside the Diner
This week is the one year Anniversary of when I left the working world. Not voluntarily, it was forced on me by an accident at work which I have detailed in numerous blogs and forum posts, along with at least a couple of rants. Nevertheless, voluntarily or involuntarily the result is the same, I am "retired".
For the first 7 months of this retirement, it wasn't exactly bliss out on a Florida Golf Course. Besides the physical issues stemming from the accident, I was under a lot of financial and emotional stress, since it wasn't clear when or even if I would have any income to pay my bills. I wasn't eligible for Unemployment Insurance because I wasn't able to go to work of any sort. In fact just getting out of bed is hard many days. The insurance company representing my old employer "contraverted" the Workman's Compensation claim, which basically means they deny responsibility to pay up. That case is still under litigation a full year later now.
The final source of support in this situation is Social Security Disability Insurance (SSDI), and for this it takes a minimum of 4-6 months to get processed, and then only around 40% of applicants get their bennies on the first round. Another 40% get it on the second try, and then 20% are left twisting in the wind. Finding out anything about what is going on with your application during the initial supposed 4-6 months is about impossible, so you just wait and hope for the best. It's very stressful though as you watch your savings account dwindle paying your monthly bills, and this of course assumes you have such a savings account with enough money to pay all your bills for at least 6 months, which relatively few people have.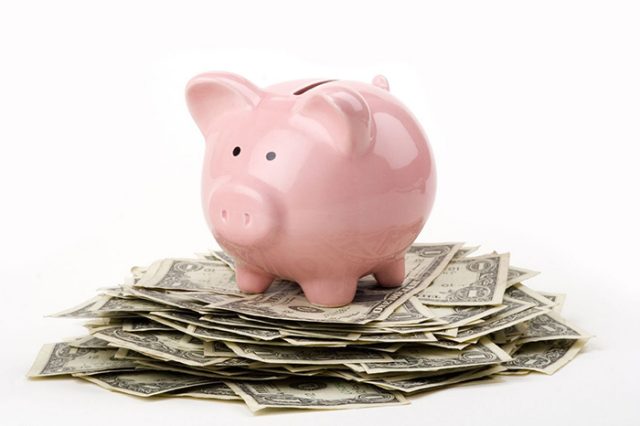 The blame for this lack of savings is often laid at the feet of the individual, but the fact is that unless you make a fairly high income, saving much money is quite difficult to do. Every month you struggle to meet your regular bills, and then when minor disasters come up each year like an impacted wisdom tooth or the tranny on your 8 year old Toyota gives out, whatever savings you accrued to that point ends up being used to cover the small annual disasters you face. If you lose a job for any reason and are unemployed for a few months, even if you get your UE Bennies it's not as much as you made in salary, so again you start dipping into your small pile of savings to cover that period. Over 30 or 40 years of the typical working lifespan in the industrial era, I think just about everyone suffers 1 or 2 periods of unemployment.
Anyhow, fortunately for me as a Doomer I did have my Nest Egg, and I also have made it a point to live very cheap, I keep my bills low and stay out of debt. An early experience in my life of amassing a fairly decent credit card bill for the time made me very penurious. It was all of about $6000 and seems like Chump Change now, but at the time it was $6000 more than I had or even was worth in any assets. All I had was a 7 year old Toyota Tercel 4WD Wagon, vintage 1983 worth about $1500, but they can't take your only transportation from you in a BK. So I declared Chapter 7 Bankruptcy, the bank didn't even bother to show up at the hearing and I was out from under the debt. I never went in debt again, in fact I never even held a credit card since then.
When my final BIG DISASTER occurred, I was not in the majority of people with less than 6 months of savings to cover bills, I had enough to cover more than a year. While not being in immediate danger of becoming Homeless though, it was stressfull watching the carefully harbored digibits in the Credit Union account dwindle each month, and I busied myself making plans for what I would do if I reached a low enough threshold where I would have to give up my digs and go live in my RV.
A HUGE source of psychological comfort and relief for me during this dark time were my friends on the Diner, 4 of whom offered me a place to come and park my RV while trying to get everything sorted out. These folks know who they are, and they have my eternal gratitude. Don't let anyone ever tell you that you can't make true FRIENDS over the internet, you can. True Friendship cannot be measured when times are good, you only know who your true friends are when times get rough.
Finally for me, after 7 months The Finger of God stepped in one more time to keep me going, I got my first SSDI check in November of 2015, and the digibits have been dropped in my Credit Union Account each month on the 4th Wednesday of the month ever since. The Credit Union Account no longer dwindles, now it grows again, although not by too much each month. My bills though are low enough though that SSDI covers them with a little bit to spare.
Many people look at SSDI recipients as "leeches" or the "Free Shit Army" as they liked to phrase it on The Burning Platform when I participated on that Temple of Libertarian nonsense. Fact is though, SSDI wasn't "free" at all. It was a mandatory Insurance Ponzi Scheme that I paid into for every year of my more than 40 year working lifespan. Just like if you have Fire Insurance on your McMansion and it burns down, if you have faithfully paid your monthly premium you EXPECT to be paid off by the Insurance Company! Of course they often try to weasel out on these claims, like the Workman's Comp Insurance company I am battling with is trying to do, but if your claim is valid you are ENTITLED to compensation! "Entitlements" are used pejoratively, as though there is something wrong with being entitled to a pension after working 30 years on a GM Production Line?
Being approved as a Certified Cripple by SSDI also makes it possible for me to get an "Early Pension" from the Union I worked for for 17 years, back in the day. When this comes through, it will add a bit more to the Monthly Mailbox Money I am ENTITLED to, because much like SSDI, my Union Dues were a REQUIRED monthly payment I had to make every month I was working in that industry. So that will add to my buffer level when it does finally come through, although there are delays on that one because they want a copy of my Divorce Decree from 30 years ago, which of course I no longer have and now am trying to get from the NYS Dept of Health. 12-14 weeks on that one supposedly, we'll see.
After all of this, sometime in the next year, maybe by summer I hope to have the Workman's Comp case tied up and settled as well, to finish out the first couple of years of my retirement, which while pretty stressful and not too physically comfortable at least I GOT! Moving down the road into the future, it becomes less and less likely that SS will hold up, that Pension Plans will hold up or that 401Ks and Stock Portfolios of "investments" will hold up too well either. So all the Pigmen who were ENTITLED to a comfortable retirement by living off their investments also won't be doing too good. Retirement as a whole is pretty much an industrial society concept, and in Ag Cultures and H-G cultures, once you past the point of being able to do SOMETHING the society valued, you died.
I in fact do have something to give back to the society which nurtured me, although it does not pay any money currently and actually costs me money to do, which is run the Doomstead Diner. How many people the Diner reaches is an open question, but overall the numbers are pretty good across all the sites under the Diner banner. So I have a REASON to keep going, which is to write for the Doomstead Diner. 🙂
Besides their work, besides raising the kids who leave the nest, besides Hobbies like playing Golf in Florida or visiting National Parks, once retired many folks find themselves without purpose, and that is really what leads you into death. This is a problem I do not have, every day there are new things to write about for the Diner, and in fact I usually am overloaded with projects I want to pursue. Who can I get on for the next interview? What topics to discuss in the next Collapse Cafe? What is sufficiently PISSING ME OFF to rant on? What pictures to select for the latest rant? I am bizzier than ever as a crippled and retired doomer than I ever was as a member of the for pay working world! LOL.
So overall, although it is not the retirement I dreamed of in my youth, this is not too bad as retirements go. I'd like to be in better physical shape of course, but at least my mental faculties are still in decent shape (although some Diners might dispute that. lol). I'm still hopeful that things will improve some too once all the bureaucratic and legal nonsense is tidied up. I'm in the midst of a debate with myself on whether I am physically capable of taking myself out on the road one more time to explore North America, to witness for myself the Collapse of Industrial Civilization as it manifests itself in communities around this land mass. Or perhaps I need to just stay here in my little cave and keep writing until the Internet Goes Dark. I don't know which one I will pick right now, but either way it is OK with me. I lived a pretty interesting life in the Age of Oil, and I didn't compromise my principles very much to make it through either. I certainly got a heck of a lot more than most folks who preceeded me got during their time walking the earth, and more than most folks who succeed me will get either. So all in all, a pretty good go round on this trip in a Meat Package for me on Planet Earth.
I no longer worry about or fear death, although I hope not to have an extended and painful one. I am ready to go into the Great Beyond any day, any time, and for this go round my legacy of the Doomstead Diner will stand until the Internet Goes Dark. Not sure what legacies I left in previous iterations of my life in a meat package on Earth, although I am pretty certain of a few of them. I know spiritually that I have always been a Nomad and always been a Freedom Seeker. I know that I have each time been anti-authoritarian and put the natural world above technological development. I know that in every iteration, I have been an independent soul who cares about others. I know this world will end, but souls are eternal in this universe and others. I know that my soul, when it leaves this meat package this time, will find again another place to seek FREEDOM.
I was there once before, I am certain of it, Navigating the first cat rigged sailing canoe that made it to the Big Island of Hawaii. I will be there again after this retirement is finished and I take my next trip to the Great Beyond.
Published
June 24, 2015
|
By
RE
Off the microphone of RE
Follow us on Twitter @doomstead666
Friend us on Facebook
Aired on the Doomstead Diner on June 24, 2015
Visit the New Diner News Page for Daily Updates from around the Collapse Blogosphere
Medic
Discuss this Rant at the Podcast Table inside the Diner
Greetings Diners!
Sorry for being so long between Rants these days, but as Regular Diners know, things have not been going exactly SWIMMINGLY WELL for RE over the last few weeks. All the bullshit I am dealing with both in my Cyberlife and IRL has been consuming most of my writing and ranting time for the last 3 weeks.
I will fill you in on the nonsense in this Rant.
I am at least through the cyber problems now for the most part. Through VOLUNTEER GIFT efforts by my Code Jockey Doomer friends on the net, we are in the process of making the Doomstead Diner (and other Doomer Sites we host) the most resilient and BULLETPROOF Doom Site on the NET. This will get DONE before I BUY MY TICKET TO THE GREAT BEYOND TM!; I will not LET myself die before it gets done!
I wish I had friends who could help me negotiate the Matrix of the Medical & Insurance Industries. Alas, this Code is impenetrable even for IT Code Jockeys.
Anyhow, to make up for not ranting much lately, this one runs long at 12:34. 1234…
Snippet:
…As regular Diners know, I have been in a battle with numerous Goobermint Agencies, Unemployment Insurance, Workman's Compensation and Social Security in order to try and get some kind of income here while I work out how to get Medical care and to afford that care. So far, about four months into this clusterfuck, I have not been able to get a dime from any of these systems that I paid into over the last 40 years of my working life. Not one thin DIME here, from any of them.

I am fortunate that I have some savings, because if I did not I would already be Homeless and dieing as a Cripple on the streets of Palmer, Alaska. So I have been waiting out the legal issues and the bureaucracy issues involved in all of these areas. Each month my savings dwindle a little more, each month I wait for some response from each area of the supposed "Social Safety Net"…
For the rest, LISTEN TO THE RANT!!!

Full transcript will be available HERE in a few days
Off the keyboard of  Jaded Prole
Follow us on Twitter @doomstead666
Friend us on Facebook
First Published in Veer Magazine, February, 2015.
February has been a very hard time for me and my wife. The snow and ice made it much worse. Our car, after much investment in repairs, clunked out in the crowded frenzy of a pre-storm grocery parking lot, its transmission giving in to entropy and poor design. As I approach 60 with aching knees and worn-out joints I'm feeling some sympathy with it as it sits under a shroud of snow, finally at rest.
Economically, I have been on a downhill slide reflecting national trends not often talked about when the delusion of economic recovery is more politically useful. It is true that corporations are reaping record profits and even that hiring may be up a few percentage points but the jobs are mostly part-time low-paying service jobs and wages remain stagnant if not decreasing in relation to actual living costs. The truth is that those being left behind are older workers. People like me.
My last job ended as the economy collapsed back in 2008. In spite of my experience, record of dependability and good work, being unemployed and over 50 made me automatically less desirable to employers. A survey by the Heldrich Center for Workforce Development at Rutgers University found that nearly two-thirds of unemployed workers age 55 and older say they have been actively searching for a job for more than a year, compared to just one-third of younger workers. Economists Dean Baker and Kevin Hassett noted in a New York Times op-ed,
"A worker between ages 50 and 61 who has been unemployed for 17 months has only about a 9 percent chance of finding a new job in the next three months. A worker who is 62 or older and in the same situation has only about a 6 percent chance. As unemployment increases in duration, these slim chances drop steadily."
I can attest to the reality of this. Though I have remained productive as a writer and publisher and have continued to apply for jobs I know I'm qualified for, I rarely, if ever, get a response. The dehumanization of on-line applications adds to the difficulty as we are all reduced to data in competing for fewer positions like a blood-sport version of musical chairs. It is worse than depressing. As that Times op-ed goes on to report,
"Economists Daniel Sullivan and Till von Wachter estimate a 50 to 100 percent increase in death rates for older male workers in the years immediately following a job loss. There are various reasons for this rise in mortality. One is suicide. A recent study found that a 10 percent increase in the unemployment rate (say from 8 to 8.8 percent) would increase the suicide rate for males by 1.47 percent. This is not a small effect. Assuming a link of that scale, the increase in unemployment would lead to an additional 128 suicides per month in the United States. The picture for the long-term unemployed is especially disturbing. The duration of unemployment is the dominant force in the relationship between joblessness and the risk of suicide."
A more recent study by the U.S. Centers for Disease Control and Prevention confirmed that one of the primary causes of mortality in people between the ages of 40 and 64 since the recession began in 2007 is suicide directly related to job and economic losses. I am fortunate to have my publishing, writing and activism which give me a sense of personal identity and purpose, as well as the loving support of my wife Beverly and my community of friends. Without these, I might well be another statistic.
Those of us who spent decades in the workforce before the economy crashed under the weight of rampant corruption and record greed, are paying the penalty for the crimes of others who made a killing on Wall Street, in real estate, and in supplying materials for wars begun by the Bush administration.
The same folks responsible for crashing our economy, exporting productive jobs, undermining the quality and security of the jobs we are left with, and slashing the social safety net are continuing to attack your security and mine. Particularly despicable are the continuing attacks on Social Security given the aging population and the high, seemingly permanent unemployment of older workers. I'll bet you have heard repeatedly that "Social Security is broke." There is a good chance you believe this. It is a lie which has been repeated like a mantra for decades by those who would like to hand your Social Security over to the same Wall Street financiers who "broke" our national economy to enrich themselves. Social Security is anything but "broke."
Nancy J. Altman, co-founder of the group Social Security Works writes,
"Social Security, in pension jargon, is current-funded. About 75 percent of its revenue comes from insurance contributions withheld from workers' wages, matched dollar-for-dollar by their employers. This is a permanent and ongoing source of revenue. As long as there are Americans working, Social Security will have this steady, reliable source of income. It would take an Act of Congress to end this source of revenue. And if no Americans were working, our troubles would be a lot greater than Social Security's financing!
She adds,
"Social Security is conservatively managed. Every year, its income and benefits are projected out not just five, 10, or 15 years, but 75 years. It is unsurprising that projections out that far into the future may sometimes show a deficit. And current projections do show a deficit, manageable in size and over two decades away. That should be addressed, but it is nothing to be alarmed about, certainly nothing that calls for the loaded, misleading, emotionally charged cry of bankruptcy! In fact, our Social Security system is a creditor of the United States. Whenever Social Security runs a surplus, it invests that surplus. Congress requires that those funds be invested in the safest investment on Earth – government bonds backed by the full faith and credit of the Unites States. The United States currently owes around $18 trillion to its creditors; $2.8 trillion of that $18 trillion is owed to Social Security. The bonds held by Social Security in trust for America's working families have the same legal status as the bonds held by private pension plans, foreign governments and other institutions. "
It is true that in about 25 years Social Security could face a shortfall but that could be easily fixed by simply raising the cap in income deductions. Under the current system, any wages over the first $106,800 are exempt from Social Security withholding. People in the highest income brackets, about 6% of us, have finished contributing by March of this year. Raising that cap would keep Social Security solvent well into the next century and beyond.
Part of the undermining of Social Security and for that matter of our real security – yours and mine, is the raising of the retirement age even while employment for older workers disappears. The justification is that we are living longer but the reality is that, except for the wealthiest, we are not. Altman writes,
"Under current law, Social Security's statutory retirement age is already increasing from 65 to 67. Though hard to understand without being thoroughly familiar with the way Social Security benefits are calculated, raising Social Security's statutory retirement age is indistinguishable from an across-the-board benefit cut. For every year that the statutory retirement age is increased, all retiree benefits are reduced by around 6 percent."
If anything, rather than cuts and higher retirement ages, Social Security should be expanded. The average age of pension eligibility in most developed countries is 60.
Attacks on Social Security are not just aimed at those of us who funded it for decades through paycheck deductions. The latest attack is on the disabled. Those suffering debilitating workplace injuries and those with handicaps. Funding for Social Security's benefit package are held in two different trust funds, the disability trust fund and the old age and survivors trust fund. Every few years Congress authorizes a transfer of funds from the old age and survivors fund to the disability trust. Republicans in Congress see this as an opening to attack Social Security by holding this transfer up, calling for cuts of up to 20% on the meager benefits to our most disabled citizens and raising the retirement age to 70.
Republicans argue that transferring money from the broader program to the disability program weakens the program for seniors. A recent analysis from the Center on Budget and Policy Priorities concluded that such transfers are routine, have happened 11 times in the past, and that another one right now would be easy to do concluding that
"Another reallocation to replenish the DI trust fund wouldn't threaten seniors, contrary to the rule's implicit attempt to pit retirement and disability beneficiaries against each other."
Back to you and I. There is no justification in the wealthiest country on earth for young people to be stuck living at home, struggling to find work and feeling they have no future. There is no excuse for the discarding of older workers and the ill. Half of our population is now at the poverty line, in debt and a shaky paycheck away from destitution. Corporate corruption of our government is degrading our economy to third world conditions. Our real economic security is eroding as the disparity between desperate poverty and obscene wealth reaches levels never before seen. We are cynically divided against ourselves with partisan politics by the corporate interests that impoverish us. We do not have to settle for this. What has kept me from giving up is community. Community is really about people looking out for each other whether as good neighbors, church communities or civic and political organizations. I cannot emphasize enough the importance of building community. Community is our strength and in it there is real power. The recognition of our united strength is why so much is spent to keep us divided.
It is easy to be crippled by cynicism, hopelessness and despair. But the reality is that citizen activism has a good record of creating change. Citizen activism created Social Security, better working conditions and Civil Rights legislation. It recently stopped the XL Pipeline, saved the open internet and won Norfolk an elected school board. We have to keep in mind that just as decisions made in back rooms affect each and every one of us, together we can advocate powerfully for ourselves affecting those decisions. From local Virginia issues like off-shore drilling, zoning, and local government accountability, to national issues like electoral reform, climate policy and defending Social Security, we can work with others in groups like the Sierra Club, or other regional and state organizing groups to make a real difference. I have found that doing so has been spiritually empowering and even fun. I have made many friends along the way, friends who have in fact pulled me and my wife through this difficult time with both emotional and material support. Not electing Republicans is important but Democrats aren't much better. We cannot blindly trust any elected politicians to represent our interests. As the poet and playwright Bertolt Brecht pointed out, no one but ourselves will act for us, it must be all of us or none.
---
Jaded Prole is the nom-de-plume of a freelance writer and poet as well as a publisher, and philosopher living in Virginia. His blog is here. He also publishes The Blue Collar Review, a quarterly whose purpose is to expand and promote a progressive working class vision of culture.
http://partisanpress.org/
Posted in

Feature, Forum, Home
|
Tagged

Economy, Employment, Jaded Prole, job search, old age survivors trust fund, older workers, Social Security, the disability trust fund, Unemployment
Published
November 22, 2014
|
By
RE
Off the keyboard of RE
Follow us on Twitter @doomstead666
Friend us on Facebook
Published on the Doomstead Diner on November 2014
Discuss this article at the Economics Table inside the Diner
One of the most persistent explanations circulating around Economics websites is that a major reason for our current economic problems lies in the fact the Boomer and GenX generations failed to Save money over the last 30 years, and spent profligately on stuff they could not afford, racking up huge credit card debt along the way.   There is of course some truth to this, but to understand the whole phenomenon you have to dig a bit deeper.
The first thing you have to realize is that at any given time, half the population has above the Median Income, and half below it.  Currently, the Median Income in the FSoA is $51,000.
The Median Income has changed over the years, here it is in adjusted 2009 Dollars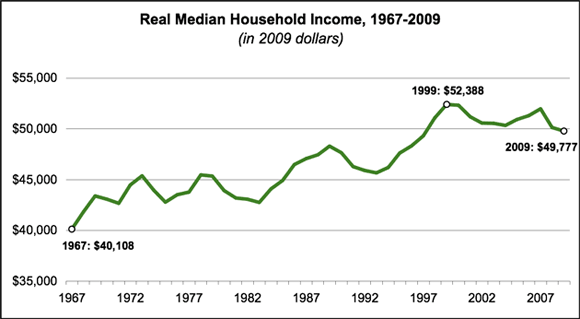 In fact in REAL Dollars available at the time, the 1967 Median Income was nowhere near $40,000, it was around $6000.
If somebody making median income in 1967 was saving 5% of their income, they could save $300 for that year.  If they had it invested in something that brought in a 10% return every year for the entire time since then, that $300 would be $24,000 today.  However, few things brought a steady return of 10% every single year since 1967, there have been a few busts and low interest rate periods along the way, so your real return probably was a good deal lower than that.
The 5% target is a good one, and probably can be achieved by most people making the Median Income at any given time.  However, it doesn't account for "disasters" which occur periodically for everyone statistically, like you get sick, your union goes on strike, you get in a car accident, your wife gets unexpectedly pregnant before you are making the big bucks, etc.  That $300/year nest egg you started in 1967 all gets wiped out in 1972 when your factory job moves over to China and you are unemployed for 6 months.  Or The HUGE Nest Egg you had in 1990 all goes up in smoke because you invested in Dot Coms.  Not only do you wipe out your nest egg in many of these situations, you have to go in debt to stay floating, and thereafter you are always behind the 8-Ball.
| | | | |
| --- | --- | --- | --- |
| Year | No. of Households | Nominal $ | Inflation Adjusted $ |
| | | | |
| --- | --- | --- | --- |
| 2012 | 122,459,000 | $49,486 | $51,017 |
| | | | |
| --- | --- | --- | --- |
| 2011 | 121,084,000 | $48,545 | $51,100 |
| | | | |
| --- | --- | --- | --- |
| 2010 | 119,927,000 | $47,793 | $51,892 |
| | | | |
| --- | --- | --- | --- |
| 2009 | 117,538,000 | $48,276 | $53,285 |
| | | | |
| --- | --- | --- | --- |
| 2008 | 117,181,000 | $48,762 | $53,644 |
| | | | |
| --- | --- | --- | --- |
| 2007 | 116,783,000 | $48,729 | $55,627 |
| | | | |
| --- | --- | --- | --- |
| 2006 | 116,011,000 | $46,713 | $54,892 |
| | | | |
| --- | --- | --- | --- |
| 2005 | 114,384,000 | $44,951 | $54,486 |
| | | | |
| --- | --- | --- | --- |
| 2004 | 113,343,000 | $43,005 | $53,891 |
| | | | |
| --- | --- | --- | --- |
| 2003 | 112,000,000 | $42,019 | $54,079 |
| | | | |
| --- | --- | --- | --- |
| 2002 | 111,278,000 | $41,137 | $54,127 |
| | | | |
| --- | --- | --- | --- |
| 2001 | 109,297,000 | $40,965 | $54,766 |
| | | | |
| --- | --- | --- | --- |
| 2000 | 108,209,000 | $40,703 | $55,987 |
| | | | |
| --- | --- | --- | --- |
| 1999 | 106,434,000 | $39,480 | $56,080 |
| | | | |
| --- | --- | --- | --- |
| 1998 | 103,874,000 | $37,635 | $54,702 |
| | | | |
| --- | --- | --- | --- |
| 1997 | 102,528,000 | $35,788 | $52,784 |
| | | | |
| --- | --- | --- | --- |
| 1996 | 101,018,000 | $34,290 | $51,720 |
| | | | |
| --- | --- | --- | --- |
| 1995 | 99,627,000 | $32,830 | $50,978 |
| | | | |
| --- | --- | --- | --- |
| 1994 | 98,990,000 | $30,943 | $49,429 |
| | | | |
| --- | --- | --- | --- |
| 1993 | 97,107,000 | $29,819 | $48,884 |
| | | | |
| --- | --- | --- | --- |
| 1992 | 96,426,000 | $29,080 | $49,122 |
| | | | |
| --- | --- | --- | --- |
| 1991 | 95,669,000 | $28,479 | $49,529 |
| | | | |
| --- | --- | --- | --- |
| 1990 | 94,312,000 | $28,149 | $50,994 |
| | | | |
| --- | --- | --- | --- |
| 1989 | 93,347,000 | $27,081 | $51,681 |
| | | | |
| --- | --- | --- | --- |
| 1988 | 92,830,000 | $25,388 | $50,776 |
| | | | |
| --- | --- | --- | --- |
| 1987 | 91,124,000 | $24,187 | $50,389 |
| | | | |
| --- | --- | --- | --- |
| 1986 | 89,479,000 | $23,041 | $49,764 |
| | | | |
| --- | --- | --- | --- |
| 1985 | 88,458,000 | $21,821 | $48,063 |
| | | | |
| --- | --- | --- | --- |
| 1984 | 86,789,000 | $20,712 | $47,181 |
| | | | |
| --- | --- | --- | --- |
| 1983 | 85,407,000 | $19,265 | $45,760 |
| | | | |
| --- | --- | --- | --- |
| 1982 | 83,918,000 | $18,801 | $46,082 |
| | | | |
| --- | --- | --- | --- |
| 1981 | 83,527,000 | $17,743 | $46,205 |
| | | | |
| --- | --- | --- | --- |
| 1980 | 82,368,000 | $16,354 | $46,995 |
| | | | |
| --- | --- | --- | --- |
| 1979 | 80,776,000 | $14,896 | $48,520 |
| | | | |
| --- | --- | --- | --- |
| 1978 | 77,330,000 | $13,380 | $48,655 |
| | | | |
| --- | --- | --- | --- |
| 1977 | 76,030,000 | $11,992 | $46,842 |
| | | | |
| --- | --- | --- | --- |
| 1976 | 74,142,000 | $11,172 | $46,548 |
| | | | |
| --- | --- | --- | --- |
| 1975 | 72,867,000 | $10,394 | $45,788 |
| | | | |
| --- | --- | --- | --- |
| 1974 | 71,163,000 | $9,780 | $47,019 |
| | | | |
| --- | --- | --- | --- |
| 1973 | 69,859,000 | $9,129 | $48,557 |
| | | | |
| --- | --- | --- | --- |
| 1972 | 68,251,000 | $8,424 | $47,596 |
| | | | |
| --- | --- | --- | --- |
| 1971 | 66,676,000 | $7,805 | $45,641 |
| | | | |
| --- | --- | --- | --- |
| 1970 | 64,778,000 | $7,559 | $46,089 |
| | | | |
| --- | --- | --- | --- |
| 1969 | 63,401,000 | $7,200 | $46,449 |
| | | | |
| --- | --- | --- | --- |
| 1968 | 62,214,000 | $6,583 | $44,785 |
| | | | |
| --- | --- | --- | --- |
| 1967 | 60,813,000 | $6,054 | $42,934 |
The next problem to look at is what the cost of living was back then, and how plausible it was for someone making $6000 to save $300 each year?  From Flashback.com, we get these stats for 1967:
| | |
| --- | --- |
| President:  | Lyndon B. Johnson  |
| Vice President:  | Hubert H. Humphrey  |
| Population:  | 198,712,056  |
| Life expectancy:  | 70.5 years  |
| Dow-Jones  |   |
| High:  | 943  |
| Low:  | 786  |
| Federal spending:  | $157.46 billion  |
| Federal debt:  | $340.4 billion  |
| Inflation:  | 2.8%  |
| Consumer Price Index:  | 33.4  |
| Unemployment:  | 3.8%  |
| | |
| --- | --- |
| Cost of a new home:  | $24,600.00  |
| Cost of a new car:  | $  |
| Median Household Income:  | $7,143.00  |
| Cost of a first-class stamp:  | $0.05  |
| Cost of a gallon of regular gas:  | $0.33  |
| Cost of a dozen eggs:  | $0.49  |
| Cost of a gallon of Milk:  | $1.03  |
Slight discrepancy here between the stats, Flashback has the Median Income $1,143 higher than Dave Manuel, which is quite a significant difference.  Let's go with $6600 as a compromise figure.  That means the 1967 Median Wage Earner had a Gross Monthly Income of around $550.  On a 20% Downpayment 30 year fixed rate mortgage at 5% with 3% property Tax, the Mortgage Calculator comes in with a monthly payment of around $168.
There is no car cost for 1967 from Flashback, however from People History, I get the figure of $2750. For a 4 year auto loan @ 4% interest, payment comes in a $63.  Now we are up to $231/mo expenses.
A Gallon of Gas, $0.33, say you drove 20 miles/day, 600/mo, 10mpg that is $10/mo.  Now you are at $241.
I didn't take out taxes from the Gross Income, I haven't worked up the food budget or home heating, insurance costs etc but fairly obviously here if you made the Median Income in 1967, you would easily exceed $550/month, no savings, long as you had a Car anyhow.  Which explains why in 1967 the median household probably did not have a car.
There were of course many ways to reduce your expenses, as there always are.  Used Cars are an option, living in small rental units to save money also an option.  However, the EXPECTATION for everyone was to live the Median Lifestyle on the Median Income, generally meaning you would buy a house on credit, buy a car on credit and live the lifestyle portrayed on Leave it to Beaver and Father Knows Best.
So the expansion of credit to live this way predates the Boomers, in fact the Greatest Generation from WWII really began to live this way in earnest, and even prior generations did also, because the whole monetary system has ALWAYS been predicated on expanding the debt.
You could do similar calculations for today, and actually it is mostly a good deal worse with car and McMansion prices an order of magnitude higher, and Gas prices also an order of magnitude higher, even with the recent deflation in these prices.
This brings us to the next problem, which is what would have occurred if the Silents, GGs and Boomers had NOT taken on Debt over the decades here?  We would have had Deflation and Depression much sooner, that is what would have happened!  The issue here is the Paradox of Thrift.
The paradox of thrift (or paradox of saving) is a paradox of economics, popularized by John Maynard Keynes, though it had been stated as early as 1714 in The Fable of the Bees,[1] and similar sentiments date to antiquity.[2][3] The paradox states that if everyone tries to save more money during times of economic recession, then aggregate demand will fall and will in turn lower total savings in the population because of the decrease in consumption and economic growth. The paradox is, narrowly speaking, that total savings may fall even when individual savings attempt to rise, and, broadly speaking, that increase in savings may be harmful to an economy.[4] Both the narrow and broad claims are paradoxical within the assumption underlying the fallacy of composition, namely that what is true of the parts must be true of the whole. The narrow claim transparently contradicts this assumption, and the broad one does so by implication, because while individual thrift is generally averred to be good for the economy, the paradox of thrift holds that collective thrift may be bad for the economy.
The tendency is to forget that the entire Monetary System is based on Debt, and has been so since before the FSoA ever became a country, in fact even before the Bank of England was chartered in 1692.  Without debt, the whole biz collapses.  Even more important, without Debt EXPANSION the system collapses.  The trick here is to be the one who can access the debt, but pawn it off on others to pay it off.  This is what the TBTF Banks do.  Corporate structure allows Oligarchs to issue ENORMOUS sums of debt, they skim off bonuses and then eventually leave the rotting hulk to be paid off by the Taxpayer.  See the Railroads, the Electric Grid, the Auto Companies, the Airlines and the Dot Com Bubble to review the history here.
As, a system, it has never been able to pay it's debts, and for the average J6P the main issue has been to try to stay ahead of the whole game, and collect a greater than average median level of the debt money to pursue your life in the society, and to Save if you have enough of the surplus.  Generally speaking though, only the Top Half has a surplus, the Bottom Half always runs a Deficit.  Assets on the Balance Sheet of the Savers are the Debts on the Balance Sheet of the Debtors.  That is how the system works.  If there were not Debtors, there would be no Rich people.
Could you Save Money if you were in the Lower Half of the Demographic?  Sure you could, as long as you did not buy new cars, did not buy big McMansions and take vacations to Hawaii, if you were Frugal over these years you could save, and some people in this demographic did.  MOST of the savers though come from the Top Half, and in fact from the top 20% or so of Wage Earners over the period.  These folks DID save, and the numbers are there to prove this.  It is a canard that Boomers did not save, it is only true that most of the half of Boomers below the Median income did not save.  That however is true of every generation, not just Boomers.
In the final analysis though, it did not matter whether individually you Saved or not, because as a whole the Industrial Society has been accumulating ever increasing amounts of Irredeemable Debt since the beginning of the Industrial Revolution.  In terms of the Debt issued through the period, the VAST majority of that Debt was taken on by Industrialists to expand the Industrial System, and the War Machine which is a big part of that.  Consumer debt over the period was a small part, although it definitely did expand in the last 30 years, but it is played out now.  Consumers are indebted up to their eyeballs, in fact so are corporations, so now Goobermints through the Central Banks are taking the debt onto their balance sheet, but this debt will never be repaid.  It is IRREDEEMABLE DEBT.  When this finally is recognized, the whole system collapses.  It has very little to do with Boomer spending and Savings habits over the years.  The whole system was Doomed from the get-go, because you cannot have Infinite Growth in a World of Finite Resources.  Libertarian Ideologues who blame Doomers for this are Pissing in the Wind.
Coming Soon to a Theater Near You.
Published
June 11, 2014
|
By
Stucky
Off the keyboard of Stuck in New Jersey
Follow us on Twitter @doomstead666
Friend us on Facebook
Published on The Burning Platform on June 10, 2014
Discuss this article at the Geopolitics Table inside the Diner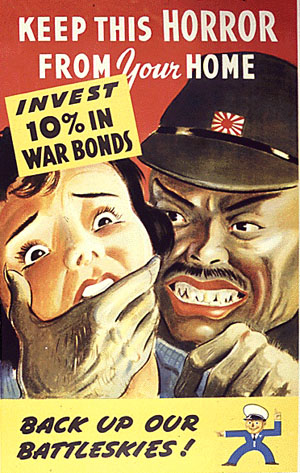 "War forces 'national planning'. To permit total mobilization of your country's economy, you gladly surrender many freedoms. You know regimentation was forced by your country's enemies."
———— "The Road To Serfdom", Step 1
"Criticism of the decisions made during war only come from people who have never fought in a war but you sure have enjoyed the results of all those men dying. Right?"
———— Village Idiot (bb) to me, referring to D-Day and WWII
Well, let's take a look at The Good War, and the "results" I have "enjoyed".
BEFORE THE WAR —- FDR'S NEW DEAL
Herbert Hoover couldn't adequately deal with the Great Depression. So, disgusted Americans elected FDR in 1932. FDR's campaign promises in 1932 were to; cut federal spending, balance the budget, maintain a sound currency, and stop bureaucratic centralization in Washington. That didn't work out to well. Instead he gave Americans a bewildering, incoherent mass of new expenditures, taxes, subsidies, regulations, and direct government participation in every aspect of economic activity. For starters, how about 47 new Federal Programs and Agencies implemented between 1933 – 1939? Listed in order of implementation;
Emergency Banking Act , Government Economy Act, Beer-Wine Revenue Act, Civilian Conservation Corps, Abandonment of Gold Standard, Federal Emergency Relief Act, Agricultural Adjustment Act, Emergency Farm Mortgage Act, Tennessee Valley Authority Act,, Securities Act, Abrogation of Gold Payment Clause, Home Owners Refinancing Act, Establish the Home Owners Loan Corporation (HOLC), Glass-Steagall Banking Act, creation of Federal Deposit Insurance Corporation, National Industrial Recovery Act, create the Public Works Administration (PWA), Emergency Railroad Transportation Act , Civil Works Administration , Gold Reserve Act, National Housing Act, create the Federal Housing Administration (FHA), Securities Exchange Act, Federal Communications Act , Soil Conservation & Domestic Allotment Act, Emergency Relief Appropriation, Works Progress Administration , Rural Electrification Act , National Labor Relations Act /Wagner Act, Resettlement Act, Social Security Act (SSA), creation of Social Security Trust Fund, United States Housing Act, Bonneville Power Administration, Farm Tenancy Act, Farm Security Administration, Federal National Mortgage Association (FNMA), New Agricultural Adjustment Act, Fair Labor Standards Act, Federal Security Agency
[Side Note: It has been said that FDR was much loved, and that's why he was elected four times. That's not true. The 1936 election is touted as one of the biggest landslides in history. Nevertheless, some guy named "Alf" was able to garner 17 Million votes. Look again at the above 47 acts … WHO benefits? Old folks, young folks, blacks, poor folks [supposedly], Unions, farmers, and anyone wanting or owning a home, amongst others. In other words, enormous swaths of the country needing free shit. Even blacks, loyal to the Republican Party ever since the Civil War, abandoned the GOP in exchange for the pitiful relief payments and crap jobs in the federal work-relief programs. It's called Buying Votes. John T. Flynn, in his book, 'The Roosevelt Myth', said ——– "it was always easy to interest him in a plan which would confer some special benefit upon some special class in the population in exchange for their votes," and that eventually "no political boss could compete with him in any county in America in the distribution of money and jobs."]
In a 1936 book called 'The Menace of Roosevelt and His Policies', Howard E. Kershner wrote that Roosevelt; ——– "took charge of our government when it was comparatively simple, and for the most part confined to the essential functions of government, and transformed it into a highly complex, bungling agency for throttling business and bedeviling the private lives of free people. It is no exaggeration to say that he took the government when it was a small racket and made a large racket out of it."
Under heavy criticism for all this crapola even FDR himself eventually said that he was — "not willing that the vitality of our people be further sapped by the giving of doles, of market baskets, by a few hours of weekly work cutting grass, raking leaves, or picking up papers in the public parks." But, just like his broken campaign promises, the Free Shit Handouts did continue throughout his Presidency.
FDR's true colors should have been apparent to everyone after his first inaugural speech when he said ——- "we must move as a trained and loyal army willing to sacrifice for the good of a common discipline.". Then he made a comment Obama would have been proud of by warning Congress that if they didn't do his bidding he would seek —— "broad executive power to wage a war against the emergency as great as the power that would be given me if we were in fact invaded by a foreign foe." FDR, the new King, swinging his E.O. pen from the Bully Pulpit … it won't be the last time a president ignores the will of the people.
FDR often clung to the analogy that just as war was a national emergency, so was the current economic climate. Just as in war the government controls and mobilizes the economy, so should the government do likewise in this economic national emergency. Aside from the fact that whenever the government declares a war on any aspect of social / economic life (i.e.; war on drugs, war on poverty, war on racism, war on obesity, etc.) that the war always ends it dismal failure, is the fact that successfully prosecuting a war has virtually nothing in common with the necessary requisites of getting an economy out of a depression. But FDR was determined to change every aspect of the American landscape, a war where the protagonist was the American Government, and the victims the American People who voted the scoundrels into office. As expected, his war on the economic national emergency would fail. Eventually, only a real war would save his ass …. and preserve Big Daddy government he perfected.
Prior to the Good War, exactly how did things work out? In 1939, ten years after its onset and six years after the commencement of the New Deal, 9.5 million persons, or 17.2% of the labor force, still remained officially unemployed …with 3 million of those "employed" being enrolled in emergency government make-work shovel-ready projects. As late as June 1939, industrial production remained significantly below 1929 levels (81 vs. 100).
Furthermore, mounting evidence makes it clear that poor people were principal victims of the New Deal. New Deal programs were financed by tripling federal taxes from $1.6 billion in 1933 to $5.3 billion in 1940. Excise taxes, personal income taxes, inheritance taxes, corporate income taxes, holding company taxes and so-called "excess profits" taxes all went up. New Deal taxes were major job destroyers during the 1930s. Higher business taxes meant that employers had less money for growth and jobs. Social Security excise taxes on payrolls made it more expensive for employers to hire people, which discouraged hiring. The National Industrial Recovery Act cut back production and forced wages above market levels, making it more expensive for employers to hire people – blacks alone were estimated to have lost some 500,000 jobs because of the NIRA. The NIRA forced consumers to pay above-market prices for goods and services, and the Agricultural Adjustment Act forced Americans to pay more for food. Amazingly, FDR banned discounting by signing the Anti-Chain Store Act and the Retail Price Maintenance Act.
The most important source of New Deal revenue were excise taxes levied on alcoholic beverages, cigarettes, matches, candy, chewing gum, margarine, fruit juice, soft drinks, cars, tires, telephone calls, movie tickets, playing cards, electricity, radios – in other words, the New Deal was substantially financed by the middle class and poor people. Consumers had less money to spend, and employers had less money for growth and jobs. It wasn't until 1942, in the midst of World War II, that income taxes exceeded excise taxes for the first time under FDR.
By 1939 the whole damn house of cards was about to tumble. Unemployment climbed back over 20%. This, despite cartelizing industry, subsidizing farmers, creating massive make-work projects, promoting organized labor, and launching the modern welfare state (social security, minimum wage laws, AFDC) …. all funded by a combination of increased debt, excise taxes, and high progressive income taxation. Even FDR's secretary of the Treasury, Henry Morgenthau, confessed to the House Ways and Means Committee on May 9, 1939;
"We have tried spending money. We are spending more than we have ever spent before AND IT DOES NOT WORK … We have never made good on our promises … I say after eight years of this Administration we have just as much unemployment as when we started. …. And an enormous debt to boot!"
Where the New Deal succeeded beyond FDR's wildest imagination was in changing the country's dominant ideology. Just look at the 47 new acts and agencies. Each interferes with the effective operation of the free market. Each renders the economy less productive with its subsidizing, financing, insuring, regulating, fines and punishments. The New Deal set a precedent that virtually any government program could gain sufficient political support in Congress. Limited constitutional government no longer applied …. especially after the Supreme Court revolution that began in 1937. After the New Deal virtually everyone would look to the federal government for solutions to problems great and small, real and imagined, even personal as well as social. After the New Deal any new proposed federal program might be opposed because of its structure, personnel, or cost … but virtually no one objected on principle, that this new program by its very nature was inappropriate to the role of government. Government now is The-Solution-To-Everything. FDR's lasting legacy is a bloated, very stupid, extremely intrusive government trampling on citizens liberty. But, even so, it almost died on the vine.
Prior to entering the Good War, FDR's economic war plans to remake America into a socialist utopia was failing miserably, as shown above. What he needed was a real damn war. Not to save Europe or help America! But to preserve his new found powers and to keep the Federal Bloated Pig fed into perpetuity.
WINNING THE GOOD WAR AND ENJOYING ITS RESULTS
EUROPE
Let's start with Poland. Why? Because Britain and France declared war against Germany when German military forces attacked Poland …. and Britain and France would liberate Poland, they said. How sincere was that pledge? Not, very. Soviet forces attacked Poland from the East two weeks later, ultimately taking even more Polish territory than did Germany, and the leaders of Britain and France kept silent. Was Poland free after WWII ended? Of course, not. They had to endure decades of brutal (at times) Soviet domination. So, the Good War wasn't so good for Poland.
What about all of Eastern Europe? Also dominated and ruled by the Soviets. No freedom for them as a result of the Good War.
What about England? They won!! Churchill, in his 'Finest Hour' address, said: —— "Upon this battle depends the survival of Christian civilization. Upon it depends our own British life and the long continuity of our institutions and our Empire." A few weeks earlier in his 'Blood, Sweat and Tears' speech, he said that unless Germany was defeated, there would be; ——– "no survival for the British empire, no survival for all that the British empire has stood for…". How did wining the Good War turn out for the Brits? Even Churchill lamented the war's outcome three years after the end of fighting; —— "The human tragedy of the war reaches its climax in the fact that after all the exertions and sacrifices of hundreds of millions of people and of the victories of the Righteous Cause, we have still not found Peace or Security, and that we lie in the grip of even worse perils than those we have surmounted." The once mighty British empire … the one in which the sun never set … that empire has vanished into history. The Brits can now watch the sun set on their empire every day, and they don't even need to leave their island.
British historian Basil Liddell Hart wrote: ———- "All the effort that was put into the destruction of Hitlerite Germany resulted in a Europe so devastated and weakened in the process that its power of resistance was much reduced in the face of a fresh and greater menace – and Britain, in common with her European neighbours, had become a poor dependent of the United States. These are the hard facts underlying the victory that was so hopefully pursued and so painfully achieved ….. It confirmed the warning of past experience that this victory is a 'mirage in the desert' – the desert that a long war creates, when waged with modern weapons and unlimited methods."
What about the rest of Western Europe? Well, several of them are saddled with a permanent Occupying Force — at least that's what it's called when Russia did likewise. None of them can adequately protect themselves. All of them are sock-puppets to Uncle Schmuel. This is not freedom. Europe for the first time in its history was no longer master of its own destiny. In 1941 FDR and Churchill issued the "Atlantic Charter", a formal declaration of Allied war aims, that the USA and Britain would seek; —- "no territorial changes that do not accord with the freely expressed wishes of the peoples concerned". They lied! They re-drew so many borders with impunity dividing up countries like an Etch-A-Sketch Gone Wild. Their horrible decisions took decades to come to its bloodletting fruition, such as in Yugoslavia in the early 1990s and still in the Middle East to this day. Wow, that's some kind of 'victory'.
But, the USA (the government) and Soviet Russia came out smelling like a rose. FDR, Stalin, and Churchill met in Yalta and accomplished EXACTLY what they accused the Krauts, Nips, and Dagos of conspiring to achieve ……. world domination. One must be willfully blind to not see the hypocrisy. WWII was not a war for freedom. Rather, it was a war for who would become the winner of the global game of Risk, and the players at Yalta, each in his own duplicitous way, tried to assure that only one power would be left standing.
Russia did exceptionally well, although it took seven decades to realize the full potential. Russia today has virtually no debt, and with their thousands of nukes is the only nation in the world that can legitimately stand up to American military might, and has enormous natural resource wealth with oil, minerals, and arable land, and along with China and other nations is working hard to put an end to the petro-dollar …. which would certainly put the final nail in the coffin of the American Empire. I wonder how the Village Idiot will enjoy those results.
AMERICA
There is no doubt that the end of WWII launched an era of astounding prosperity. Perhaps that's what out Village Idiot means by me enjoying "the results of men dying". But, that would be quite a statement coming from the Village Idiot, who is also an unabashed Fundy Bible Thumper. It's almost as if he never read the warnings from Scripture against loving things, acquiring unnecessary wealth, and the evils of loving money. The only question that matters is whether or not obtaining this prosperity was worth the cost. I don't think it was. Decide for yourself.
ISOLATIONISM DIES ……… GIVING BIRTH TO GLOBALISM
Yes, there are exceptions (taking the land from Native Americans, taking/buying lands from the French, taking/fighting the Mexicans for huge portions of land), but for the most part, American history is one whereby its citizens and politicians preferred isolationism. For a hundred years after George Washington's farewell address warning against "foreign entanglements", America basically minded its own damn business. Then along came that rat-bastard, Woody Wilson (may he rot in hell), who was elected largely on his promise to keep America out of the European War. But about a month after his inauguration this war-mongering Ivy League elitist gives his "War message to Congress", not because our security is at stake, but because America suddenly acquired this duty to spread liberty across the world; —– "The world must be made safe for democracy. Its peace must be planted upon the tested foundations of political liberty."
Anyway, war was declared, the people went along with the charade, millions died, and ………… peace in Europe was never achieved. As a result, by the 1930's, disillusioned Americans became more convinced than ever that foreign adventure was a disastrous policy. American isolationism was renewed with a vengeance. The majority of Americans were very firmly opposed to entering WWII. Most people know that FDR's goading Japan to attack Pearl Harbor changed all that. But there was another guy who helped kill isolationism, Henry Luce.
Luce was the founder and editor of the Time and Life empire. Those two magazine were THE source of news for Americans. Luce penned an editorial in 1941, "The American Century.". Luce should be the patron saint of Fox news and neocon warmongers. Luce said the US was already the strongest nation in the world for several decades, and that NOW was the time to accept the responsibilities of that power, writing that the US should "exert upon the world the full impact of our influence, for such purposes as we see fit and by such means as we see fit.". He said the US must be a force for good. How? By spreading our culture, feeding and clothing the world, and spreading the ideals of democracy, freedom, and justice around the globe. His editorial was received with great enthusiasm. It effectively marked the death of American isolationism.
A FANATICAL REVIVAL OF AMERICAN EXCEPTIONALISM
America was birthed with a belief in its exceptionalism going as far back as the 1600's whereby the Puritans believed themselves to be on a "special mission from God". The end of WWII fueled our exceptionalistic beliefs, like throwing gasoline on a fire. Ours was the only significant economy left standing, and one without global competition. Our military was invincible. Always a religious people, it seemed even atheists acknowledged that America was specially blessed by God. We could do whatever we wanted, when we wanted, for as long as we wanted, and cost was never an issue. We believed one of the craziest notions of all time ….. that each successive generation would surpass the affluence of the one before.
The process of breaking these illusions and returning to reality STLL HAS NOT TAKEN PLACE!! To listen to Obama's West Point speech a couple weeks ago was like taking a Time Capsule trip back to May 8th, 1945. Obama actually believes in his heart we are still an exceptional nation, who can do what it wants, when it wants, including bombing other nations unilaterally as we see fit, and cost is never an issue.
Historian Murray Rothbard summed it up most succinctly when he wrote: —– "World War II is the last war myth left, the myth that the Old Left clings to in pure desperation: the myth that here, at least, was a good war, here was a war in which America was in the right. World War II is the war thrown into our faces by the war-making establishment, as it tries, in each war that we face, to wrap itself in the mantle of good and righteous World War II."
It is our belief in an exceptional military that is so dangerous … to us and the rest of the world … for exceptionalism inevitably leads to over-confidence. Since 1945, American presidents have repeatedly sought to justify US military actions in foreign countries Exceptionalism/over-confidence led that that jackass Lydon Johnson to believe the Vietnam war would be over in a few weeks. It led Bush to compare fighting Iraq – another "good war" — with our mission against Hitler, and his moronic son to prematurely ejaculate "mission accomplished". Fast forward to the current Moron-In-Chief and you get a numbskull who calls Afghanistan a "necessary war", and who is desperately seeking to re-ignite a Cold War with Russia — because we are exceptional, and they are not — or, possibly even WWIII, the next Good War that will certainly this time be the war to end all wars.
THE CURSE OF AFFLUENCE
Hey, I watch the Honeymooners. In one episode Alice complains to Ralph about their lack of modern conveniences saying that their last month's electric bill was eighty-nine cents!! Ha! I don't want to live like that! I'm delighted I have a fridge, a gas oven, a vacuum cleaner, and other niceties of life. But, as stated earlier, what was the real cost in completely transforming society?
The most obvious is that everything became larger; media, education, entertainment, corporations, you name it but, especially government. Individual craftsmanship gave way to mass production. Mom and pop gave way to franchises. Quaint towns and villages each unique to its geographical location gave way to suburbia … a mind numbing sameness that is only marginally better than those old Soviet-era grey concrete apartments.
The growth of suburbia created a "consumption multiplier"; more homes meant more appliances had to be produced, and furniture to furnish them, and malls to supply the homeowner with all their needs, more roads needed to be built, and more automobiles to transport the consuming masses, and children largely abandoned by their parents needed more toys, phones, computers, and gadgets to keep them occupied.
A mass-produced society really doesn't need a lot of people who work for themselves. So, now, instead of people like our own Hardscrabble Farmer, we have hordes of worker drones working for someone else in corporations, government offices, and universities; mostly white collar workers in their cubicle fiefdoms, and millions upon millions in the soul-destroying "service industry". Schools are incapable of coming to the rescue as their only interest is producing little robots that conform to the status quo, individualism be damned.
Even the Most Holy of Holies has been replaced by The Holy God Of Stuff. Go to any Christian bookstore and you'll find row after row of books on how to 'name it and claim it'… in the name of Jesus, of course. The theology section might consist of two rows of shelves. From Joel Olsteen (the psychologist to neurotic Christians) to Trinity Broadcasting Network (for Christians so materialistic it makes the Devil blush) the case can be made that Friedrich Nietzsche was correct; "God IS dead", at least in most American churches.
So, tell me, how wonderful has all this material abundance really been? Not that it really matters … because the Age of Abundance will soon pass. This generation is already worse off than mine was, and the next one will be still even worse. The Honeymooners kitchen in the not too distant future will look like the lap of luxury.
AN OUT OF CONTROL FEDERAL GOVERNMENT and PRESIDENCY
The math is simple. During the war years, federal civilian employees increased from one million to nearly four million. Washington's spending grew from $9 billion to $99 billion dollars. And like a cancer, neither has stopped growing since. Time after time FDR assumed more and more authority, almost acting like a King. Important decisions concerning both domestic and foreign policy were not made by Congress, but by the President and his advisers. Not every president after FDR was as bad. But, no one complained, no one was outraged, no one questioned FDR's abuse of the Constitution, and so, the precedent was once again established (after a hiatus from the Lincoln years). Obama has read FDR's playbook, and perfected it.
THE BIRTH OF THE MILITARY-INDUSTRIAL COMPLEX
The partnership of Big Science, Big Government, and Big Business established in1940 had created a firm foundation for future projects. Scientists were commissioned to perfect new weapons like the atom bomb, better radar, jet engines, penicillin, etc. Prostitution increased dramatically as FDR offered big business executives key positions. Corporate profits doubled. There was a demand in markets that previously did not exist. It was the beginning of the end of the family farm as larger commercial farms absorbed them. This was all pretty nifty at the time as it helped win the war. BUT, the beast didn't stop growing after the war, it just grew and grew and grew … a cancerous blob of protoplasmic slop that will, in time, consume itself.
Eisenhower talked about the dangers of the MIC in his farewell speech. During the war an organized relationship arose between big business and the military's spending on defense as hundreds of millions of dollars were spent which, in turn, inflated American industrial capacity. Small companies disappeared as two-thirds of government contracts went to the 100 largest corporations. Today the MIC spends more on American defense than the next 9 largest spenders combined … and that includes Russia and China …not to mention we are the world's number one arms exporter by a huge margin.
Military spending is less effective at creating jobs than virtually any other form of government activity. In fact, it might not actually "create" any jobs at all. Military spending doesn't make our country richer, otherwise, why wouldn't we just build 10 millions tanks so we could all become millionaires? If you like Paul Krugman and his Weaponized Keynesianism band, you won't believe this, but every dollar spent on military spending is a dollar not spent making something that will help all Americans economically. It's pissing money down the toilet.
THE CURSE OF ADVERTISING AND CREDIT
I loathe advertising at about the same level I do bankers and politicians. How can I respect an industry whereby every product output is basically a lie (of either omission or commission), a half-truth, or an exaggeration, and whose goal is always for their clients (us) to commit one of the 7 Deadly Sins, that of Greed? The post-war explosion in the production of consumer goods created an explosion in the advertising industry …. because people just don't buy all that crap on their own, they need to be suckered into it. But, even with mom now in the workforce, there often wasn't enough money to buy stuff, as there was so much of it. This new materialism led to the creation of an economy run on credit …. a concept basically unknown before the war, when most families borrowed money only to buy a house, or perhaps a car. The credit card changed America, and not in a good way for its many debt slaves.
BLACKS (or African-Americans, Neegrows, colored folk, …. or whatever)
In 1941, 10 of 13 million Blacks still lived in the rural South. One million blacks migrated to the North during the war. Two million were employed in the defense industry. As early as 1943 a riot broke out in a federally-sponsored housing project in Detroit, leaving 35 blacks and 9 whites dead. A little over two decades later Newark, Watts, and other areas were left burning. Civil disobedience – "sit-ins" first, violence later – occurred almost immediately after the Congress of Racial Equality (CORE) was founded in 1942.
MEXICANS
The need for farm workers rose dramatically after Pearl Harbor. To meet the demand, the United States established the Bracero (work hands) Program in 1942, and by 1945, several hundred thousand Mexican workers had immigrated to the Southwest. Commercial farmers welcomed them; labor unions, however, resented the competition, leading to animosity and discrimination against Mexicans. The war opened the immigration floodgates, both legal and illegal.
WOMEN
The war had a dramatic impact on women. The most visible change was the sudden appearance of large numbers of women in uniform, such as 250,000 women joining the Women's Army Corps (WAC), as well as the other service branches. And over 6 million women entered the work force, and for the first time in history, married working women outnumbered single working women. "Rosie the Riveter" became the popular symbol of women who abandoned traditional female occupations.
I'm not a misogynist. I have no qualms with women having the same opportunities as men. But this 'social engineering' came at a cost to family life and therefore to society, and to deny it is foolishness. Moms either stayed on the job, or went to work outside of the home in large numbers, not because they needed to, but because they could. There became suddenly so many things to buy! Consumerism may not have been born during the immediate post-war era, but it was surely Super-Sized. And one of the reasons Boomers became the most fucked up generation ever (according to many here on TBP) may have been because we were raised by others not called mom-and-dad. We did enjoy them buying us stuff to assuage their guilt. We watched. We took notes. And, when we grew up, many of us bought BMWs and McMansions.
ENEMY ALIENS IN OUR MIDST!!!
At first, Japanese-American-owned banks and businesses were closed, as well as Japanese language schools. FDR ordered members of suspected "enemy alien" groups to turn in their cameras, radios, and weapons. The U.S. Attorney General established curfews in military zones and forbade "enemy aliens" to travel outside of a five mile radius from their homes. Then, eventually, 112,000 of America's 127,000 Japanese living on the mainland were sent to Internment Camps (lesser known is that about 15,000 people of German and Italian ancestry were also subject to Amerika's wartime confinement program.)
The above events are rarely discussed and easily dismissed as a necessary act during a time of war. In other words, no big deal, move along. However, it is one of Amerika's darkest moments. I will keep my argument simple; —- THEY WERE AMERICANS!!! Many were born HERE, some families going generations deep. Even those not born here, they immigrated here because they wanted to be Americans, and they were loyal to this country. I was born in Austria, but after living here 55 of my 60 years, if you try to tell me I'm not an American, trust me, I'm likely to punch you in the brain.
Once again, this heinous act set (or, re-established) a precedent … that it's perfectly OK to send AMERICANS to prison —err, interment — camps for some stupid trumped-up fear-mongering reason. And if you disagree with that, my friend, you will really enjoy the FEMA Camps, coming to a theater near you, soon.  How will you feel when they come for YOU, because you own a gun, or belong to the Tea Party, or because you are a wacko 'Constitutionalist", or belong to the 99 other groups this Federal Government is so afraid of that there's an FBI Watch List monitoring them all? Will you still say, "It's no big deal?"
HOW "GOOD" WAS THE GOOD WAR REALLY?
"What kind of war do civilians suppose we fought, anyway? We shot prisoners in cold blood, wiped out hospitals, strafed lifeboats, killed or mistreated enemy civilians, finished off the enemy wounded, tossed the dying into a hole with the dead, and in the Pacific boiled the flesh off enemy skulls to make table ornaments for sweethearts, or carved their bones into letter-openers." That quote comes from a 1946 Atlantic Monthly article by Edgar L. Jones titled 'One War Is Enough'. The article is here, and well worth the read (if you can handle the truth); —- http://www.theatlantic.com/past/docs/unbound/bookauth/battle/jones.htm
BACK TO THE VILLAGE IDIOT
The Village Idiot (bb) eventually did answer my question regarding WHICH results I've "enjoyed" as a result of "all those men dying". This is all he could come up with;
"Think about it, if we had lost the war America as we knew it would not have been."
To which I say, "If only that were true. If only ….". There are a great many people who understand that our WWII victory was a Pyrrhic one. The Village Idiot will not believe me. He'll probably even call me bad names. So, I close with a quote from Charles A. Lindbergh, 25 years after the war ended he wrote;
"We won the war in a military sense; but in a broader sense it seems to me we lost it, for our Western civilization is less respected and secure than it was before. In order to defeat Germany and Japan we supported the still greater menaces of Russia and China – which now confront us in a nuclear-weapon era. Much of our Western culture was destroyed. We lost the genetic heredity formed through eons in many million lives. It is alarmingly possible that World War II marks the beginning of our Western civilization's breakdown, as it already marks the breakdown of the greatest empire ever built by man."
[amazon text=www.amazon.com&template=carousel&asin=B00A323CPU, B00KSR2Z6Mz, B00JSZMC5E, B00I7J6BEU, B00D0O7AZ, B00HWGLW9I, B0015KGXR8, B0097DHRMK, B00J39MTF8, B00GO83VUI]
Off the keyboard of Jim Quinn
Follow us on Twitter @doomstead666
Friend us on Facebook
Published on The Burning Platform on March 24, 2014
Discuss this article at the Economics Table inside the Diner
"When a government is dependent upon bankers for money, they and not the leaders of the government control the situation, since the hand that gives is above the hand that takes. Money has no motherland; financiers are without patriotism and without decency; their sole object is gain." – Napoleon Bonaparte
"A great industrial nation is controlled by its system of credit. Our system of credit is privately concentrated. The growth of the nation, therefore, and all our activities are in the hands of a few men … [W]e have come to be one of the worst ruled, one of the most completely controlled and dominated, governments in the civilized world—no longer a government by free opinion, no longer a government by conviction and the vote of the majority, but a government by the opinion and the duress of small groups of dominant men."– Woodrow Wilson
When you ponder the implications of allowing a small group of powerful wealthy unaccountable men to control the currency of a nation over the last one hundred years, you understand why our public education system sucks. You understand why the government created Common Core curriculum teaches children that 3 x 4 = 13, as long as you feel good about your answer. George Carlin was right. The owners of this country (bankers, billionaires, corporate titans, politicians) want more for themselves and less for everyone else. They want an educational system that creates ignorant, obedient, vacuous, obese dullards who question nothing, consume mass quantities of corporate processed fast food, gaze at iGadgets, are easily susceptible to media propaganda and compliant to government regulations and directives. They don't want highly educated, critical thinking, civil minded, well informed, questioning citizens understanding how badly they have been screwed over the last century. I'm sorry to say, your owners are winning in a landslide.
The government controlled public education system has flourished beyond all expectations of your owners. We've become a nation of techno-narcissistic, math challenged, reality TV distracted, welfare entitled, materialistic, gluttonous, indebted consumers of Chinese slave labor produced crap. There are more Americans who know the name of Kanye West and Kim Kardashian's bastard child (North West) than know the name of our Secretary of State (Ketchup Kerry). Americans can generate a text or tweet with blinding speed but couldn't give you change from a dollar bill if their life depended upon it. They are whizzes at buying crap on Amazon or Ebay with a credit card, but have never balanced their checkbook or figured out the concept of deferred gratification and saving for the future. While the ignorant masses are worked into a frenzy by the media propaganda machine over gay marriage, diversity, abortion, climate change, and never ending wars on poverty, drugs and terror, our owners use their complete capture of the financial, regulatory, political, judicial and economic systems to pillage the remaining national wealth they haven't already extracted.
The financial illiteracy of the uneducated lower classes and the willful ignorance of the supposedly highly educated classes has never been more evident than when examining the concept of Federal Reserve created currency debasement – also known as inflation. The insidious central banker created monetary inflation is the cause of all the ills in our warped, deformed, rigged financialized economic system. The outright manipulation and falsity of government reported economic data is designed to obscure the truth and keep the populace unaware of the deception being executed by the owners of this country. They have utilized deceit, falsification, propaganda and outright lies to mislead the public about the true picture of the disastrous financial condition in this country. Since most people are already trapped in the mental state of normalcy bias, it is easy for those in control to reinforce that normalcy bias by manipulating economic data to appear normal and using their media mouthpieces to perpetuate the false storyline of recovery and a return to normalcy.
This is how feckless politicians and government apparatchiks are able to add $2.8 billion per day to the national debt; a central bank owned by Too Big To Trust Wall Street banks has been able to create $3.3 trillion out of thin air and pump it into the veins of its owners; and government controlled agencies report a declining unemployment rate, no inflation and a growing economy, without creating an iota of dissent or skepticism from the public. Americans want to be lied to because it allows them to continue living lives of delusion, where spending more than you make, consuming rather than saving, and believing stock market speculation and home price appreciation will make them rich are viable life strategies. Even though 90% of the population owns virtually no stocks, they are convinced record stock market highs are somehow beneficial to their lives. They actually believe Bernanke/Yellen when they bloviate about the dangers of deflation. Who would want to pay less for gasoline, food, rent, or tuition?
Unless you are beholden to the oligarchs, that sense of stress, discomfort, feeling that all in not well, and disturbing everyday visual observations is part of the cognitive dissonance engulfing the nation. Anyone who opens their eyes and honestly assesses their own financial condition, along with the obvious deterioration of our suburban sprawl retail paradise infrastructure, is confronted with information that is inconsistent with what they hear from their bought off politician leaders, highly compensated Ivy League trained economists, and millionaire talking heads in the corporate legacy media. Most people resolve this inconsistency by ignoring the facts, rejecting the obvious and refusing to use their common sense. To acknowledge the truth would require confronting your own part in this Ponzi debt charade disguised as an economic system. It is easier to believe a big lie than think critically and face up to decades of irrational behavior and reckless conduct.
What's In Your GDP                          
"The Gross Domestic Product (GDP) is one of the broader measures of economic activity and is the most widely followed business indicator reported by the U.S. government. Upward growth biases built into GDP modeling since the early 1980s, however, have rendered this important series nearly worthless as an indicator of economic activity.  The popularly followed number in each release is the seasonally adjusted, annualized quarterly growth rate of real (inflation-adjusted) GDP, where the current-dollar number is deflated by the BEA's estimates of appropriate price changes. It is important to keep in mind that the lower the inflation rate used in the deflation process, the higher will be the resulting inflation-adjusted GDP growth." – John Williams – Shadowstats
GDP is the economic statistic bankers, politicians and media pundits use to convince the masses the economy is growing and their lives are improving. Therefore, it is the statistic most likely to be manipulated, twisted and engineered in order to portray the storyline required by the oligarchs. Two consecutive quarters of negative GDP growth usually marks a recession. Those in power do not like to report recessions, so data "massaging" has been required over the last few decades to generate the required result. Prior to 1991 the government reported the broader GNP, which includes the GDP plus the balance of international flows of interest and dividend payments. Once we became a debtor nation, with massive interest payments to foreigners, reporting GNP became inconvenient. It is not reported because it is approximately $900 billion lower than GDP. The creativity of our keepers knows no bounds. In July of 2013 the government decided they had found a more "accurate" method for measuring GDP and simply retroactively increased GDP by $500 billion out of thin air. It's amazing how every "more accurate" accounting adjustment improves the reported data. The economic growth didn't change, but GDP was boosted by 3%. These adjustments pale in comparison to the decades long under-reporting of inflation baked into the GDP calculation.
As John Williams pointed out, GDP is adjusted for inflation. The higher inflation factored into the calculation, the lower reported GDP. The deflator used by the BEA in their GDP calculation is even lower than the already bastardized CPI. According to the BEA, there has only been 32% inflation since the year 2000. They have only found 1.4% inflation in the last year and only 7.1% in the last five years. You'd have to be a zombie from the Walking Dead or an Ivy League economist to believe those lies. Anyone living in the real world knows their cost of living has risen at a far greater rate. According to the government, and unquestioningly reported by the compliant co-conspirators in the the corporate media, GDP has grown from $10 trillion in 2000 to $17 trillion today. Even using the ridiculously low inflation BEA adjustment yields an increase from $12.4 trillion to only $15.9 trillion in real terms. That pitiful 28% growth over the last fourteen years is dramatically overstated, as revealed in the graph below. Using a true rate of inflation exposes the grand fraud being committed by those in power. The country has been in a never ending recession since 2000.
Your normalcy bias is telling you this is impossible. Your government tells you we have only experienced a recession from the third quarter of 2008 through the third quarter of 2009. So despite experiencing two stock market crashes, the greatest housing crash in history, and a worldwide financial system implosion the authorities insist  we've had a growing economy 93% of the time over the last fourteen years. That mental anguish you are feeling is the cognitive dissonance of wanting to believe your government, but knowing they are lying. It is a known fact the government, in conspiracy with Greenspan, Congress and academia, have systematically reduced the reported CPI based upon hedonistic quality adjustments, geometric weighting alterations, substitution modifications, and the creation of incomprehensible owner's equivalent rent calculations. Since the 1700s consumer inflation had been estimated by measuring price changes in a fixed-weight basket of goods, effectively measuring the cost of maintaining a constant standard of living. This began to change in the early 1980s with the Greenspan Commission to "save" Social Security and came to a head with the Boskin Commission in 1995.
Simply stated, the Greenspan/Boskin Commissions' task was to reduce future Social Security payments to senior citizens by deceitfully reducing CPI and allowing politicians the easy way out. Politicians would lose votes if they ever had to directly address the unsustainability of Social Security. Therefore, they allowed academics to work their magic by understating the CPI and stealing $700 billion from retirees in the ten years ending in 2006. With 10,000 baby boomers per day turning 65 for the next eighteen years, understating CPI will rob them of trillions in payments. This is a cowardly dishonest method of extending the life of Social Security.
If CPI was calculated exactly as it was computed prior to 1983, it would have averaged between 5% and 10% over the last fourteen years. Even computing it based on the 1990 calculation prior to the Boskin Commission adjustments, would have produced annual inflation of 4% to 7%. A glance at an inflation chart from 1872 through today reveals the complete and utter failure of the Federal Reserve in achieving their stated mandate of price stability. They have managed to reduce the purchasing power of your dollar by 95% over the last 100 years. You may also notice the net deflation from 1872 until 1913, when the American economy was growing rapidly. It is almost as if the Federal Reserve's true mandate has been to create inflation, finance wars, perpetuate the proliferation of debt, artificially create booms and busts, enrich their Wall Street owners, and impoverish the masses. Happy Birthday Federal Reserve!!!
When you connect the dots you realize the under-reporting of inflation benefits the corporate fascist surveillance state. If the government was reporting the true rate of inflation, mega-corporations would be forced to pay their workers higher wages, reducing profits, reducing corporate bonuses, and sticking a pin in their stock prices. The toady economists at the Federal Reserve would be unable to sustain their ludicrous ZIRP and absurd QEfinity stock market levitation policies. Reporting a true rate of inflation would force long-term interest rates higher. These higher rates, along with higher COLA increases to government entitlements, would blow a hole in the deficit and force our spineless politicians to address our unsustainable economic system. There would be no stock market or debt bubble. If the clueless dupes watching CNBC bimbos and shills on a daily basis were told the economy has been in fourteen year downturn, they might just wake up and demand accountability from their leaders and an overhaul of this corrupt system.
Mother Should I Trust the Government?
We know the BEA has deflated GDP by only 32% since 2000. We know the BLS reports the CPI has only risen by 37% since 2000. Should I trust the government or trust the facts and my own eyes? The data is available to see if the government figures pass the smell test. If you are reading this, you can remember your life in 2000. Americans know what it cost for food, energy, shelter, healthcare, transportation and entertainment in 2000, but they unquestioningly accept the falsified inflation figures produced by the propaganda machine known as our government. The chart below is a fairly comprehensive list of items most people might need to live in this world. A critical thinking individual might wonder how the government can proclaim inflation of 32% to 37% over the last fourteen years, when the true cost of living has grown by 50% to 100% for most daily living expenses. The huge increases in property taxes, sales taxes, government fees, tolls and income taxes aren't even factored in the chart. It seems gold has smelled out the currency debasement and the lies of our leaders. This explains the concerted effort by the powers that be to suppress the price of gold by any means necessary.
| | | | |
| --- | --- | --- | --- |
| Living Expense | Jan-00 | Mar-14 | % Increase |
| Gallon of gas | $1.27 | $3.51 | 176.4% |
| Barrel of oil | $24.11 | $100.00 | 314.8% |
| Fuel oil per gallon | $1.19 | $4.07 | 242.0% |
| Electricity per Kwh | $0.084 | $0.134 | 59.5% |
| Gas per therm | $0.712 | $1.078 | 51.4% |
| Dozen eggs | $0.97 | $2.00 | 106.2% |
| Coffee per lb | $3.40 | $5.20 | 52.9% |
| Ground Beef per lb. | $1.90 | $3.73 | 96.3% |
| Postage stamp | $0.33 | $0.49 | 48.5% |
| Movie ticket | $5.25 | $10.25 | 95.2% |
| New car | $20,300.00 | $31,500.00 | 55.2% |
| Annual healthcare spending per capita | $4,550.00 | $9,300.00 | 104.4% |
| Average private college tuition | $22,000.00 | $37,000.00 | 68.2% |
| Avg home price (Case Shiller) | $161,000.00 | $242,000.00 | 50.3% |
| Avg monthly rent (Case Shiller) | $635.00 | $890.00 | 40.2% |
| Ounce of gold | $279.00 | $1,334.00 | 378.1% |
Mother, you should not trust the government. There is no doubt they have systematically under-reported inflation based on any impartial assessment of the facts. The reality that we remain stuck in a fourteen year recession is borne out by the continued decline in vehicle miles driven (at 1995 levels) due to declining commercial activity, the millions of shuttered small businesses, and the proliferation of Space Available signs in strip malls and office parks across the land. The fact there are only 8 million more people employed today than were employed in 2000, despite the working age population growing by 35 million, might be a clue that we remain in recession. If that isn't enough proof for you, than maybe a glimpse at real median household income, retail sales and housing will put the final nail in the coffin of your cognitive dissonance.
The government and their media mouthpieces expect the ignorant masses to believe they have advanced their standard of living, with median household income growing from $40,800 to $52,500 since 2000. But, even using the badly flawed CPI to adjust these figures into real terms reveals real median household income to be 7.3% below the level of 2000. Using a true inflation figure would cause a CNBC talking head to have an epileptic seizure.
The picture is even bleaker when broken down into the age of households, with younger households suffering devastating real declines in household income since 2000. I guess all those retail clerk, cashier, waitress, waiter, food prep, and housekeeper jobs created over the last few years aren't cutting the mustard. Maybe that explains the 30 million increase (175% increase) in food stamp recipients since 2000, encompassing 19% of all households in the U.S. Luckily the banking oligarchs were able to convince the pliable masses to increase their credit card, auto and student loan debt from $1.5 trillion to $3.1 trillion over the fourteen year descent into delusion.
When you get your head around this unprecedented decline in household income over the last fourteen years, along with the 50% to 100% rise in costs to live in the real world, as opposed to the theoretical world of the Federal Reserve and BLS, you will understand the long term decline in retail sales reflected in the following chart. When you adjust monthly retail sales for gasoline (an additional tax), inflation (understated), and population growth, you understand why retailers are closing thousands of stores and hurdling towards inevitable bankruptcy. Retail sales are 6.9% below the June 2005 peak and 4% below levels reached in 2000. And this is with millions of retail square feet added over this time frame. We know the dramatic surge from the 2009 lows was not prompted by an increase in household income. So how did the 11% proliferation of spending happen?
The up swell in retail spending began to accelerate in late 2010. Considering credit card debt outstanding is at exactly where it was in October 2010, it seems consumers playing with their own money turned off the spigot of speculation. It has been non-revolving debt that has skyrocketed from $1.63 trillion in February 2010 to $2.26 trillion today. This unprecedented 39% rise in four years has been engineered by the government, using your tax dollars and the tax dollars of unborn generations. The Federal government has complete control of the student loan market and with their 85% ownership of Ally Financial, the largest auto financing company, a dominant position in the auto loan market. The peddling of $400 billion of subprime student loan debt and $200 billion of subprime auto loan debt has created the illusion of a retail recovery. The student loan debt has been utilized by University of Phoenix MBA wannabes  to buy iGadgets, the latest PS3 version of Grand Theft Auto and the latest glazed donut breakfast sandwich on the market. It's nothing but another debt financed bubble that will end in tears for the American taxpayer, as hundreds of billions will be written off.
The fake retail recovery pales in comparison to the wolves of Wall Street produced housing recovery sham. They deserve an Academy Award for best fantasy production. The Federal Reserve fed Wall Street hedge fund purchase of millions of foreclosed shanties across the nation has produced media proclaimed home price increases of 10% to 30% in cities across the country. Withholding foreclosures from the market and creating artificial demand with free money provided by the Federal Reserve has temporarily added $4 trillion of housing net worth and reduced the number of underwater mortgages on the books of the Too Big To Trust Wall Street banks. The percentage of investor purchases and cash purchases is at all-time highs, while the percentage of first time buyers is at all-time lows. Anyone with an ounce of common sense can look at the long-term chart of mortgage applications and realize we are still in a recession. Applications are 35% below levels at the depths of the 2008/2009 recession. Applications are 65% below levels at the housing market peak in 2005. They are even 35% below 2000 levels. There is no real housing recovery, despite the propaganda peddled by the NAR, CNBC, and Wall Street. It's a fraud.
It is the pinnacle of arrogance and hubris that a few Ivy League educated economists sitting in the Marriner Eccles Building in the swamps of Washington D.C., who have never worked a day in their lives at a real job, think they can create wealth and pull the levers of money creation to control the American and global financial systems. All they have done is perfect the art of bubble finance in order to enrich their owners at the expense of the rest of us. Their policies have induced unwarranted hope and speculation on a grand scale. Greenspan and Bernanke have provoked multiple bouts of extreme speculation in stocks and housing over the last 15 years, with the subsequent inevitable collapses. Fed encouraged gambling does not create wealth it just redistributes it from the peasants to the aristocracy. The Fed has again produced an epic bubble in stock and bond valuations which will result in another collapse. Normalcy bias keeps the majority from seeing the cliff straight ahead. Federal Reserve monetary policies have distorted financial markets, created extreme imbalances, encouraged excessive risk taking, and ruined the lives of working class people. Take a long hard look at the chart below and answer one question. Was QE designed to benefit Main Street or Wall Street?
The average American has experienced a fourteen year recession caused by the monetary policies of the Federal Reserve. Our leaders could have learned the lesson of two Fed induced collapses in the space of eight years and voluntarily abandoned the policies of reckless credit expansion, instead embracing policies encouraging saving, capital investment and balanced budgets. They have chosen the same cure as the disease, which will lead to crisis, catastrophe and collapse.
"There is no means of avoiding the final collapse of a boom brought about by credit expansion. The alternative is only whether the crisis should come sooner as the result of voluntary abandonment of further credit expansion, or later as a final and total catastrophe of the currency system involved." – Ludwig von Mises
Posted in
Home
|
Tagged

1913, Ally Financial, Bankers, Bankruptcies, BEA, Bernanke, Blackrock, BLS, Boskin Commission, Bubbles, busts, cognitive dissonanace, Common Core, Consumer credit, CPI, Debt, Federal Reserve, Food, Food stamps, Foreclosures, Fraud, gasoline, GDP, George Carlin, Government, Greenspan, housing crash, housing recovery, iGadgets, Inflation, John Kerry, John Williams, Kanye West, Kim Kardashian, Lies, Mortgage applications, Napoleon Bonaparte, normalcy bias, North West, Oil, oligarchs, QE, retail sales, ruling class, Shadowstats, sham, Social Security, Stock market crash, Student Loans, Taxes, Too Big To Trust, tuition, Unemployment, Wall Street, Welfare, Woodrow Wilson, Yellen, ZIRP
Off the keyboard of Jim Quinn
Follow us on Twitter @doomstead666
Friend us on Facebook
Published on The Burning Platform on March 13, 2014
Discuss this article at the Geopolitics Table inside the Diner
"The risk of catastrophe will be very high. The nation could erupt into insurrection or civil violence, crack up geographically, or succumb to authoritarian rule. If there is a war, it is likely to be one of maximum risk and effort – in other words, a total war. Every Fourth Turning has registered an upward ratchet in the technology of destruction, and in mankind's willingness to use it." 
– Strauss & Howe – The Fourth Turning
"In the need to develop a capacity to know what potential enemies are doing, the United States government has perfected a technological capability that enables us to monitor the messages that go through the air. Now, that is necessary and important to the United States as we look abroad at enemies or potential enemies. We must know, at the same time, that capability at any time could be turned around on the American people, and no American would have any privacy left such is the capability to monitor everything—telephone conversations, telegrams, it doesn't matter. There would be no place to hide.
If this government ever became a tyrant, if a dictator ever took charge in this country, the technological capacity that the intelligence community has given the government could enable it to impose total tyranny, and there would be no way to fight back because the most careful effort to combine together in resistance to the government, no matter how privately it was done, is within the reach of the government to know. Such is the capability of this technology.
I don't want to see this country ever go across the bridge. I know the capacity that is there to make tyranny total in America, and we must see to it that this agency and all agencies that possess this technology operate within the law and under proper supervision so that we never cross over that abyss. That is the abyss from which there is no return." – Frank Church on Meet the Press regarding the NSA – 1975
Ever since Edward Snowden burst onto the worldwide stage in June 2013, I've been wondering how he fits into the fabric of this ongoing Fourth Turning. This period of Crisis that arrives like clockwork, 60 to 70 years after the end of the previous Fourth Turning (Civil War – 66 years after American Revolution, Great Depression/World War II – 64 years after Civil War, Global Financial Crisis – 62 years after World War II), arrived in September 2008 with the Federal Reserve created collapse of the global financial system. We are now five and a half years into this Fourth Turning, with its climax not likely until the late-2020's. At this point in previous Fourth Turnings a regeneracy had unified sides in their cause and a grey champion or champions (Ben Franklin/Samuel Adams, Lincoln/Davis, FDR) had stepped forward to lead. Thus far, no one from the Prophet generation has been able to unify the nation and create a sense of common civic purpose. Societal trust continues to implode, as faith in political, financial, corporate, and religious institutions spirals downward. There is no sign of a unifying regeneracy on the horizon.
The core elements of this Fourth Turning continue to propel this Crisis: debt, civic decay, global disorder. Central bankers, politicians, and government bureaucrats have been able to fashion the illusion of recovery and return to normalcy, but their "solutions" are nothing more than smoke and mirrors exacerbating the next bloodier violent stage of this Fourth Turning. The emergencies will become increasingly dire, triggering unforeseen reactions and unintended consequences. The civic fabric of our society will be torn asunder.
In retrospect, the spark might seem as ominous as a financial crash, as ordinary as a national election, or as trivial as a Tea Party. The catalyst will unfold according to a basic Crisis dynamic that underlies all of these scenarios: An initial spark will trigger a chain reaction of unyielding responses and further emergencies. The core elements of these scenarios (debt, civic decay, global disorder) will matter more than the details, which the catalyst will juxtapose and connect in some unknowable way. If foreign societies are also entering a Fourth Turning, this could accelerate the chain reaction. At home and abroad, these events will reflect the tearing of the civic fabric at points of extreme vulnerability – problem areas where America will have neglected, denied, or delayed needed action." – The Fourth Turning – Strauss & Howe
Debt
The core crisis element of debt is far worse than it was at the outset of this Crisis in September 2008. The National Debt has risen from $9.7 trillion to $17.5 trillion, an 80% increase in five and half years. It took 215 years for the country to accumulate as much debt as it has accumulated since the start of this Crisis. We continue to add $2.8 billion a day to the National debt, and the president declares it is time for this austerity to end. The total unfunded liabilities of the Federal government for Social Security, Medicare, Medicaid, government pensions and now Obamacare exceeds $200 trillion and is mathematically impossible to honor. Corporate debt stands at an all-time high. Margin debt is at record levels, as faith in the Federal Reserve's ability to levitate the stock market borders on delusional. Consumer debt has reached new heights, as the government doles out subprime auto loans to deadbeats and subprime student loans to future University of Phoenix Einsteins. Global debt has surged by 40% since 2008 to over $100 trillion, as central bankers have attempted to cure a disease caused by debt with more debt.
All of this debt accumulation is compliments of Bernanke/Yellen and the Federal Reserve, who have produced this new debt bubble with their zero interest rate policy and quantitative easing that has driven their balance sheet from $935 billion of mostly Treasury bonds in September 2008 to $4.2 trillion of toxic mortgage garbage acquired from their owners – the insolvent Too Big To Trust Wall Street banks. This entire house of cards is reliant upon permanently low interest rates, the faith of foreigners in our lies, and trust in Ivy League educated economists captured by Wall Street. This debt laden house of cards sits atop hundreds of trillions of derivatives of mass destruction used by the Wall Street casinos to generate "riskless" profits. When, not if, a trigger ignites this explosive concoction of debt, the collapse will be epic and the violent phase of this Fourth Turning will commence.
Civic Decay
The core crisis element of civic decay is evident everywhere you turn. Our failed public educational system is responsible for much of the civic decay, as a highly educated critical thinking populace is our only defense against a small cabal of bankers and billionaires acquiring unwarranted influence and control over our country. Our children have been taught how to feel and to believe government propaganda. The atrocious educational system is not a mistake. It has been designed and manipulated by your owners to produce the results they desire, as explained bluntly by George Carlin.
"There's a reason that education sucks, and it's the same reason it will never ever ever be fixed. It's never going to get any better, don't look for it. Be happy with what you've got. Because the owners of this country don't want that. I'm talking about the real owners now, the big, wealthy, business interests that control all things and make the big decisions. They spend billions of dollars every year lobbying to get what they want. Well, we know what they want; they want more for themselves and less for everybody else. But I'll tell you what they don't want—they don't want a population of citizens capable of critical thinking. They don't want well informed, well educated people capable of critical thinking. They're not interested in that. That doesn't help them. That's against their interest."
The urban ghettos become more dangerous and uninhabitable by the day. The inner cities are crumbling under the weight of welfare spending and declining tax revenues. The very welfare policies begun fifty years ago to alleviate poverty have hopelessly enslaved the poor and ignorant in permanent squalor and destitution. The four decade old drug war has done nothing to reduce the use of drugs. It has benefited the corporate prison industry, as millions have been thrown into prison for minor drug offenses. Meanwhile, millions more have been legally addicted to drugs peddled by the corporate healthcare complex. The culture warriors and advocates of new rights for every special interest group continue their never ending battles which receive an inordinate amount of publicity from the corporate media. Class warfare is simmering and being inflamed by politicians pushing their particular agendas. Violence provoked by race and religion is growing by the day. The fault lines are visible and the imminent financial earthquake will push distress levels beyond the breaking point. Once the EBT cards stop working, all hell will break loose. Three days of panic will empty grocery store shelves and the National Guard will be called out to try and restore control.
Global Disorder
The core crisis element of global disorder is evident everywhere you turn. The false flag revolution in the Ukraine, initiated by the U.S. and EU in order to blunt Russia's control of natural gas to Europe, has the potential to erupt into a full blown shooting war at any moment. The attempt by Saudi Arabia, Israel and the U.S. to overthrow the Syrian dictator in order to run a natural gas pipeline across their land into Europe was blunted by Russia. Iraq is roiled in a civil war, after the U.S. invaded, occupied and destabilized the country. After 12 years of occupation, Afghanistan is more dysfunctional and dangerous than it was before the U.S. saved them from the evil Taliban. Unrest, violent protests, and brutal measures by rulers continue in Egypt, Turkey, Thailand, Venezuela, Bahrain, Brazil, and throughout Africa. American predator drones roam the skies of the world murdering suspected terrorists. The European Union is insolvent, with Greece, Spain, Italy and Portugal propped up with newly created debt. Austerity for the people and prosperity for the bankers is creating tremendous distress and tension across the continent. A global volcanic eruption is in the offing.
It is clear to me the American Empire is in terminal decline. Hubris, delusion, corruption, foolish disregard for future generations and endless foreign follies have set in motion a chain of events that will lead to a cascading sequence of debt defaults, mass poverty, collapsing financial markets, and hyperinflation or deflation, depending on the actions of feckless bankers and politicians. There is no avoiding the tragic outcome brought on by decades of bad choices and a century of allowing private banking interests to control our currency. The "emergency" QE and ZIRP responses by the Federal Reserve to the Federal Reserve created 2008 financial collapse continue, even though the propaganda peddled by the Deep State tries to convince the public we have fully recovered. This grand fraud cannot go on forever. Ponzi schemes no longer work once you run out of dupes. With societal trust levels approaching all-time lows and foreign countries beginning to understand they are the dupes, another global financial crisis is a lock.
The Snowden Factor
With ten to fifteen years likely remaining in this Fourth Turning Crisis, people familiar with generational turnings can't help but ponder what will happen next. Linear thinkers, who constitute the majority, mistakenly believe things will magically return to normal and we'll continue our never ending forward human progress. Their ignorance of history and generational turnings that recur like the four seasons will bite them in the ass. We are being flung forward across the vast chaos of time and our existing social order will be transformed beyond recognition into something far better or far worse. The actual events over the coming decade are unknowable in advance, but the mood and reactions of the generational archetypes to these events are predictable. The actions of individuals will matter during this Fourth Turning. The majority are trapped in their propaganda induced, techno distracted stupor of willful ignorance. It will take a minority of liberty minded individuals, who honor the principles of the U.S. Constitution and are willing to sacrifice their lives, to prevail in the coming struggle.
Despite fog engulfing the path of future events, we know they will be propelled by debt, civic decay, and global disorder. Finding a unifying grey champion figure seems unlikely at this point. I believe the revelations by Edward Snowden have set the course for future events during this Fourth Turning. The choices of private citizens, like Snowden, Assange, and Manning, have made a difference. The choices we all make over the next ten years will make a difference. A battle for the soul of this country is underway. The Deep State is firmly ingrained, controlling the financial, political and educational systems, while using their vast wealth to perpetuate endless war, and domination of the media to manipulate the masses with propaganda and triviality. They are powerful and malevolent. They will not relinquish their supremacy and wealth willingly.
Snowden has revealed the evil intent of the ruling class and their willingness to trash the Constitution in their psychopathic pursuit of mammon. The mass surveillance of the entire population, locking down of an entire city in pursuit of two teenagers, military training exercises in major metropolitan areas, militarization of local police forces by DHS, crushing peaceful demonstrations with brute force, attempting to restrict and confiscate guns, molesting innocent airline passengers, executive orders utilized on a regular basis by the president, and treating all citizens like suspects has set the stage for the coming conflict. Strauss & Howe warned that history has shown armed conflict is always a major ingredient during a Fourth Turning.
"History offers even more sobering warnings: Armed confrontation usually occurs around the climax of Crisis. If there is confrontation, it is likely to lead to war. This could be any kind of war – class war, sectional war, war against global anarchists or terrorists, or superpower war. If there is war, it is likely to culminate in total war, fought until the losing side has been rendered nil – its will broken, territory taken, and leaders captured." – The Fourth Turning – Strauss & Howe -1997
It appears to me the Deep State is preparing for armed conflict with the people. Why else would they be utilizing Big Brother methods of surveillance, militarization of police forces  and Gestapo like tactics of intimidation to control the masses? This doesn't happen in a democratic republic where private individuals are supposed to know everything done by public government servants, not vice versa. They know the cheap, easy to access energy resources are essentially depleted. They know the system they have built upon a foundation of cheap energy and cheap debt is unsustainable and will crash in the near future. They know their fiat currency scheme is failing.They know it is going to come crashing down.  
They know America and the world will plunge into an era of depression, violence, and war. They also know they want to retain their wealth, power and control. There is no possibility the existing establishment can be purged through the ballot box. It's a one party Big Brother system that provides the illusion of choice to the Proles. Like it or not, the only way this country can cast off the shackles of the banking, corporate, fascist elites, and the government surveillance state is through an armed revolution. The alternative is to allow an authoritarian regime, on par with Hitler, Stalin and Mao, to rise from the ashes of our financial collapse. This is a distinct possibility, given the ignorance and helplessness of most Americans after decades of government education and propaganda.       
The average mentally asleep American cannot conceive of armed conflict within the borders of the U.S. War, violence and dead bodies are something they see on their 52 inch HDTVs while gobbling chicken wings and cheetos in their Barcalounger. We've allowed a banking cartel and their central bank puppets to warp and deform our financial system into a hideous façade, sold to the masses as free market capitalism. We've allowed corporate interests to capture our political system through bribery and corruption.
We've allowed the rise of a surveillance state that has stripped us of our privacy, freedom, liberty and individuality in a futile pursuit of safety and security. We've allowed a military industrial complex to exercise undue influence in Washington DC, leading to endless undeclared wars designed to enrich the arms makers. We've allowed the corporate media and the government education complex to use propaganda, misinformation and social engineering techniques to dumb down the masses and make them compliant consumers. These delusions will be shattered when our financial and economic system no longer functions. The end is approaching rapidly and very few see it coming.
Glory or Ruin?
The scenario I envision is a collapse of our debt saturated financial system, with a domino effect of corporate, personal, and governmental defaults, exacerbated by the trillions of currency, interest rate, and stock derivatives. Global stock markets will crash. Trillions in paper wealth will evaporate into thin air. The Greater Depression will gain a choke-hold around the world. Mass bankruptcies, unemployment and poverty will sweep across the land. The social safety net will tear under the weight of un-payable entitlements. Riots and unrest will breakout in urban areas. Armed citizens in rural areas will begin to assemble in small units. The police and National Guard will be unable to regain control. The military will be called on to suppress any and all resistance to the Federal government. This act of war will spur further resistance from liberty minded armed patriots. The new American Revolution will have begun. Leaders will arise in the name of freedom. Regional and local bands of fighters will use guerilla tactics to defeat a slow top heavy military dependent upon technology and vast quantities of oil. A dictatorial regime may assume power on a Federal level. A breakup of the nation into regional states is a distinct possibility.
With the American Empire crumbling from within, our international influence will wane. With China also in the midst of a Fourth Turning, their debt bubble will burst and social unrest will explode into civil war. Global disorder, wars, terrorism, and financial collapse will lead to a dramatic decrease in oil production, further sinking the world into depression. The tensions caused by worldwide recession will lead to the rise of authoritarian regimes and global warfare. With "advances" in technological warfare and the proliferation of nuclear warheads, this scenario has the potential to end life on earth as we know it. The modern world could be set back into the stone-age with the push of a button. There are no guarantees of a happy ending for humanity.
The outcome of this Fourth Turning is dependent upon the actions of a minority of critical thinking Americans who decide to act. No one can avoid the trials and tribulations that lie ahead. We will be faced with immense challenges. Courage and sacrifice will be required in large doses. Elders will need to lead and millennials will need to carry a heavy load, doing most of the dying. The very survival of our society hangs in the balance. Edward Snowden has provided an example of the sacrifice required during this Fourth Turning. How we respond and the choices we make over the next decade will determine whether this Fourth Turning will result in glory or ruin for our nation.
"Eventually, all of America's lesser problems will combine into one giant problem. The very survival of the society will feel at stake, as leaders lead and people follow. The emergent society may be something better, a nation that sustains its Framers' visions with a robust new pride. Or it may be something unspeakably worse. The Fourth Turning will be a time of glory or ruin." – Strauss & Howe – The Fourth Turning
Click these links to read the first two parts of this three part series:
Do No Evil Google – Censor & Snitch for the State
Posted in

Geopolitics, Home
|
Tagged

2008, Abraham Lincoln, Afghanistan, American Empire, American Revolution, Ben Bernanke, Ben Franklin, Big Brother, Bradley Manning, catalyst, China, civic decay, Civil War, Consumer credit, Debt, Deep State, DHS, EBT cards, Edward Snowden, Egypt, Entitlements, EU, FDR, Federal Reserve, Financial Collapse, fourth amendment, Fourth Turning, Frank Church, Freedom, George Carlin, ghettos, Global debt, global disorder, Great Depression, Grey Champion, Insolvent, Iran, Iraq, Israel, Janet Yellen, Jefferson Davis, Julian Assange, Liberty, Margin Debt, medicare, National Debt, NSA, Obamacare, Orwell, ponzi scheme, Proles, QE, regeneracy, Revolution, Russia, Samuel Adams, Social Security, Strauss & Howe, student loan debt, Surveillance State, Syria, Too Big To Trust, U.S. Constitution, Ukraine, unfunded liabilities, venezuela, Wall Street, War on Terror, Welfare, WWII, ZIRP
Off the keyboard of Steve Lendman 
Published on Steve Lendman Blog on November 10, 2012
Discuss this article at the Epicurean Delights Smorgasbord inside the Diner
Obama's economic record includes nearly 25 million unemployed, around 23% of working age Americans without jobs, poverty, homelessness, and hunger at record levels or close to it, and the greatest wealth disparity in US history.
Privileged elites benefitted enormously on his watch. They'll get plenty more ahead. Others are enduring protracted hard times. Bipartisan complicity calls for making things worse, not better. Huge budget cuts loom. Social programs will be hit hardest. More on that below.
America's compromised progressive left hailed Obama's victory. Condemnation should have been headlined instead. Nation magazine lost its soul long ago. 
Throughout its history, it pretended to have one. It scorns truth. It turns reality on its head. It ducks responsible reporting on issues mattering most.
On November 7, it
headlined
"A Progressive Surge," saying:
"While President Obama's re-election inspires varying degrees of hope among progressives, it has evoked one common sentiment: relief. Democracy may not be reborn, but a living symbol of plutocracy was defeated by the voters on November 6."
It's hard believing so-called progressive editors would publish outrageous rubbish this offensive. Obama matches Romney's anti-populist agenda blow for blow. 
They agree on most everything benefitting corporate favorites and rich elites at the expense of all others. They scorn social America. They don't give a damn about people needs. Pretending otherwise is unprincipled, reprehensible, and stupid.
Nonetheless, Nation editors celebrated "exhilarating wins" for Obama and likeminded Democrats. Hail to the party of the rich. It replicates the other rich man's party. America's duopoly calls progressivism a four-letter word.
"We are glad the 1 percent (was) rebuffed at the polls," said Nation editors…."We are glad that progressive politics….made the difference."
Perhaps they meant Venezuela's election instead. In October, people power defeated privilege. Letting Obama lead America's Money Party for another four years assures worse for ordinary people than in term one. It's baked in the cake. 
Too bad Nation readers weren't told the truth. Nor regular New York Times adherents. On November 7, its
editorial
headlined "An Invigorated Second Term," saying:
"Without question, (Obama) intends to build on and improve the significant accomplishments of the last four years….to keep the economy growing."
His first term record might make some despots blush. His economic policies are weapons of mass destruction affecting ordinary people. He's got further mass immiseration in mind for term two. He also plans more war on humanity globally.
Times editors want his mandate used to "broaden his agenda." How much more scorched earth hell can people stand? They'll shortly find out straightaway.
Top domestic policy is massive social benefit cuts. Newspeak terminology substituted "grand bargain" for "austerity." 
"Fiscal cliff" language refers to expiring yearend tax breaks and unemployment benefits, as well as looming $1.2 trillion in largely discretionary sequestered cuts to address them.
The 2011 Budget Control Act mandates them. Automatic reductions will affect vital social programs. Medicare, Medicaid, public pensions, food stamps, and other important ones will be hit hard.
The sequestered $1.2 trillion is for starters. Around $4 trillion over the next decade was agreed on. At issue isn't deficit cutting. Key is protecting corporate handouts and Bush era tax cuts, as well as expanding them for business and upper-bracket earners.
Bush era tax cuts cost America at least $3.5 trillion in vital revenue. Important domestic needs were sacrificed. If maintained or increased for 10 more years, another $3.5 trillion or more will be lost. 
At the same, deficits will rise. Conservative projections show it. More realistic ones reveal ominous numbers.
America's duopoly already agreed on cuts and increases in principle. When publicly announced, newspeak duplicity will conceal the severity of what's coming. Initial cuts are expected on January 1 or shortly thereafter. 
Neither party worries about deficits or debt. Saying so is duplicitous deception. Obama, most Democrats, and Republicans want corporate friends and super-rich elites protected.
Working Americans and seniors will bear the burden. Increased corporate and upper-bracket earner benefits are planned. Cuts affecting ordinary people were agreed on months ago. Timing remains to be decided. 
It's not about amounts, who pays, and who benefits. Key also is assuring Bush era cuts are preserved and sweetened.
From now through yearend, four major issues must be resolved:
(1) extending the 2% payroll tax deduction another year. In fact, it's a stealth drain of hundreds of billions of dollars from Social Security's Trust Fund reserves. 
Revenue already lost irreparably weakened its ability to pay future benefits. Lose more and the entire program may be lost. Privatization assures it.
Obama fully concurs on driving a stake through the heart of Medicare, Medicaid, Social Security and public pensions. He's no progressive. He's a corporatist hardliner. He never would have become president otherwise. Populists needn't apply.
(2) extending expiring unemployment benefits for millions of laid off workers.
(3) another one-year Alternative Minimum Tax (AMT) fix.
(4) delaying the 29% cut in doctors fees for serving Medicare patients.
Expect Republicans to drive a hard bargain like they always do. Democrats pretend they care. In fact, they've already sold out. Obama's reelection hinged on it. 
He talks tough, then caves at the 11th hour. He did repeatedly throughout his first term. Both parties are in lockstep on defending privilege. 
People needs don't matter. It's part of a longstanding plan to third worldize America. Safety net protection is someone else's problem.
On November 6,
Bill Black
discussed what's coming. His article headlined "Wall Street Urges Obama to Commit the Great Betrayal," saying:
Top domestic policy is eroding safety net protections en route to eliminating them altogether.
"Only a Democrat can make it politically safe for Republicans who hate the safety net to unravel it (a process that would occur over a number of years) by legitimizing the claim that (it) must be cut."
Obama was hand-picked to do it. "Wall Street's unholy grail (is) privatizing Social Security." 
Doing so will let financial predators "charge tens of billions of dollars in fees annually and the banks that administered the privatized program would be systemically dangerous institutions (SDIs) because the consequences of allowing bank failures to cause tens of millions of Americans to lose their retirement savings would require either that all such deposits be federally insured or that the failing banks be bailed out by the federal government." 
"Privatization, therefore, is a convenient fiction. The banks' profits will be privatized. Any catastrophic losses will be borne by the public."
The Big Lie claims no acceptable alternative exists. Safety net cuts must be imposed. Obama's sharpened knife is a dagger at the heart of what matters most to ordinary people. Their welfare, security and futures are up for grabs. They're being destroyed in plain sight.
Force-fed austerity assures the worst of hard times. It's responsible for what Black calls "the four horsemen of the economic apocalypse:"
job cuts and greater unemployment;
increased deficits and debt; and
destruction of safety net protections.
Combined assures third world status. Black said Obama prioritizes it. We're forewarned but does it matter? Few Americans understand what's coming. 
Grand bargain betrayal is planned. It's come in stages like boiling a frog. It doesn't know it's dinner until too late. 
Social America is on the chopping block for elimination. It's been happening incrementally for decades. Democrats are in league with Republicans. Their agenda assures intolerable pain and suffering for ordinary people.
Standard & Poor's and other rating agencies endorse it. They're corporate tools. They mostly represent Wall Street and other financial interests. S&P's marching orders called for downgrading US credit to AA+. It did so in August 2011, saying:
"The markets have spoken and anyone who continues to insist that entitlements or taxes are off the table is condemning the US to second rate economic status and a permanent downgrade."
"America's credit rating is at a crossroads. We can choose to heed this message by finishing the deficit reduction job with a balanced plan that is composed mainly of entitlement cuts, closing tax loopholes and defense cuts, or we can squabble while our global standing continues to sink." 
"The markets have spoken and anyone who continues to insist that entitlements or taxes are off the table is condemning the US to second rate economic status and a permanent downgrade."
S&P targeted safety net protections. Including defense and tax loopholes reflected pro forma deception. Whatever benefits America's imperium, Wall Street, other corporate favorites, and super-rich elites is sacrosanct and untouchable.
Expect fast and loose deception to conceal it. Obama's an old hand at it. He's a con man. He's Wall Street's man. They chose him and expect four more years of subservience. He won't disappoint.
Forewarned is forearmed. "(W)e do not need to unravel the safety net and doing so would harm our nation," said Black. Ideologues are wrong about what's best for America. 
Throughout his political career, Obama's been a stealth Republican. His voting record proves it. Reelecting him serves elitist interests well. They know what they want and got it.
Surveys & Podcasts
NEW SURVEY
VISIT AND FOLLOW US ON DINER SOUNDCLOUD
" As a daily reader of all of the doomsday blogs, e.g. the Diner, Nature Bats Last, Zerohedge, Scribbler, etc… I must say that I most look forward to your "off the microphone" rants. Your analysis, insights, and conclusions are always logical, well supported, and clearly articulated – a trifecta not frequently achieved."
- Joe D
Global Diners
Global Population Stats
Enter a Country Name for full Population & Demographic Statistics
Inside the Diner
The Rain from Isaias is now falling Mainly on Surly.  Got Kayak?RE
It.s a Hurricane.  Officially.  Landfall near LD in SC.REhttps://www.npr.org/2020/08/03/898620721/tropical-storm-isaias-expected...
Storm surge is going to slam Surly in Norfolk.RE[embed=1111,666]
"No Silver Bullet".The virus is too much like the Flu.  You'll see it reappear every year, with some mutations.  Kiss goodbye BAU until it wipes out at least 1/4 of the Global Population, which is the Biblical Standard for the 4 Horsemen of the Apocal...
Knarf's Knewz
Akash Goel is an assistant professor of medicine a [...]
Sanofi said it has filed a legal challenge to the [...]
NEW YORK (Reuters) - Late in March, Laura Gross, 7 [...]
A man sunbathes at Talamanca beach in Ibiza on Jul [...]
Diner Newz Feeds
Surly
Agelbert
Knarf
Golden Oxen
Frostbite Falls
Doomstead Diner Daily July 17The Diner Daily is av [...]
Doomstead Diner Daily July 16The Diner Daily is av [...]
The point being to wear down the "precariat [...]
Quote from: Phil Rumpole on July 15, 2020, 09:45:2 [...]
Quote from: UnhingedBecauseLucid on March 18, 2019 [...]
CleanTechnicaSupport CleanTechnica's work via dona [...]
Quote from: UnhingedBecauseLucid on March 18, 2019 [...]
QuoteThe FACT that the current incredibly STUPID e [...]
Akash Goel is an assistant professor of medicine a [...]
Sanofi said it has filed a legal challenge to the [...]
NEW YORK (Reuters) - Late in March, Laura Gross, 7 [...]
A man sunbathes at Talamanca beach in Ibiza on Jul [...]
Quote from: K-Dog on February 24, 2020, 06:23:52 P [...]
I wonder how much these coins have been debased? [...]
Precious tip of the day.....Buy silver NOW  She [...]
Scientists have unlocked the power of gold atoms b [...]
Quote from: azozeo on August 14, 2019, 10:41:33 AM [...]
I am OUT of Jury Service!  I got summoned to be a [...]
I'm shot with the AK State Fair anyhow.  The [...]
Quote from: Eddie on May 16, 2020, 10:30:30 AMQuot [...]
Quote from: RE on May 16, 2020, 08:20:06 AMQuote f [...]
Quote from: RE on May 16, 2020, 08:20:06 AMQuote f [...]
Alternate Perspectives
Two Ice Floes
Jumping Jack Flash
From Filmers to Farmers
The Flim-Flam Men by Cognitive Dissonance   I suspect if average Joe or Jane were asked to identify [...]
The Coming War With China Re-posted from CaitlinJohnstone.com   (Have you noticed that (suddenly) Ch [...]
Papers Please! By Cognitive Dissonance     For those who may not know, Mrs. Cog and I live in the mo [...]
Lies, Damn Lies and Coronavirus Statistics By Cognitive Dissonance     "Never believe anything in po [...]
The Decline and Fall of Civil Society Chapter One By Cognitive Dissonance     From my perspective at [...]
http://jumpingjackflashhypothesis.blogspot.com/2012/02/jumping-jack-flash-hypothesis-its-gas.htmlThe [...]
Category: Variety Pack2020-07-01 - Hundreds of elephants mysteriously dying, mostly around waterhole [...]
2020-08-01 - Man, 69, dies after being pulled unconscious from swimming pool at home on King Ban Dri [...]
In other words, treat COVID-19 like a dry-run for the upcoming "big one" [...]
However don't expect strikes and yellow vests to fix underlying problems [...]
And it all turns out to be little more than a load of shit [...]
So how many more times are we going to hear that this is our last chance to take action in order to [...]
This is definitely not a bona fide post [...]
Daily Doom Photo
Sustainability
Peak Surfer
SUN
Transition Voice
"With the number of Covid patients closing in on 20 million, epidemiologists hope the virus has [...]
"Your future is a story you were told, like Santa Claus or the Tooth Fairy."Thirty years a [...]
"Our objectives are low-tech, anti-fragile, and human-centered. By using tools of permaculture [...]
"We are being schooled in the deficiencies of human neurobiology."President Cobblepot and [...]
"The word "redskin" has been coined to refer to these trophies."Paris, June 15, 1756. Anti [...]
The folks at Windward have been doing great work at living sustainably for many years now.  Part of [...]
 The Daily SUN☼ Building a Better Tomorrow by Sustaining Universal Needs April 3, 2017 Powering Down [...]
Off the keyboard of Bob Montgomery Follow us on Twitter @doomstead666 Friend us on Facebook Publishe [...]
Visit SUN on Facebook Here [...]
What extinction crisis? Believe it or not, there are still climate science deniers out there. And th [...]
My new book, Abolish Oil Now, will talk about why the climate movement has failed and what we can do [...]
A new climate protest movement out of the UK has taken Europe by storm and made governments sit down [...]
The success of Apollo 11 flipped the American public from skeptics to fans. The climate movement nee [...]
Today's movement to abolish fossil fuels can learn from two different paths that the British an [...]
Top Commentariats
Our Finite World
Economic Undertow
THANK YOU Ed, Gail and Xabier for your well wishes I really appreciated them I now have had the test [...]
In reply to Tim Groves. but okay, we all filter information through our minds in imperfect ways, so [...]
In reply to Lidia17. These teachers may be protesting themselves out of a future career. Remember Ro [...]
In reply to Robert Firth. Anne of Cleves may have been a bloke, Robert. Henry and Anne never consumm [...]
In reply to Tim Groves. new PC... cool. it must be... bAU tonight, baby! [...]
Steve seeing as how this is reante's fourth in a row, lemme know if I'm posting up too muc [...]
Hey Steve what do you think if the idea that the 1K/mo digital UBI for US citizens 18 and older (plu [...]
Who was it who used to argue here years ago about how much fat could be cut from the system? Was it [...]
Independent to me means non-commercial. They may sell half or full beefs and five or ten ton of hay [...]
Independent producers? Capitalism will make short work of them just as they did of all of the family [...]
RE Economics
Off the keyboard of RE Follow us on Twitter @doomstead666...
Off the keyboard of RE Follow us on Twitter @doomstead666...
Off the microphone of RE Follow us on Twitter @doomstead666...
Discuss this article @ the ECONOMICS TABLE inside the...
Off the Keyboard of RE Follow us on Twitter @doomstead666...
Off the microphone of RE Follow us on Twitter @doomstead666...
Off the microphone of RE Follow us on Twitter @doomstead666...
Off the keyboard of RE Follow us on Twitter @doomstead666...
Off the keyboard of RE Follow us on Twitter @doomstead666...
Off the keyboard of RE Follow us on Twitter @doomstead666...
Technical Journals
This study was designed to identify trends in maximum, minimum, and average air temperatures in the [...]
Cultural sites are particularly important to Indigenous peoples, their identity, cosmology and socio [...]
During February 2019, two severe storms affected the island of Crete, located in south Greece. Both [...]
Globally, subtropical circulation in the lower troposphere is characterized by anticyclones over the [...]
Numerical models are being used for the simulation of recent climate conditions as well as future pr [...]