From the Keyboard of William Blum
Follow us on Twitter @doomstead666
Like us on Facebook
Published originally in The Anti-Empire Report February 5, 2016
"If the Nuremberg laws were applied, then every post-war American president would have been hanged."
-Noam Chomsky
---
Is Bernie Sanders a socialist?

"Self-described socialist" … How many times have we all read that term in regard to Vermont senator Bernie Sanders? But is he really a socialist? Or is he a "social democrat", which is what he'd be called in Europe? Or is he a "democratic socialist", which is the American party he has been a member of (DSA – Democratic Socialists of America)? And does it really matter which one he is? They're all socialists, are they not?
Why does a person raised in a capitalist society become a socialist? It could be because of a parent or parents who are committed socialists and raise their children that way. But it's usually because the person has seen capitalism up close for many years, is turned off by it, and is thus receptive to an alternative. All of us know what the ugly side of capitalism looks like. Here are but a few of the countless examples taken from real life:
Following an earthquake or other natural disaster, businesses raise their prices for basic necessities such as batteries, generators, water pumps, tree-removal services, etc.

In the face of widespread medical needs, drug and health-care prices soar, while new surgical and medical procedures are patented.

The cost of rent increases inexorably regardless of tenants' income.

Ten thousand types of deception to part the citizens from their hard-earned wages.
What do these examples have in common? It's their driving force – the profit motive; the desire to maximize profit. Any improvement in the system has to begin with a strong commitment to radically restraining, if not completely eliminating, the profit motive. Otherwise nothing of any significance will change in society, and the capitalists who own the society – and their liberal apologists – can mouth one progressive-sounding platitude after another as their chauffeur drives them to the bank.
But social democrats and democratic socialists have no desire to get rid of the profit motive. Last November, Sanders gave a speech at Georgetown University in Washington about his positive view of democratic socialism, including its place in the policies of presidents Franklin D. Roosevelt and Lyndon B. Johnson. In defining what democratic socialism means to him, Sanders said: "I don't believe government should take over the grocery store down the street or own the means of production."
I personally could live with the neighborhood grocery store remaining in private hands, but larger institutions are always a threat; the larger and richer they are the more tempting and easier it is for them to put profit ahead of the public's welfare, and to purchase politicians. The question of socialism is inseparable from the question of public ownership of the means of production.
The question thus facing "socialists" like Sanders is this: When all your idealistic visions for a more humane, more just, more equitable, and more rational society run head-first into the stone wall of the profit motive … which of the two gives way?
The most commonly proposed alternative to both government or private control is worker-owned cooperatives or publicly owned enterprises managed by workers and consumer representatives. Sanders has expressed his support for such systems and there is indeed much to be said about them. But the problem I find is that they will still operate within a capitalist society, which means competition, survival of the fittest; which means that if you can't sell more than your competitors, if you can't make a sufficient net profit on your sales, you will likely be forced to go out of business; and to prevent such a fate, at some point you may very well be forced to do illegal or immoral things against the public; which means back to the present.
Eliminating the profit motive in American society would run into a lot less opposition than one might expect. Consciously or unconsciously it's already looked down upon to a great extent by numerous individuals and institutions of influence. For example, judges frequently impose lighter sentences upon lawbreakers if they haven't actually profited monetarily from their acts. And they forbid others from making a profit from their crimes by selling book or film rights, or interviews. The California Senate enshrined this into law in 1994, one which directs that any such income of criminals convicted of serious crimes be placed into a trust fund for the benefit of the victims of their crimes. It must further be kept in mind that the great majority of Americans, like people everywhere, do not labor for profit, but for a salary.
The citizenry may have drifted even further away from the system than all this indicates, for American society seems to have more trust and respect for "non-profit" organizations than for the profit-seeking kind. Would the public be so generous with disaster relief if the Red Cross were a regular profit-making business? Would the Internal Revenue Service allow it to be tax-exempt? Why does the Post Office give cheaper rates to non-profits and lower rates for books and magazines which don't contain advertising? For an AIDS test, do people feel more confident going to the Public Health Service or to a commercial laboratory? Why does "educational" or "public" television not have regular commercials? What would Americans think of peace-corps volunteers, elementary and high-school teachers, clergy, nurses, and social workers who demanded well in excess of $100 thousand per year? Would the public like to see churches competing with each other, complete with ad campaigns selling a New and Improved God?
Pervading all these attitudes, and frequently voiced, is a strong disapproval of greed and selfishness, in glaring contradiction to the reality that greed and selfishness form the official and ideological basis of our system. It's almost as if no one remembers how the system is supposed to work any more, or they prefer not to dwell on it.
It would appear that, at least on a gut level, Americans have had it up to here with free enterprise. The great irony of it all is that the mass of the American people are not aware that their sundry attitudes constitute an anti-free-enterprise philosophy, and thus tend to go on believing the conventional wisdom that government is the problem, that big government is the biggest problem, and that their salvation cometh from the private sector, thereby feeding directly into pro-free-enterprise ideology.
Thus it is that those activists for social change who believe that American society is faced with problems so daunting that no corporation or entrepreneur is ever going to solve them at a profit carry the burden of convincing the American people that they don't really believe what they think they believe; and that the public's complementary mindset – that the government is no match for the private sector in efficiently getting large and important things done – is equally fallacious, for the government has built up an incredible military machine (ignoring for the moment what it's used for), landed men on the moon, created great dams, marvelous national parks, an interstate highway system, the peace corps, social security, insurance for bank deposits, protection of pension funds against corporate misuse, the Environmental Protection Agency, the National Institutes of Health, the Smithsonian, the G.I. Bill, and much, much more. In short, the government has been quite good at doing what it wanted to do, or what labor and other movements have made it do, like establishing worker health and safety standards and requiring food manufacturers to list detailed information about ingredients.
Activists have to remind the American people of what they've already learned but seem to have forgotten: that they don't want more government, or less government; they don't want biggovernment, or small government; they want government on their side. Period.
Sanders has to clarify his views. What exactly does he mean by "socialism"? What exactly is the role the profit motive will play in his future society"?
Mark Brzezinski, son of Zbigniew, was a post-Cold War Fulbright Scholar in Warsaw: "I asked my students to define democracy. Expecting a discussion on individual liberties and authentically elected institutions, I was surprised to hear my students respond that to them, democracy means a government obligation to maintain a certain standard of living and to provide health care, education and housing for all. In other words, socialism."
We should never forget

The modern, educated, advanced nation of Iraq was reduced to a virtual failed state … the United States, beginning in 1991, bombed for much of the following 12 years, with one dubious excuse after another; then, in 2003, invaded, then occupied, overthrew the government, tortured without inhibition, killed wantonly … the people of that unhappy land lost everything – their homes, their schools, their electricity, their clean water, their environment, their neighborhoods, their mosques, their archaeology, their jobs, their careers, their professionals, their state-run enterprises, their physical health, their mental health, their health care, their welfare state, their women's rights, their religious tolerance, their safety, their security, their children, their parents, their past, their present, their future, their lives … More than half the population either dead, wounded, traumatized, in prison, internally displaced, or in foreign exile … The air, soil, water, blood, and genes drenched with depleted uranium … the most awful birth defects … unexploded cluster bombs lying in wait for children to pick them up … a river of blood running alongside the Euphrates and Tigris … through a country that may never be put back together again … "It is a common refrain among war-weary Iraqis," reported the Washington Post in 2007, that things were better before the U.S.-led invasion in 2003."
The United States has not paid any compensation to Iraq.
The United States has not made any apology to Iraq.
Foreign policy is even more sensitive a subject in the United States than slavery of the black people and genocide of the Native Americans. The US has apologized for these many times, but virtually never for the crimes of American foreign policy.
In 2014, George W. Bush, the man most responsible for this holocaust, was living a quiet life in Texas, with a focus on his paintings. "I'm trying to leave something behind", he said.
Yes, he has certainly done that – mountains of rubble for one thing; rubble that once was cities and towns. His legacy also includes the charming Islamic State. Ah, but Georgie Boy is an artiste.
We need a trial to judge all those who bear significant responsibility for the past century – the most murderous and ecologically destructive in human history. We could call it the war, air and fiscal crimes tribunal and we could put politicians and CEOs and major media owners in the dock with earphones like Eichmann and make them listen to the evidence of how they killed millions of people and almost murdered the planet and made most of us far more miserable than we needed to be. Of course, we wouldn't have time to go after them one by one. We'd have to lump Wall Street investment bankers in one trial, the Council on Foreign Relations in another, and any remaining Harvard Business School or Yale Law graduates in a third. We don't need this for retribution, only for edification. So there would be no capital punishment, but rather banishment to an overseas Nike factory with a vow of perpetual silence. – Sam Smith
On March 2, 2014 US Secretary of State John Kerry condemned Russia's "incredible act of aggression" in Ukraine. "You just don't in the 21st century behave in 19th century fashion by invading another country on completely trumped up pretext."
Iraq 2003 was in the 21st century. The pretext was completely trumped up. Senator John Kerry voted for it. Nice moral authority you have there, John.
On the same occasion, concerning Ukraine, President Obama spoke of "the principle that no country has the right to send in troops to another country unprovoked". Do our leaders have no memory or do they think we've all lost ours?
Does Obama avoid prosecuting the Bush-Cheney gang because he wants to have the same rights to commit war crimes? The excuse he gives for his inaction is so lame that if George W. had used it people would not hesitate to laugh. On about five occasions, in reply to questions about why his administration has not prosecuted the like of Bush, Cheney, Rumsfeld, Wolfowitz, et al. for mass murder, torture and other war crimes, former law professor Obama has stated: "I prefer to look forward rather than backwards." Picture a defendant before a judge asking to be found innocent on such grounds. It simply makes laws, law enforcement, crime, justice, and facts irrelevant. Picture Chelsea Manning and other whistleblowers using this argument. Picture the reaction to this by Barack Obama, who has become the leading persecutor of whistleblowers in American history.
Noam Chomsky has observed: "If the Nuremberg laws were applied, then every post-war American president would have been hanged."
It appears that the German and Japanese people only relinquished their imperial culture and mindset when they were bombed back to the stone age during World War II. Something similar may be the only cure for the same pathology that is embedded into the very social fabric of the United States. The US is now a full-blown pathological society. There is no other wonder drug to deal with American-exceptionalism-itis.
Notes

Senator Bernie Sanders on Democratic Socialism in the United States, November 19, 2015
Los Angeles Times, September 2, 1994
Washington Post, May 5, 2007
William Blum, Rogue State: A Guide to the World's Only Superpower, chapter 25
New York Times, September 16, 2014
Sam Smith of Maine, formerly of Washington, DC
Reuters, March 3, 2014
---
Any part of this report may be disseminated without permission, provided attribution to William Blum as author and a link to this website are given.
---
William Blum is an author, historian, and renowned critic of U.S. foreign policy. He is the author of Killing Hope: U.S. Military and CIA Interventions Since World War II and Rogue State: A Guide to the World's Only Superpower, among others.
Any part of this report may be disseminated without permission, provided attribution to William Blum as author and a link to this website are given.
Posted in

Feature, Geopolitics, Home
|
Tagged

Bernie Sanders, Dick Cheney, George W. Bush, John Kerry, neocons, profit motive, Sam Smith, Socialism, William Blum
From the Keyboard of William Blum
Follow us on Twitter @doomstead666
Like us on Facebook
Published originally in The Anti-Empire Report May 23, 2015
---
Their precious young minds and our precious young minds



She was a redheaded rebel, the singer in the family, a trash-talking, tattooed 21-year-old wrapped up in a hip-hop dream of becoming Holland's Eminem. Then Betsy found Allah. After her sudden conversion to Islam last summer, Betsy began dressing in full Muslim robes. By January, the once-agnostic Dutch woman, raised in a home where the only sign of religion was a dusty Bible on a shelf, began defending homegrown terrorists. … Denis Cuspert, a German hip-hop artist known as Deso Dogg who converted in 2010 and later joined The Islamic State [ISIS], delivers a rap-like chant portraying the path to jihad as a chance for empowerment, spiritual fulfillment, vengeance and adventure. … 'The door to jihad is standing there waiting for you,' says a Swedish convert to Islam in a video. 'It is the fastest way to paradise.'
Tales told many times in recent years, all over Europe, at times in the United States. Parents and authorities are deeply distressed and perplexed. How can young people raised in the West – the freedom-obsessed, democratic, peace-loving, humanitarian, fun-filled West – join the Islamic State and support the public cutting off of the heads of breathing, living human beings? Each of us in our own way are lost souls searching for answers to the awful mysteries of life. But THIS? What life-quest does The Islamic State satisfy that our beloved West can't satisfy? ISIS is unique in the world in making US foreign policy look good. The Defense Department and the State Department have special task forces studying the new enemy; the latter regularly puts out videos to counteract the many Islamic State videos.
I hope those researching the question look inwardly as well as at ISIS. How do young people raised in the West – the same West we know and love – coldly machine-gun to death more than a dozen Iraqis, men, women, children, reporters, absolutely in cold blood, in the video made famous by Chelsea Manning; but this of course is nothing compared to Fallujah with its two-headed babies, even three-headed, an eye in the middle of the forehead. The Islamic State has done nothing compared to what the United States did to the people of Fallujah. Can anyone name a horror in all of history more gruesome? Yes, there are some, but not many; and much of Fallujah was personally executed by nice, clean-cut, freedom-obsessed, democratic, peace-loving, humanitarian, fun-filled made-in America young men.
Here's US Lieutenant General Ricardo Sanchez, in his memoir, April 6, 2004, the time of Fallujah, in video teleconference with President Bush, Secretary of State Colin Powell, and Secretary of Defense Donald Rumsfeld. "We've got to smash somebody's ass quickly," said Powell. "There has to be a total victory somewhere. We must have a brute demonstration of power." Then Bush spoke: "At the end of this campaign al-Sadr must be gone. At a minimum, he will be arrested. It is essential he be wiped out. Kick ass! If somebody tries to stop the march to democracy, we will seek them out and kill them! We must be tougher than hell! This Vietnam stuff, this is not even close. It is a mind-set. We can't send that message. It's an excuse to prepare us for withdrawal. … There is a series of moments and this is one of them. Our will is being tested, but we are resolute. We have a better way. Stay strong! Stay the course! Kill them! Be confident! Prevail! We are going to wipe them out! We are not blinking!"
"Years from now when America looks out on a democratic Middle East, growing in freedom and prosperity, Americans will speak of the battles like Fallujah with the same awe and reverence that we now give to Guadalcanal and Iwo Jima" in World War II. – George W. Bush, 2006
Well, George, it's either that or Fallujah was one of the key reasons for the rise of ISIS.
My point here is not that United States foreign policy is as barbaric and depraved as The Islamic State. It's not. Most of the time. I simply hope to make it a bit easier to understand the enemy by seeing ourselves without the stars in our eyes. And I haven't even mentioned what the United States has led the world in for over a century – torture.
The ever-fascinating and ever-revealing subject of ideology



Jeb Bush has gotten himself into trouble because, like all politicians running for office, he is unable to give simple honest answers to simple straightforward questions, for fear of offending one or another segment of the population. How refreshing it would be to have a politician say only what s/he actually believes, even if it's as stupid as usual.
The brother of the previous president has been asked repeatedly: "Knowing what we know now, would you have authorized the invasion of Iraq?" At first his answer was "yes", then at times "I don't know", even "no" at least once, or he's refused to answer at all. Clearly he's been guessing about which reply would win him points with the most people, or which would lose him the least.
This caused a minor uproar, even among conservatives. Right-wing radio host Laura Ingraham was moved to make a rare rational remark: "You can't still think that going into Iraq, now, as a sane human being, was the right thing to. If you do, there has to be something wrong with you."
Such discussions always leave out a critical point. Why did millions of Americans, and even more millions abroad, march against the war in the fall of 2002 and early 2003, before it began? What did they know that the Bush brothers and countless other politicians didn't know? It was clear to the protesters that George W. Bush and Dick Cheney were habitual liars, that they couldn't care less about the people of Iraq, that the defenseless people of that ancient civilization were going to be bombed to hell; most of the protesters knew something about the bombings of Vietnam, Cambodia, Laos, Panama, Yugoslavia, or Afghanistan; and they knew about napalm, cluster bombs, depleted uranium, etc. Those who marched knew that the impending war was something a moral person could not support; and that it was totally illegal, a textbook case of a "war of aggression"; one didn't have to be an expert in international law to know this.
Didn't the Brothers Bush, Hillary Clinton (who voted for the war in the Senate), et al know about any of these things? Of course they did. They just didn't care enough; supporting the empire's domination and expansion was a given, and remains so; no US politician gets very far – certainly not to the White House – questioning the right of American Exceptionalism to impose itself upon humanity (for humanity's sake of course).
Consider the darlings du jour of the American Left, Senators Elizabeth Warren and Bernie Sanders. They very seldom speak out critically about US foreign policy or even the military budget. The anti-war/anti-imperialist segment of the American left need to put proper pressure on the two senators.
Mr. Sanders should also be asked why he routinely refers to himself as a "democratic socialist". Why not just "socialist"? It's likely a legacy of the Cold War. I think that he and other political figures who use the term are, consciously or unconsciously, trying to disassociate themselves from communism, the Soviet Union, Marxism, etc., all those things that are not good for you. (The word "socialist" once connoted furtive men with European accents, sinister facial hair, and bombs.)
It would be delightful to hear Sanders openly declare that he is simply a "socialist". Socialism can be democratic; indeed, a lot more so than capitalism, particularly concerning the distribution of wealth and all the ramifications of that. Presented here are some relevant thoughts on these issues, from myself and others:
It's only the socialists who maintain as a bedrock principle: People before Profit, which can serve as a very concise definition of socialism, an ideology anathema to the Right and libertarians, who fervently believe, against all evidence, in the rationality of a free market. I personally favor the idea of a centralized, planned economy. (Oh my God, a damn Commie!) Modern society is much too complex and technical to leave its operation in the hands of libertarians, communitarians, or anarchists seeking to return to a "community" or "village" level.
"Washington has always regarded democratic socialism as a greater challenge than totalitarian Communism, which was easy to vilify and made for a handy enemy. In the 1960s and '70s, the favored tactic for dealing with the inconvenient popularity of economic nationalism and democratic socialism was to try to equate them with Stalinism, deliberately blurring the clear differences between the world views." – Naomi Klein
"If it is true, as often said, that most socialist regimes turn out to be dictatorships, that is largely because a dictatorship is much harder to overthrow or subvert than a democracy." – Jean Bricmont, Belgian author of "Humanitarian Imperialism" (2006)
Without a proclaimed socialist vision, radical change becomes too many different things for too many different individuals and groups.
"Call it democracy, or call it democratic socialism, but there must be a better distribution of wealth within this country for all of God's children." – Martin Luther King
The United States is so fearful of the word "socialism" that it changed the "social sciences" to the "behavioral sciences".
If for no other reason than to save the environment, the world needs to abandon the capitalist system. Every day, in every spot on earth, in a multitude of ways, corporations are faced with a choice: to optimize profits or to do what's best for the planet.
The great majority of people in any society work for a salary. They don't need to be motivated by the profit motive. It's not in anyone's genes. Virtually everybody, if given the choice, would prefer to work at jobs where the main motivations are to help others, improve the quality of life of society, and provide themselves with meaningful and satisfying work. It's not natural to be primarily motivated by trying to win or steal "customers" from other people, no holds barred, survival of the fittest or the least honest.
And what about this thing called "democracy", or "majority rule"? Many millions marched against the invasion of Iraq before it began. I don't know of a single soul who marched in favor of it, although I'm sure there must have been someone somewhere. That lucky soul was the one they listened to.
Finally, the question being asked of Jeb Bush and others is not the best one. They're asked: "Knowing what we know now, would you have authorized the invasion of Iraq?" A more important question would be: "Knowing what we knew then, would you have authorized the invasion of Iraq?" And the answer should be "no", because we knew that Saddam Hussein had destroyed his weapons of mass destruction. This is very well documented, from diverse sources, international and Iraqi, including Saddam himself and his chief lieutenants.
The American Mainstream Media – A Classic Tale Of Propaganda

"When an American warplane accidentally struck the Chinese Embassy in Belgrade in 1999 during the Kosovo campaign …"
These words appeared in the Washington Post on April 24, 2015 as part of a story about US drone warfare and how an American drone attack in Pakistan in January had accidentally killed two Western aid workers. The Post felt no need to document the Belgrade incident, or explain it any further. Almost anyone who follows international news halfway seriously knows about this famous "accident" of May 7, 1999. The only problem is that the story is pure propaganda.
Three people inside the Chinese embassy were killed and Washington apologized profusely to Beijing, blaming outdated maps among other problems. However, two well-documented and very convincing reports in The Observer of London in October and November of that year, based on NATO and US military and intelligence sources, revealed that the embassy had been purposely targeted after NATO discovered that it was being used to transmit Yugoslav army communications. The Chinese were doing this after NATO planes had successfully silenced the Yugoslav government's own transmitters. The story of how the US mainstream media covered up the real story behind the embassy bombing is absolutely embarrassing.
Over and above the military need, there may have been a political purpose served. China, then as now, was clearly the principal barrier to US hegemony in Asia, if not elsewhere. The bombing of the embassy was perhaps Washington's charming way of telling Beijing that this is only a small sample of what can happen to you if you have any ideas of resisting or competing with the American juggernaut. Since an American bombing campaign over Belgrade was already being carried out, Washington was able to have a much better than usual "plausible denial" for the embassy bombing. The opportunity may have been irresistible to American leaders. The chance might never come again.
All of US/NATO's other bombing "mistakes" in Yugoslavia were typically followed by their spokesman telling the world: "We regret the loss of life." These same words were used by the IRA in Northern Ireland on a number of occasions over the years following one of their bombings which appeared to have struck the wrong target. But their actions were invariably called "terrorist".
Undoubtedly, the US media will be writing of the "accidental" American bombing of the Chinese embassy as long as the empire exists and China does not become a member of NATO.
---
Personal stuff

I'm part of a panel at the annual Left Forum in New York, Saturday, May 30, noon to 1:50, Room 1.89: US Wars of Aggression & Islamic Jihad: What is the Bigger Danger and How Should the Antiwar Movement Respond?
Other panel members are David Swanson and Alan Goodman.
John Jay College of Criminal Justice
524 W. 59th St (Between 10th and 11th)
–
On May 20 the Office of the Director of National Intelligence released a list of 39 English-language books recovered during the raid that reportedly killed Osama bin Laden. Noam Chomsky and I are the only two authors on the list with two books.
As some of you may remember, in January, 2006 bin Laden, in an audiotape, recommended that Americans read my book Rogue State. This resulted in the US media discovering my existence for a week. You can read the full story in my book America's Deadliest Export: Democracy (pp. 281-84).
Washington Post, May 7, 2015
Ricardo Sanchez, Wiser in Battle: A Soldier's Story (2008), pages 349-350
Associated Press, November 11, 2006
William Blum, America's Deadliest Export: Democracy, pp. 61-2
The Observer (London), October 17, 1999 ("Nato bombed Chinese deliberately"), and November 28, 1999 ("Truth behind America's raid on Belgrade")
Extra! Update (magazine of Fairness and Accuracy in Reporting [FAIR], New York), December 1999; appeared first as solitary article October 22, 1999 ("U.S. Media Overlook Expose on Chinese Embassy Bombing")
---
William Blum is an author, historian, and renowned critic of U.S. foreign policy. He is the author of Killing Hope: U.S. Military and CIA Interventions Since World War II and Rogue State: A Guide to the World's Only Superpower, among others.
Any part of this report may be disseminated without permission, provided attribution to William Blum as author and a link to this website are given.
Published
March 30, 2015
|
By
td0s
Off the keyboard of td0s
Follow us on Twitter @doomstead666
Friend us on Facebook
Published on Pray for Calamity on November 14, 2013
Discuss this article at the Doom Psychology Table inside the Diner
There are a lot of blogs out there that focus on "collapse," and many of them will from time to time post statistics about increased crime rates in order to demonstrate the slow deterioration of society, occasionally showing videos of flash mobs such as this one below.
Video Removed by You Tube

There was a time when I would have seen something like this and thought, "Whoa, things are getting bad."  My evolution has been long, and now I find myself seeing something like this and thinking, "Good for them!"  Previously, I was subject to knee jerk reactions which were preprogrammed responses that were silently imprinted in me by our culture.  Now that I have slowly stripped away layer after layer of cultural programming and dogmatic response, I can examine any given scenario based on it's specific criteria, and come to an analysis that I find satisfying.  I'm open to critique of my analysis, as challenging my biases and interpretations hones my senses and my ability to comprehend my surroundings.
I think it is fair to suggest that most people residing in our culture see such a thing happen, and as a matter of reflex, condemn it.  This condemnation comes from an inner policing that was built partly from Judeo-Christian values as well as capitalist social indoctrination.  I would even argue that Judeo-Christian values as they currently stand are informed by mercantilist necessity.  Summarizing briefly my interpretation of the knee jerk condemnation of such acts as the one in the above video, I would say most people feel like Society (capital "S") is a good thing, and that people who would mob into a retail store and in a flash, steal as much as they could get their hands on, are going to negatively impact Society.
This is where my personal bias comes into play.  I do not believe Society to be a good thing.  My view is that megalithic Society — these nations of millions of people — are unnatural constructs ultimately glued together through violence, whether implicit or explicit.  Humans, I do not believe to be social creatures, as much as they are tribal creatures.  This is to say, I believe when not arranged into massive groups by other humans wielding power (via violence, whether armies, police, law, etc.) people will self organize into smaller groups, communities, clans, or tribes.  The main difference being the over all size of the social organism created by such organization, and where the individual falls within this organism.
In a small tribe or clan, the individual is an integral component and is valued.  However, the unit as a whole can maximize the benefits of group togetherness and group work without losing prowess due to curves of diminishing returns.  Why is this?  For one, the human animal and our psychological and emotional responses have evolved to exist within smaller communities.  Emotions like empathy are a boon to tribes and clans, as individuals are all known to each other, are interrelated with one another, care for one another, and thus gift and sharing come naturally.  Not only are members of small tribes capable of caring for those who are less skilled, sick, elderly, etc. but they almost always insist upon doing so.  The empathy of the individual becomes collective and thus becomes a cultural norm: When you are successful in the hunt, you share the meat, and no one goes hungry.  When you are not successful in the hunt, but another clan member is, you eat because they share.
These sorts of relations which are natural to humans, which have allowed humans to survive through massive environmental shifts and calamities of the past, are not only absent from mega-social structures, but under capitalism, they are considered foolish.  Does anyone really believe that the people who wield power within this Society are actually empathetic to the masses at large?  This is a crucial failure of democracy.  Unless decisions makers and policy setters actually know — and I mean in person — all of the people they claim to represent, how could they possibly be expected to be truly empathetic towards them and their particular circumstances?  Democracy and the governmental architectures of megalithic social organisms suffer a myriad of contradictions and failures to be sure, but I would just like to highlight for this argument that small clans of people can function in a fashion that is far more agreeable to the individuals involved, thereby giving these individuals a reason to care about the well being of the greater social system.  Large scale Society cannot do this.
Even when humans are corralled into massive social constructs like those of today, tribal behavior is still implicit in many of our daily activities.  This behavior, depending on who is engaging in it and what the ultimate outcome, will be dubbed "gang activity," "nepotism," "cult," "clique," or even "patriotism," "networking," etc.  Tribal behavior that is seen to have a net benefit to the social organism — and primarily to those who sit atop the social hierarchy, will be granted a positive connotation.  Tribal behavior that is engaged in by those low on the social hierarchy that is gauged as only having a benefit to that tribe at the expense of the social organism or its narrative is given negative association and is often the target of state repression.
When a group of teenagers mobs into a corporate retail location and in a flash, steals a large amount of wares, this is immediately cast as "bad for Society."  As noted above, I personally believe Society to be a bad thing.   Massive social organisms such as the Society in which we live require massive prison complexes, squadrons of well armed police, and a penal system so obtuse and selectively applied as to make Franz Kafka blush.  Above all, we have to recognize that the Society in which we live, and the greater industrial civilization of which it is a part, are both decimating the biosphere of the planet.  Polluted, overfished, rapidly acidifying oceans; mountaintop removal coal mining, hydraulic fracturing, deep water drilling, and tar sands strip mining; top soil loss, rivers and waterways tainted with agricultural run off, deforestation, over grazing, desertification; massive die off currently underway of trees, amphibians, mammals, and so on; must I even argue that the way humans are organizing and sustaining themselves (with the exception of the world's remaining indigenous tribes who are also fighting off an ongoing genocide) is killing the planet?
When a true and honest calculus of the costs is visible, it is clear that modern human paradigms must be shattered immediately if there is to be any hope for the future of life on Earth.  This is if it is not already long too late.
Balancing this knowledge in one hand, and then watching as a bunch of modern teens, whose minds have no doubt been warped and bent by a lifetime of consumerist propaganda, plunder a store of some clothing no doubt made in a third world sweatshop, I am supposed to weep for the retailer?  It would require a chasm of cognitive disconnect to see an injustice.
—
In discussing this, people have been quick to point out to me that these young people are likely not aware of the larger social and environmental context in which their action took place, and that in all likelihood these teenagers just wanted to steal because they wanted stuff they couldn't afford, and maybe the adrenaline rush generated by breaking the social convention was an alleviation from boredom.  Most people assume these youth aren't knowingly taking direct action against an unethical capitalist system, and thus the robbery is just another example of disrespectful teenagers acting out.
I think this is an extremely unfair assessment.
I'll start with a thesis statement: I believe rage is valid.  This culture demotes emotion to be subordinate to thought.  The predominantly white male "educated" upper class has for centuries defined what reason, logic, and rationality are.  Not surprisingly, logic and reason have always substantiated the Social order, and hence the system can constantly reify itself while those who benefit from it the most can claim that it is all high minded and rational.
Members of the lower social classes are abused by the Social organism.  They are subject to the highest levels of toxic pollution that accompanies industrial activity, they are far more policed and prosecuted by the penal system, and in general are confined into a go-no-where economic merry-go-round that keeps survival necessities always just barely within reach so they will tolerate egregious treatment by employers; low wages, poor conditions, etc.  When people from these classes finally act out in society, whether via a peaceful demonstration or a full blown riot, their demands and their actions are almost universally decried as irrational, unreasonable, and anti-social.  Their actions and movements are condemned all the more thoroughly if their demands or motivations are not articulated in a language acceptable to the mostly white middle and upper class.
The absurdity in this rejection is that articulation follows feeling, not the other way around.  The feeling of "getting the shaft" or "being shit on" is actually far more relevant than any individual's ability to explain the particulars of their condition in academic verbiage.  The feelings are the truth of lived experience, the explanation is merely a communication of these feelings.
Right and wrong, our internal distinction between the two, and our sense of justice are natural to us.  Empathy is a survival instinct, as I noted above, as it promotes the welfare of the tribal unit which is ultimately beneficial for the individual participant.  Society has co-opted this sense and attempted to blur the line of what is moral or ethical to include the social machine not as a construct, but as another member of the whole.  In this sense, the judicial system uses language which claims criminals have wronged society and that in doing so they owe a debt to society, as if society is itself an individual who could be wronged or paid restitution.  This methodology of thought is then further blurred when it is also applied to businesses and enterprises as if these entities are persons.  This is why shoplifting from Wal-Mart is condemned by those who think in binaries, where stealing is always wrong regardless of what or from whom something is taken.  Wal-Mart in this example, is given the status of an individual to be empathized with, instead of allowing a detailed analysis of just what exactly a Wal-Mart unit is, where from and by what means they acquired their inventory, and what the true costs of Wal-Mart's existence are relative to the environment and humanity.
This is how those in power manipulate people into expressing outrage and dismay when they witness an incident of flash mob shoplifting.  They have confused people into equating the retailer with an individual, whose shoes the witness then mentally dons, and thusly they ask, "If these kids so brazenly rob a retail outlet, what is to prevent them from doing the same to me or my home?"  And the illusion is complete, with the average proletariat seeing the retailer as a poor victim, setting the stage for themselves and their loved ones to be next.  This leads to fear and demands that the perpetrators are dealt with swiftly, which leaves the social narrative and the hierarchy of power in tact.
—
If my bias against Society and the greater industrial civilization is well founded, if we can accept for a moment that continuing along with business as usual will allow the continuing onslaught against life which is driving at least one hundred species per day into extinction and will certainly lead to the extinction of human beings as well, then the only moral response is to shift one's biases to agree with mine: to see the massive social organism as a parasite which needs to be expunged.
Let me be crystal clear; I am not suggesting that humans are parasitic, but that the current experiment of civilization, is.  Human beings are just another mammal, who have in the past, and who do in last remaining pockets now, live in balance with nature.  Mine isn't misanthropy, but an anti-civilization (or anti-civ) understanding, which is biocentric, meaning that I believe all life has value despite whether or not it plays a role in human economy.
If the current paradigms of human organization, thought, and behavior — our Societies — need to be completely undone, then why are we at all concerned with whether or not particular retail outlets profit off of the merchandise in their stores?  Should this not be among the least of our concerns?  Should we not see a breakdown in the domination of commerce as positive?
On this point, people have suggested to me in many manner of ways, that it is not the retail outlet for whom they are concerned, but for the individuals involved, as well as any future victims they may have should they make a habit of breaking social conditions.  This suggestion contains a handful of premises.  First, concern for the perpetrators.  I too share a concern that these young people might end up in the hands of the prison industrial complex, to be sure.  Concern for their general state of being, for their character, is less of a factor for me, because all people in this Society have the content of their character on the line every day.  Frankly, the store employees who rush after thieves worry me more than the thieves themselves, because in these individuals I see subjugated minds chained and shackled by the hollow promises of a market system that demands loyalty to wage payers, as if we should all be oh-so-grateful to have employment under which to waste away the years of our lives.  For those concerned about the character and potential "slippery slope" of looser and looser ethics on the part of the teenage flash-mobbers, there is still an underlying assumption that this act is one that is of low moral fiber — a premise not demonstrated — and an assumption that this act won't lead in the other direction, to a greater and greater questioning of the status quo, of why some people have a lot when the rest have very little, of how global neo-liberalism actually functions, etc.
The second major premise is that this is in fact, a "slippery slope," a "gateway drug" to breaking more and more laws and/or social conventions.  While this could be one possibility, it is not necessarily the case.  Some slopes are not slippery at all, and some acts are not gateways.  In fact, in committing such actions and challenging the social conventions impressed upon one since youth, it is quite reasonable to assume that these young people have had internal or external dialogues about their actions, and whether and how they are justified.  In any case, to assume that it is necessarily so that these teenagers will engage in more brazen acts, possibly including violence, is unfounded.  Someone who smokes marijuana doesn't necessarily move on to crack cocaine.  Someone who runs a red light doesn't necessarily move on to tax evasion.
Law is interesting in that some of Society's prohibited behaviors are those that run counter to our natural state of being, such as murder and rape.  These are acts that to a mentally and spiritually stable human, are repugnant.  Our natural empathy for one another and our evolution as a tribal cooperator already has cast murder and rape as abhorrent in our minds.  Crimes that are bureaucratic, or prohibited actions which are prohibited to preserve an economic order — such as theft, writing bad checks, counter-fitting, what have you — do not require necessarily that the perpetrator have been mentally or spiritually broken.  These are crimes committed because Society itself creates an enormous amount of economic pressure and lays is on every individual, requiring everyone to take on wage labor in order to survive. This unnatural order creates scenarios in which certain pockets of Society have very few options to legally attain a dignified survival.  Or again, some people sense the greater injustice of "getting screwed" by an imaginary construct over which they have no say in their participation.  So while committing a murder or rape usually requires first that the perpetrator be mentally or spiritually broken down, this is not the case for those who commit "crimes" against the economic order.  This is all to say, engaging in actions of the latter type, does not place one on a "slippery slope" to commit actions of the former type.
—
Systems of power do not create available methods for the ruled to dismantle the power structure.  Power accumulates more power, consolidates it, and entrenches itself.  It throws up walls and defenses to ensure its continuation.  There is no flow chart of legal and available political channels for the ruled (I should say, "owned") peoples of the world to set themselves free and to terminate the industrial economy which is hell bent on destroying all life on Earth.  The only hope, is calamity.  This calamity can be an environmental mega disaster, or an amalgamation of social disruptions compounding upon each other.  Either way, the current paradigms — economic, political, social, et al — are toxic, and grass roots behaviors that are detrimental to the success of these paradigms are ultimately to our benefit, as contradictory as this may seem at first glance.  In simple terms, "Good for the machine, bad for you.  Bad for the machine, good for you."
Of course, billions of people are now dependent upon the machine to access their needs.  This is aptly described by Derrick Jensen's statement that,
"if your experience is that your food comes from the grocery store and your water comes from the tap, then you are going to defend to the death the system that brings those to you because your life depends on them. If your experience, however, is that your food comes from a landbase and that your water comes from a stream, well, then you will defend to the death that landbase and that stream."
We should not be inclined to preserve the machine because it is meeting our basic needs today when we know that it is accomplishing this by destroying the planet's ability to meet those needs tomorrow.  This is doubly true when we know that the machine is only accomplishing this task through a massive program of violence meted out upon the global poor as well as all non-human species.
My last observation on this issue concerns balance.  The universe is a system in balance.  Even temporary imbalances are only perceptions of a frozen timeline, for all they will all come into balance once again.  Our mega Societies — the global civilization — is a system out of balance.  When I suggest to people that we abolish police and prisons, most are immediately mortified.  They assume that such an abolition would be immediately followed by an immense surge in crime.  To this I respond, "Of course!"  This should tell us something about the Society in which we live, particularly that it is entirely out of balance.  The need of so many runs up against the wealth of so few.  No natural state would allow such a one sided distribution of resources.  Any other place in nature, devoid of constructed law and cordons of militant law enforcers, would see a rapid diffusion of the resources to a balanced state.  Imagine one-hundred gorillas, with two of them controlling ninety-eight percent of the available bananas, and the other ninety-eight gorillas having two percent of the bananas to divide amongst themselves.  This would be an absurdity even modern humans from this culture wouldn't be able to explain if they stumbled upon it in the wild.  Yet we exist within such a system!  In our example, the hungry ninety-eight gorillas would quickly take what they needed from the other two by whatever means necessary, and we wouldn't expect them to validate their actions or any sense of indignation that preceded them with artful discourse.
No doubt, the teenagers engaged in flash mobs, and indeed plenty of other people who steal, are often taking non-essential items.  Cultural distortion of need due to advertising propaganda is surely playing it's role.  Despite this, we should at the very least see these acts as the result of causation.  These hard and fast broad daylight robberies are a clever tactic undertaken by people who have been given zero reason to care about the bloated social organism  The real question we should be asking ourselves, is when and how we are going to join them in acting out against that which is rapidly killing us.
Off the keyboard of Brian Davey
Follow us on Twitter @doomstead666
Friend us on Facebook
Published on FEASTA on October 2, 2014
Discuss this article at the Economics Table inside the Diner
Note: This is an excerpt from Brian Davey's book Credo: Economic Beliefs in a World in Crisis, soon to be published by Feasta.
The economy of the future is described by different groups with different words in different languages and they do not always exactly translate into an identical idea. However, the words, like "Degrowth", "Decroissance"(French) or "Postwachstum"(German) share an idea of contraction of the economy in order to stay within ecological limits while at the same time including the idea that there will be a need for community and political solutions to the problems that we already know will emerge – the unemployment, the energy shortages, the hunger and the homelessness. Since 2008 there have been 4 global "degrowth conferences" each larger than the previous one – in 2008 in Paris, 2010 in Barcelona, 2012 in Venice and, most recently, in September 2014 in Leipzig in Germany. The alternative vision and philosophies for society that has emerged from this process is drawing on a variety of sources. This includes a lively dialogue between the theorists of degrowth in the countries of the global north with activists and strategists against poverty and environmental degradation in the south. For example, ideas like "buen vivir" from the indigenous people of the Andes have become sources of inspiration that are widely accepted.[1]
The Spectrum of Degrowth Perspectives
This does not mean that absolutely all "post growth" or "degrowth" thinkers share the same values and understandings of what needs to be done. There is a spectrum that spans from the political right across to the left and includes feminist economic thinkers. Matthias Schmeltzer, an economic and political historian at the University of Geneva, and one of the organisers of the September 2014 Leipzig Degrowth Conference, describes 5 different schools of thought to be found among Degrowth thinkers in the German speaking world.[2]
One of the trends is politically and socially conservative. The thinkers in this group acknowledges that growth is coming up against natural and social limits and diagnose the problem as citizens and states living beyond their means – driven by consumption, the expenditures of the welfare state, debt, greed and decadence. For these thinkers contraction is unavoidable and will need to be brought about by a change in personal values in the form of more personal responsibility, a strengthening of the patriarchal family to take on more responsibilities, self denial and a reduction in what they see as the burden being carried by the welfare state.
Over and against this is a feminist economic perspective. It has not been explicitly developed as a contribution to the degrowth debate but has become an important source of inspiration. For the feminist thinkers the growth economy exploits and impoverishes the "subsistence activities" of the household, the societies of the global south and nature. This endangers future reproduction – in favour of growing production. The future of humanity and nature presupposes and requires reproduction yet the capital accumulation process, the separation of paid and unpaid work, has come to devalue the reproductive activities mostly carried out by women. The solution to this is a process of de-commercialisation, re-developing commons-based shared activities and resources and the development of non-hierarchical local structures. It is a perspective and strategy that matches well the redevelopment of local cultivation and food sources, the redevelopment of the local economy and particularly non-monetised activities.
Other approaches to Degrowth include social reformist; sufficiency orientated; and anti-capitalist approaches.
What Schmeltzer characterises as the Social Reformist School diagnoses the problems as arising because politics is fixated on growth – driven by economic sectors, institutions and structures that have become dependent on it. Actually it would be better to describe some of the people in this group, not as advocates of "Degrowth" but as proponents of "A-Growth" . This term is intended to mean a style of politics that is indifference to growth, a kind of "Growth Atheism" since GDP per capita is in any case a useless measure of social welfare.
Politicians and actors from civil society must bring about the end of the growth dogma and disentangle economic and institutional structures (like the social security system) from growth in the direction of sustainable kind of liberalism. It will be achieved by ecological taxation, policies to promote sufficiency, civic insurance systems, sustainable consumption and the development of alternative welfare indicators.
The Sufficiency School of Degrowth goes further. For the Sufficiency School it is impossible to adequately decouple resource use from growth. One consequence is that that overconsumption in the global north is taking place at the cost of the global south from which a large proportion of the material resources are extracted. The problem of growth and resource use is driven by the need to have a rising income in order pay interest on loans. It is further attributable to the volume of resources needed to sustain long distance large scale production chains. This Sufficiency School thus not only proposes a sufficiency rather than a consumerist approach in life, it also argues for the need to re-develop more local and small scale forms of self production. People must become "pro-sumers" – i.e. producers of what they themselves consume. To make this possible there is a need for land and financial reform, reform of work time and the extension of subsistence and regional economies.
The sufficiency approach has many similarities to that of the "Transition Movement" – an international network of groups that has come together to try to prepare local communities with information and practical projects for a future of "energy descent". The movement tends to avoid explicit political engagement and favours communities making their own initiatives like community gardens without waiting for politicians to wake up to the gravity of the crisis.
Finally there is the Degrowth of Capitalist Critics. Their argument is that capitalist growth causes multiple crises and that the "imperial lifestyle" in the global north is at the cost of the global south (for example the climate change impacts). To the critics of capitalism the drivers of growth are to be found in the property and power relationships including the processes of privatisation. The necessary counter politics involves the promotion of the commons, the promotion of the solidarity economy, climate justice and more democracy in economy and state.
Rather than advocating a top-down centralised form of socialist planned economy people with this perspective tend to promote networked bottom-upwards forms of development. They see a place for exemplary projects at the same time as advocating political and trade union strategies for more economic democracy, state regulation and guided investment, reduction in working time, proposals for a basic citizens income on the one hand and maximum income limits on the other.
In summary new styles and understandings of politics and economics are emerging. There is variety and difference but, over a wide spectrum, the differences are best thought of as a healthy diversity. The diversity between the left and the greens can give rise to complementary relationships rather than being sources of deep division and antagonism.
Shaping New Utopias – or making the best in a difficult and highly uncertain time?
For all of that it seems to me that an important issue hangs over this movement – how much are we in the business of designing and shaping the future, using the current crisis to re-envisage new kinds of "concrete Utopias" – and how much are we in the business of preparing to cope with a very difficult and chaotic time where involuntary Degrowth happens anyway, opening up a Pandora's Box of problems so that we need practical and political tools to get through them. Are we in the business of advocating a voluntary process of degrowth by design – or are we developing the ideas for surviving an involuntary and very challenging process that will happen anyway – and containing quite a few unpleasant surprises?
There is, as yet, too much that is unknown and that we cannot know. The current world economic situation is above all characterised by "strong uncertainty". A highly complex society can disintegrate in many different ways that are unpredictable. I can, for example, write a book to attempt to describe a host of problems only to witness a type of disintegration not so far described in this book at all – for example brought about by an unstoppable Ebola epidemic which paralyses physical and financial infrastructures and global trade. Or perhaps we will witness chaos brought about by political turmoil and war caused by the miscalculations of politicians in a horrific future that is completely unexpected. That happened before – in 1914. I can advocate an open source society based on knowledge commons only to witness a disintegration of the internet because of a shortage of essential materials – or see the internet make possible a host of marvellous products for countries in the global south and then witness this internet using so much carbon energy that it helps tip humanity into runaway climate change.
Just as hottest months are after mid-summer because warmth accumulates and there is a lag so, perhaps, techno-optimism is at its height when decline has already started. At a time like this it is possible to see the problems ahead but they are still seen in the rosy glow, with a bright confidence that they can be fixed. It is even possible to imagine that these problems are a new opportunity to re-launch the utopian visions whose earlier versions failed.
Yet we should always take into account that our visions of the future are bound to be flawed by the limitations of what we know. All that we know, even if we go to university and think we know a great deal, is very limited indeed and the world in a short time will seem very different from what we expected it to be. The greatest challenge for all political and economic visionaries is that the world will inevitably evolve differently from what we expect because of processes and issues that we could not know about in advance. This is true even though we are obliged to try to anticipate the problems of the future in order, if possible, to forestall them, and, if not, to cope and do as best we can with them.
You can read Seán Conlan's impressions of the Degrowth conference in Leipzig here.
Endnotes
1. www.degrowth.de
2. Schmeltzer, Matthias 2014 "Gutes Leben statt Wachstum" Atlas der Globalisierung/ Le Monde Diplomatique Supplement: Der Postwachstumsatlas pp 16-21
3. van den Bergh, Jeroen CJM – "Environment versus growth – A criticism of "Degrowth" and a plea for "A-Growth", Ecological Economics, Volume 70, Issue 5, 15th March 2011, pages 881-890 http://www.sciencedirect.com/science/article/pii/S0921800910004209
Featured image: Buen Vivir. Source: http://icarialibros.blogspot.fr/2013/01/que-es-el-buen-vivir-aprendiendo-del-sur.html
Off the Keyboard of William Blum
Follow us on Twitter @doomstead666
Friend us on Facebook

Published December 4, 2013 by William Blum on The Anti-Empire Report
"If nature were a bank, they would have already rescued it." – Eduardo Galeano
What do you think of this as an argument to use when speaking to those who don't accept the idea that extreme weather phenomena are man-made?
Well, we can proceed in one of two ways:
We can do our best to limit the greenhouse effect by curtailing greenhouse gas emissions (carbon dioxide, methane, and nitrous oxide) into the atmosphere, and if it turns out that these emissions were not in fact the cause of all the extreme weather phenomena, then we've wasted a lot of time, effort and money (although other benefits to the ecosystem would still accrue).
We can do nothing at all to curtail the emission of greenhouse gases into the atmosphere, and if it turns out that these emissions were in fact the cause of all the extreme weather phenomena (not simply extreme, but getting downright freaky), then we've lost the earth and life as we know it.
So, are you a gambler?
Whatever we do on a purely personal level to try and curtail greenhouse gas emissions cannot of course compare to what corporations could do; but it's inevitable that the process will impinge upon the bottom line of one corporation or another, who can be relied upon to put optimization of profit before societal good; corporate "personhood" before human personhood. This is a barrier faced by any environmentalist or social movement, and is the reason why I don't subscribe to the frequently-voiced idea that "Left vs. Right" is an obsolete concept; that we're all together in a common movement against corporate and government abuse regardless of where we fall on the ideological spectrum.
It's only the Left that maintains as a bedrock principle: People before Profit, which can serve as a very concise definition of socialism, an ideology anathema to the Right and libertarians, who fervently believe, against all evidence, in the rationality of a free market. I personally favor the idea of a centralized, planned economy.
Holy Lenin, Batman! This guy's a Damn Commie!
Is it the terminology that bothers you? Because Americans are raised to be dedicated anti-communists and anti-socialists, and to equate a "planned economy" with the worst excesses of Stalinism? Okay, forget the scary labels; let's describe it as people sitting down and discussing what the most serious problems facing society are; and which institutions and forces in the society have the best access, experience, and resources to offer a solution to those problems. So, the idea is to enable these institutions and forces to deal with the problems in a highly organized and efficient manner. All this is usually called "planning", and if the organization of it all generally stems from the government it can be called "centralized". The alternative to this is called either anarchy or free enterprise.
I don't place much weight on the idea of "libertarian socialism". That to me is an oxymoron. The key questions to be considered are: Who will make the decisions on a daily basis to run the society? For whose benefit will those decisions be made. It's easy to speak of "economic democracy" that comes from "the people", and is "locally controlled", not by the government. But is every town and village going to manufacture automobiles, trains and airplanes? Will every city of any size have an airport? Will each one oversee its own food and drug inspections? Maintain all the roads passing through? Protect the environment within the city boundary only? Such questions are obviously without limit. I'm just suggesting that we shouldn't have stars in our eyes about local control or be paranoid about central planning.
"We are all ready to be savage in some cause. The difference between a good man and a bad one is the choice of the cause." – William James (1842-1910)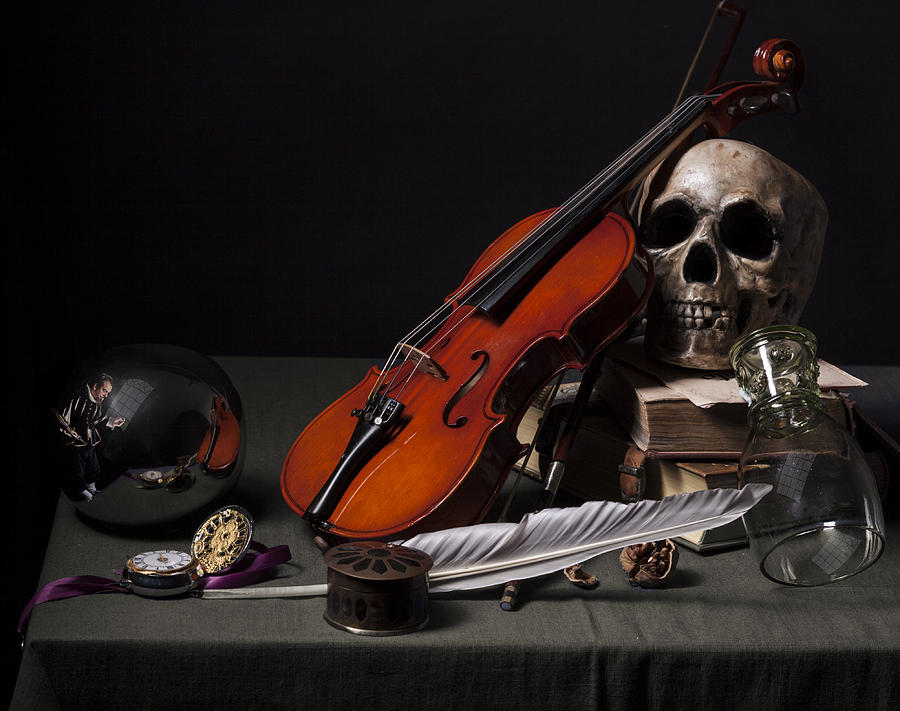 So, George W. Bush is now a painter. He tells his art teacher that "there's a Rembrandt trapped inside this body". 1 Ah, so Georgie is more than just a painter. He's an artiste.
And we all know that artistes are very special people. They're never to be confused with mass murderers, war criminals, merciless torturers or inveterate liars. Neither are they ever to be accused of dullness of wit or incoherence of thought.
Artistes are not the only special people. Devout people are also special: Josef Stalin studied for the priesthood. Osama bin Laden prayed five times a day.
And animal lovers: Herman Goering, while his Luftwaffe rained death upon Europe, kept a sign in his office that read: "He who tortures animals wounds the feelings of the German people." Adolf Hitler was also an animal lover and had long periods of being a vegetarian and anti-smoking. Charles Manson was a staunch anti-vivisectionist.
And cultured people: This fact Elie Wiesel called the greatest discovery of the war: that Adolf Eichmann was cultured, read deeply, played the violin. Mussolini also played the violin. Some Nazi concentration camp commanders listened to Mozart to drown out the cries of the inmates.
Former Bosnian Serb politician Radovan Karadzic, on trial now before the International Criminal Tribunal for the former Yugoslavia, charged with war crimes, genocide, and crimes against humanity, was a psychiatrist, specializing in depression; a practitioner of alternative medicine; published a book of poetry and books for children.
Al Qaeda and other suicide bombers are genuinely and sincerely convinced that they are doing the right thing. That doesn't make them less evil; in fact it makes them more terrifying, since they force us to face the scary reality of a world in which sincerity and morality do not necessarily have anything to do with each other.

Getting your history from Hollywood
Imagine a documentary film about the Holocaust which makes no mention of Nazi Germany.
Imagine a documentary film about the 1965-66 slaughter of as many as a million "communists" in Indonesia which makes no mention of the key role in the killing played by the United States.
But there's no need to imagine it. It's been made, and was released this past summer. It's called "The Act of Killing" and makes no mention of the American role. Two articles in the Washington Post about the film made no such mention either. The Indonesian massacre, along with the jailing without trial of about a million others and the widespread use of torture and rape, ranks as one of the great crimes of the twentieth century and is certainly well known amongst those with at least a modest interest in modern history.
Here's an email I sent to the Washington Post writer who reviewed the film:
"The fact that you can write about this historical event and not mention a word about the US government role is a sad commentary on your intellect and social conscience. If the film itself omits any serious mention of the US role, that is a condemnation of the filmmaker, and of you for not pointing this out. So the ignorance and brainwashing of the American people about their country's foreign policy (i.e., holocaust) continues decade after decade, thanks to media people like Mr. Oppenheimer [one of the filmmakers] and yourself."
The Post reviewer, rather than being offended by my intemperate language, was actually taken with what I said and she asked me to send her an article outlining the US role in Indonesia, which she would try to get published in the Post as an op-ed. I did so and she wrote me that she very much appreciated what I had sent her. But – as I was pretty sure would happen – the Post did not print what I wrote. So this incident may have had the sole saving grace of enlightening a Washington Post writer about the journalistic standards and politics of her own newspaper.
And now, just out, we have the film "Long Walk to Freedom" based on Nelson Mandela's 1994 autobiography of the same name. The heroic Mandela spent close to 28 years in prison at the hands of the apartheid South African government. His arrest and imprisonment were the direct result of a CIA operation. But the film makes no mention of the role played by the CIA or any other agency of the United States.
In fairness to the makers of the film, Mandela himself, in his book, declined to accuse the CIA for his imprisonment, writing: "The story has never been confirmed and I have never seen any reliable evidence as to the truth of it."
Well, Mr. Mandela and the filmmaker should read what I wrote and documented on the subject some years after Mandela's book came out, in my own book: Rogue State: A Guide to the World's Only Superpower (2000). It's not quite a "smoking gun", but I think it convinces almost all readers that what happened in South Africa in 1962 was another of the CIA operations we've all come to know and love. And almost all my sources were available to Mandela at the time he wrote his autobiography. There has been speculation about what finally led to Mandela's release from prison; perhaps a deal was made concerning his post-prison behavior.
From a purely educational point of view, seeing films such as the two discussed here may well be worse than not exposing your mind at all to any pop culture treatment of American history or foreign policy.
Getting your history from the American daily press
During the US federal government shutdown in October over a budgetary dispute, Washington Post columnist Max Fisher wondered if there had ever been anything like this in another country. He decided that "there actually is one foreign precedent: Australia did this once. In 1975, the Australian government shut down because the legislature had failed to fund it, deadlocked by a budgetary squabble. It looked a lot like the U.S. shutdown of today, or the 17 previous U.S. shutdowns." 2
Except for what Fisher fails to tell us: that it strongly appears that the CIA used the occasion to force a regime change in Australia, whereby the Governor General, John Kerr – a man who had been intimately involved with CIA fronts for a number of years – discharged Edward Gough Whitlam, the democratically-elected prime minister whose various policies had been a thorn in the side of the United States, and the CIA in particular.
I must again cite my own writing, for the story of the CIA coup in Australia – as far as I know – is not described in any kind of detail anywhere other than in my book Killing Hope: U.S. Military and C.I.A. Interventions Since World War II (2004).
Americans are living in an Orwellian police state. Either that, or the greatest democracy ever.
There are those in the United States and Germany these days who insist that the National Security Agency is no match for the East German Ministry for State Security, or Stasi, which, during the Cold War, employed an estimated 190,000 part-time secret informants, and an additional 90,000 officers full time, in a spying operation that permeated both East and West Germany. Since the end of the Cold War, revelations from the Stasi files have led to thousands of collaborators being chased from public life. Even now, new accusations of a Stasi association can hound politicians and celebrities in Germany. 3
All that of course stems from an era before almost all information and secrets became electronic. It was largely labor intensive. In the digital age, the NSA has very little need for individuals to spy on their friends, acquaintances, and co-workers. (In any event, the FBI takes care of that department very well.)
Can we ever expect that NSA employees will suffer public disgrace as numerous Stasi employees and informants have? No more than war criminals Bush and Cheney have been punished in any way. Only those who have exposed NSA crimes have been punished, like Edward Snowden and several other whistleblowers.
Notes
Washington Post, November 21, 2013 ↩
Washington Post, October 1, 2013 ↩
Washington Post, November 18, 2013 ↩
Any part of this report may be disseminated without permission, provided attribution to William Blum as author and a link to this website are given.
William Blum is an author, historian, and renowned critic of U.S. foreign policy. He is the author of Killing Hope: U.S. Military and CIA Interventions Since World War II and Rogue State: A Guide to the World's Only Superpower, among others.
Any part of this report may be disseminated without permission, provided attribution to William Blum as author and a link to this website are given.
Posted in

Forum, Geopolitics, Home
|
Tagged

Banks, CIA, Climate Change, Collapse, corporate media, coups, government shutdown, History, Police State, Propaganda, Socialism, Stasi
Off the keyboard of George Mobus
Follow us on Twitter @doomstead666
Friend us on Facebook
Published on Question Everything on November 3, 2013
Discuss this article at the Population Overshoot Table inside the Diner
That the Bottleneck is Unavoidable
Allow me an indulgence. After more than a decade of searching for answers, and attending to the major trends in our world, I have come to certain conclusions about the future of humanity. I haven't made a secret of my now fairly firm belief that in the not-too-distant future humanity will suffer an evolutionary bottleneck event concurrent with a sixth major extinction. Ironically this extinction event is being brought on by humanity itself. Freed from the ordinary biological constraints that keep other species in check in normal ecological feedback loops, and bolstered by the discovery of incredible power stored in fossil fuels and nuclear fission, humans have used their cleverness to grow far beyond the natural carrying capacity afforded by real-time solar influx. And the problems caused by this fact have grown obvious to most. We are altering our climate. We are polluting our environment. We are diminishing the quality of soils and water. And we are behaving badly toward one another, as well as the rest of the biosphere.
Nor am I alone in this conclusion. In fact, increasingly, my company is becoming more respectable. For some time people like Paul Ehrlich, Dennis and Donella Meadows, and others have been warning of the dangers coming if humanity didn't take action (as far back as the 60's and 70′). Lately they are joined by William Catton, James Lovelock, and even the Astronomer Royal of England, Sir Martin Rees, in sounding alarm bells more loudly and more urgently. James Hansen (formerly of NASA), one of the most outspoken researchers on climate change, has gone radical in protesting the lack of any government action to prevent runaway warming. I suppose you could say I feel a bit vindicated, but that is not really a good feeling. I wish it were not the case.
If you want to know why I am so convinced of this outcome, I have put together a list of things that, from a systems perspective, seem to me to be necessary actions needed to minimize the negative impacts rapidly approaching. We cannot prevent all of those impacts, but in theory if these actions were taken immediately we would be able to salvage some portion of the population and preserve our species (which as long-time readers know I don't think is actually such a good idea in light of the foolishness we manifest). Note that the situation is entirely systemic. All of the items on this list interact in complex, nonlinear ways so that you can't just pick and choose the one or ones you think will do the job. All will have to be done, together, for there to be any positive effect. Once you see the list, and ponder the likelihood that our population will do any of them, let alone all, you will understand my conviction.
The list is of actions that are needed (in my hopefully informed estimation) and I derived it from the myriad problems that are growing in intensity and can be found to be caused by us. This list is of actions that would counter those problems. Since I have already written extensively about how this would be the case, I refer newer readers to past posts on topics related to Current Affairs, Political Economy, Evolution, Sapience, and the Human Condition (left sidebar). If you scroll down the page you will see a link to prior years Achieves. You can also do a search on some of the terms I use here to find prior articles on the subjects.
How We Could Save Humanity
Here is the list of minimal actions needed to salvage some semblance of humanity:
Stop all reproduction
No new babies for twenty years at least and then only ten percent of the adult population should be allowed to reproduce afterward.
Stop capitalistic profit taking
Forever. No more capitalism and profiting ever again. Freeze prices and wages (except for the overpaid executives; reduce theirs).
Take back the wealth of the top 10%
It will be needed to support survival activities.
Destroy the financial system
Revert banking to hold savings and eliminate securities and futures markets.
Reallocate housing to handle the poor
Move those living in squalor and homeless into the mansions in the Hamptons (for example)
Put all able-bodied men and women to work restoring soils and growing food for local consumption
Turn all arable and climate-viable land over to permaculture.
Begin immediate mass migrations of peoples living in climate danger zones
For example all of the people of the MENA and central Africa regions are in danger from severe climate change. They will need to be relocated north as far as Russia and Europe.
Eliminate all luxury product/service productions
Re- purpose the capital to producing absolute necessities such as plows! Besides, with some of the above actions there won't be anyone who could afford to buy luxuries.
Redirect all fossil fuel production to supply energy for recycling materials, food production, and migration
Minimize energy consumption by the public to just that essential to support the above.
Our population size is probably the single most damaging aspect. Even in so-called developing regions that are not using a lot of technology, the damage done to the environment by the sheer overwhelming numbers as they struggle to make a living is tremendous. Those in the developed world enable the population growth in the developing and underdeveloped world through various aid packages and loans. The citizens of the developed world do damage indirectly by consuming huge amounts of resources in non-essential products and services. Collectively the human population of 7 billion people has been estimated to be in overshoot several time over. By one estimate (based on energy footprint analysis) it would take five Earths to support this population and not do damage to the environment. Meanwhile, one our only Earth, the damage accrues and is approaching a point where it can't be self-healing.
Capitalism and profit taking contribute directly to the consumption of non-renewable and cost-intensive recyclable resources. Indeed it has accelerated the rate of use of even technically renewable resources such as soils and water beyond the steady state so that even these resources are becoming essentially non-renewable in the time scale in which they are being degraded. The financial system employed around the world is totally dependent of growth in order to service the debt it creates in the name of profits. It leads to massive disparities in wealth distribution which in recent years has become truly excessive. Those possessing more wealth than the average are going to need to sacrifice the most.
If some of this sounds familiar that is because much of it is. Some of these actions were taken in the name of communism by Russian and Chinese (and other Asian satellites) communist parties. Undoubtedly this can be branded as socialism at best. And I agree. The communist experiment with socialism ended badly by comparison to the creature luxurious lifestyles of the capitalist west. There is certainly no argument about that. But the situation was entirely different, wasn't it? Humanity, by the beginning of the Cold War, for example, was just starting to exploit the power of fossil fuels in a super-industrial fashion. WWII had taught us how to maximize our rate of consumption in the west. There was plenty of energy to fund the expansion of the middle class. So the comparison between what happened in the west with what happened in the east is basically unfair. We won the war and so won control over the resources (Russia and China would only slowly understand that they needed to exploit their energy resources to build wealth). Communism/socialism failed to produce wealth because those countries did not have the energy to emulate the west. Well, and because the overseers were corrupt and stupid. That had something to do with the outcomes. But the point is that during that time it was, in principle, feasible to create more wealth over time – to grow. That time has passed. The rules are now quite different.
So please understand that I am not advocating socialism for the sake of an ideology. My point is that the above list represents the only feasible response to the pending disaster. Even with such a response, coordinated by truly wise, intelligent, and benevolent people, there will still be many lost. The situation now is entirely different from what it was after WWI and WWII. Today the whole world faces the crisis. Socialism may be seen as a political response to deprivations (real or imagined) and an economic response to keeping the lower classes from revolt. It may have been motivated by progressive sentiments for fairness and equality, but it had its practical effect when people were living a subsistence lifestyle. Unfortunately it was implemented by mere humans.
Many of you, in fact, may have reacted to items on this list with revulsion (and recognized the actions as having been tried before and failed). I fully expect to get all sorts of comments and e-mails pointing out to me how horrible the idea is. And that is exactly my point. These actions are abhorrent to the vast majority of people from all sorts of political and ideological perspectives. Most people could not even imagine these happening. Whether libertarian (get rid of the coordinators and let us do our own thing), or progressive (growth and abundance for all), the concept of a planned and managed shut down of international and even inter-regional commerce is unthinkable. And that very fact is why we are where we are now. We can't help it.
What is the Likelihood?
So there it is. I've written a lot over the years about these options, in one way or another. There are two critical parameters that are driving us to the brink of oblivion, and one critical cause. The parameters are the population size and total energy consumption (from fossil fuels). A side effect of the capitalistic approach resulting in the great disparity of energy per capita is exacerbating this parameter. The critical cause is our inherent lack of sufficient sapience throughout the population to see the errors of our greed and assumptions about what constitutes a good life, as well as how to best use our cleverness/technology. The two parameters are, in a sense, self correcting by virtue of the bottleneck event. Most of the population (possibly all) will die of starvation, exposure, disease, or conflicts if things continue in this way. Some of the future events may be triggered by the decline in availability of cheap fossil fuels which will surely trigger conflicts, but also translate into higher costs for food and other necessities.
Frankly I do not think there is anything to be done about the critical cause. Biology is at the root of it. Given the broken education system we have (globally) and that it actually is teaching our youth to not try to be wise (or even really intelligent), I cannot see how education will boost whatever native sapience people possess.
Thus I ask: What is the likelihood that humanity can be salvaged? What is the likelihood that leaders of the world will wake up some morning (soon) and realize that they had got it all wrong? How likely is it that the citizens of China will wake up and realize that their old agrarian lifestyle was really the best way to live and give up the idea of making wealth in the cities? How likely is it that the Lloyd Blankfeins and Jamie Dimons of the world will realize that their pursuit of raw profits from trading risks is stupid and killing the world? How likely is it that economists of all stripes will finally realize that their notions of growth and prosperity are actually leading us all to ruin? And how likely is it that people will, in general, come out of denial in time?
Do you see my point? No one will like the program of actions. No one will give up on the hope that we can restore our pursuit of wealth. No one will admit that they have to sacrifice a lot if we are to salvage humanity. At least not until it really is too late for even these actions to make a difference. Indeed, it may already be too late. The rate of glacier and polar ice melting, the anomalous weather patterns, the continued high price of non-conventional oil while the conventional (cheaper) production is in decline, and many other signs may be telling us it is too late. But if it isn't, if we haven't passed some hidden tipping point, then our only real hope for salvation lies in taking the actions I've outlined. Yet what are the chances we will?
What Other Conclusion Can One Draw?
The logic is certainly simple. Claim: it takes A, B, & C to succeed. Support: link cause and effect in evidence. Fact: No one wants or believes A, B, & C. Fact: nearly everyone needs to agree to act. Ergo: nothing will get done until it is too late.
When the proverbial fecal matter hits the proverbial rotating blades most people will react, of course. They will do what they think is best for them, even if it means robbing or killing. Some will seek shelter in remote areas and solitude as if we were under a zombie attack. My hope is that a few wiser groups will form and isolate themselves in regions that will be relatively stable climate-wise. They will focus on skills in producing the essentials of life based on real-time solar energy inputs. They might survive.
But you may have another conclusion. What is yours, and on what basis do you make it? What evidence do you have? Simply saying you just can't believe my conclusion is valid is not sufficient. You need to show where my evidence is wrong or that counter evidence exists to warrant another (possible) conclusion. I'm open to arguments with merit. In fact I hope someone can shoot me down on this, for obvious reasons.
Published
June 17, 2013
|
By
RE
Off the Microphones of RE & Monsta
Aired on the Doomstead Diner on June 17, 2013
Discuss at the Podcast Table inside the Diner
I've long been known for writing some pretty Over-the-Top Blogs advocating for Capital Punishment for the Crimes Against Humanity perpetrated by the Elite Class of society.  "Bring on the Guillotine" as it were.
In this Podcast with Monsta, I try to explain my POV on this topic without going TOO FAR OTT.  LOL.
Anyhow, for long term readers of my stuff, I hope this Podcast gives you a little better perspective on my views, without the usual Graphics and Videos I use to make such things a bit more visceral.  Trust me, even just in this short intro post, it's tough for me to not drop on a Guillotine Video. LOL.
For newbies, I can only hope you don't go running off after listening to my POV on this.  It is NOT the most popular one on the Diner by any means, in fact I am pretty much in a Minority of One.  My fellow Admin Surly takes the complete Opposite View, and has confronted me many times on this subject.  The second part of his Podcast with Monsta is forthcoming shortly, so you will get a bit of the flavor of the running debate we have been engaged in for years now.
For more than this, visit the Diner.  It never stops there.
RE
Published
May 30, 2012
|
By
RE
An article from new  Diner Jaded Prole, reposted from his blog, coincidentally also named The Jaded Prole
RE
 Discuss this article inside the Diner
Moving Beyond Capitalism
As I stated in the editorial of the Fall issue of Blue Collar Review, the many seemingly insurmountable issues, from unemployment to endless war, to the plundered economy and the unfolding ecological crisis are like the branches on a tree. They are connected at the root by a strangling knot of corporate interests. We are facing a cumulative crisis of civilization and even species destroying proportions as the ecosystem is in freefall along with the global economy which is dependent on it. Protesting the issues without connecting the dots is like trimming the leaves on an aggressive weed. We must go to the root. It is far easier to be anti anything that to be pro something but the time is nigh. The present economic system of global capitalism must be uprooted but it also must be replaced. Naive anarchism is not the answer. We cannot return to being hunter-gatherers. There are way too many of us and we are dependent on a complex technological society. That said, our survival depends on our return to the more egalitarian, community values of hunter gatherers.
In an article in The Nation entitled Beyond Corporate Capitalism: Not So Wild a Dream, Gar Alperovitz and Thomas M. Hanna write,
The destructive "grow or die" imperative of our market-driven system cannot be wished or regulated away. In addition to the overriding issue of global warming, countless studies have documented that limits to growth in such areas as energy, minerals, water and arable land (among others) are fast being reached. The energy corporations are desperately trying to crash through these limits with technological fixes such as fracking, tar sands exploitation and deep-water drilling, which are equally or more environmentally costly than traditional methods.
Yet the trends continue: the United States, with less than 5 percent of the global population, accounts for 21.6 percent of the world's consumption of oil, 13 percent of coal and 21 percent of natural gas. In the brief period between 1940 and 1976 Americans used up a larger share of the earth's mineral resources than did everyone in all previous history. At some point a society like ours, which produces the equivalent of more than $190,000 for every family of four, must ask when enough is enough. Former presidential adviser James Gustave Speth puts it bluntly: "For the most part we have worked within this current system of political economy, but working within the system will not succeed in the end when what is needed is transformative change in the system itself."
As a matter of cold logic, then, if some of the most important corporations have a disruptive and costly impact on the economy and the environment—and if regulation and antitrust laws in many areas are likely to be subverted by these corporations—a public takeover is the only logical solution.
Full article here.
Public ownership of social necessities is vital. These included the power grid, banking and finance, transportation, health care, the postal service, and food production. Industries must be at very least heavily regulated and publicly accountable if not publicly owned and democratically run for the common good.
Yes, we are talking about Socialism but this is not some abstract dream for a distant future. If we are to have a future, the systemic change over must occur very soon. This is not as big a stretch as it might have been even 5 years ago. As Alperovitz and Hanna write,
many Americans are increasingly skeptical about the claims made for the corporate-dominated "free" enterprise system by its propagandists. A recent Pew Research Center poll found that a majority of Americans have an unfavorable view of corporations—a significant shift from only twelve years ago, when nearly three-quarters held a favorable view. At the same time, two recent Rasmussen surveys found Americans under 30—the people who will build the next politics—almost equally divided as to whether capitalism or socialism is preferable. Another Pew survey found that 18- to 29-year-olds have a favorable reaction to the term "socialism" by a margin of 49 to 43 percent.
No one can convince the public of the need for Socialism better than the insatiably greed bourgeoisie themselves. As we all feel the pain of a failing economy the writing on the wall becomes increasingly clear. Lenin once penned that in periods of revolution time seems to compress and events that would have previously taken generations happen overnight. Let's hope that is the case. I see much hope is the growth of the global Occupy Movement and the awakening of militant class consciousness it represents. This year is a turning point but we must all add our weight to the effort. To think otherwise, to ideologically parse and nit-pick or to engage in armchair slacktivism is to be a counter revolutionary.
Surveys & Podcasts
NEW SURVEY
VISIT AND FOLLOW US ON DINER SOUNDCLOUD
" As a daily reader of all of the doomsday blogs, e.g. the Diner, Nature Bats Last, Zerohedge, Scribbler, etc… I must say that I most look forward to your "off the microphone" rants. Your analysis, insights, and conclusions are always logical, well supported, and clearly articulated – a trifecta not frequently achieved."
- Joe D
Global Diners
Global Population Stats
Enter a Country Name for full Population & Demographic Statistics
Inside the Diner
Quote from: RE on Today at 02:37:55 PMQuote from: Eddie on Today at 12:24:38 PMI'm at work. No time to watch videos at work. Especially 55 y.o. debates between two people who are long de...
Big college town with progressive politics. The article says the "reparations" will be in the form of "investments" in the black community and that it will be aimed at helping black people "build intergenerational wealth".Wait, I thought s...
Global emissions of methane, a potent greenhouse gas, have soared over the past decade, according to two new studies that tracked growing sources of the odorless, colorless gas.Earth's climate crisis is starting to look even worse than scientis...
and this time could be worseIf hospitalizations continue to rise, health care workers in Arizona, Texas, and California fear they'll be completely overwhelmed.With Covid-19 hospitalizations steadily approaching a record high in the US, states like Ar...
Quote from: Eddie on Today at 12:24:38 PMI'm at work. No time to watch videos at work. Especially 55 y.o. debates between two people who are long dead.You'lll spend hours watching JFP vids.  Bill Buckley wipes...
Knarf's Knewz
Global emissions of methane, a potent greenhouse g [...]
and this time could be worseIf hospitalizations co [...]
Quote from: knarf on Today at 10:03:27 AMLA PAZ (R [...]
July 14 (Reuters) - COVID-19 vaccines under develo [...]
Younger people most likely to have stopped habit, [...]
Diner Newz Feeds
Surly
Agelbert
Knarf
Golden Oxen
Frostbite Falls
I read a story yesterday that said she wrapped her [...]
Doomstead Diner Daily July 15The Diner Daily is av [...]
Republican National Convention Becoming a Dumpster [...]
Quote from: UnhingedBecauseLucid on March 18, 2019 [...]
CleanTechnicaSupport CleanTechnica's work via dona [...]
Quote from: UnhingedBecauseLucid on March 18, 2019 [...]
QuoteThe FACT that the current incredibly STUPID e [...]
Global emissions of methane, a potent greenhouse g [...]
and this time could be worseIf hospitalizations co [...]
Quote from: knarf on Today at 10:03:27 AMLA PAZ (R [...]
July 14 (Reuters) - COVID-19 vaccines under develo [...]
Younger people most likely to have stopped habit, [...]
Quote from: K-Dog on February 24, 2020, 06:23:52 P [...]
I wonder how much these coins have been debased? [...]
Precious tip of the day.....Buy silver NOW  She [...]
Scientists have unlocked the power of gold atoms b [...]
Quote from: azozeo on August 14, 2019, 10:41:33 AM [...]
I am OUT of Jury Service!  I got summoned to be a [...]
I'm shot with the AK State Fair anyhow.  The [...]
Quote from: Eddie on May 16, 2020, 10:30:30 AMQuot [...]
Quote from: RE on May 16, 2020, 08:20:06 AMQuote f [...]
Quote from: RE on May 16, 2020, 08:20:06 AMQuote f [...]
Alternate Perspectives
Two Ice Floes
Jumping Jack Flash
From Filmers to Farmers
The Flim-Flam Men by Cognitive Dissonance   I suspect if average Joe or Jane were asked to identify [...]
The Coming War With China Re-posted from CaitlinJohnstone.com   (Have you noticed that (suddenly) Ch [...]
Papers Please! By Cognitive Dissonance     For those who may not know, Mrs. Cog and I live in the mo [...]
Lies, Damn Lies and Coronavirus Statistics By Cognitive Dissonance     "Never believe anything in po [...]
The Decline and Fall of Civil Society Chapter One By Cognitive Dissonance     From my perspective at [...]
http://jumpingjackflashhypothesis.blogspot.com/2012/02/jumping-jack-flash-hypothesis-its-gas.htmlThe [...]
http://jumpingjackflashhypothesis.blogspot.com/2012/02/jumping-jack-flash-hypothesis-its-gas.htmlThe [...]
http://jumpingjackflashhypothesis.blogspot.com/2012/02/jumping-jack-flash-hypothesis-its-gas.htmlThe [...]
http://jumpingjackflashhypothesis.blogspot.com/2012/02/jumping-jack-flash-hypothesis-its-gas.htmlThe [...]
http://jumpingjackflashhypothesis.blogspot.com/2012/02/jumping-jack-flash-hypothesis-its-gas.htmlThe [...]
However don't expect strikes and yellow vests to fix underlying problems [...]
And it all turns out to be little more than a load of shit [...]
So how many more times are we going to hear that this is our last chance to take action in order to [...]
This is definitely not a bona fide post [...]
Namely, the oil companies [...]
Daily Doom Photo
Sustainability
Peak Surfer
SUN
Transition Voice
"We are being schooled in the deficiencies of human neurobiology."President Cobblepot and [...]
"The word "redskin" has been coined to refer to these trophies."Paris, June 15, 1756. Anti [...]
"The white gull can bank steeply, climb, dive, and even invert, but it lacks by a large margin [...]
"The blow felt by a globalized, just-in-time, cheap-energy driven, modern consumer economy will [...]
"There are ten million times more viruses on Earth than there are stars in our universe."H [...]
The folks at Windward have been doing great work at living sustainably for many years now.  Part of [...]
 The Daily SUN☼ Building a Better Tomorrow by Sustaining Universal Needs April 3, 2017 Powering Down [...]
Off the keyboard of Bob Montgomery Follow us on Twitter @doomstead666 Friend us on Facebook Publishe [...]
Visit SUN on Facebook Here [...]
What extinction crisis? Believe it or not, there are still climate science deniers out there. And th [...]
My new book, Abolish Oil Now, will talk about why the climate movement has failed and what we can do [...]
A new climate protest movement out of the UK has taken Europe by storm and made governments sit down [...]
The success of Apollo 11 flipped the American public from skeptics to fans. The climate movement nee [...]
Today's movement to abolish fossil fuels can learn from two different paths that the British an [...]
Top Commentariats
Our Finite World
Economic Undertow
In reply to Dan. Maybe it is just more and more massive QE. [...]
What happens when massive q.e is taken away? Can the Fed make it all disappear? It's really hard to [...]
In reply to Gail Tverberg. It is written. https://dailyverse.knowing-jesus.com/dailyverse-images/06/ [...]
I think intentional non-breeders are a manifestation of an extremely rare allele or gene, which is p [...]
China's $42 Billion Clean Energy Debt Is Only Getting Worse Bloomberg News July 14, 2020, 10:21 PM C [...]
I don't get it. For years this blogger and others like Martenson have been on about the fragili [...]
In reply to steve from virginia. This Brookings webinar goes over some of the ground discussed here [...]
In reply to Ken Barrows. Everything is bullish! [...]
Also, it's very possible we could send the virus packing if everybody would just wear a face-ma [...]
The crux of the problem is that what Chris Martenson has christened the "Honey Badger Virus [...]
RE Economics
Off the keyboard of RE Follow us on Twitter @doomstead666...
Off the keyboard of RE Follow us on Twitter @doomstead666...
Off the microphone of RE Follow us on Twitter @doomstead666...
Discuss this article @ the ECONOMICS TABLE inside the...
Off the Keyboard of RE Follow us on Twitter @doomstead666...
Off the microphone of RE Follow us on Twitter @doomstead666...
Off the microphone of RE Follow us on Twitter @doomstead666...
Off the keyboard of RE Follow us on Twitter @doomstead666...
Off the keyboard of RE Follow us on Twitter @doomstead666...
Off the keyboard of RE Follow us on Twitter @doomstead666...
Technical Journals
Globally, subtropical circulation in the lower troposphere is characterized by anticyclones over the [...]
Numerical models are being used for the simulation of recent climate conditions as well as future pr [...]
This study aims to provide improved knowledge and evidence on current (1986–2015) climate vari [...]
The impact of climate and land use/land cover (LULC) change continues to threaten water resources av [...]
In many countries, urban heat island (UHI) effects come along with urbanization in metropolitan area [...]