Follow us on Twitter @doomstead666
Friend us on Facebook
Published on The Doomstead Diner January 1, 2017
Miso Soup- No Ammedation Miso Soup- With Ammendation
Discuss this article at the Pantry inside the Diner
In my last Snap Card Gourmet article, I wrote about Pizza Ammendation, which is the technique of taking a fresh commercially produced Pizza available at the Deli Counters of most major food emporiums, and then adding to it various extra ingredients of your choice to make your own custom pizza, practically as good as the great pizza you remember from the small family owned Italian Pizzerias that were sprinkled around NY Shity in the 1960s & 70s. My particular favorite from my youth is the Mushroom Pizza, but I have been experimenting with some more exotic ingredients like Hearts of Palm and Smoked Salmon.
Even including the exotic ingredients, the price of a freshly baked Take n' Bake Pizza meal comes in extremely cheap. For the Pizza, I buy the "medium" size 8" Pizza which comes in at Walmart at $6. I divide that into 1/4s which I each bake separately for a Pizza meal, so the basic cost is $1.50. Additional ingredients can cost as much as $1, for expensive stuff like Hearts of Palm. 1 Can of those, usually imported from Brazil generally goes for around $5, but I get usually at least 5 if not 6 pizza meals out of one can, so slightly less than a dollar there. So for $2.50 or less, I come in with a scrumptious freshly baked pizza slice, which along with some sausage and eggs for breakfast is usually plenty for me to eat in a day. I stay well under my SNAP Card budget of $5 for the day.
For the person still with their own roof and fully equipped kitchen, this is excellent, cheap and quickly prepared food. It has a big problem though as far as a Homeless person is concerned, which is that you need some form of conventional oven (not microwave) to bake it in. At least a Toaster Oven for this, but they are electric and homeless people don't usually have accss to electricity, nor can they be toting around a toaster oven even if they can pirate electricity somewhere. Homeless cooking is generally confined either to small camping stoves with a single burner, or to open pit or trash can fires with a cooking grate over it.
If you are just working with a single burner, you are generally limited to two types of cooking, Boiling or Pan Frying/Sauteeing. The two main foods of the homeless as a result are cans of soup or vegetables which can be boiled, or eggs and bacon or sausage which can be pan fried. Rice also can be boiled or steamed, Potatoes boiled and chopped up with an onion for home fries in the pan. A big combined scramble or omellete also possible to do in one pan, although given I have more burners I don't usually do that. This is really all the cooking a homeless person needs to do, otherwise you mostly eat prepared foods at fast food joints or if you are the more healthy type of homeless person, fruits, nuts and vegetables which can be consumed raw with no cooking at all.
For today's topic and Recipes, we are going to talk about another type of ammendation, Soup Ammendation. What soup ammendation does is take a comercially produced packet of soup mix or canned soup, and adds to it more ingredients to make it more hearty and robust as a meal.
The main one I will talk about here is Miso Soup, a favorite of mine from the many Japanese restaurants I have frequented over my life, usually for a sashimi lunch. With the lunch special, you always got a cup or bowl of Miso Soup, which varied from average to excellent, depending on the restaurant. The main ingredients in a Miso soup are the Miso (a type of fermented bean curd), Tofu, Seaweed and green onions. In a good Miso soup, there were a decent amount of all the ingredients in there and a rich broth with plenty of Miso added, in the average ones they were thin on the miso and cheap on the amount of tofu in the soup. Kinda thin and runny. Rarely though at a restaurant did I get a truly bad Miso Soup.
In trying to make my own Miso Soup at home back in the day, the best I could find was dried package soup sort of like Lipton's Onion Soup, which is still the main one available although there is one other variety I picked up a while back. Basically the same though. In both cases, the Miso Soup you get by adding a cup or so of boiling water to the packet is beneath bad, it's awful.
Not that it tastes bad or anything, it does taste like Miso Soup. However, it is incredibly thin in texture, and the amount of dried tofu and seaweed that reconstitutes is miniscule. You can pretty much drink it like you would a cup of tea or coffee, or a cup of beef broth. It's not a real "soup experience".
So, even back then what I did was to buy a Tofu block and cube up some of it to ammend this soup, along with buying a package of dried seaweed and some fresh green onions to slice into thin disks and add to the soup also. This filled it out nicely, and was a good facsimile of a Japanese Restaurant Miso Soup. The miso broth though was still kind of thin. Recently though I found full quart size packages of miso paste in the refrigerated section of Carr's, which is the local variant of the Safeway chain. One tablespoon of this paste thickens up your home brew miso soup and with all the ingredients added, is now BETTER than any miso soup at even the best Japanese restaurant!
At the top of the page you see Before & After photos of Miso made at home in the digs here. Which one looks more appetizing to you?
In addition to the normal ingredients, I also add some canned mushrooms, which have a great texture and are a terrific addition to the normal recipe. So, how much does the ammended Miso Soup cost me?
The initial packet of Kikkoman comes in packages of 3 for around $5, so that is $1.66 per serving.
A block of firm tofu comes in around $2.50 average here, and I get about 4 servings from one block when I cube it up. About $.60 for the tofu.
The seaweed comes in at $1.20 for a small package, which gets about 6 servings. $.20
The Miso Paste comes in at $6 for the quart size, but I get at least 20 servings out of that for $.30.
The green Onion come in at $1 for a bunch of around 6, one per serving for around $.16
Total cost for the Gourmet, Rich and Beefy Miso Soup, slightly under $3. However, I have now found that I can substitute for the expensive package of dried Miso Soup from Kikkoman the much cheaper generic dried Onion Soup mix similar to Lipton under the store brand. Utilizing this as base, I take a full dollar off the cost here and the result tastes practically the same and the nutritional value is exactly the same. You get fabulous nutrition out of this soup, tons of protein in the Miso and the Tofu and Vitamins in the seaweed and green onion.
Far as the homeless person is concerned, this is all easy to boil up in one small pot (my next Snap Card article will cover lightweight and portable cooking gear) and very amenable to homeless cooking. However, it does have the refrigeration problem, both the Tofu and the Miso need to be kept refrigerated until you actually use them. This problem can however be resolved with a Cooler and Ice, if you have a semi-permanent tent arrangement in a Homeless Encampent, aka Obamaville. If you dispense with the Miso paste and brew up the soup with just the fresh Tofu, then if you share with 3 other homeless people you go through the whole block in one meal, so no refrigeration necessary. It's unfortunate Miso Paste isn't available in small packets like ketchup, mustard and mayonnaise, that would get rid of the storage problem you have for a large quantity of Miso paste.
Miso Soup is not my only Soup Ammendation recipe, I have another big favorite which is Southwest Blackbean soup
Now, if you want to make Miso Soup for yourself at home (or homeless), it's not so EZ as just cracking open a can of Campbells Chunky Soup. There are no canned Miso Soup varieties available here in the FSoA I have ever been able to locate. There are any number of quite good canned soups coming from both Campbell's and Progresso, although in both cases I have seen deterioration of the quality and "chunkiness" in both brands of soup. The Clam Chowder in both cases has taken a really big hit. A lot thinner now and less clams and potatoes. A lot of ammendation is necessary to get a decent bowl of clam chowder now from either company, but not going to cover that ammendation here today, I'll stick to just the Southwestern Black Bean soup for this article.
The SBB soup is a very tasty one from the Progresso folks, but like all the Chunky varieties from Campbell's, they aren't so Chunky anymore. These soups come in around $2/can now up here on the Last Great Frontier, although I usually wait for sales and stock up when they come in at 3 for $5 or so, $1.66 each. By itself with no ammendation, a single can of this soup is good for 2 meals, in combination with a bagel or a part of a Subway Hero. Ammendation though makes the soup a meal in itself, and in fact transforms it from a Soup to something more like a Gumbo.
To ammend a can of SBB soup, I usually add 1/2 can of Seasoned Black Beans, which come in at around $1/can. Then another 1/4 can of sweet corn kernels, coming in around $.90/can. The soup is now a whole lot thicker and richer, and there is a lot more of it. I'm not done yet though.
For fresh veggies, I add some chopped up and sauteed green peppers and a diced habanero pepper to make it spicier. Then I pan fry or BBQ an Italian Sausage or Bratwurst and cut it into thin disks to add to the soup, which adds animal protein and fat to up the calorie content.
The mixture is so thick and rich now that although you can still eat it solo with some sour cream and shredded cheddar cheese on top, what I usually will do at this point is steam up some rice and and ladle it over the rice pile. Now, instead of 2 meals out of the original can of SBB soup, I have more like 4 meals of Gumbo over Rice.
The original can comes in at an average price of $1.75.
1/2 Can of Seasoned Black Beans, $.45.
1/4 Can of Sweet Corn Kernels, $.25
1/4 Green Pepper, $.50
1 Habanero Pepper, $.50
1 Sausage, $1
Total cost for the base Gumbo, $4.45. Divided by 4 approximate meals (I usually get more though, like 6), that comes to around $1.11/serving. This gets ladled over the rice, which costs very little, maybe another $.30. It's a huge, tasty and filling meal for under $1.50. Adding some cheese and sour cream to it you might drive the total cost up to $1.50, but no more than that.
As with the Miso Soup, the big problem here for the Homeless person is not in the cooking, but in this case the refrigeration of the leftover soup from the initial preparation. You have a pot of soup you need to keep refrigerated for at least 4 days, which also means eating the same soup for 4 days straight. As tasty as it is, by day 3 you are ready for a change but the more days you eat something else, the longer it is leftover in the cooler, and by about the 6th or 7th day, your really don't want to eat it. It might still be OK biologicaly speaking and not make you sick with Tomane Poisoning, but even so week long leftovers are not very appetizing, even if well refrigerated.
So in this case once again you are best off to work in at least a small GROUP or TRIBE of similar Homeless people, and all share the meals and the costs together. Then the entire preparation can be consumed in one sitting. A group of 4-6 people is ideal for this, a family or a few refugee buddies. However, once you start to cook in bulk for more than just yourself, now you start to need some cooking gear beyond a persoal aluminum or stainless steel mess kit that can handle larger cooking taks for more people.
I will cover the nature of such cooking gear and how it should be used in the next installment of the SNAP Card Gourmet.
Off the keyboard of RE
Follow us on Twitter @doomstead666
Friend us on Facebook
Published on the Doomstead Diner on June 6, 2015
Visit the New Diner News Page for Daily Updates from around the Collapse Blogosphere
Discuss this article in the Diner Pantry
Also known as "Jewish Penicillin"
If you were brought up by a Jewish mother, chances are you have been prescribed a hot bowl of chicken soup at a time you felt under the weather. Dr. Mom may have insisted it was a type of "Jewish penicillin," that it would lessen your sniffles and perk you right up. She was, in some regard, correct. In a 2000 study published in the journal of the American College of Chest Physicians, researchers found that chicken soup could help reduce upper-respiratory inflammation, which leads to those annoying qualities of a cold, like a stuffy head and incessant sneezing. Many doctors believe that colds are caused by viral infections. The body responds to these infections by sending over white blood cells to take charge, though they are not really effective in killing the virus. Instead, they lead to those cold-like symptoms that make you feel crummy. Stephen Rennard, M.D, Larson Professor of Medicine at the University of Nebraska Medical Center and one of the study's leaders, found that fewer white blood cells attempted to be heroes when the body had chicken soup in its system. The soup had some "very modest but clearly measurable" ability to promote an anti-inflammatory activity, he explained in a UNMC video about the research (watch here). Even more, fluids — not specific to soup alone — loosen congestion and support hydration.
Chicken Soup is actually ubiquitous through just about every culture that raises Chickens for food. Besides the Matzoh Ball variety favored by Jewish Grandmothers, there are many others.
Chicken Noodle Soup Clove Garlic & Chicken Soup Thai Chicken Coconut Soup Chinese Won Ton Soup
This of course doesn't even scratch the surface of all the types of Chicken Soups out there, many of which you wouldn't know from the name that use a Chicken Broth as a Base. For instance, here's a recipe for Alaska Halibut Chowder:
• Two pounds cubed halibut (approximately ½ inch by ½ inch cubes)
• 1 small can clams (reserve half of the juice)
• 1 cup diced celery
• 1 cup diced onion
• Vegetable oil
• 2 cups chicken stock
• 2 cups heavy cream
• 2 teaspoons dill
• 2 cups diced red potatoes
• Salt –to taste
• Pepper-to taste
• ¼ cup cook diced bacon (optional)
• 1 cup cooked, drained spinach (optional)
Sneaky using Chicken Broth instead of Fish Broth in this Chowder! 🙂
Here's another one, Borscht: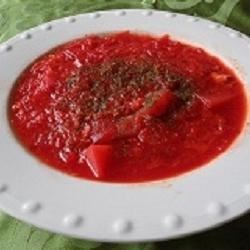 2 pounds skinless chicken thighs
8 cups chicken stock
2 pounds potatoes, peeled and cut into 1 inch cubes
1 (16 ounce) can diced tomatoes (not drained)
3 large beets, peeled and shredded
1 large carrot, grated
2 cups shredded cabbage
1 large onion, chopped
2 cloves garlic, minced
5 tablespoons red wine vinegar
3 tablespoons tomato paste
1 bay leaf
salt and ground black pepper to taste
Now, why is Chicken Soup so popular with so many variations? Partly because it is DELICIOUS of course, but much more historically because it makes the maximum out of the the nutritional value in your Dead Chicken. Nothing goes to waste. Whether you Roast it, BBQ or Fry it, everybody knows that after you finish off eating the meaty parts of the chicken from its bones, there's always still a ton of good stuff left on them, not to mention inside them in the case of the leg bones and thigh bones (Crack them before simmering with a Hammer or Rock).
The best way to get all that good stuff off is to simmer the remaining leftover bones (and gizzards) slowly over a few hours and create your base Broth, which you then can use in all the Chicken Soup recipes you can find. As Diners who follow my SNAP Card Gourmet series know, I'm always looking for ways to EAT CHEAP but EAT WELL, and Chicken Soup is one of the best ways of doing that. So I decided this week to see just what I could get out of 1 4.5 lb Organic Chicken as my entire Animal protein consumption for the week.
I also added another limitation here, NO REFRIGERATOR. I just used my Cooler with 2 bags of Ice for the whole week. The concept here is that if I was living in the Bugout Machine and couldn't afford to keep the Fridge running, could I keep my food good a whole week for eating? Or if I was living in a Tent in a Homeless Camp, etc.? Of course, I'm not living that way yet, but it seems to be getting closer by the day. Best to be prepared for the worst while hoping for the best of course.
The experiment began with the Weekly Shopping Trip at 3 Bears. The Organic Chicken which came in at exactly $6.66 On Sale 🙂 actually was purchased some time ago and has been in the Freezer, so I took that out to thaw. I could have bought a new chicken just as easily though, even a precooked one hot off the Rotisserie.
In addition to the Chicken, I bought the usual Fresh Veggies you drop in Chicken Soup, Carrots and Celery. Both keep quite well in a cool place for a week, in the case of carrots a good deal longer than that. The carrots in particular are a good source of vitamins, so make your soup even healthier once brewed up. I also bought Fresh Garlic, which not everybody who makes chicken soups likes in there, but I like it plus it also adds vitamins and wards off Vampires & Zombies too!
Just about every form of Chicken Soup also has its Carb Content, whether that comes in the form of simple Potatoes, Noodles, Couscous or Rice or more creative ones like Matzoh Balls, Dumplings or Wontons. In the case of Matzoh Balls, you get some additional Protein and Vitamins because you use Eggs with the Matsoh Meal; in the case of Wontons you get additional from leftover meat (sausage usually). For my purposes this week, I did the KISS principle, utilizing Rice and Noodles (mini-shells I found ON SALE) and Rice I have many vacuum sealed bags of as the Carb Component of my Chicken Soup. Both of these dried forms of Carb even without vacuum sealing last months without refrigeration, so they are ideal as long as you the Homeless Person has a safe place to store them. For this, you should have a Storage Unit, which you can usually find for $30-50/mo for the size a single homeless person would need for safe storage of personal possessions. I don't need one of those yet, I still have my cubbards and a lock on the door so my preps are *relatively* safe at the moment. However, at this SAME moment My Future is So Bright I Have to Wear Night Vision Goggles TM. As I outlined in last week's Sunday Brunch article, it's really remarkable how fast you can fall off the economic cliff if you run into Medical Issues, even if you HAVE some savings. I'm fortunate that I do, because if I did not, I would already be cooking my chicken soup behind my Bugout Machine in some Walmart parking lot. Not there YET though, so I can still tell the tale here on the Diner! 🙂
OK, off the tangent of my personal trials & travails these days as I inch towards Homelessness, Quadraplegia and inevitable DEATH, and back to the topic of Chicken Soup and this week's Experiment!
After simmering the leftover chicken carcass overnight in the Slow Cooker, I strained off the bones and meat to have just broth, which I put in the Fridge to cool overnight. Purpose of that is to skim off the FAT from the top which solidifies, to reserve for use later in making Matzoh Balls for another Chicken Soup down the line. You can also just leave the fat in the soup, and have it that way though it makes the broth very rich. Afterwards, I picked off the best remaining meat chunks and added them back into the soup.
Now, obviously I got two things here which the Homeless person probably does not have, a Slow Cooker and a Fridge, both running on electricity piped into the digs by the local electric Co-op. The Homeless person might be able to pirate electricity from some source though, but probably needs to use his Cooler and Ice for that process. For the Slow Cooking though, this can be done by heating up some rocks over a fire, digging a pit and dropping your crock pot in over the stones and covering the whole biz with dirt for overnight slow cooking. Basically the same way you do a clambake. Other alternative is just to keep the pot simmering over a low flame, but you have to maintain that low flame for many hours which is a pain in the ass. With a group of Homeless people much more possible than for a solo, as you can rotate the job of maintaining the fire at the right level. Burying the crock is more energy efficient too, if you are short on firewood.
Another possibility for the Homeless Person is a Solar Cooker, escpecially in the warmer and sunnier parts of the country. You can put these things together with cardboard boxes, aluminum foil and saran wrap if necessary.
In terms of Total Nutrition, I got more meals and more than 1 person needs in a week of Animal Protein out of this chicken. I consumed the nice Meaty Parts over 4 days, together with Rice & Beans or Baked Potato. Some of the nicer leftover meat I made a Chicken Salad out of with some Mayo, tarragon, chopped onions and celery etc and dropped on nice fresh Kaiser Rolls. The Soup itself by the time all was said and done adding the veggies and noodles and rice made 3 HUGE Bowls of very tasty Chicken Soup. Utilizing a larger crock, adding a few more of the carbs and veggies to this equation, easily you can feed 2 people for the week this way, for a likely total cost of under $20, $10/person.
The great problem here in the FSoA and in Industrial Culture as a whole though is that many if not most people never learn to Cook at all, and all the prepared foods have come so cheap for so long, you have an entire generation of people who know nothing more about how to prepare food other than Microwaving it or buying cooked up already at Mickey Ds. Why are people starving on a SNAP card allotment of around $140/mo per person? Because they buy bags of potato chips that run $5 a bag with the SNAP Card, that's why! FAT and STARVING at the SAME time!
You might not be able to make it on the $2/day Egyptians and Indians and many others in the 3rd World have for their food budget here in the FSoA, but you DEFINITELY can make it on $5/day if you don't buy all the junk and stick to the basics.
Of course, the food DOES need to be available on the shelves at Safeway, and the Money or SNAP Card does need to work to buy it. Still working as of today, so enjoy it while you can.
Eat Cheap, and Eat Well! TM
Off the keyboard of RE
Follow us on Twitter @doomstead666
Friend us on Facebook
Published on the Doomstead Diner on March 15, 2015
Discuss this article at the Diner Pantry inside the Diner
If you go into any fine French Restaurant that serves the Upper Class like Lutece in Manhattan, about always you will find French Onion Soup on the Menu in the Appetizers or Soups & Salad category, depending how the Menu is organized.  Well, except you can't get an overpriced bowl of FOS at Lutece anymore because Lutece is Outta Biz since 2004.
Lutece, once the top 5 Star French Restaurant in NY Shity closed in 2004.  Back in the Wall Street years, we ate there regularly, and dropping $1000 on Dinner for 6-8 people was no problem at all, if you bought a few bottles of Wine anyhow.  1980s Dollars too!  I guess the .01% got tired of the food there after 9/11

AFTER serving one last Valentine's Day dinner Saturday night, Lutèce, the renowned landmark French restaurant on the East Side, will close its doors, ending a 43-year run as a pillar of French dining in the United States.

"Since 9/11 we have not had enough business to meet expenses," said Michael Weinstein, president of Ark Restaurants, which has owned Lutèce since 1994. "This is probably a decision that should have been made a year ago."
My old employer Capsuto Freres in Tribeca is also now Outta Biz, courtesy of Hurricane Sandy.  The Fine Dining Space there has been taken over by the Chinese.  Apparently Chinese Food is more popular now amongst the .01% than Nouvelle Cuisine French food.  Who Cooda Node?
That's where I parked my motorcycle when going to work at the bottom left.  I can't tell if one of the ones behind the first one is mine.
China Blue, the new sister restaurant to Midtown's Michelin-starred Café China, is now open in Tribeca. It takes up the space that once housed Capsouto Freres, the 33-year-old neighborhood mainstay that was shuttered in the wake of Hurricane Sandy. The new restaurant still has white tablecloths, but now the space, like Café China, takes its cues from 1930s Shanghai, with a menu of Shanghai cuisine to match. That means more seafood and "delicate flavors" than the intense Sichuan style of the original.
A really Classy FOS will have gobs of Melted Swiss Cheese over the top of a huge ceramic bowl, with a nice large hunk of a French Bread slice beneath it, all floating on top of a beef broth that has copious quantities of sliced up Onions nicely sauteed and caramelised in butter or oil in a skillet before adding to the soup.  It's quite a scrumptious concoction when presented this way, and you'll likely have to cough up $10-15 for such a bowl in this type of restaurant these days to chow down on it.
In reality though, French Onion Soup is a PEASANT dish that comes from the era before Refrigeration, and all the ingredients are in there because they are conservative of the food the French Peasants had available before refrigeration became ubiquitous in Industrial culture.
Your base of the Beef Broth comes from simmering all the bones and scraps of meat that get leftover after the cow cets slaughtered and carved up into Steaks, Ribs, Roasts, Filets and finally Ground Beef for the least tender cuts, although you will find more expensive Ground Beef from the same cuts that the other beef products are carved from, just because it's useful in many things like meatballs, hamburgers etc that are common in the western diet.
Still, you get a lot more nutrition from your dead cow by simmering up all these leftover parts, and by further boiling down and adding salt to it you can make Boullion which will last quite a while unrefrigerated.  Drop the Boullion Cube into some boiling water, and you reconstitute your Broth for a nutritious soup the next week.  Of course, this is Energy Intensive in the sense you need to use quite a bit of burnables usually to reduce the liquid to a semi-solid.
Onions, your Fresh Veggie in this dish are roots which keep well in a cool Root Cellar, you don't need refrigeration for them.  The French Bread slice you add ups the calorie content of your bowl of soup with carbohydrates, and you use Stale Bread that can be a few days old and no longer real moist and chewable , but soaked in the broth it becomes very edible again.
Final ingredient, the Cheese you melt over the top is a way to preserve Milk by fermentation, and when waxed over  and kept cool, it also lasts a long while without refrigeration.  It also adds additional calorie count to your soup dish, so by the time you are done here you have a single meal full of Protein, Carbs, Fat, Vitamins, all from stuff which can be grown or raised on a small subsistence style farm, the traditional type of farm back in France before the industrial age.
When I Backpacked and Inter-railed around Europe back in the 70s, I did it on a shoestring budget, as I recall I had $800 in American Express Travelers Checks to last me for 2 months the first time I participated in this Right of Passage common for many European teens at the time, but not that many Amerikans.  No credit card in those years, and debit cards didn't exist yet either.  The roughly $100/week I had with me had to buy all my food, and hostels on nights I stayed in them.  At the time, a bed in one of the hostels was usually about $10/night in the northern European countries, as cheap as $5/night in Southern Europe.  If you stayed in a Hostel every night, you weren't left with much to buy food.  The way around that was to take night trains or sleep in train stations, on beaches, wherever.
So for obvious reasons, most interrailers cruised around Spain, Portugal and Greece because it was cheaper.  However, I wanted to see France and Switzerland and Sweden, but in those places I ate on the cheap.  I would buy a Baguette and wedge of Brie and a Salami and that would last in my backpack for 2-3 days while checking out these neighborhoods.  All old fashioned foods that keep for a while with no refrigeration.
I almost actually made it to the end of the two months with enough money to still eat, although for the last week or so the first time there I was sleeping by the Thames River in the "Big Queue", waiting for a cheap ticket home on Freddie Laker's "Better Laker than Never", "Sooner or Laker" discount airline of the era.  Interestingly, it is impossible to find any pics on the web from the Big Queue.  It was quite a hilarious scene overall.
There's Freddie with the young Richard Branson.  These guys got Knighted for their contributions to Aviation.  Laker went bust in 1982.  Branson is still flying Virgin Atlantic.  He has better access to more debt.

Why did Skytrain suddenly fail? Laker had received an $86 million mortgage on his aircraft from the U.S. government's Export-Import Bank. As airlines like Pan Am and TWA were floundering in the face of Laker's competition, they pressured the Reagan administration to have Ex-Im call in Laker's debt. In addition, the Thatcher government in Britain was worried that Laker might eventually eclipse the parastatal British Airways. Taking away Laker's capital, paradoxically enough, was a way of saving the airline industry in both the U.S. and Britain.

Laker Doesn't Leave

Freddie Laker was understandably more than a tad pissed off at the majors, and in January 1985, he filed suit against twelve major airlines from around the world, who had allegedly conspired to drive Skytrain into the ground. At first, they offered him a $50 million settlement, but as Laker dug his heels in, the value of the settlement grew progressively smaller. By August, Laker finally gave up and accepted a $20 million settlement from British Airways.
Since I am obsessed with eating cheaply and with food that last a long time, I recently started experimenting with recipes for the many bags of Bear Creek Soups I have in my Prep Arsenal, ready for TEOTWAWKI.  They are fine just by themselves, and one bag will get you through the day by itself if necessary, but as long as there are other ingredients to pitch into said soup, you can make much heartier meals that will last for 2 or 3 days.  This weeks concoction was a Broccoli-Cheese-Beef soup I wrote about Inside the Diner
NEW BEAR CREEK SOUP CONCOCTION!

This one is just SCRUMPTIOUS!  Currently still brewing in the Slow Cooker but I have been Taste Testing over the last couple of hours and it is AWESOME!

Base was some leftover Rib Bones I BBQed, then stewed in beef broth, soy sauce and water to get all the remaining meat to fall off the bones.  Then I added half a package of Bear Creek Broccoli Cheese soup, Fresh Broccoli (actually in the fridge for over a week already) and some shaved parmesan romano cheese, a couple of tablespoons of this.

This is a fucking AWESOME soup!

I think I could improve on it still more with the addition of some fresh Garlic and Onions and some Parsley for garnish, with some crusty day old bread to dip in as well.  Maybe a little Paprika also to make it more tart and lip smacking good.

I'll be writing up a new Recipe post for the Sunday brunch article this week.  I'll include this in that article. At least I am still eating like a King here as the world spins down!  This soup would have sold for $10/bowl in 1980s Dollars at my old job at Capsuto Freres!  About $4 in ingredients excluding the leftover rib bones previously chewed on, and would fill about 4 bowls for $40!

RE
At some point in the future, getting hold of many of the other ingredients to add to one of these soups probably will become difficult, depending on where you are of course.  Certainly, being in a location where Cheese is produced locally is helpful, along with being in locations where there is some kind of Meat available to pitch into the soup to make your Broth, even if it is just Squirrels or even Worms.  This will up the nutritional value of the soup considerably.
Far as the carbs go, even stale bread is fine, but most small farms don't grow their own Wheat, at least not in my neighborhood, so Bread probably won't be very available.  Similar with Rice, it doesn't grow up here in Alaska, although perhaps it could be done in Grow Domes.  Rice though keeps very well once dried and vacuum sealed, so your supply of this can last a while.  Main carb though likely to remain available locally is Alaska Potatoes.
Potatoes are fabulous food which go fine in soups, but there are lots of other good ways to prepare them and spruce them up, which will be the subject of the next SNAP Card Gourmet Sunday Brunch article on the Diner.