From the Keyboard of Surly1
Originally published on the Doomstead Diner on June 2, 2013
Discuss this article here in the Diner Forum.
Time once again to indulge ourselves with a survey of doom–and doom–related news culled from the seedier corners of the Internet. It was a week in which Occupy Wall Street retook liberty Square, in sympathy with Turkish occupiers, while in Greece a resurgent Golden Dawn reared its fascist head in Athens streets. Giant storms in Oklahoma brought out a well-practiced chorus of climate change deniers. Meanwhile, the troglodyte right in this country exhibited its well oiled, much practiced victim pose routine in fanning the flames of the IRS tax scandal, while the esteemed solons of the Senate voted once again to deny states permission to tell people whether or not they are eating genetically modified food, the reputation of PBS lies in tatters as they stand exposed as abject whores, a Chinese concern purchases a major American food processor–what could possibly go wrong?
So let's review the bidding.
OWS retakes Liberty Square
Occupy Wall Street as plan 3 days of activities in retaking liberty Square, ostensibly in support of Turkish occupiers being faced down by riot police in Istanbul right now. The Occupy Wall Street website lists a 3 day agenda of activities.
The organizing website can be found here.

Events can also be viewed on live stream. Some very stirring video, to be sure.
_______________________________________________________________________
Meanwhile, in Greece:
One of the more dependable things about  austerity and other self-inflicted economic wounds is that it  brings out the right wing in dependable fashion. The history of the 20th century is littered with such movements, and it's a formula that works again and again. The right becomes the brownshirts, the muscle , or "useful idiots" for the plutocrats who actually pulling the strings and who hope to orchestrate wealth transfer and social dislocation that will redound to their advantage.
Golden Dawn: 'Greece belongs to Greeks. Long live victory!'
Like the soldiers on whom they model themselves, the Greeks who subscribe to the ultra-nationalist, neo-fascist dogma of Golden Dawn are the first to say they are at war. This week, as Antonis Samaras's coalition government struggled to contain an escalating crisis over efforts to curb the extremists, it was they who appeared to be winning that war.

Amid a dramatic surge in attacks on immigrants blamed on the neo-Nazis, the debt-stricken country's ruling alliance has come under unprecedented pressure to crack down on racially motivated crimes. Legislation calling for a ban on parties perceived to incite such violence was proposed by prime minister Samaras's two junior leftist partners last month. Claiming that it would "victimise" Golden Dawn, which has 18 of the 300 MPs in parliament, the conservative groups last week rejected the bill as counterproductive. On Friday they put forward their own, less punitive law.

As parliament prepares to debate how best to apply legislation that will curb the party, – measures that have unexpectedly electrified the political scene – the far right is flourishing in the knowledge that, in a country reeling from the twin ills of austerity and despair, it is they who are in the ascendant.
Rising Hegemon adds this:
Clear political indications of what Austerity can do for a country:

It wasn't just that their symbols looked like swastikas. Or that thousands of Greek flags filled the marble square beneath the Acropolis. Or that they were marking the 560th anniversary of the fall of Constantinople.

It was that there were so many of them. Angry men and angry women furiously screaming "Greecebelongs to Greeks" in the heart of ancient Athens, as tourists – some befuddled, some shocked – looked on or fled at the sight of neo-Nazis coming to town.

"Now we are in the thousands," thundered Nikos Michaloliakos, the bespectacled mathematician who leads Greece's far-right Golden Dawn party. "Long live victory!"
It is always instructive to note how the lack of democratic input into the policy process always seems to result in a movement that will ensure even less democratic input in the process; namely fascism. Greece is well on its way, and as RE often says, "coming soon to a theater near you."
The Stupid, It Burns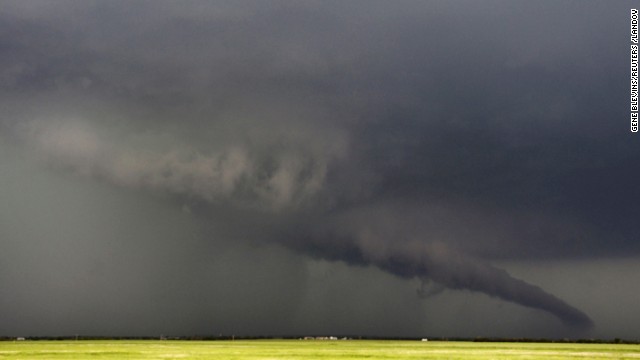 Oklahoma suffered its second set of giant tornadoes within the space of about a week. Not for nothing do they call this section of the country "tornado alley," as it traditionally funnels cold air from the north as it meets meets warm air rising from the South at the Rockies and heads due east. This is not news. What is news is the alacrity with which the representatives of the people who live in the state engage in a remarkable set of hypocrisies. Not only do they insist on immediate aid for Oklahomans while having denied the same sort of response to the victims of Hurricane Sandy, but they also rush to practice their well-rehearsed victim pose routine, denying that climate change is making these traditional and not wholly unexpected storms much bigger and much more dangerous than they used to be.
Oklahoma Sen. James Inhofe, a Republican, accused the "liberal media" of exploiting the devastating tornado in Oklahoma to push its climate change "agenda."

"The liberal media is trying to exploit a tragedy to advance and expand its own agenda. And, believe me, the victims all know this," Inhofe said in an interview with Newsmax, adding that news outlets that link the tornado to climate change "do a great disservice to those who have experienced this tragedy."

"We were being hit by tornadoes long before anyone talked about climate change, and even before it was called 'global cooling,' before it became 'global warming,' and then 'climate change,'" he continued. "The same thing that happened last week happened 14 years ago, 25 years ago, and 30 years ago."

…

Inhofe is one of Congress's most adamant climate change deniers. He has repeatedly called it a hoax, and as recently as April of this year blamed the so-called hoax on George Soros, Moveon.org, and Michael Moore.
Why stop there? Blame it on Hugo Chavez, Al Gore and Vladimir Lenin while you're at it.
_______________________________________________________________________
The real cost of low low prices everyday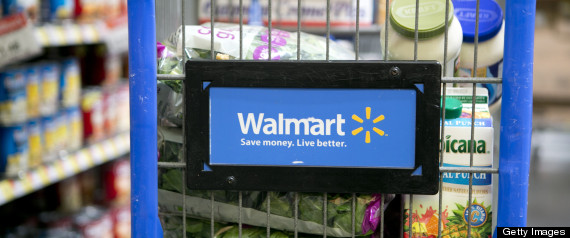 This article moved over the weekend, where most people will have missed it. Which is certainly the way Walmart and the scions of the Walton family would like it.
Walmart wages are so low that many of its workers rely on food stamps and other government aid programs to fulfill their basic needs, a reality that could cost taxpayers as much as $900,000 at just one Walmart Supercenter in Wisconsin, according to a study released by Congressional Democrats on Thursday.

Though the study assumes that most workers who qualify for the public assistance programs do take advantage of them, it injects a potent data point into a national debate about the minimum wage at a time when many Walmart and fast food workers are mounting strikes in pursuit of higher wages.

The study uses Medicaid data released in Wisconsin to piece together the annual cost to taxpayers for providing a host of social safety net programs, including food stamps and publicly subsidized health care, to workers at one Supercenter in the state.

According to the report, Walmart had more workers enrolled in the state's public health care program in the last quarter of last year than any other employer, with 3,216 people enrolled. When the dependents of those workers were factored in, the number of enrollees came to 9,207.

"When low wages leave Walmart workers unable to afford the necessities of life, taxpayers pick up the tab," the report says.
Under this last point, Rising Hegemon has a trenchant observation:
Now THIS is the way our political class…especially the Right…wants things to work.

So not only are their employees suffering, not only do those who lose their jobs because of Wal-Mart suffer, but EVERYBODY SUFFERS.

The Walton family, heirs to the founders of the Wal-Mart Stores Inc. superchain, are worth nearly as much as the bottom half of American households combined.

The Waltons' value — $89.5 billion in 2010 – is equal to the worth of the 41.5% of families at the lower end of the income ladder, according to an analysis by Josh Bivens of the Economic Policy Institute. That comes out to 48.8 million households.
_______________________________________________________________________
  The  IRS "scandal" scandal
I confess to watching this kabuki theater unfold before me with a mixed sense of outrage and horror. Let's review the bidding conservative groups, eager to take the hill upon which Karl Rove planted the flag when established crossroads GPS, that of saying "he's going to break the law as much as he can," rushed to take advantage of tax law that allows tax-exempt status to "social welfare" organizations as a mask for political activity. As a matter of policy, the IRS is supposed to give all 501(C)4  groups a thorough vetting.  So what we have here are a number of archconservative groups complaining, in essence, that we are not subsidizing their illegal political activity with our tax dollars. Do I have it right?
William Boardman asks, "How does the IRS doing its job become a made-up political outrage?"
Almost everything you hear and read in the media about the current IRS "scandal" is based on deliberate falsification of basic facts. Some might call it lying.

Here's a reasonably typical media-framing of the IRS lie, from the usually careful and accurate Economist, posted May 23: "Even before this month's revelation that conservative political groups applying for 501(c)(4) status were being singled out for special scrutiny … "

You see this false framing of the IRS story across the media spectrum, from Infowars to ABC News and NBC News to the Economist to DemocracyNOW (the latter on May 24: "the scandal over the targeted vetting of right-wing groups …"). Even the usually reliable Wonkblog at the Washington Post doesn't get the story right, apparently because it hasn't read the relevant law.

An exception to this remarkable mental stampede in the wrong direction was Jeffrey Toobin (New Yorker, May 14) who wondered, "Did the I.R.S. actually do anything wrong?" His answer started to put the story in reasonable perspective, with a focus on tax law and political money: " … the scandal isn't what's illegal – it's what's legal. It's what society chooses not to punish that tells us most about the prevailing ethical standards of the time."

Anatomy of a False Narrative – Lying, Laziness, Partisanship, What?

How is it that the conventional framing is dishonest? Here are some of the ways:

It wasn't a revelation. All kinds of people were aware of the underlying problem, that 501(c )(4) tax status abuse had been going on since 1959, and that it took a quantum leap after 2011, when the Supreme Court's Citizens United decision opened the democratic process to money flooding that would be facilitated by the secrecy offered by the 501(c )(4) status.

 

There were bi-partisan public hearings on the problem scheduled by the Senate well before the "scandal" broke. Anyone could look it up.

 

As soon as the story broke, Lawrence O'Donnell (MSNBC's "The Last Word") was reporting accurately on the issue, rooted in the difference between a law that says 501(c )(4) organizations should be "exclusively" for social welfare and a 1959 IRS regulation that says, with Orwellian authority, that "exclusively" is to be interpreted to mean "primarily." Too many reporters and others still do not get this, even though responsible research begins with these primary sources.

 

No one was singled out. That's right, no one was singled out. The problem with 501(c )(4) applications is that the IRS must review every one to see if the applicant qualifies for tax exempt status. Given the flood of applications from political groups of all sorts post-Citizens United, the IRS needed some way to make sure those applications were "primarily" for social welfare, even though political insiders knew that had been a joke for years (Karl Rove's Crossroads GPS and MoveOn.org are both IRS-approved 501(c)(4) organizations, of which there are thousands – reportedly 97,382 in 2011).
And it goes on. And on. Stubborn things, facts. Meanwhile, Charlie Pierce sets us straight:
We like to stay ahead of over what subjects the folks in the monkeyhouse soon will be flinging the poo if, for no other reason, so as to be prepared to duck. It is in this spirit that we present to you one Wayne Allyn Root, who writes for Glenn Beck's little website, and who would like you to know that the IRS is prepared to let conservatives die in the streets very, very soon.

This is the same IRS that asked questions such as "What books do your members read?" "What is the content of the PRAYERS of your members?" "Please send us all your Facebook posts" and "Send us the list of your donors." Now they are in charge of your healthcare. Will the same litmus test be in place? Before granting approval for expensive medical treatment, will we be asked what groups we belong to? What books we read? What is the content of our prayers? Will they look at our Facebook postings before deciding if we're worthy of receiving expensive medical care? Just as the groups who dared to teach American citizens about the U.S. Constitution were targeted and denied tax exempt status, will those of us who dare to believe in the U.S. Constitution be denied the health care we need to save our lives?

Yes, friends, that's what's coming. That's going to be what you hear going forward. The IRS dumbassery is going to be the new "death panels." People are going to argue on the radio, and on the TV, and in congressional town halls in the hinterlands, that the IRS is going to "enforce Obamacare" by doing to sick conservatives what they did to all those poor social-welfare organizations with the tricornered hats and the flintlocks. We've already got Republican politicians out in Ohio arguing this very point. 
Here at the Doomsday Diner, we leave no turn unstoned in an effort to bring you tomorrow's  stupid today. And speaking of tomorrow stupid, if you are not familiar with the stylings of one Wayne Allyn Root, invest 5 min. of your life is viewing this clip, prepared by Jason Jones of Comedy Central as part of The Daily Show with Jon Stewart. In it, Root, white-haired, freshly scrubbed, and as pink cheeked as one of Smithfield's prized pigs, stands utterly undressed and exposed for the depraved hypocrite that he is. Must see TV, indeed.
_______________________________________________________________________
Letter from Loretto 
In one of the more poignant pieces of information to move this week, this letter from John Kiriakou emerged. If you are not familiar with this man, according to Wikipedia, he
is a former CIA analyst and case officer, former senior investigator for the Senate Foreign Relations Committee, and former counter-terrorism consultant for ABC News, blogger for Huffington Post, and author. Kiriakou is notable as the first official within the U.S. government to confirm the use of waterboarding of al-Qaeda prisoners as an interrogation technique, which he described as torture.
On October 22, 2012, Kiriakou pled guilty to disclosing classified information about a fellow CIA officer that connected the covert operative to a specific operation. Kiriakou thus became the second C.I.A. officer convicted of violation of the Intelligence Identities Protection Act and the first for passing along classified information to a reporter, although the reporter did not publish the name of the operative. He was sentenced to 30 months in prison on January 25, 2013 and reported to the low-security Federal correctional facility in Loretto, Pennsylvania to begin serving his term on February 28, 2013.
He is thus a prisoner of conscience languishing in the empire's gulag, for the crime of exposing the empire's illegal acts. He shares that notable distinction with Julian Assange and Bradley Manning. Thus does the Empire deal with whistleblowers. The letter itself is a fascinating insight into the realities of prison life, even in medium security prison.
The cafeteria, or "chow hall" was the most difficult experience of my first few days. Where should I sit? On my first day, two Aryans, completely covered in tattoos, walked up to me and asked, "Are you a pedophile?" Nope, I said. "Are you a fag?" Nope. "Do you have good paper?" I didn't know what this meant. It turned out that I had to get a copy of my formal sentencing documents to prove that I wasn't a child molester. I did that, and was welcomed by the Aryans, who aren't really Aryans but more accurately self-important hillbillies.

The cafeteria is very formally divided. There is a table for the Aryans whites with good paper, a section of a table for the Native Americans, a section of a table for people belonging to a certain Italian-American stereotypical "subculture," two tables for the Muslims, four tables for the pedophiles, and all the remaining tables for the blacks and hispanics. We don't all eat at the same time, but each table is more-or-less reserved as I described.

Violence hasn't been much of a problem since I arrived. There have been maybe a half-dozen fights, almost always over what television show to watch. The choices are pretty much set in stone between ESPN, MTV, VH1, BET and Univision. I haven't watched TV since I got here. It's just not worth the trouble. Otherwise, violence isn't a problem. Most of the guys in here have worked their way down to a low-security prison from a medium or a maximum, and they don't want to go back.

I've also had some luck in this regard. My reputation preceded me, and a rumor got started that I was a CIA hit man. The Aryans whispered that I was a "Muslim hunter," but the Muslims, on the strength of my Arabic language skills and a well-timed statement of support from Louis Farrakhan have lauded me as a champion of Muslim human rights. Meanwhile the Italians have taken a liking to me because I'm patriotic, as they are, and I have a visceral dislike of the FBI, which they do as well. I have good relations with the blacks because I've helped several of them write commutation appeals or letters to judges and I don't charge anything for it. And the Hispanics respect me because my cellmates, who represent a myriad of Latin drug gangs, have told them to. So far, so good.
_______________________________________________________________________

GMO Labeling Bill Voted Down In Senate
Within a week after over 2 million people in hundreds of cities in America and around the world marched in protest of Monsanto,the United States Senate once again decided that it simply does not want to let states tell people whether or not they are eating genetically modified food.
The Senate voted overwhelmingly — 71 to 27 – against an amendment to the sweeping farm bill, squashing a measure that would not have required labeling of genetically modified organisms, but merely would have let states decide if they wanted to require such labeling.
"The concept we're talking about today is a fairly commonsense and non-radical idea," Sen. Bernie Sanders (I-Vt.), the sponsor of the amendment, said shortly before the vote. "All over the world, in the European Union, in many other countries around the world, dozens and dozens of countries, people are able to look at the food that they are buying and determine through labeling whether or not that product contains genetically modified organisms."

Sanders has noted that more than 3,000 ingredients are required to be labeled, but genetically modified ingredients are not part of that list. His state and Connecticut have passed laws to require such labeling, but Sanders said local leaders fear that large biotech corporations such as Monsanto could sue the states on the grounds that they are preempting federal authority. He said his bill would make clear that states can do what they want on the issue.

But Sen. Debbie Stabenow (D-Mich.), the chair of the Agriculture Committee, argued that the measure "is not germane to the farm bill" in the first place. She also said the labels run counter to science and the public interest in healthy food.

"This particular amendment would interfere with the FDA's science-based process to determine what food labeling is necessary for consumers," Stabenow said.
And us we can see that people willing to sell out the public interest occupy both sides of the aisle.
_______________________________________________________________________
PBS Koch-suckers
This is a matter that hits somewhat close to home for me, as I spent 25 years of  a broadcast media career working in public television. By the time I left the business, I had reached a reasonably high-level executive position for one licensee, and I came to see how utterly craven and dependent upon the goodwill of funders and potential funders the ruling junta was.
People often think that university life must be wonderful for faculty: oh, to work in the halls of academe, and think the great thoughts, free from the obligations and petty scrabblings of commerce. Anyone who works for a university will eagerly dissuade you of that notion, as academe is often a nest of petty jealousies, jostlings for position and promotion, and competitions for tenure and parking. I entered public broadcasting full of utopian idealism, and left it with my eyes wide open as well. Like many nonprofits, a public broadcasting entity is not directly responsible to a bottom line so much as it is to the whims and caprices of a Board of Directors. So often, within the public broadcasting system, those well practiced at the courtiers' arts will flourish at the expense of the ordinary and hard-working.
In contrast, for profit enterprises are, as I have come to learn, refreshingly straightforward. What matters is the bottom line. Produce, and you're good. Fail to produce, and get a box for your shit.
So when Democracy Now moved this story, I must confess I found nothing surprising about it at all. Years ago, NPR news revealed itself to be apparatchiks of the Bush administration, using their hated term "enhanced interrogation" as a euphemism for waterboarding and torture. Thus is the language debased, thus is the propaganda catapulted, and thus to our institutions become corrupt. The need for money has corrupted the system front to back.
Filmmakers Tia Lessin and Carl Deal say plans for their new documentary to air on public television have been quashed after billionaire Republican David Koch complained about the PBSbroadcast of another film critical of him, "Park Avenue: Money, Power and the American Dream," by acclaimed filmmaker Alex Gibney. Lessin and Deal were in talks to broadcast their film, "Citizen Koch," on PBS until their agreement with the Independent Television Service fell through. The New Yorker reports the dropping of "Citizen Koch" may have been influenced by Koch's response to Gibney's film, which aired on PBS stations, including WNET in New York late last year. "Citizen Koch" tells the story of the landmark Citizens United ruling by the Supreme Court that opened the door to unlimited campaign contributions from corporations. It focuses on the role of the Koch-funded Americans for Prosperity in backing Wisconsin Gov. Scott Walker, who has pushed to slash union rights while at the same time supporting tax breaks for large corporations. The controversy over Koch's influence on PBS comes as rallies were held in 12 cities Wednesday to protest the possible sale of the Tribune newspaper chain, including the Los Angeles Times and Chicago Tribune, to Koch Industries, run by David Koch and his brother Charles.
Read the entire article and see some video here. Where PBS's management and development people went wrong was in taking money from David Koch in the first place. These people are not fools, and they had to have knownwho they were getting in bed with: a scion of a family remarkably ruthless in its machinations, an American Medici, with a rabidly partisan political agenda. I blame PBS.
_______________________________________________________________________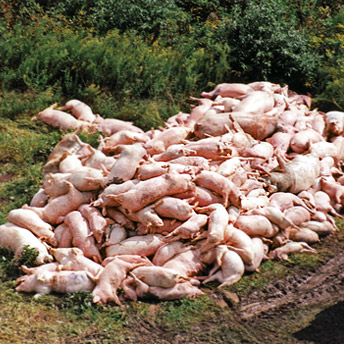 Smithfield:  What Could Possibly Go Wrong?
Big news in South Eastern Virginia this week was the revelation that a Chinese concern made an offer to purchase local Fortune 500 companies Smithfield Foods, one of the nations, and suppliers of pork products.
China is hungry.

The world's most populous country has for years been on an agricultural buying binge, scooping up supplies of soybeans, palm oil, cotton and just about anything else that can be culled from the soil.

Now, with 1.3 billion mouths to feed, the Asian giant is turning its eyes to meat.

On Wednesday, a Chinese meat processor agreed to purchase the world's largest pork producer, Smithfield Foods Inc., for $4.7 billion.

The deal, the largest-ever purchase of a U.S. company by a Chinese firm, underscores the rapidly evolving taste of China's growing middle class, which is demanding more high-quality protein in a nation that has been beset by food safety scares.

But the deal also speaks to the increasingly dominant role of China in global agriculture.

Once limited to purchasing other nations' crops on the open market, the world's second-largest economy has steadily moved to take control of production. Over the last decade, it's been buying up vast acreage overseas and spending billions to lock down long-term supplies of key staples. If approved by regulators, the Smithfield deal would give China one of the most prestigious names in the lucrative meat industry.
 This seems to be part of an overall buying spree for the Chinese, seem to be using their dollar surpluses to acquire food products and the ability to produce them for their growing populations.
But in recent years, the country has been on something of a food shopping spree. It more than doubled its investment in foreign agriculture between 2007 and 2010, according to the nation's Ministry of Commerce.

The country has shored up the pipeline for soybeans — a crucial staple for humans, animals and biofuels in China — by pumping billions of dollars into land acquisition, farming and long-term crop purchase guarantees in Brazil and Argentina.

One recent deal, for example, had a Chinese grain and oil producer paying $7.5 billion and promising to build a railroad in exchange for a guaranteed supply of 6 million tons a year of Brazilian soybeans.

So insatiable has been China's interest in South America's fertile fields that both countries have passed laws limiting foreign ownership of arable land in recent years.

In Africa, China has been buying up supplies of cotton, while in Southeast Asia it's invested heavily in crops as diverse as natural rubber, cashews and palm oil, which is used for food and also fuel.
Of course, the deal isn't completely done yet. It is subject to government review and approval which it includes a consideration of food safety issues, as The Guardian explains:
The acquisition is subject to regulatory approval by the committee on foreign investments in the United States. Several large takeovers by Chinese companies have been thwarted in the recent past. The most high-profile failure came in 2005 when China's Cnooc bid $18.5bn for US oil firm Unoca, triggering a massive political backlash that ended with the House of Representatives issuing a resolution that the deal "would threaten to impair the national security of the United States". The bid was withdrawn.

In 2008, Huawei Technologies backed out of a deal to acquire 3Com, maker of internet router and networking equipment, amid questions about the deal's national security risks.

The largest successful Chinese takeover of a US firm to date is the $2.6bn acquisition of cinema chain AMC Theaters by Dalian Wanda – an entertainment conglomerate – in 2012. Chinese ownership of movie theatres did not trigger political ire.

Food security issues are likely to complicate issues for Shuanghui. In 2011, CCTV, China's state broadcaster, found the company had produced and sold pork tainted with the banned drug clenbuterol. The chemical is a fat-burning additive sometimes used by bodybuilders that can cause nausea, heart problems and dizziness if consumed by humans.

More recently, China's food industry has faced a number of scandals. In March, 9,000 dead pigs were found in the Huangpu river. There have also been recent reports of contamination of the Chinese meat supply from a bird-flu outbreak.

Smithfield, too, has been challenged by safety and work practice issues. The first confirmed case of H1N1 swine flu during the 2009 flu pandemic was a five-year-old boy living near a Smithfield subsidiary in Mexico. More than 600 residents living near the plant in La Gloria, Veracruz, were infected with a mysterious respiratory illness.
So, we ask again, what could possibly go wrong?
_______________________________________________________________________
At 4700 words, it is time to set down the Surly Crown of Thorns for yet another week. The Week That Was In Doom will be taking a week of doom off  this week, as we are traveling and attending to family matters, including the graduation of a much beloved niece. Hope to meet you at zero point, but not too soon.