Follow us on Twitter @doomstead666
Friend us on Facebook
Published on the Doomstead Diner on November 3, 2015
Discuss this article at the Doom Psychology Table inside the Diner
…and now, the moment you have all been waiting for…the RESULTS of the Diner Collapse Personality Profile Survey TM! 😀
YOU CAN STILL TAKE THE SURVEY HERE
The genesis of this survey came in a very long and deep thread inside the Diner that one of our Diner Admins Eddie began. It was on Enneagrams, which attempt to finger various personality types with their own particular taxonomy and descriptions. Enneagrams aren't alone in this effort, the Myers-Briggs system also attempts to categorize personalities. There are endless others as well, but for this survey these are the only two personality indices we surveyed.
In the OP on the Diner Forum, only maybe 6-8 Diners or so reported their Enneagram results, so when I constructed the survey, I wasn't entirely sure I would get a decent enough sample size to draw any statistically valid conclusions. To do the survey, you have to take at least 2 tests, the Enneagram and the Myers-Briggs. Then, to be really complete here, you also need to do an IQ test. Although the tests I found to use are relatively short for this kind of thing, each one does take 10-15 minutes to do even if you are pretty quick with thinking out your answers. Then the Survey takes another 10-15 minutes. So you are talking a good hour time commitment to do this, and I'm certainly not paying anybody for their time spent at it! lol. Contrary to some comments made, none of these tests cost any money or require any registration either. I did all of them for FREE! 🙂
So I figured maybe I would get 20-30 Respondents of real dedicated Doomers to do the whole thing. With that, I could at least get a good article out of it, even if it wasn't very statistically valid. Boy, was that assumption wrong! LOL. As of now when I am compiling the initial set of full stats (I did a brief recap of Demographic Stats last week), we have 121 Respondents (update 127). Is this statistically valid within the Population of Doomers haunting Collapse Websites?
To determine this, I first need to know how big this population actually IS. I know this number within reasonable bounds because I am an Admin of not just my site but some others, and I observe what the total readership is of collapse sites which publish this number. I also observe traffic and popularity numbers on various sites that track these things, like Google Analytics. Alexa and Revolver. I am a Stats FREAK! LOL. It is around 30-50,000 people right now best I can determine haunting collapse websites, although increasing in number as time goes by. After that, I need to decide what my Confidence Level and Margin of Error should be for my Survey. For this survey, I picked an average population size of 40K, I set my Confidence Level at 95% and my Margin of Error at 10%. For this combination of factors, I need 96 people to respond to the survey. I already have 121 (actually 127 now, but I compiled results at 121). So I am reasonable confident of these results. I used the Survey Monkey calculator to determine the the number of respondents necessary for this Confidence Level & Margin of Error.
Now, where did I get this sample from? Well, many from right here on the Diner of course, but I also went out and PLUGGED the survey on quite a few other sites, including Our Finite World, Nature Bats Last, r/collapse and r/samplesize. So respondents mostly come from these websites, and with the exception of r/samplesize (a general survey site) all are collapse oriented sites.
So, what we are surveying here is NOT the general population, it is MAINLY the population of people who haunt collapse oriented websites. Within this population, the survey has a high degree of confidence and reliability.
The next issue you need to consider is Reliability of Reporting. In other words, are the respondents being HONEST about their results? The survey is self-reported and you certainly could LIE on any question at all. However, what would be the point of doing that? Anyone who does spend the necessary time to do a survey like this is genuinely curious how the pattern skews out, and it doesn't behoove anyone to say they are one thing or another. IQ is the only area where I could see respondents outright lying or cheating the test (which is quite easy to do) because nobody wants to admit to being STUPID, but again, it's ANONYMOUS! So I don't think there was too much lying in the responses.
What about the accuracy and reliability of the tests themselves? Again, the biggest question here is in the IQ Test, which is rather short for this kind of thing. However, anecdotal reporting to me in email since I initiated the survey says results are more or less consistent with results they have had from taking longer tests at other times in their lives. For myself, I pegged lower than in the past at 140 this time, but I attribute this to the fact that I was 3 sheets to the wind drunk when I took this test. lol. I can't repeat it validly sober, because the same questions are presented. You only have one chance to take the test and get a valid result, so do it sober! LOL.
OK, now let's delve into the RESULTS! 🙂
First a synopsis before I drop on the tables with the actual numbers.
As mentioned last week, the main Demographic of Doomers are White Males from North America. In the early returns, Females were running at around 20%, higher than expected by my experience haunting Collapse Websites. I estimated this at 10% prior to doing the survey. As further numbers came in through Week 2, the percentage dropped to around 16%, closer to my original estimate. Either way though, this is a Sausage Fest. lol.
Doomers are by and large very well educated. The majority have a University Degree of Baccalaureate or above (~69%), with 6.72% coming in with a Doctoral level degree, compared to around 2% for the population at large for that level of education. I will say my experience has been you find many Medical Doctors in the Doom Community, much higher than the percentage for the total population. Also many University Profs with Ph.Ds are Doomers, folks like Guy McPherson, George Mobus and Ugo Bardi, etc.
Doomers also have an ASTOUNDINGLY high average IQ. I attributed this at first to the possibility the test is skewed to the upside, but now I am not so sure of this. I got anecdotal reports from a couple of people who have taken longer more "official" tests who told me that the score this test gave them came within 5 points of the official tests they had taken. Also, the vast majority of people who took the test self-reported that the score they got back was accurate. For myself, the test showed that I am stupider than I used to be, coming in this time at 140, but I attribute that to being 3 Sheets to the Wind drunk when I took the test. LOL.
As mentioned before, there is also the possibility people would LIE when self-reporting on this, but there is no good reason for that with an anonymous survey. So I am going to take the survey results at face value, which indicates that around 75% of Doomers have an IQ of 130 or higher. That is compared to only 2.1% of the general population!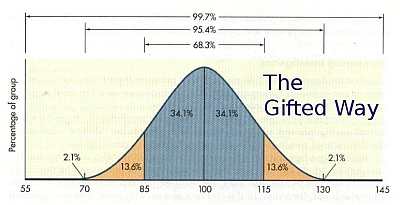 DOOMERS ARE SMART! LOL.
At least as measured by this IQ test anyhow. A solid 1/3rd of respondents don't think IQ tests are a valid measure of intelligence, but most respondents did think the test accurately reflected their IQ.
According to the survey also, 3.77% of Doomers are GENIUSES with IQs 150 or above! That IQ over the general population should come out at just .04%! My guess here is that for really high IQs, this test just doesn't work too good. It's not discriminatory enough, not enough questions. I don't think that great a percentage of Doomers really have IQs this high. If there really ARE that many Geniuses surfing the Doom-o-sphere, WTF don't you drop in here and SOLVE all these problems?!?!?! This would be a good time to exercise your Genius! lol.
I will conclude however with the determination that Doomers are generally smarter than the typical J6P. 🙂
In terms of the Taxonomy of Doom going from Cornucopian to Doom Lite to Full Doom to Extinction, the vast majority of people who surf Collapse Websites fit into the Full Doom category at 69%. Basically this means they think things will get real ugly, lots of DEAD PEOPLE, but Homo Sap won't go EXTINCT at least inside the next century. Doom Lite at 17%, Extinction at 12% and just 2% of DENIERS are Cornucopians making a nuisance of themselves in the Commentariat. lol. Why do people with this attitude show up at all on Collapse Websites? Because they are contrarians who like to argue, that's why.
As you might expect, Doomers think about doom on a daily basis, and knowledge of oncoming Doom has affected their relationships and choices.
Now on to the MEAT of the survey, Doomer Personality Types! 🙂
There was decent speculation in the OP on the forum about this, what types might be prevalent and so forth, and also a decent amount of questioning whether these type of indices really have any meaning or "scientific" underpinning. Whether they do or not, they clearly are showing SOMETHING, and again most respondents who took the Enneagram and Myers-Briggs thought both of them accurately reflected their personalities.
Starting with Myers-Briggs here, as guessed on the Diner and has been shown on a few other blogs that have surveyed this index, INTJs are the most prevalent type amongst Doomers, followed by the INFJs, INTPs and INFPs. All together, the IN** quadrant had more than half the respondents.
(Note: In constructing the survey, I neglected to include the ISTJs, so they didn't get counted. My apologies to the ISTJs out there in Doomerville. Hopefully not too many. I always screw up something on these surveys.)
What are the Personality Traits of an INTJ?
People with the INTJ personality type are serious, analytical and perfectionistic. They look at a problem or idea from multiple perspectives and systematically analyze it with objective logic, discarding things that turn out to be problematic, and evolving their own understanding of something when new information turns out to be useful. There is no other personality type who does this as naturally as the INTJ. They are natural scientists and mathematicians. Once given an idea, they are driven to understand it as thoroughly as possible. They usually have very high standards for their own understanding and accomplishments, and generally will only value and consider other individuals who have shown that they meet or surpass the INTJ's own understanding on a given issue. INTJs value clarity and conciseness, and have little esteem for behaviors and attitudes that are purely social. Social "niceties" often seem unnecessary and perhaps even ungenuine to the INTJ, who is always seeking to improve their substantive understanding. INTJ's highly value social interaction that is centered around the meaningful exchange of ideas, but they usually dismiss the importance of being friendly or likeable in other social contexts, and they are likely to be uncomfortable with interactions that are primarily emotional, rather than logical. INTJs value structure, order, knowledge, competence, and logic. Above all, they value their own ideas and intuitions about the world. An INTJ's feeling of success depends primarily upon their own level of understanding and accomplishment, but also depends upon the level of structure in their life, and their ability to respect the intelligence and competence of those who share their life.
The fewest Doomers come from the ES** quadrant, in fact in all 4 of those Personality Types there was only 1 ESFP, the other three were all ZERO.
Let's compare ESTJs to the INTJs
People with the ESTJ personality type have a high value for social order and structure. Throughout his or her life, the ESTJ develops a set of judgement standards that they use to order events and impressions that exist in the world. These standards are essentially social principles. The ESTJ believes very strongly in their principles, and strongly disapproves of any violation. The ESTJ believes that their principles define appropriate behavior and attitudes, and therefore should be followed unconditionally. Just as they naturally create rules, and are therefore natural leaders, ESTJs also believe in following existing social rules. They often lead, but can follow easily if they trust the authority of the system they're following. The ESTJ can be quite harsh about the violation of a principle. It is more important to the ESTJ that the principle is honored than that they consider the position or feelings of the individual who transgressed against the principle. Their harshness of manner may damage personal relationships, until the ESTJ incorporates standards for behavior within personal relationships into their system of social rules. The ESTJ truly enjoys being around other people, and wants to promote traditional relationships. An ESTJ may feel successful if they are able to live their lives within their defined system of principles, but their true and lasting success will come from the ability to create and sustain good and lasting principles, and thus to address all situations in their life adequately and consistently.
Basically, the ENTJs are the conformists, the INTJs are the questioners. Given the parameters of Doom, this makes perfect sense.
Like the IQ test, I take this at face value and think it is relatively accurate for the sample.
Now, onto the Index that started this whole thing off, the Enneagrams! 🙂
At least based on commentary from the Diner Chief Shrink Uncle Bob, Enneagrams are not taken too seriously by the official Shrink community. However, based on my own results, the Enneagram fingers my personality more reliably than Myers-Briggs. I am borderline in 3 out of 4 M-B categories, which means there are 8 out of 16 possible types I could be. That is not very discriminatory (for me).
OTOH, out of 18 possibilities including the "Wings" (9 types, 2 Wings each) on the Enneagram, I hit the same one every time, and I took 3 different tests on this one. Eddie, the Diner Enneagram Professional who got this stuff started also fingered me correctly before I even took the first test. I am 8W7, with no question. Here is the overview of Type 8s (I have highlighted important aspects of my personality):
Type Eight Overview

We have named personality type Eight The Challenger because, of all the types, Eights enjoy taking on challenges themselves as well as giving others opportunities that challenge them to exceed themselves in some way. Eights are charismatic and have the physical and psychological capacities to persuade others to follow them into all kinds of endeavors—from starting a company, to rebuilding a city, to running a household, to waging war, to making peace. Eights have enormous willpower and vitality, and they feel most alive when they are exercising these capacities in the world. They use their abundant energy to effect changes in their environment—to "leave their mark" on it—but also to keep the environment, and especially other people, from hurting them and those they care about. At an early age, Eights understand that this requires strength, will, persistence, and endurance—qualities that they develop in themselves and which they look for in others. Thayer is a stockbroker who has worked intensively on understanding her type Eight personality. She recounts a childhood incident in which she could clearly see the development of this pattern. "Much of my tenacity and toughness comes from my Dad. He always told me not to 'let anybody push you around.' It was not okay to cry. I learned to master my weaker side early on. At the tender age of eight, a huge horse ran away with me. When an adult caught the horse, I resolutely dismounted without a tear. I could tell my father was proud." Eights do not want to be controlled or to allow others to have power over them (their Basic Fear), whether the power is psychological, sexual, social, or financial. Much of their behavior is involved with making sure that they retain and increase whatever power they have for as long as possible. An Eight may be a general or a gardener, a small businessman or a mogul, the mother of a family or the superior of a religious community. No matter: being "in charge" and leaving their imprint on their sphere is uniquely characteristic of them. Eights are the true "rugged individualists" of the Enneagram. More than any other type, they stand alone. They want to be independent, and resist being indebted to anyone. They often refuse to "give in" to social convention, and they can defy fear, shame, and concern about the consequences of their actions. Although they are usually aware of what people think of them, they do not let the opinions of others sway them. They go about their business with a steely determination that can be awe inspiring, even intimidating to others. Although, to some extent, Eights fear physical harm, far more important is their fear of being disempowered or controlled in some way. Eights are extraordinarily tough and can absorb a great deal of physical punishment without complaint—a double-edged blessing since they often take their health and stamina for granted and overlook the health and well-being of others as well. Yet they are desperately afraid of being hurt emotionally and will use their physical strength to protect their feelings and keep others at a safe emotional distance. Beneath the tough façade is vulnerability, although it has been covered over by layer of emotional armor. Thus, Eights are often extremely industrious, but at the price of losing emotional contact with many of the people in their lives. Those close to them may become increasingly dissatisfied with this state of affairs, which confounds Eights. ("I don't understand what my family is complaining about. I bust my hump to provide for them. Why are they disappointed with me?") When this happens, Eights feel misunderstood and may distance themselves further. In fact, beneath their imposing exterior, Eights often feel hurt and rejected, although this is something they seldom talk about because they have trouble admitting their vulnerability to themselves, let alone to anyone else. Because they fear that they will be rejected (divorced, humiliated, criticized, fired, or harmed in some way), Eights attempt to defend themselves by rejecting others first. The result is that average Eights become blocked in their ability to connect with people or to love since love gives the other power over them, reawakening their Basic Fear. The more Eights build up their egos in order to protect themselves, the more sensitive they become to any real or imaginary slight to their self-respect, authority, or preeminence. The more they attempt to make themselves impervious to hurt or pain (whether physical or emotional), the more they "shut down" emotionally to become hardened and rock-like. When Eights are emotionally healthy, however, they have a resourceful, "can-do" attitude as well as a steady inner drive. They take the initiative and make things happen with a great passion for life. They are honorable and authoritative—natural leaders who have a solid, commanding presence. Their groundedness gives them abundant "common sense" as well as the ability to be decisive. Eights are willing to "take the heat," knowing that any decision cannot please everyone. But as much as possible, they want to look after the interests of the people in their charge without playing favorites. They use their talents and fortitude to construct a better world for everyone in their lives.
My Type 8 Compadres?
🙂
OK, there are some folks in there I would rather NOT be associated with like LBJ and Khaddafi, and Pol Pot was probably a Type 8 too, but there are always a few Bad Apples in the Barrel. LOL. You can't pick your relatives. hahahahahaha.
However, Type 8s are not that common in the Doom Community, coming in at 8.85%. What is the most common Enneagram Type amongst Doomers?
Type 5s, by a long shot! 31.6% of Doomers are Type 5s.
Here's the description of the Type 5 Personality:
Type Five Overview

We have named personality type Five The Investigator because, more than any other type, Fives want to find out why things are the way they are. They want to understand how the world works, whether it is the cosmos, the microscopic world, the animal, vegetable, or mineral kingdoms—or the inner world of their imaginations. They are always searching, asking questions, and delving into things in depth. They do not accept received opinions and doctrines, feeling a strong need to test the truth of most assumptions for themselves. John, a graphic artist, describes this approach to life: "Being a Five means always needing to learn, to take in information about the world. A day without learning is like a day without 'sunshine.' As a Five, I want to have an understanding of life. I like having a theoretical explanation about why things happen as they do. This understanding makes me feel in charge and in control. I most often learn from a distance as an observer and not a participant. Sometimes, it seems that understanding life is as good as living it. It is a difficult journey to learn that life must be lived and not just studied." Behind Fives' relentless pursuit of knowledge are deep insecurities about their ability to function successfully in the world. Fives feel that they do not have an ability to do things as well as others. But rather than engage directly with activities that might bolster their confidence, Fives "take a step back" into their minds where they feel more capable. Their belief is that from the safety of their minds they will eventually figure out how to do things—and one day rejoin the world. Fives spend a lot of time observing and contemplating—listening to the sounds of wind or of a synthesizer, or taking notes on the activities in an anthill in their back yard. As they immerse themselves in their observations, they begin to internalize their knowledge and gain a feeling of self-confidence. They can then go out and play a piece on the synthesizer or tell people what they know about ants. They may also stumble across exciting new information or make new creative combinations (playing a piece of music based on recordings of wind and water). When they get verification of their observations and hypotheses, or see that others understand their work, it is a confirmation of their competency, and this fulfills their Basic Desire. ("You know what you are talking about.") Knowledge, understanding, and insight are thus highly valued by Fives, because their identity is built around "having ideas" and being someone who has something unusual and insightful to say. For this reason, Fives are not interested in exploring what is already familiar and well-established; rather, their attention is drawn to the unusual, the overlooked, the secret, the occult, the bizarre, the fantastic, the "unthinkable." Investigating "unknown territory"—knowing something that others do not know, or creating something that no one has ever experienced—allows Fives to have a niche for themselves that no one else occupies. They believe that developing this niche is the best way that they can attain independence and confidence. Thus, for their own security and self-esteem, Fives need to have at least one area in which they have a degree of expertise that will allow them to feel capable and connected with the world. Fives think, "I am going to find something that I can do really well, and then I will be able to meet the challenges of life. But I can't have other things distracting me or getting in the way." They therefore develop an intense focus on whatever they can master and feel secure about. It may be the world of mathematics, or the world of rock and roll, or classical music, or car mechanics, or horror and science fiction, or a world entirely created in their imagination. Not all Fives are scholars or Ph.Ds. But, depending on their intelligence and the resources available to them, they focus intensely on mastering something that has captured their interest. For better or worse, the areas that Fives explore do not depend on social validation; indeed, if others agree with their ideas too readily, Fives tend to fear that their ideas might be too conventional. History is full of famous Fives who overturned accepted ways of understanding or doing things (Darwin, Einstein, Nietzsche). Many more Fives, however, have become lost in the Byzantine complexities of their own thought processes, becoming merely eccentric and socially isolated. The intense focus of Fives can thus lead to remarkable discoveries and innovations, but when the personality is more fixated, it can also create self-defeating problems. This is because their focus of attention unwittingly serves to distract them from their most pressing practical problems. Whatever the sources of their anxieties may be—relationships, lack of physical strength, inability to gain employment, and so forth—average Fives tend not to deal with these issues. Rather, they find something else to do that will make them feel more competent. The irony is that no matter what degree of mastery they develop in their area of expertise, this cannot solve their more basic insecurities about functioning in the world. For example, as a marine biologist, a Five could learn everything there is to know about a type of shellfish, but if her fear is that she is never going to be able to run her own household adequately, she will not have solved her underlying anxiety. Dealing directly with physical matters can feel extremely daunting for Fives. Henry is a life scientist working in a major medical research lab: "Since I was a child, I have shied away from sports and strenuous physical activity whenever possible. I was never able to climb the ropes in gym class, stopped participating in sports as soon as it was feasible, and the smell of a gymnasium still makes me uncomfortable. At the same time, I have always had a very active mental life. I learned to read at the age of three, and in school I was always one of the smartest kids in academic subjects." Thus, much of their time gets spent "collecting" and developing ideas and skills they believe will make them feel confident and prepared. They want to retain everything that they have learned and "carry it around in their heads." The problem is that while they are engrossed in this process, they are not interacting with others or even increasing many other practical and social skills. They devote more and more time to collecting and attending to their collections, less to anything related to their real needs. Thus, the challenge to Fives is to understand that they can pursue whatever questions or problems spark their imaginations and maintain relationships, take proper care of themselves, and do all of the things that are the hallmarks of a healthy life.
Some of the Compadres of the 5s are:
We have several Type 5s on the Diner I am pretty sure.
What Enneagram Personality Type is LEAST likely to be a Doomer?
Type 2s, coming in at only 1.77%
Here is the description of Type 2s:
Type Two Overview

We have named personality type Two The Helper because people of this type are either the most genuinely helpful to other people or, when they are less healthy they are the most highly invested in seeing themselves as helpful. Being generous and going out of their way for others makes Twos feel that theirs is the richest, most meaningful way to live. The love and concern they feel—and the genuine good they do—warms their hearts and makes them feel worthwhile. Twos are most interested in what they feel to be the "really, really good" things in life—love, closeness, sharing, family, and friendship. Louise is a minister who shares the joy she finds in being a Two: "I cannot imagine being another type and I would not want to be another type. I like being involved in peoples' lives. I like feeling compassionate, caring, nurturing. I like cooking and homemaking. I like having the confidence that anyone can tell me anything about themselves and I will be able to love them….I am really proud of myself and love myself for being able to be with people where they are. I really can, and do, love people, pets, and things. And I am a great cook!" When Twos are healthy and in balance, they really are loving, helpful, generous, and considerate. People are drawn to them like bees to honey. Healthy Twos warm others in the glow of their hearts. They enliven others with their appreciation and attention, helping people to see positive qualities in themselves that they had not previously recognized. In short, healthy Twos are the embodiment of "the good parent" that everyone wishes they had: someone who sees them as they are, understands them with immense compassion, helps and encourages with infinite patience, and is always willing to lend a hand—while knowing precisely how and when to let go. Healthy Twos open our hearts because theirs are already so open and they show us the way to be more deeply and richly human. Louise continues: "All of my jobs revolved around helping people. I was a teacher who wanted to be sensitive to children and help them get off to a good start. I was a religious education director in a number of parishes. I thought that if people learned about the spiritual life, they'd be happier…The most important part of my life is my spiritual life. I was in a religious community for ten years. I married a former priest, and we both have our spirituality as the basis of our life together." However, Twos' inner development may be limited by their "shadow side"—pride, self-deception, the tendency to become over-involved in the lives of others, and the tendency to manipulate others to get their own emotional needs met. Transformational work entails going into dark places in ourselves, and this very much goes against the grain of the Two's personality structure, which prefers to see itself in only the most positive, glowing terms. Perhaps the biggest obstacle facing Twos, Threes, and Fours in their inner work is having to face their underlying Center fear of worthlessness. Beneath the surface, all three types fear that they are without value in themselves, and so they must be or do something extraordinary in order to win love and acceptance from others. In the average to unhealthy Levels, Twos present a false image of being completely generous and unselfish and of not wanting any kind of pay-off for themselves, when in fact, they can have enormous expectations and unacknowledged emotional needs. Average to unhealthy Twos seek validation of their worth by obeying their superego's demands to sacrifice themselves for others. They believe they must always put others first and be loving and unselfish if they want to get love. The problem is that "putting others first" makes Twos secretly angry and resentful, feelings they work hard to repress or deny. Nevertheless, they eventually erupt in various ways, disrupting Twos' relationships and revealing the inauthenticity of many of the average to unhealthy Two's claims about themselves and the depth of their "love." But in the healthy range, the picture is completely different. My own [Don Riso's] maternal grandmother was an archetypal Two. During World War II, she was "Moms" to what seemed like half of Keisler Air Force Base in Biloxi, Mississippi, feeding the boys, allowing her home to be used as a "home away from home," giving advice and consolation to anyone lonely or fearful about going to war. Although she and her husband were not wealthy and had two teenage children of their own, she cooked extra meals for the servicemen, put them up at night, and saw to it that their uniforms had all of their buttons and were well pressed. She lived until her 80's, remembering those years as the happiest and most fulfilling of her life—probably because her healthy Two capacities were so fully and richly engaged.
Some 2 Compadres are:
There are no 2's that have been identified on the Diner AFAIK.
OK, that is the broad overview of Doomer Personalities according to the Diner Collapse Personality Profile Survey TM. 🙂
THE SURVEY REMAINS OPEN AND YOU CAN STILL TAKE IT HERE
I will update results at the end of the year if many more respondents drop in.
For those of you who have made it this far, below are the complete results from the survey to date, including answers to the text questions.
If you wish to do more Data Analysis of the results, you can download the Spreadsheet to date HERE. Please let me know if you do any further analysis of the data and what your results are.
Diner Collapse Personality Profile TM Survey Results
——————
How do you categorize yourself as you look toward the future1- Cornucopian- Believes that in the future we will have a high technological society, travel to the stars etc2- Doom Lite- Believes that we will have a crash of our current systems, but will in the future fix these problems and continue living much as we now do.3- Full Doom- Believes that our current way of living will disappear, there will be a large reduction of human population and those who remain will live a more primitive lifestyle.4- Extinction- Believes that the Human race will go Extinct in the very near term of 100 years or less.

Cornucopian

Doom Lite

Full Doom

Extinction

Standard Deviation

Responses

All Data

2


(1.71%)

20


(17.09%)

81


(69.23%)

14


(11.97%)

30.57

117
—–
My main Enneagram Type from the test was:

1

2

3

4

5

6

7

8

9

Standard Deviation

Responses

All Data

16


(14.16%)

2


(1.77%)

3


(2.65%)

12


(10.62%)

36


(31.86%)

12


(10.62%)

3


(2.65%)

10


(8.85%)

19


(16.81%)

10.02

113
—–
My Wing Enneagram Type from the test was:

1

2

3

4

5

6

7

8

9

Standard Deviation

Responses

All Data

12


(11.32%)

5


(4.72%)

2


(1.89%)

10


(9.43%)

26


(24.53%)

23


(21.7%)

9


(8.49%)

7


(6.6%)

12


(11.32%)

7.48

106
—–
Optional: Other possible types for my Enneagram were (list like 3W2, 4W1, etc)

Text Responses

5w6
Type 1 – 8.3 Type 6 – 7.7 Type 9 – 6.7 Type 7 – 6.7 Type 2 – 6.4 Type 8 – 6.4 Type 3 – 5.7 Wing 1w9 – 11.7 Wing 1w2 – 11.5 Wing 6w7 – 11.1 Wing 9w1 – 10.9 Wing 7w6 – 10.6 Wing 2w1 – 10.6 Wing 7w8 – 9.9 Wing 9w8 – 9.9 Wing 8w9 – 9.8 Wing 8w7 – 9.8 Wing 2w3 – 9.3 Wing 6w5 – 8.9 Wing 3w2 – 8.9 Wing 3w4 – 6.1
6w5
5w6
5w4, 6w5
1w9
5w6
4W5
1w2, 2w1, 6w5
5W6
9w8,9w1
5w4
9w1 9w8 4w3 4w5 3w4 5w4 5w6
1w9 or 5w4
1w9
5W4
6w7
from the report: "Taking wings into account, you seem to be a 5w4 or 9w8 or 9w1. It is not clear from these test results which Enneagram type and wing you are."
5W4
4w1
5w6 or 9w8 or 9w1
1w9
5W1
7W8
6w5
1w2 or 2w1
SP
5w6
1w2
9w8
4W3
2w1,1w9,2w3
5w6
5w6
5W4, 5W4, 6W5
4w5
6SX, 9SX
1w2
3w4 or 8w7
5W6, 6W5
—–
Do you feel the Enneagram Test properly categorized your Personality?

Yes

No

Other

Standard Deviation

Responses

All Data

80


(70.8%)

10


(8.85%)

23


(20.35%)

30.4

113
—–
Do you have any thoughts to add on Enneagram Testing?

Text Responses

Briggs-Meyers is wayyy better
Not familiar with this test.
Too centered on humanity and humans per se.
no
Mostly right
Nope.
Pretty nice touch. Yes. I am aware that I come too strong and that I bring too much of cognitive dissonance to pple with mainstream life choices. That is one of reasons I have chosen to live secluded live on the borders of the society. Everybody needs his own time to figure what I figured or find something completely new. I myself found, that I do not have heart to live my free minimum expense livestyle in the midst of car-feeding career dependant mortgage slaves. Both sides suffered for no positive outcome by my mere presence.
4w1
Leave me the fuck alone.
Not sure what it all means.
No
My ideas are closer to Charles Eisenstein's than any I see here.
I took the simplified test first and I got 4w5. I took the extended test second and got 5w6. I feel pretty strongly that the first, simplified test was the more accurate.
not really sure if 1w2 or 1w9, could be either
It's a dynamic system that accounts for whether someone is mentally and emotionally healthy (or not), so it gives a lot of useful feedback to someone trying to do personal growth work for him/herself.
I feel I am more of an 8w2 than 8w9 as I don't fear interaction, confrontation or any of the other things 9's do.
Very accurate and repeatable for me.
—–
My most likely Briggs-Meyers Personality type is:

ENFJ

ENFP

ENTJ

ENTP

ESFJ

ESFP

ESTJ

ESTP

INFJ

INFP

INTJ

INTP

ISFJ

ISFP

ISTP

Standard Deviation

Responses

All Data

4


(3.81%)

1


(0.95%)

5


(4.76%)

2


(1.9%)

0


(0%)

1


(0.95%)

1


(0.95%)

0


(0%)

15


(14.29%)

14


(13.33%)

27


(25.71%)

22


(20.95%)

7


(6.67%)

2


(1.9%)

4


(3.81%)

8.23

105
—–
My next most likely Briggs-Meyers Personality type is:

ENFJ

ENFP

ENTJ

ENTP

ESFJ

ESFP

ESTJ

ESTP

INFJ

INFP

INTJ

INTP

ISFJ

ISFP

ISTP

Standard Deviation

Responses

All Data

4


(4.35%)

2


(2.17%)

4


(4.35%)

5


(5.43%)

0


(0%)

1


(1.09%)

0


(0%)

0


(0%)

16


(17.39%)

11


(11.96%)

21


(22.83%)

14


(15.22%)

5


(5.43%)

5


(5.43%)

4


(4.35%)

6.21

92
—–
Optional: Other possible Briggs-Meyers types listed for me were (list like ESFJ, INFP etc)

Text Responses

istp
INFJ
I have taken the test several times in the past, intj only
did not take
no info without paying
ISFJ,ISFP
Just got INP listed
my types change over time.
I didn't sign up, so all I got was hints (the above are guesses based on other research)
Don't know
istj
I was shown as 89% INTJ
Intuitive, introvert and feeling. Don't recall the rest.
ISJT
didn't give a second choice
ISTJ
INFJ
istj
Half of them are possible choices. Most results of 3 categories came out borderling.
—–
Do you feel the Briggs-Meyers test properly categorized your Personality type?

Yes

No

Other

Standard Deviation

Responses

All Data

86


(76.79%)

8


(7.14%)

18


(16.07%)

34.65

112
—–
Do you have any other thoughts about the Briggs-Meyer Personality test?

Text Responses

Didn't get results…as it asked for $29. I marked INFJ for the hell of it.
Too centered on humans and humanity.
This test did not give results without first paying a $29 fee. Therefore, took the test but didn't receive the results.
Declined to register or give them money. So I just guessed
The test was improved by David Keirsey
Tests are more certain than I am
Why did you link to a test that costs money. No one will spend money to take a test just to give you the answer. Search for free tests or build your own.
no free, used sample to get type = seemed close enough
I have gotten a different type result in the past. I think i have changed in my habits a little over time.
These shift frequently over time, probably moreso than personal outlook on the future.
Ad Q.12: I can make very little difference for my individual future but all the necessary difference in my own perception of things. And it happens, that I truly believe two things.: First, from what Ive seen over the world we are hardly the first industrial civilization in our species history. Second at best. The history we wrote for us is either an error or hoax. Second – collapse of current industrial civilization … seen from far enough… appears to be a correct thing. We took too much space. Thats wrong. Its against Live. Luckily and eventually, even when we somehow manage to go extinct, Earth will be Garden of Eden again. It is given. And I am quite fine with that. Personally I do not see that much difference between me, enjoying lazy afternoon sun in a garden, and for example a cat. They are the very same thing we are minus human collection of abstract thought patterns, notions and such. I believe this quite firmly, since I managed to almost die on Lyme disease last year. And as I was sinking and losing myself on a bed in my house for a day or two I lost this human part. And I was like them. Unable to think, to name stuff, to make much of plans. And it was still Me in the bed. Me as always having this usual strange sort of fun. It may be of some interest to you, that the man who had teache me most about collapse, was by some strange way of accident Alan Watts.
Very applicable.
Very accurate descriptions.
It only told me I am IS (complete result is 29 bucks), the rest of the answer I made up.
Often forces a choice between 2 options that can be held simultaneously and are not mutually exclusive. A poor test.
Fuck that noise.
I did several, years ago; didn't do this specific one. Have studied Myers-Briggs (you have the name backward, for some reason) for decades.
Truly amazing result
http://skeptoid.com/episodes/4221
It's a more static test that gives you a personality snapshot for the moment in time when you take it, but you may score differently at different times.
The Meyer-Briggs test has little scientific backing, especially the categorization into 16 distinct personality types. Other tests like ones for the Big Five personality traits are better supported by empirical data and acknowledge a wider range of personality facets. However, these tests have their own problems as well.
This test does not do well for me in terms of defining my personality. With 3 of categories borderline, I could pick any of 8 possibilities.
—–
Choose as many of these as applies to you

I think about collapse issues daily

I rarely worry about collapse

It is important to be Hopeful in the face of collapse

Giving up Hope is the best way to deal with collapse

My concerns about collapse affect my choices

My concerns about collapse do not affect my choices

Most people I talk to are unaware of collapse

Most people I talk to are aware of collapse

I can make a difference for my future

I cannot make a difference, doom is inevitable

Responses

All Data

102


(85.71%)

11


(9.24%)

43


(36.13%)

27


(22.69%)

89


(74.79%)

11


(9.24%)

104


(87.39%)

7


(5.88%)

64


(53.78%)

39


(32.77%)

119
—–
My attitudes regarding collapse has affected my relationships with others

Yes

No

Other

Standard Deviation

Responses

All Data

73


(61.86%)

43


(36.44%)

2


(1.69%)

29.1

118
—–
My IQ based on the online free test is

<90

90-99

100-109

110-119

120-129

130-139

140-149

150+

Standard Deviation

Responses

All Data

0


(0%)

0


(0%)

1


(0.94%)

9


(8.49%)

17


(16.04%)

44


(41.51%)

31


(29.25%)

4


(3.77%)

15.33

106
—–
I feel the online IQ test gave a more or less accurate (within 10 points) assesment of my actual IQ

Yes

No

IQ tests are not a valid measure of intelligence

Standard Deviation

Responses

All Data

61


(58.65%)

7


(6.73%)

36


(34.62%)

22.07

104
—–
My maximum formal education level is:

High School

Associates Degree

Bachelors Degree

Masters Degree

Doctoral Degree

Other

Standard Deviation

Responses

All Data

16


(13.45%)

10


(8.4%)

39


(32.77%)

35


(29.41%)

8


(6.72%)

11


(9.24%)

12.43

119
—–
My Gender is

Male

Female

Other

Standard Deviation

Responses

All Data

100


(84.03%)

19


(15.97%)

0


(0%)

43.36

119
—–
My Race/Ethnicity is:

White

Black

Brown

Red

Yellow

Albino

Standard Deviation

Responses

All Data

107


(91.45%)

3


(2.56%)

2


(1.71%)

2


(1.71%)

3


(2.56%)

0


(0%)

39.14

117
—–
The continent/region I live on most of the time is:

North America

Central America

South America

Western Europe

Eastern Europe

North Africa

Sub-Saharan Africa

Middle East

North Asia

Southeast Asia

Australia/New Zealand

Standard Deviation

Responses

All Data

83


(69.75%)

0


(0%)

1


(0.84%)

21


(17.65%)

2


(1.68%)

0


(0%)

1


(0.84%)

1


(0.84%)

2


(1.68%)

2


(1.68%)

6


(5.04%)

23.54

119
—–
My age is

<18

18-24

25-29

30-39

40-49

50-59

60-69

70-79

80+

Standard Deviation

Responses

All Data

0


(0%)

6


(5.04%)

15


(12.61%)

23


(19.33%)

20


(16.81%)

28


(23.53%)

24


(20.17%)

3


(2.52%)

0


(0%)

10.46

119
—–