From the keyboard of Surly1
Follow us on Twitter @doomstead666
Like us on Facebook
Originally published on the Doomstead Diner on December 16, 2018
"If you can't even get a fawning opportunist like Chris Christie to be your chief of staff, you're in serious trouble."
― David Lazarus, Twitter
---
'Dirty deeds': Ex-Trump lawyer Cohen sentenced to 3 years in prison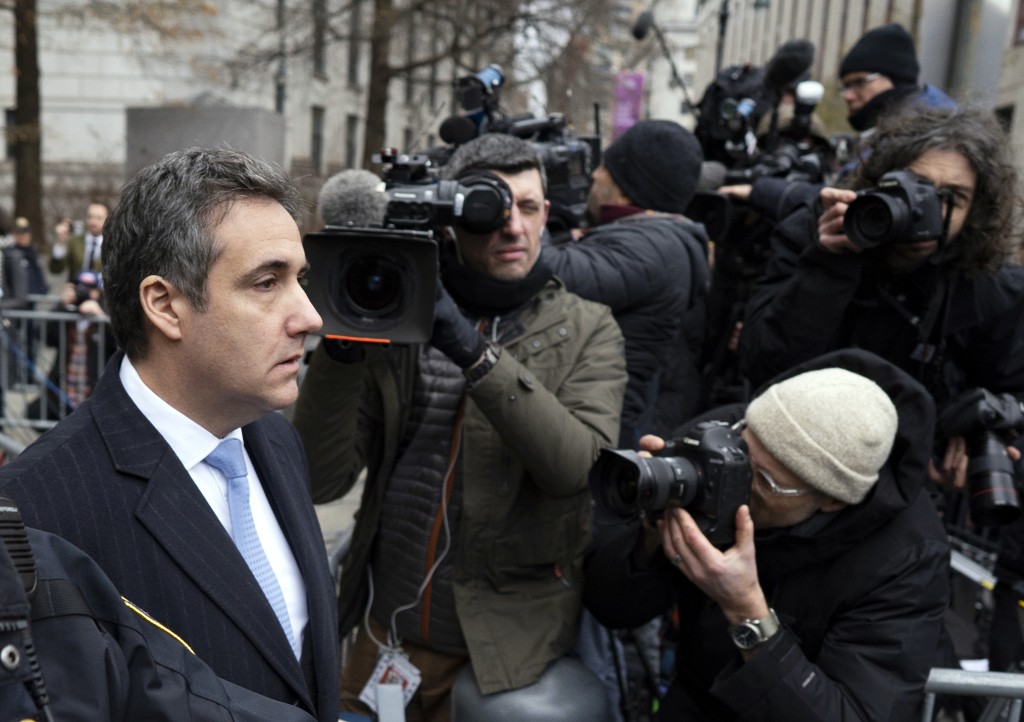 Michael Cohen, President Donald Trump's one-time fixer, was sentenced Wednesday to three years in prison for crimes that included arranging the payment of hush money to conceal his boss' alleged sexual affairs, telling a judge that he agreed time and again to cover up Trump's "dirty deeds" out of "blind loyalty.
From all accounts, said dirty deeds did NOT come dirt cheap.
Cohen will continue cooperating with prosecutors, and is also prepared to tell "all he knows" to Congress if asked. One of the other outcomes from this pleading is that the inhabitant of the White House has a new nickname: "Individual 1."
At the sentencing, defense attorney Guy Petrillo pleaded for leniency for Cohen. Cohen cooperated with the Special Counsel so extravagantly that Mueller recommended leniency. Yet Cohen did not cooperate so completely with the Southern District of New York, the charges from which included the taxi medallion case. It seems clear that Cohen's reluctance to come clean stems from a reluctance to have members of his family disappear and be buried in New Jersey.
It also came out this week that Individual 1, Cohen and David Pecker, publisher of the National Enquirer, met to discuss payments to two women in 2015, according to multiple reports.
The revelation ― first made public last month by The Wall Street Journal and corroborated this week ― came after the Enquirer's parent company, American Media Inc., signed a non-prosecution deal with federal prosecutors in which it admitted to paying off former Playboy model Karen McDougal in 2016 in order to protect Trump's chances in the presidential election.
Cohen himself has now admitted, with respect to both payments, he acted "in coordination with and at the direction of Individual-1." Thus the claims potentially implicate Trump in illegality, although it's unclear how the Justice Department would proceed if investigators found Individual 1 had, in fact, broken the law. The agency has previously held that a president cannot be indicted while in office.
At this point, as The Washington Post reports, mounting legal threats surround Individual 1 as nearly every organization he has led is under investigation.
Trump's private company is contending with civil suits digging into its business with foreign governments and with looming state inquiries into its tax practices.

Trump's 2016 campaign is under scrutiny by special counsel Robert S. Mueller III, whose investigation into Russian interference has already led to guilty pleas by his campaign chairman and four advisers.

Trump's inaugural committee has been probed by Mueller for illegal foreign donations, a topic that the incoming House Intelligence Committee chairman plans to further investigate next year.

Trump's charity is locked in an ongoing suit with New York state, which has accused the foundation of "persistently illegal conduct."
One immediate impact is on Individual 1, who is accustomed to dictating the news cycle with his cell phone, but who now has to play defense and spend his political capital — and that of his party. The Post reported that last week,
…weary Senate Republicans scrambled away from reporters to avoid questions about Trump and his longtime fixer Michael Cohen — and Cohen's courtroom assertion that he had been covering up Trump's "dirty deeds" when he paid off two women who claimed they had affairs with the president before he was elected.
Note the one about Trump's inaugural committee reportedly being under federal criminal investigation. It isn't known if Trump is implicated in that investigation. but Ivanka and Mike Pence are seriously implicated in it. In fact, the stink about the inauguration committee may well be why Chris Christie was unavailable as Chief of Staff. See the story below.
For a detailed look at eight takeaways from the Mueller and SDNY filings against Michael Cohen, see the Slate article here.
---
Trump Hits a Wall

In a meting with Nancy Pelosi and Chuck Schumer on Tuesday to negotiate a way around a scheduled government shutdown, the Orange one affirmed that he's 'proud' to shut down government in the name of border security.
Trump clashed sharply with Pelosi and Schumer in a remarkable Oval Office meeting before reporters Tuesday, in which Trump ambushed his guests with the fact that it would be televised for all to see. Apparently he had a spectacle planned. The antagonists traded barbs over Trump's border wall during what was supposed to be a private negotiating session.
Pelosi coolly explained that he didn't have the votes in the waning days of republican control, and urged him to try. Presiding over the demise of the wall would be a karmically-just manner for Speaker Paul Ryan, once a friend of immigrants, to slither out of office. Clearly frustrated, the Master of the Deal immediately pissed away his political leverage by saying he would be "proud" to preside over a partial shutdown if that's what it takes to get his campaign promise fulfilled. Brilliant.
Wasting time and taxpayer money over a piece of absurdist art beloved by MAGAts for a completely unnecessary shutdown does nothing so much as signal Individual 1's contempt for the complicated process of governing.
---
Christie passes, Mick Mulvaney takes Chief of Staff job.

Chris Christie's decision to take himself out of consideration left Twitter users speculating as to why.
The former New Jersey governor, historically unpopular when he left office in January, had chaired Trump's transition team after the 2016 election and was once thought to be angling for a spot in 45's Cabinet. Now not so much.
Christie murmured the usual syllables about spending more time with family, but the truth may have much more to do with how badly Christie got burned by Trump concerning the transition committee.
The indefatigable Bill Palmer of the Palmer Report brought this story to light:
Donald Trump originally put Chris Christie in charge of the transition, but then quickly fired him and replaced him with Mike Pence. Various supposed explanations have surfaced for this, but none of them have ever been confirmed. Here's the thing. According to the Michael Lewis book The Fifth Risk, as unearthed by Daily Kos, it turns out Trump's decision to fire Christie had something to do with Trump's desire to pocket the money. Check out this rather profane passage from the book:

Trump was apoplectic, actually yelling, You're stealing my money! You're stealing my fucking money! What the fuck is this?? Seeing Bannon, Trump turned on him and screamed, Why are you letting him steal my fucking money? Bannon and Christie together set out to explain to Trump federal law. […] To which Trump replied, Fuck the law. I don't give a fuck about the law. I want my fucking money. Bannon and Christie tried to explain that Trump couldn't have both his money and a transition.
Once Trump won the election, he effectively fired Christie because Christie wouldn't let him simply steal the money, fired the entire transition staff, and then installed Mike Pence, then allegedly proceeded to steal the money. Did Trump think Pence was too stupid to realize the money was being stolen? Or did Trump put Pence in charge because he knew Pence would help him steal the money?
---
The Weekly Standard To Fold After 23 Years



Neocon news outlet The Weekly Standard is shutting down after 23 years of circulation. The outlet, which often published influential conservative opinion pieces, had been searching for a new owner, reports CNN, but its publisher told staffers Friday that it was no longer interested in seeking ways to revamp the company.
Founded by Bill Kristol and Fred Barnes in 1995, The Weekly Standard dependably sung the tune for the Cheney-Bush cabal, but in recent years had been consistently critical of Trump, and increasingly out-of-step with a Republican party, whose racist and nationalist leanings have found their apotheosis in Trump.
The paper's most lasting legacy may be its role in cheerleading the trillion-dollar boondoggle Iraq War, as its editors wrote in the months after 9/11 that they hoped "the president will courageously decide to destroy Saddam's regime." Kristol, meanwhile, has remade himself as a Never-Trumper and finds a home on cable news, occupying a chair that might have otherwise been occupied by a liberal voice. And his presence enables the mainstream media to maintain their pious "both sides" pose.
---
Short takes

The news from Washington, and especially about Trump, is so constant and toxic that it consumes a disproportionate portion of our attention. Nevertheless, dozens of other important stories occur each week. Below is a selection of important stories that moved this week that also deserve your attention. For a daily selection of stories filtered through a view of collapse, check out the Doomstead Diner Daily each day.
Don't sleep on this last article. There are some disturbing observations. DHS warns that the electric grid is now a "prime target" of terrorists, and says Americans need to be prepared for a power outage of up to six months.
"People no longer keep enough essentials within their homes, reducing their ability to sustain themselves during an extended, prolonged outage. We need to improve individual preparedness."
The report, titled Surviving a Catastrophic Power Outage", warns that an attack would likely come with little to no notice and could cause complete chaos for at least a half a year,
"Long-duration, lasting several weeks to months (at least 2 months, but more likely 6 months or more) due to physical destruction to equipment, such as transformers or transmission lines; or the severity of the event resulting in limited workforce to repair damage, or inability to create or transport replacement parts.
Food for thought. Solar panels and/or portable generators for Christmas?
---
Surly1 is an administrator and contributing author to Doomstead Diner. He is the author of numerous rants, screeds and spittle-flecked invective here and elsewhere. He lives a quiet domestic existence in Southeastern Virginia with his wife Contrary. Descended from a long line of people to whom one could never tell anything, all opinions are his and his alone, because he paid full retail for everything he has managed to learn.