Off the keyboard of Jim Quinn
Follow us on Twitter @doomstead666
Friend us on Facebook
Published on The Burning Platform on November 17, 2013
Discuss this article at the Economics Table inside the Diner
Reports like the recent one from SNL Financial – Branch Networks Continue to Shrink really get my goat. As I travel the increasingly vacant highways of Montgomery County, PA I'm keenly aware of my surroundings. If I were a foreigner visiting for the first time, I'd think Space Available was the hot new retailer in the country. I've detailed the slow disintegration of our suburban sprawl paradise in previous articles:
Are you Seeing What I'm Seeing?
More than 30 Blocks of Grey and Decay
Extend & Pretend Coming to an End
Thousands of Space Available signs dot the bleak landscape, as office buildings, strip malls, and industrial complexes wither and die. Gas stations are shuttered on a daily basis as the ongoing depression results in less miles being driven by unemployed and underemployed suburbanites. At least the Chinese "Space Available" sign manufacturers are doing well. The only buildings doing brisk business are the food banks and homeless shelters.
The sad part is that I live in a relatively prosperous county with a low level of SNAP recipients and primarily occupied by a white collar college educated populace. If the clear downward spiral in my upper middle class county is an indication of our country's path, the less well-off counties across the land must be in deep trouble.
While hundreds of thousands of square feet of retail, restaurant, office and industrial space have been vacated in the last six years, the only entities expanding in my area have been banks, drug stores, municipal buildings and healthcare facilities. I have been flabbergasted by what I've viewed as a complete waste of resources to create facilities that weren't needed and wouldn't be utilized. I have seven drug stores within five miles of my house. I have ten bank branches within five miles of my house. While two perfectly fine older hospitals in Norristown were abandoned, a brand new $300 million super deluxe, glass encased Einstein Hospital palace was built three miles away by a barely above junk bond status non-profit institution. None of this makes sense in a contracting economy.
This is another classic case of mal-investment spurred by the Federal Reserve easy money policies, zero interest rates, and QEternity. Cheap money leads to bad investments. I'm all for competition between drug store chains and banks. CVS, Walgreens, and Rite Aid are the three big chains in the country. I have my pick of multiple stores close to my house. There are clearly too many stores competing for a dwindling number of customers, with a dwindling supply of disposable income. The only reason Rite Aid is still in the picture is the easy money policies of the Federal Reserve. They have been teetering on the verge of bankruptcy for the last five years, but continue to get cheap financing from the Wall Street cabal, who would rather pretend they will get paid, than write-off the bad debt. Who in their right mind would continue to lend money to a company with $6 billion in debt, NEGATIVE $2.3 billion of equity, and losses exceeding $2 billion since 2008? They are the poster child for badly run businesses that over expanded, took on too much debt and should be liquidated. There are over 4,600 zombie Rite Aid stores littering the countryside waiting to be put out of their misery.
Rite Aid will never repay the $6 billion of debt. They know it. Their auditors know it. Their Wall Street lenders know it. The Federal Reserve Bank regulators know it. Anyone with a functioning brain knows it. Tune in to CNBC for those who are paid to keep clueless investors from knowing it. Interest rates that actually reflected risk and weren't manipulated to an artificially low level by the Federal Reserve would make financing for a dog like Rite Aid a non-starter. Creative destruction would be allowed to work its magic, with winners separated from losers. Instead Rite Aid continues as a zombie entity, barely surviving for now. This exact scenario applies to J.C. Penney, RadioShack, Sears and a myriad of other dead retailers walking. Rather than suffering the consequences of appalling management judgment, dreadful strategic decisions, and reckless financial gambles, they have been allowed to remain on life support compliments of Bernanke, his Wall Street chiefs, and the American taxpayer.
In a truly free, non-manipulated market the weak would be culled, new dynamic competitors would fill the void, and consumers would benefit.  Extending debt payment schedules of zombie entities and pretending you will get paid has been the mantra of the insolvent zombie Wall Street banks since 2009. The Federal Reserve is responsible for zombifying the entire country. And it wasn't a mistake. It was a choice made by those in power in order to maintain the status quo. The fateful day in March 2009 when the pencil pushing lightweight accountants at the FASB rescinded mark to market accounting rules gave birth to zombie nation. And not coincidently, marked the bottom for the stock market. Wall Street banks were free to fabricate their earnings, pretend they didn't have hundreds of billions in bad loans on their books, and extend the terms of commercial real estate loans that were in default. With their taxpayer funded TARP ransom, ability to borrow at 0% from Uncle Ben, and the $3 trillion of QE cocaine snorted up their noses in the last four years, the mal-investment, fraud, and idiocy of the Wall Street drug addicts has reached a crescendo.
The mal-investment by zombie drug store chains has only been exceeded by the foolish, egocentric, insane bank branch expansion by the Too Big To Trust Wall Street CEOs. In the last ten years dozens of bank branches have been built in the vicinity of my house and across the state of Pennsylvania. These gleaming glass TARP palaces are on virtually every other street corner across Montgomery County. Stunning, glittery, colorful branches stuffed with bank employees pretending to loan money to non-existent customers. They have become nothing but a high priced marketing billboard with an ATM attached. By 2010, the number of bank branches in this country had reached almost 100,000. The vast majority are run by the usual insolvent suspects:
Wells Fargo – 6,500
J.P. Morgan – 6,000
Bank of America – 5,700
The top ten biggest banks, in addition to holding the vast majority of deposits, mortgages and credit card accounts, operate 33% of all the bank branches in the country. The very same banks that have paid out $66 billion in criminal settlement charges over the last three years and have incurred $103 billion of legal fees to defend themselves against the thousands of actions brought by victims for their criminal misdeeds, decided it was a wise decision to open new bank branches from 2007 through 2010. Only an Ivy League educated MBA could possibly think this was a good idea.
It was almost as if the CEO's of the biggest Wall Street banks didn't care about pissing away the $2.5 million to build the average 3,500 square foot bank branch, which would require $30 million of deposits to breakeven. This level of deposits isn't easy to achieve when your customers are unemployed due to your bank destroying the American economy, broke due to their real household income declining by 10% over the past fourteen years, and your bank paying them .15% on their deposits. It also probably doesn't help when you charge them $3 every time they withdraw their own money from your bank and you charge them $25 when their bank balance falls below $1,000 because they just got laid off from Merck on Christmas Eve. It is now estimated that one-third of all bank branches in the country lose money. Who can afford to run something that consistently losses money, other than our government? Wall Street bankers can when the taxpayer is footing the bill and Bernanke/Yellen subsidizes their mal-investment by lending to them at 0%, providing them $2.5 billion per day of QE play money, and paying them $5 billion per year in interest to park the excess reserves that aren't getting leant to small businesses and consumers at their thousands of gleaming bank branches.
Hasn't one of the thousands of highly educated MBA vice presidents occupying offices at the Too Big To Control Wall Street banks explained to Stumpf, Dimon and Monyihan that bricks and mortar are dead? A new invention called the internet has made in-person banking virtually obsolete. Why does anyone need to go into a bank branch in this electronic age? I've been in my credit union branch five times in the last ten years, twice for a refinance closing on my home and a couple times to get a certified check. With ATM machines, direct deposit and on-line bill paying, why would the country need 100,000 physical bank locations? I pay 90% of my bills on-line. If I need cash, I hit the ATM at Wawa, where there are no ATM fees (my credit union doesn't charge me to get my own money). The only people who go into bank branches on a regular basis are old fogeys that don't trust that new-fangled internet. The older generations are dying out and the millennial generation has no need for bank branches. Their iGadgets function as their bank connection. Plus, since they don't have jobs or money, a bank account at the local bank branch of J.P. Morgan seems a bit trite.
The writing had been on the wall for a long time, but the reckless bank executives continued to build branches in an ego driven desire to outdo their equally irresponsible competitor bank executives. Now the race is on to see which banks can close the most branches. Bank consultant Jim Adkins succinctly sums up the pure idiocy of physical bank branches:
"There's almost nobody in the branches. You could shoot water balloons all over the place and not hit anybody."
It seems my humble state of Pennsylvania leads the pack in closing branches in the past year, with 149 abandoned and only 43 opened. Only two states in the entire country had more branch openings than closings.
After shuttering 2,267 branches in 2012, the industry is on track to closing another 2,500 in 2013. Shockingly, the leader of the Wall Street zombie apocalypse, Bank of America, led the pack in bank branch closings with 194 in the last year. Staying true to his hubristic arrogance, Jamie Dimon actually opened 62 more branches than he closed in the last year, despite his upstanding institution having to pay tens of billions in fines, settlements and pay-offs for their criminal transgressions.
There are now 93,000 bank branches remaining in this country, and one third of them don't generate a profit. That percentage will grow as the older generations rapidly die out and are replaced by the techno-narcissists who never leave their family rooms.  Online banking already accounts for 53% of banking transactions, compared with 14% for in-branch visits. Younger bank customers increasingly prefer online and mobile banking, as advancing technology enables them to make remote deposits, shop for loans and manage accounts more efficiently from their desktops or smartphones. This trend will only accelerate in the years to come.
Banking industry profits reached a record level of $141 billion in 2012 as more vacancy signs appeared on Main Street. Now that the Wall Street cabal have syphoned every ounce of blood from their customers/victims through ATM fees, overdraft fees, minimum balance fees, credit card fees, late payment fees, and paying no interest on deposits, they are forced to focus on the $300,000 average loss per bank branch. QE and ZIRP might not last forever. Yeah right. AlixPartners, a New York consulting firm, expects the number of bank branches to drop to 80,000 over the next decade. They are wrong. They have failed to take into account the lemming like behavior of Wall Street banks. As their accounting gimmicks to generate fake profits dissipate, the increasingly desperate insolvent zombie banks will rapidly vacate their prime corner locations in droves. With approximately 30,000 locations already generating losses, the Wall Street MBAs will be closing branches quicker than you can say "mortgage fraud". There will be less than 70,000 branches within the next five years. That means another 20,000 to 30,000 Space Available signs going up on Main Street. That means another 200,000 to 300,000 neighbors without jobs. But don't worry about Jamie Dimon and the rest of the Wall Street bankers. They'll be just fine. In addition to being endlessly fed by the Fed, they'll get creative and charge their customers a new bank branch access fee of $50 for the privilege of entering one of their few remaining outlets. By now we should know how cash flows to Main Street in this corporate fascist paradise.
Do your part to starve the beast. Move your bank accounts to a local credit union. Don't support criminals.
Off the keyboard of Jim Quinn
Published on The Burning Platform on September 10, 2013
Discuss this article at the Geopolitics Table inside the Diner
In the first three parts (Part 1, Part 2, Part 3) of this disheartening look back at a century of central banking, income taxing, military warring, energy depleting and political corrupting, I made a case for why we are in the midst of a financial, commercial, political, social and cultural collapse. In this final installment I'll give my best estimate as to what happens next and it has a 100% probability of being wrong. There are so many variables involved that it is impossible to predict the exact path to our world's end. Many people don't want to hear about the intractable issues or the true reasons for our predicament. They want easy button solutions. They want someone or something to fix their problems. They pray for a technological miracle to save them from decades of irrational myopic decisions. As the domino-like collapse worsens, the feeble minded populace becomes more susceptible to the false promises of tyrants and psychopaths. There are a myriad of thugs, criminals, and autocrats in positions of power who are willing to exploit any means necessary to retain their wealth, power and control. The revelations of governmental malfeasance, un-Constitutional mass espionage of all citizens, and expansion of the Orwellian welfare/warfare surveillance state, from patriots like Julian Assange, Bradley Manning and Edward Snowden has proven beyond a doubt the corrupt establishment are zealously anxious to discard and stomp on the U.S. Constitution in their desire for authoritarian control over our society.
Anyone who denies we are in the midst of an ongoing Crisis that will lead to a collapse of the system as we know it is either a card carrying member of the corrupt establishment, dependent upon the oligarchs for their living, or just one of the willfully ignorant ostriches who choose to put their heads in the sand and hum the Star Spangled Banner as they choose obliviousness to awareness. Thinking is hard. Feeling and believing a storyline is easy.
A moral society must be inhabited by an informed, educated, aware populace and   governed by honorable leaders who oversee based upon the nation's founding principles of liberty, freedom and limited government of, by and for the people. A moral society requires trust, honor, property rights, simple just laws, and the freedom to succeed or fail on your own merits. There is one major problem in creating a true moral society where liberty, freedom, trust, honor and free markets are cherished – human beings. We are a deeply flawed species who are prone to falling prey to the depravities of lust, gluttony, greed, sloth, wrath, envy and pride. Men have always been captivated by the false idols of dominion, power and wealth. The foibles of human nature haven't changed over the course of history. This is why we have 80 to 100 year cycles driven by the same human strengths and shortcomings revealed throughout recorded history.
Empires rise and fall due to the humanness of their leaders and citizens. The great American Empire is no different. It was created a mere 224 years ago by courageous patriots who risked their wealth and their lives to create a Republic founded upon the principles of freedom, liberty, and the pursuit of happiness; took a dreadful wrong turn in 1913 with the creation of a privately held central bank to control its currency and introduction of an income tax; devolved into an empire after World War II, setting it on a course towards bankruptcy; sealed its fate in 1971 by unleashing power hungry psychopathic elitists to manipulate the monetary and fiscal policies of the nation to enrich themselves; and has now entered the final frenzied phase of pillaging, currency debasement, war mongering, and ransacking of civil liberties. Despite the frantic efforts of the financial elite, their politician puppets, and their media propaganda outlets, collapse of this aristocracy of the moneyed is a mathematical certainty. Faith in the system is rapidly diminishing, as the issuance of debt to create the appearance of growth has reached the point of diminishing returns.
Increase in Real GDP per Dollar of Incremental Debt
"At the root of America's economic crisis lies a moral crisis: the decline of civic virtue among America's political and economic elite. A society of markets, laws, and elections is not enough if the rich and powerful fail to behave with respect, honesty, and compassion toward the rest of society and toward the world." – Jeffrey Sachs
Five Stages of Collapse
The day of reckoning for a century of putting our faith in the wrong people with wrong ideas and evil intentions is upon us. Dmitry Orlov provides a blueprint for the collapse in his book – The Five Stages of Collapse – Survivors' Toolkit:
Stage 1: Financial Collapse. Faith in "business as usual" is lost. The future is no longer assumed to resemble the past in any way that allows risk to be assessed and financial assets to be guaranteed. Financial institutions become insolvent; savings wiped out and access to capital is lost.
Stage 2: Commercial Collapse. Faith that "the market shall provide" is lost. Money is devalued and/or becomes scarce, commodities are hoarded, import and retail chains break down and widespread shortages of survival necessities become the norm.
Stage 3: Political Collapse. Faith that "the government will take care of you" is lost. As official attempts to mitigate widespread loss of access to commercial sources of survival necessities fail to make a difference, the political establishment loses legitimacy and relevance.
Stage 4: Social Collapse. Faith that "your people will take care of you" is lost, as social institutions, be they charities or other groups that rush to fill the power vacuum, run out of resources or fail through internal conflict.
Stage 5: Cultural Collapse. Faith in the goodness of humanity is lost. People lose their capacity for "kindness, generosity, consideration, affection, honesty, hospitality, compassion, charity." Families disband and compete as individuals for scarce resources. The new motto becomes "May you die today so that I can die tomorrow."
The collapse is occurring in fits and starts. The stages of collapse do not necessarily have to occur in order.  You can recognize various elements of the first three stages in the United States today. Stage 1 commenced in September 2008 when this Crisis period was catalyzed by the disintegration of the worldwide financial system caused by Wall Street intentionally creating the largest control fraud in world history, with easy money provided by Greenspan/Bernanke, fraudulent mortgage products, fake appraisals, bribing rating agencies to provide AAA ratings to derivatives filled with feces, and having their puppets in the media and political arena provide the propaganda to herd the sheep into the slaughterhouse.
The American people neglected their civic duty to elect leaders who would tell them the truth and represent current and future generations equally. They have neglected the increasing lawlessness of Wall Street, K Street and the corporate suite. The American people have lived in denial about their responsibility for their own financial well-being, willingly delegating it to a government of math challenged politicians who promised trillions more than they could ever deliver. The American people have delayed tackling the dire issues confronting our nation, including: $200 trillion of unfunded liabilities, the military industrial complex creating wars across the globe, militarization of our local police forces, domestic spying on every citizen, allowing mega-corporations and the financial elite to turn our nation from savings based production to debt based consumption, and allowing corporations, the military industrial complex, Wall Street, and shadowy billionaires to pick and control our elected officials. The civic fabric of the country is being torn at the points of extreme vulnerability.
"At home and abroad, these events will reflect the tearing of the civic fabric at points of extreme vulnerability – problem areas where, during the Unraveling, America will have neglected, denied, or delayed needed action. Anger at "mistakes we made" will translate into calls for action, regardless of the heightened public risk. It is unlikely that the catalyst will worsen into a full-fledged catastrophe, since the nation will probably find a way to avert the initial danger and stabilize the situation for a while. Yet even if dire consequences are temporarily averted, America will have entered the Fourth Turning."  – The Fourth Turning – Strauss & Howe – 1997
Our Brave New World controllers (bankers, politicians, corporate titans, media moguls, shadowy billionaires) were able to avert a full-fledged catastrophe in the fall of 2008 and spring of 2009 which would have put an end to their reign of destruction. To accept the rightful consequences of their foul actions was intolerable to these obscenely wealthy, despicable men. Their loathsome and vile solutions to a crisis they created have done nothing to relieve the pain and suffering of the average person, while further enriching them, as they continue to gorge on the dying carcass of a once thriving nation. Despite overwhelming public outrage, Congress did as they were instructed by their Wall Street masters and handed over $700 billion of taxpayer funds into Wall Street vaults, under the false threat of systematic collapse. The $800 billion of pork stimulus was injected directly into the veins of corporate campaign contributors. The $3 billion Cash for Clunkers scheme resulted in pumping taxpayer dollars into the government owned union car companies, while driving up the prices of used cars and hurting lower income folks.
Ben Bernanke has peddled the false paradigm of quantitative easing (code for printing money and airlifting it to Wall Street) as benefitting Main Street. Nothing could be further from the truth. He bought $1.3 trillion of toxic mortgage backed securities from his Wall Street owners. He has pumped a total of $2.8 trillion into the hands of Wall Street since September 2008, and is singlehandedly generating $5 billion of risk free profits for these deadbeats by paying them .25% on their reserves. Drug dealer Ben continues to pump $2.8 billion per day into the veins of Wall Street addicts and any hint of tapering the heroin causes the addicts to flail about. Ben should be so proud. He should hang a Mission Accomplished banner whenever he gives a speech. Bank profits reached an all-time record in the 2nd quarter, at $42.2 billion, with 80% of those profits going to the 2% Too Big To Trust Wall Street Mega-Goliath Banks. It's enough to make a soon to retire, and take a Wall Street job, central banker smile.
"The money rate can, indeed, be kept artificially low only by continuous new injections of currency or bank credit in place of real savings. This can create the illusion of more capital just as the addition of water can create the illusion of more milk. But it is a policy of continuous inflation. It is obviously a process involving cumulative danger. The money rate will rise and a crisis will develop if the inflation is reversed, or merely brought to a halt, or even continued at a diminished rate. Cheap money policies, in short, eventually bring about far more violent oscillations in business  than those they are designed to remedy or prevent." – Henry Hazlitt – 1946
Any serious minded person knew Wall Street had too much power, too much control, and too much influence in 2008 when they crashed our economic system. When something is too big to fail because it will create systematic collapse, you make it smaller. Instead we have allowed our sociopathic rulers to allow these parasitic institutions to get even larger. Just 12 mega-banks control 70% of all the banking assets in the country, with 90% controlled by the top 86 banks. There are approximately 8,000 financial institutions in this country. Wall Street will be congratulating themselves with record compensation of $127 billion and record bonuses of $23 billion for a job well done. It is dangerous work making journal entries relieving loan loss reserves, committing foreclosure fraud, marking your assets to unicorn, making deposits at the Fed, and counting on the Bernanke Put to keep stocks rising. During a supposed recovery from 2009 to 2011, average real income per household grew pitifully by 1.7%, but all the gains accrued to Bernanke's minions. Top 1% incomes grew by 11.2% while bottom 99% incomes shrunk by 0.4%. Therefore, the top 1% captured 121% of the income gains in the first two years of the recovery. This warped trend has only accelerated since 2011.
The median household income has fallen by $2,400 to $52,100 since the government proclaimed the end of the recession in 2009. Real wages for real people continue to fall. A record 23.1 million households (20% of all households) are receiving food stamps. After four years of "recovery" propaganda, we are left with 2.2 million less people employed (5 million less full time jobs) and 22 million more people on SNAP and SSDI. A record 90.5 million working age Americans are not working, with labor participation at a 35 year low. Ben's money has not trickled down, but his inflation has fallen like a load of bricks on the heads of the middle class. Bernanke's QE to infinity constitutes a transfer of purchasing power away from the middle class to the bankers, mega-corporations and .1%. This Cantillon effect means that newly created money is neither distributed evenly nor simultaneously among the population. Some users of money profit from rising prices, and others suffer from them. This results in a transfer of wealth (a hidden tax) from later receivers to earlier receivers of new money. This is why the largest banks and largest corporations are generating the highest profits in history, while the average person sinks further into debt as their real income declines and real living expenses (energy, food, clothing, healthcare, tuition) rise.
Ben works for your owners. Real GDP (using the fake government inflation adjustment) since July 2009 is up by a wretched 5.6%. Revenue growth of the biggest corporations in the world is up by a pathetic 12%. One might wonder how corporate profits could be at record levels with such doleful economic performance. One needs to look no further than Ben's balance sheet, which has increased by 174%. There appears to be a slight correlation between Ben's money printing and the 162% increase in the S&P 500 index. With the top 1% owning 42.1% of all financial assets (top .1% own most of this) and the bottom 80% owning only 4.7% of all financial assets, one can clearly see who benefits from QE to infinity.
The key take away from what the ruling class has done since 2008 is they have only temporarily delayed the endgame. Their self-serving exploits have guaranteed that round two of the financial collapse will be epic in proportion and intensity. This Fourth Turning Crisis is ongoing. The linear thinkers who control the levers of power keep promising a return to normalcy and resumption of growth. This is an impossibility – mathematically & socially. Fourth Turnings do not end without the existing social order being swept away in a tsunami of turmoil, violence, suffering and war. Orlov's stages of collapse will likely occur during the remaining fifteen years of this Crisis. We are deep into Stage 1 as our national Detroitification progresses towards bankruptcy, with an added impetus from our trillion dollar wars of choice in the Middle East. Commercial collapse has begun, as faith in the fantasy of free market capitalism is waning. The race to the bottom with currency debasement around the globe is reaching a tipping point, and the true eternal currencies of gold and silver are being hoarded and shipped from the West to the Far East.
Monetary Base (billions of USD)
When the financial collapse reaches its crescendo, the just in time supply chain, that keeps cheese doodles and cheese whiz on your grocery store shelves, Chinese produced iGadgets in your local Wal-Mart Supercenter, and gasoline flowing out of gas station hoses into your leased Cadillac Escalade, will break down rapidly. The strain of $110 oil is already evident. The fireworks will really get going when ATM machines run dry and the EBT cards stop functioning. Within a week riots and panic will engulf the country.
"At some point we are bound to hear, from across two oceans, the shocking words "Your money is no good here." Fast forward to a week later: banks are closed, ATMs are out of cash, supermarket shelves are bare and gas stations are starting to run out of fuel. And then something happens: the government announces they have formed a crisis task force, and will nationalize, recapitalize and reopen banks, restoring confidence. The banks reopen, under heavy guard, and thousands of people get arrested for attempting to withdraw their savings. Banks close, riots begin. Next, the government decides that, to jump-start commerce, it will honor deposit guarantees and simply hand out cash. They print and arrange for the cash to be handed out. Now everyone has plenty of cash, but there is still no food in the supermarkets or gasoline at the gas stations because by now the international supply chains have broken down and the delivery pipelines are empty."  – Dmitry Orlov – The Five Stages of Collapse
We are witnessing the beginning stages of political collapse. The government and its leaders are being discredited on a daily basis. The mismanagement of fiscal policy, foreign policy and domestic policy, along with the revelations of the NSA conducting mass surveillance against all Americans has led critical thinking Americans to question the legitimacy of the politicians running the show on behalf of the bankers, corporations and arms dealers. The Gestapo like tactics used by the government in Boston was an early warning sign of what is to come. Government entitlement promises will vaporize, as they did in Detroit, with pension promises worth only ten cents on the dollar. Total social and cultural collapse could resemble the chaotic civil war scenarios playing out in Libya and Syria. The best case scenario would be for a collapse similar to the Soviet Union's relatively peaceful disintegration into impotent republics. I don't believe we'll be this fortunate. The most powerful military empire in world history will not fade away. It will go out in a blaze of glory with a currency collapse, hyper-inflation, and war on a grand scale.
"History offers even more sobering warnings: Armed confrontation usually occurs around the climax of Crisis. If there is confrontation, it is likely to lead to war. This could be any kind of war – class war, sectional war, war against global anarchists or terrorists, or superpower war. If there is war, it is likely to culminate in total war, fought until the losing side has been rendered nil – its will broken, territory taken, and leaders captured." – The Fourth Turning – Strauss & Howe – 1997
In Whom Do You Trust?
"Use of money concentrates trust in a single central authority – the central bank – and, over extended periods of time, central banks always tend to misbehave. Eventually the "print" button on the central banker's emergency console becomes stuck in the depressed position, flooding the world with worthless notes. People trust that money will remain a store of value, and once the trust is violated a gigantic black hole appears at the very center of society, sucking in peoples' savings and aspirations along with their sense of self-worth. When those who have become psychologically dependent on money as a yardstick, to be applied to everything and everyone, suddenly find themselves in a world where money means nothing, it is as if they have gone blind; they see shapes but can no longer resolve them into objects. The result is anomie – a sense of unreality – accompanied by deep depression. Money is an addiction – substance-less and unreal, and sets itself up for a severe and lengthy withdrawal." – Dmitry Orlov – The Five Stages of Collapse
Our modern world revolves around wealth, the appearance of wealth, the false creation of wealth through the issuance of debt, and trust in the bankers and politicians pulling the levers behind the curtain. The entire world economic system is dependent on trusting central bankers whose only response to any crisis is to create more debt. The death knell is ringing loud and clear, but people around the globe are desperately clinging to their normalcy biases and praying to the gods of cognitive dissonance. It seems the only things that matter to our controllers are stock market levels, the continued flow of debt to the plebs, continued doling out of hush money to those on the dole, and of course an endless supply of brown skinned enemies to attack. With every country in the world attempting to the same solution of debasing their currencies, we are rapidly approaching the tipping point. India is the canary in the coal mine.
Government, Household, Financial & Non-Financial Debt (% of GDP)
An exponential growth model built upon cheap plentiful energy and debt creation has its limits, and we've reached them. With the depletion of inexpensive, easily accessible energy resources, higher prices will continue to slow world economies. Demographics in the developed world are slowing the global economy as millions approach their old age with little savings due to over consuming during their peak earnings years. Bernanke has already quadrupled his balance sheet with no meaningful benefit to the economy or the financial well-being of the average middle class American. Financial manipulation that creates nothing has masked the rot consuming our economic system. The game has been rigged in favor of the owners, but even a rigged game eventually comes to an end. Americans and Europeans can no longer maintain a façade of wealth by buying knickknacks from China with money they don't have. The US and Europe are finding that their credit is no longer good in the exporting Far East countries. This is a perilous development, as the West has depended upon foreigners to accommodate its never ending expansion of credit. Without that continual expansion of debt, the Ponzi scheme comes crashing down. As China, Japan and the rest of Asia have balked at buying U.S. Treasuries with negative real yields, the only recourse for Ben has been to monetize the debt through QE and inflation. The doubling of ten year Treasury rates in a matter of three months due to just talk of possibly slowing QE should send shivers down your spine.
We are supposedly five years past the great crisis. Magazine covers proclaimed Bernanke a hero. If we are well past the crisis, why are the extreme emergency measures still in effect? If the economy is growing and jobs are being created, why do we need $85 billion of government debt to be monetized each and every month? Why are the EU, Japan, and China printing even faster than the Fed? The answer is simple. If the debt was not being monetized, it would have to be purchased out in the free market. Purchasers would require an interest rate far above the 2.9% being paid today. The debt levels in the U.S., Europe and Japan are so large that a rise in interest rates of just a few points would explode budget deficits and lead to a worldwide financial collapse. This is why Bernanke and the rest of his central banker brethren are trapped by their own ideology of bubble production. Just the slowing of debt creation will lead to collapse. Bernanke needs a Syrian crisis to postpone the taper talk. Those in control need an endless number of real or false flag crises to provide cover for their printing presses to keep rolling.
There are a couple analogies that apply to our impending doom. The country is like a 224 year old oak tree that has been slowly rotting on the inside due to the insidious diseases of hubris, apathy, selfishness, dependence, delusion, and debasement. The old oak gives an outward appearance of health and stability. Winter has arrived and gale force winds are in the forecast. One gust of wind and the mighty aged oak will topple and come crashing to earth. I think an even more fitting analogy is the sandpile with grains of sand being added day after day. Seven out of ten Americans receive more in government benefits than they pay in taxes. Goliath corporations and the uber-wealthy use the tax code and legislation to syphon hundreds of billions from the national treasury every year. We spend $1 trillion per year on past, current and future wars of choice. Annual interest on the debt we've racked up in the last few decades already approaches $400 billion per year. The entire Federal budget totaled $400 billion in 1977. The sandpile grows ever higher, while its instability expands exponentially. One seemingly innocuous grain of sand will ultimately cause the pile to collapse catastrophically. Will it be an unintended consequence of a missile launch into Syria? Will it be a spike in oil prices? Will it be the collapse of one of the EU PIIGS? Will it be an assassination of a political figure or banker? No one knows. But that innocuous grain of sand will trigger the collapse of the entire pile.
Worried people are looking for solutions. They often get angry at me because they don't think I provide answers to the issues I raise about our corrupt failing system. They want easy answers to intractable problems. Sadly, I've come to the conclusion that our system and majority of citizens are too corrupted to change our course through the ballot box or instituting policies along the lines of those proposed by Ron Paul and many other thoughtful liberty minded people. We are experiencing the downside of a representative democracy.  Once a person is democratically elected a gulf is created between the electors and the person they elected, as the representative becomes corrupted and bought by moneyed interests. Elected officials become a class unto themselves. The political class grows to be puppets that resemble human beings but are nothing but cogs in a vast corporate run machine, pawns in an enormous game of chess played by powerful vindictive immoral men.
There are no cures for our disease. It's terminal. Anyone telling you they have the answers is either lying or trying to sell you something. More people and organizations are on the take than are playing by the rules. The producers are being overrun by the parasites. The barbarians are at the gate. An implosion of societal trust is underway. The next stage of this crisis, which I believe will materialize within the next twelve months will try the souls of the weary.
"As the Crisis catalyzes, these fears will rush to the surface, jagged and exposed. Distrustful of some things, individuals will feel that their survival requires them to distrust more things. This behavior could cascade into a sudden downward spiral, an implosion of societal trust. This might result in a Great Devaluation, a severe drop in the market price of most financial and real assets. This devaluation could be a short but horrific panic, a free-falling price in a market with no buyers. Or it could be a series of downward ratchets linked to political events that sequentially knock the supports out from under the residual popular trust in the system. As assets devalue, trust will further disintegrate, which will cause assets to devalue further, and so on." – The Fourth Turning – Strauss & Howe – 1997
As a nation we have squandered our inheritance, born of the blood of patriots. A freedom loving, liberty minded, self-responsible, courageous people have allowed ourselves to fall prey to selfishness, apathy, complacency and dependency. Once we allowed our human appetites of greed, power seeking, and control to override the moral responsibility for our own lives and the lives of future unborn generations, collapse was inevitable. The danger now is what happens after the unavoidable collapse. Will the millions of dependency zombies beg for a strong dictator to protect them, provide for them and lead them into further bondage? Or will the spark of liberty and freedom reignite, allowing citizens to throw off the shackles of banker and corporate control? I believe most of the people in this country are good hearted. We are merely pawns in this game of Risk being played by those seeking power, wealth and world domination. We are all trapped in our own forms of normalcy bias. Have I cashed out my retirement funds, sold my suburban house and built a doomstead in the mountains? No I haven't. Do I second guess myself sometimes? Yes I do. But even the aware have families to support, jobs to go to, bills to pay, laundry to do, lawns to mow, and lives to live. I can't live in constant fear of what might happen. We only get 80 or so years on this earth, if we're lucky. The best we can do is leave a positive legacy for our children and their children. A drastic change to our way of life is coming, but most of us are trapped in a cage of our own making.
Each living generation will need to do their part during this Crisis if we are to survive the coming storm. Since no one knows the nature of how the next fifteen years will unfold, it would be wise to at least make basic preparations for food, water, heat and protection. This is easier for some than others, but you don't have to star on Doomsday Preppers in order to stock up on items that can be purchased at Wal-Mart today, but won't be available when the global supply chain breaks down. Make sure you have neighbors and family you can rely upon. A small community of like-minded people with varied skills is more likely to succeed in our brave old world than rugged individualists. With no financial means to maintain our globalized world, living locally will take on a new meaning. After much turmoil, chaos, violence, and likely mass casualties the best outcome would be for the Great American Empire to break into regional republics, incapable of waging global war, led by law abiding moral liberty minded individuals, and willing to trade freely and honestly with their fellow republics. Daily life would revert back to a simpler Amish like time. Would that be so bad?
This Fourth Turning could end with a whimper or a bang. There are enough nuclear arms to obliterate the world ten times over. There are enough hubristic egomaniacal psychopathic men in power, that the use of those weapons has a high likelihood of happening. It will be up to the people to not allow this horrific result. I love my country and despise my government. The Declaration of Independence clearly states that when a long train of abuses and usurpations lead toward despotism, it is our right and duty to throw off that government and provide new guards of liberty. My family comes first with my country a close second. I will fight with whatever means necessary to protect my family and do what I can to influence the future course of our country. Time is running out. Will we have the courage, fortitude and wisdom to make the right decisions over the next fifteen years? Will we choose glory or destruction? The fate of our nation hangs in the balance. Are you prepared? Are you ready to fight for your family and your rights?
The Fourth Turning could spare modernity but mark the end of our nation. It could close the book on the political constitution, popular culture, and moral standing that the word America has come to signify. The nation has endured for three saecula; Rome lasted twelve, the Soviet Union only one. Fourth Turnings are critical thresholds for national survival. Each of the last three American Crises produced moments of extreme danger: In the Revolution, the very birth of the republic hung by a thread in more than one battle. In the Civil War, the union barely survived a four-year slaughter that in its own time was regarded as the most lethal war in history. In World War II, the nation destroyed an enemy of democracy that for a time was winning; had the enemy won, America might have itself been destroyed. In all likelihood, the next Crisis will present the nation with a threat and a consequence on a similar scale. – The Fourth Turning – Strauss & Howe – 1997
 IT'S OUR CHOICE.
Off the Keyboard of Jim Quinn
Published on The Burning Platform on July 23, 2013
Discuss this article at the Economics table inside the Diner
"I mean—hell, I been surprised how sane you guys all are. As near as I can tell you're not any crazier than the average asshole on the street." – R.P. McMurphy – One Flew Over the Cuckoo's Nest
"Years ago, it meant something to be crazy. Now everyone's crazy." – Charles Manson
"In America, the criminally insane rule and the rest of us, or the vast majority of the rest of us, either do not care, do not know, or are distracted and properly brainwashed into acquiescence." – Kurt Nimmo
I have to admit to being baffled by the aptitude of the Wall Street and K Street financial elite to keep their Ponzi scheme growing. I consider myself to be a rational, sane human being who understands math and bases his assessments upon facts and a sensible appraisal of the relevant information obtained from trustworthy sources. Of course, finding trustworthy sources is difficult when you live in a corrupt, crony-capitalist, fascist state, controlled by banking, corporate and military interests who retain absolute control over the mainstream media and governmental propaganda agencies. Those seeking truth must pursue it through the alternative media and seeking out unbiased critical thinkers who relentlessly abide by what the facts expose. This is no time for wishful thinking, delusions and fantasies. In the end, the facts are all that matter. As Heinlein noted decades ago, the future is uncertain so facts are essential in navigating a course that doesn't lead you to ruin upon the shoals of ignorance.
"What are the facts? Again and again and again – what are the facts? Shun wishful thinking, ignore divine revelation, forget what "the stars foretell," avoid opinion, care not what the neighbors think, never mind the un-guessable "verdict of history" – what are the facts, and to how many decimal places? You pilot always into an unknown future; facts are your single clue. Get the facts!" ― Robert A. Heinlein
Facts are treasonous and dangerous in an empire of lies, fraud and propaganda. It is maddening to watch the country spiral downward, driven to ruin by a psychotic predator class, while the plebs choose to remain willfully ignorant of reality and distracted by their lust for cheap Chinese crap and addicted to the cult of techno-narcissism. We are a country running on heaping doses of cognitive dissonance and normalcy bias, an irrational belief in our national exceptionalism, an absurd trust in the same banking class that destroyed the finances of the country, and a delusionary belief that with just another trillion dollars of debt we'll be back on the exponential growth track. The American empire has been built on a foundation of cheap easily accessible oil, cheap easily accessible credit, the most powerful military machine in human history, and the purposeful transformation of citizens into consumers through the use of relentless media propaganda and a persistent decades long dumbing down of the masses through the government education system.
This national insanity is not a new phenomenon. Friedrich Nietzsche observed the same spectacle in the 19th century.
"In individuals, insanity is rare; but in groups, parties, nations and epochs, it is the rule."
The "solutions" imposed by the supposed brightest financial Ivy League educated minds and corrupt bought off political class upon people of the United States since the Wall Street created 2008 worldwide financial collapse are insane and designed to only further enrich the crony capitalists and their banker brethren. The maniacs are ruling the asylum. John Lennon saw the writing on the wall forty five years ago.
"Our society is run by insane people for insane objectives…. I think we're being run by maniacs for maniacal ends … and I think I'm liable to be put away as insane for expressing that. That's what's insane about it." – John Lennon, Interview BBC-TV (June 22, 1968)
The world is most certainly ruled by a small group of extremely wealthy evil men who desire ever more treasure, supremacy and control, but the vast majority of Americans have stood idly by mesmerized by their iGadgets and believing buying shit they don't need with money they don't have is the path to happiness and prosperity, while their wealth, liberty and self-respect were stolen by the financial elite. Our idiot culture, that celebrates reality TV morons, low IQ millionaires playing children's sports, egomaniacal Hollywood hacks, self-promoting Wall Street financers, and self-serving corrupt ideologue politicians, has been degenerating for decades.
"We are in the process of creating what deserves to be called the idiot culture. Not an idiot sub-culture, which every society has bubbling beneath the surface and which can provide harmless fun; but the culture itself. For the first time, the weird and the stupid and the coarse are becoming our cultural norm, even our cultural ideal." – Carl Bernstein -1992
The examples of our national insanity are almost too vast to document, but any critical assessment of what we've done over the last one hundred years reveals the idiocracy that has engulfed our collapsing empire.
The Madness of Crowds
"In reading The History of Nations, we find that, like individuals, they have their whims and their peculiarities, their seasons of excitement and recklessness, when they care not what they do. We find that whole communities suddenly fix their minds upon one object and go mad in its pursuit; that millions of people become simultaneously impressed with one delusion, and run after it, till their attention is caught by some new folly more captivating than the first." – Charles MacKay – Extraordinary Popular Delusions and the Madness of Crowds
We have become a nation that seamlessly goes mad every five years in pursuit of some new delusionary fantasy sold to us by the ruling class, only to see those dreams shattered like a wooden ship on the reef of reality. You can never underestimate the power of human stupidity. Ben Bernanke and his Federal Reserve cronies have printed $2.6 trillion of new money out of thin air since September 2008 in order to prop up their Wall Street owners, who had engineered the largest control fraud (mortgage debt/housing bubble) in world history, recklessly gambled in their ravenous appetite for sordid profits, and drove their firms into insolvency. It took the Federal Reserve 95 years to accumulate a balance sheet of $900 billion of safe U.S. Treasuries.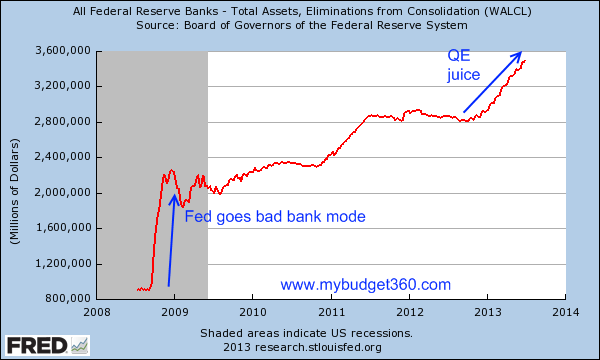 They have insanely quadrupled their balance sheet in the last 5 years by accumulating toxic mortgage debt from Wall Street banks and purchasing the majority of new Treasury debt being issued to fund the Federal government's insane trillion dollar annual deficits. Bernanke, the corporate media, government apparatchiks, and captured political class act as if this is normal, when it is clearly the act of a desperate ruling class in its final death throes. Bernanke has leveraged his balance sheet 60 to 1. Lehman and Bear Stearns were leveraged 30 to 1 when they collapsed. The 100 basis point move in rates over the space of two months has resulted in Bernanke losing $200 billion and effectively wiping out his $55 billion of capital.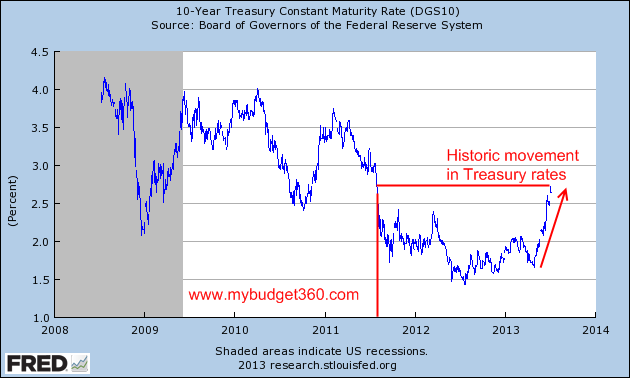 Of course, in a corrupt regime accounting fraud is encouraged and applauded by the status quo. Just as the spineless accountants on the FASB buckled to threats from Bernanke and Paulson in early 2009 and reversed the requirement that assets be marked to market so the felonious Wall Street banks could fraudulently hide their insolvency, the Federal Reserve has decided their losses don't matter. The Federal Reserve classifies their losses as an asset. Don't you wish you could classify your 401k losses and your home value losses as an asset? The tapering bullshit storyline is just another attempt to distract the masses from focusing on the fact that Bernanke will never stop expanding his balance sheet because if he stops the financial system will collapse in a catastrophic implosion. The Ponzi scheme will continue until loss of faith leads to a scramble away from the U.S. dollar.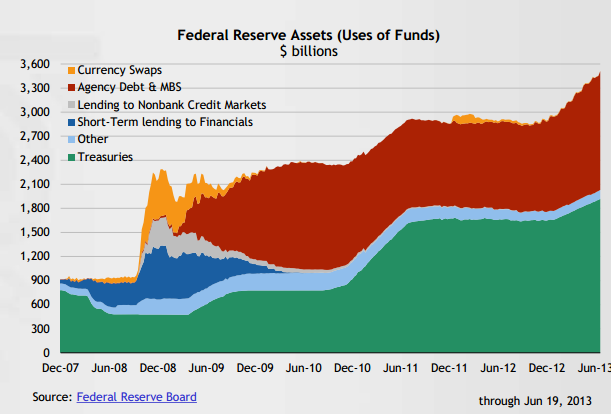 Since the infamous creation of the Federal Reserve by a secretive cabal of bankers and politicians in 1913, the ultimate destination of the American empire was set. Every fiat currency in world history has collapsed. Our entire system has been based on infinite exponential growth. The fallacy of American exceptionalism has been built on an underpinning of pure stupid luck and the issuance of more and more debt. The American empire grew to epic proportions due to the discovery of cheap easily accessible oil in the late 19th century and the physical and economic destruction of Europe, Russia and Japan during World War II. The accumulation of debt was fairly moderate during the glory years after World War II, but began to accelerate after the fateful year of 1971 when U.S. oil production peaked and Tricky Dick Nixon removed the last vestiges of restraint from central bankers and politicians by closing the gold window. With the shackles removed from the wrists of corruptible knaves and shysters, America's future depended upon the wisdom, honesty and financial acumen of Washington politicians and Wall Street financers. Once the citizens realized they could vote for more bread and circuses, our ultimate demise was set in motion. A nation that had produced real annual growth of 4% during the 1950's and 1960's has seen a steady decline for the last four decades.
The term pushing on a string describes the Quantitative Easing (literally money printing) and Keynesian debt financed pork spending efforts of our increasingly frantic owners. The insanity of what we've done since 1971 is almost too crazy to comprehend. In the first 182 years of our existence the leaders we elected to steward the nation accumulated $400 billion of national debt. By 1981, unleashed from any semblance of spending control, the politicians and bankers had added another $600 billion of debt, a 150% increase in 10 years. By 1991 our beloved leaders had added another $2.6 trillion of debt, another 160% increase in 10 years. By 2001 another $2.2 trillion had been accumulated, only a 60% increase due to the end of the Cold War and a one-time tax surge from the Dot.com stock bubble. Bush's worldwide War on Terror, expansion of the police state, tax rebate stimulus idiocy, and expansion of the welfare state (Medicare Part D) drove the national debt up by another $2.2 trillion in just eight years, a 40% increase.
The insane amassing of debt since 2008 has put a final nail in the coffin of the ridiculous Keynesian theory, as the Federal government has increased annual spending by 35% over the last five years and the economy is still moribund. Our fearless leaders have driven the national debt from $7.8 trillion to $16.7 trillion in less than five years, a 110% increase. The country continues to add $2 to $3 billion of debt per day. Consider how insane it is that we now accumulate more debt in half a year than we did cumulatively over the first 182 years of our existence as a country. And our elected, or should I say selected, leaders, cheer on the intellectually bankrupt academics like Bernanke whose only solution to every crisis is to print moar and then lie to the American people about his true purpose, act as if annually spending $1 trillion more than we collect while knowing there are over $200 trillion of unfunded promises to fulfill is a reasonable and realistic way to manage the national finances. Any sane person knows our current path will lead to ruin. When you need to issue new debt in order to honor old debt, the end is in sight.
The multitude of insane responses to a financial crisis created by a few greedy psychopathic bankers will be looked upon by historians with contempt and scorn. Future generations will wonder "What were they thinking?" Trillions in wealth were vaporized due to the actions of a small secretive league of highly educated, egocentric psychopaths whose warped sense of morality led them to pillage the wealth of the nation through fraudulent financial products, bribing regulatory agencies, stabbing clients and competitors in the back, and peddling lies, propaganda and misinformation to the public through their captured media mouthpieces. Not only haven't any predator bankers been thrown in jail, but these villains have grown their parasitic entities to enormous proportions while paying themselves obscene billion dollar bonuses. Jon Corzine stole $1.2 billion directly from the accounts of his customers to cover his gambling losses and he remains free to laze about in one of his five gated mansions. The largest banks on earth have been caught red handed forging mortgage documents, rigging LIBOR, front running the muppets with non-public economic information, insider dealing, and using their HFT supercomputers to manipulate the markets at their whim. Government spy agencies regularly use the U.S. Constitution like toilet paper while accumulating electronic dossiers on every citizen in the country. The rule of law does not exist for the ruling class.
Only in a world gone insane would we be celebrating Wall Street generating all-time high profits through the use of accounting fraud and Bernanke filling their coffers with trillions of interest free money while bilking senior citizens out of $400 billion per year of interest income through his dastardly ZIRP "save a Wall Street banker" scheme. Bernanke has stolen close to $2 trillion from the bank accounts of little old ladies since 2008 and given it to Jamie Dimon, Lloyd Blankfien and the rest of the Wall Street scumbags. While Wall Street and the crony capitalist mega-corporations report record profits, Main Street is left with 5 million less full-time jobs than they had in 2007 and a real unemployment rate exceeding 20%. While the government has insanely reported a recovering economy since mid-2009, the food stamp rolls have grown from 33 million to 47 million. The ruling class cheers the record highs in the stock market that overwhelmingly benefit the top .1% because they are the .1%. Meanwhile, the average schmuck out in the hinterlands is paying double the price they were paying for gas in 2009 and their everyday living costs are rising by greater than 5% annually. Luckily for the financial elite, the average American would rather watch Honey Boo Boo than try to understand the evilness of Federal Reserve created inflation. The economic recovery storyline is obliterated by the fact that real household income is still 9% below its 2008 peak and amazingly 8% below its 2000 level.
Since the 2009 low, the household net worth of the wealthiest 7% has grown by 28%, while the other 93% have seen their net worth decline by a further 4%. The profits accrue to those who run the show, buy the politicians, write the laws, command the media propaganda machine and control the currency. As a sane person in this insane world I'm flabbergasted that there is virtually no outrage at the perpetrators of these crimes against humanity. Americans have earned the moniker – ignorant masses. Bread and circuses have won the day in our declining empire. The oligarchs thank you.
The blame doesn't rest solely on the shoulders of the evil men running the show. They have only done what we allowed them to do. From top to bottom our society has hopped on the crazy train. The lack of national morality, sense of civic duty, inter-generational responsibility, and willful ignorance regarding sensible financial policies has led us to a tipping point. Decades of feckless self-serving political leadership making entitlement promises they could never honor to win votes, combined with a parasitic financial class peddling debt to millions of witless, narcissistic, math challenged, materialistic morons, has left the country in debt up to its eyeballs with no escape other than cataclysmic default. Michael Lewis documents the bleeding out of our society in his recent book:
"The people who had the power in the society, and were charged with saving it from itself, had instead bled the society to death. The problem with police officers and firefighters isn't a public sector problem; it isn't a problem with government; it's a problem with the entire society. It's what happened on Wall Street in the run-up to the subprime crisis. It's a problem of taking what they can, just because they can, without regard to the larger social consequences. It's not just a coincidence that the debts of cities and states spun out of control at the same time as the debts of individual Americans. Alone in a dark room with a pile of money, Americans knew exactly what they wanted to do, from the top of the society to the bottom. They'd been conditioned to grab as much as they could, without thinking about the long-term consequences. Afterward, the people on Wall Street would privately bemoan the low morals of the American people who walked away from their subprime loans, and the American people would express outrage at the Wall Street people who paid themselves a fortune to design the bad loans." – Michael Lewis – Boomerang
The insanity of our debt accumulation in relation to our pathetic economic growth is clearly evident to even an Ivy League educated economist or a bubble headed CNBC anchorwoman. Since 1971 nominal GDP has grown by a factor of 14. Over this same time frame total credit market debt (household, corporate, government) has grown by a factor of 32. Real GDP (even using the fraudulent BLS manipulated CPI) has only expanded by a factor of 3.5 since 1971. The exponential growth model is clearly failing, with debt going hyperbolic, while GDP has stagnated.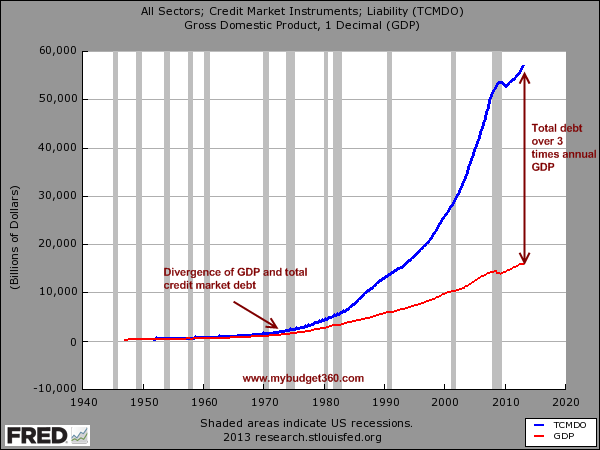 Since 2007 real GDP has gone up $500 billion while total credit market debt has gone up by $6 trillion. Only an insane society would allow itself to be convinced by the perpetrators of the financial crimes that collapsed our economic system that accelerating the level of debt in our system will resolve the dilemma of Too Big to Trust banker insolvency. Transferring the immense losses of greedy sham capitalist gambling addicts from their insolvent balance sheets onto the balance sheets of the taxpayer has allowed the criminals to retain and expand their wealth, while sovereign states shift the pain and suffering onto the backs of the sinking middle class. This is a worldwide phenomenon perpetuated by central bankers at the behest of their crony capitalist co-conspirators. They call it capitalism when the scams, dodges and swindles work and the profits accrue to the schemers. When the gamblers and extreme risk addicts roll craps they use their crony capitalist connections, bought with blood money, to socialize their losses. The game is rigged and your owners don't care about your hopes and dreams or your children's future. They care about their own wealth and lifestyles of luxury. When the richest 300 people in the world have a greater net worth than the poorest 3 billion people on earth, a sane person realizes a chaotic end of the existing social order beckons.
"All over the world people borrowed vast sums of money they could never repay. The honest toting up, and taking, of the losses is being delayed. There's a reason for this. The bad debts are owed, largely, to big banks. The big banks (even bigger than they were at the start of this crisis) and the people who own them enjoy a wildly disproportionate amount of political influence. And so, even now, five years into this mess, we remain at the mercy of the failed financial institutions that sit at the center of our capitalism. Geithner & Bernanke, along with their European counterparts, are doing everything in their power to prevent banks from failing. But the effect of this new financial order is bizarre: capitalism for everyone but the capitalists. Ordinary workers remain fully exposed to the increasingly harsh collisions in the marketplace while the highest paid financial elites ride protected by a passenger airbag." – Michael Lewis – Boomerang
Clearly we've entered the final phase of our debt financed orgy of narcissistic materialism and self-absorbed avarice. The unsustainability of our course is a fact. Our society has gone mad en-masse but we are only recovering our sanity one by one. The global financial system is insolvent. A fractional reserve fiat money based system requires continuous growth or it collapses. The global banking system is overleveraged and real global growth is stagnant. Central bankers are not smart men. They have one response to every crisis – print!!! Bernanke and his fellow banker cronies are printing at hyper-speed in order to prop up the terminally ill mega-banks. Bernanke feigns confusion at the fact that his QE to infinity and ZIRP have only benefitted his banker puppet masters and the richest .1%, while further impoverishing senior citizen savers and the working middle class.
The anger at the true Wall Street malefactors manifested itself in the Tea Party movement and Occupy Wall Street movement, but both efforts were quickly hijacked by neo-con right wingers and socialist left wingers for their own ideological purposes. The existing social order continues to hold the reins of power, but their grip is growing precarious. The anger, dismay and resentment in the country simmer beneath the surface. The average person senses that all is not well, but most absurdly continue to believe the lies and propaganda spewed at them on a daily basis by the ruling class and their corporate media pawns. When the next shoe drops and billions of stock market and housing wealth are wiped out again, the national anger will sweep away the corrupt social order in a torrent of blood and retribution. Innocent and guilty alike will suffer the consequences. Michael Lewis is somewhat perplexed by the lack of outrage and violence so far.
"A lot has happened. And yet, given the provocation, it's amazing how little has happened. No one on Wall Street has been shot, or even jailed – and the existing social order has not been seriously challenged. There's a reason for this, too. The anger arising from the financial crisis finds no natural channel. In another era – an era before catastrophic experiments with radical socialism and nationalism – we would be watching market capitalism being displaced by something far uglier. But today there is no natural place for anger to flow, and so the anger flows haphazardly, like raindrops down a windowpane. The only political ideology that anger benefits these days is anarchy. From the point of view of those who enjoy political stability, it's a stroke of luck that anarchists have no natural talent for organizing themselves. But how long will it take them to learn?"  – Michael Lewis – Boomerang
Staying sane in a society gone mad is not easy. Millions of people believe themselves to be sane, but they have really just adapted to an insane society, so they appear sane within the warped paradigm of that insane society. The truly sane people appear to be insane in an insane society. It's enough to drive a man crazy. The immense forces of normalcy bias and social inertia have led millions to refuse to understand the mathematical certainty of the coming collapse. The worldwide banking system is like a great white shark that needs to keep moving or it dies. Exponential growth and continuous credit expansion have been the essential ingredients to expanding the American empire, but the growth has stopped, while the debt keeps growing. Infinite growth on a finite planet is impossible. As natural resources deplete and become more expensive to obtain, while the planet's population continues to grow, the fractional reserve banking system and the nation states who continue to pile up trillions in debt will suddenly suffer a catastrophic collapse. We are in the end stages of a confidence game. Your government will not give you warning. We need to come to our senses one by one, until there are enough sane people to tip the scales in our favor. I've concluded that I live in a dishonest, insane, intolerable world and consider it my duty to spread discontent among those I can reach. I'm a dangerous man in the eyes of our corporate fascist surveillance state. So be it.
"The most dangerous man, to any government, is the man who is able to think things out for himself without regard to the prevailing superstitions and taboos. Almost inevitably he comes to the conclusion that the government he lives under is dishonest, insane and intolerable, and so, if he is romantic, he tries to change it. And even if he is not romantic personally he is apt to spread discontent among those who are." – H.L. Mencken
In Part 2 of this article I will attempt to figure out why mass insanity has gripped the world and ponder what might happen when sanity returns.