From the keyboard of Surly1
Follow us on Twitter @doomstead666
Like us on Facebook
Anthony Freda
Originally published on the Doomstead Diner on January 22, 2019
"The future is here. It's just unevenly distributed."
–William Gibson
---
UPDATE January 27: On Friday Jan. 25 Trump had signed a three-week stopgap bill to reopen those parts of the government shuttered through February 15. Democrats are happily spiking the ball in the end zone, but as the reliable and prescient Dahlia Lithwick writes in Slate, the utterances of Trump, Lara Trump, Wilbur Ross et al may have played as clueless out here in the cheap seats, but served to reinforce traditional Paul Ryan small government talking points, where every social calamity can be addressed via a bake sale or barn raising.
It's too easy to say that the enduring lesson of the shutdown is simply that Trump and his plutocrat Cabinet are hilariously clueless about how most of us live. The real story is much more grim: They are also trying to other us against one another, positing government workers as unpatriotic if they decline to work for free, and lazy for being unwilling to put the president's interests ahead of their own.
Government workers have bought a brief respite from further financial calamity for a few weeks, but there is nothing currently on the political horizon that indicates we won't be right back here in three weeks. At least Trump won't have to face the specter of plane delays in and out of Atlanta for the Super Bowl. (Had he interfered with the High Rollers getting their footbaw on, they'd have been burning crosses on the White House lawn on Monday.)
And nothing changes the central thesis of the article: that the mass of Americans are two-three paychecks away from the economic abyss.
---
Within the Diner much discussion revolves around understanding the various vectors of collapse: fast collapse, slow collapse, Seneca cliff, plague, Carrington/electromagnetic pulse event, climate catastrophe,… how will collapse overtake us? This screed's purpose is to suggest that collapse is already here.
Testifying to Congress in the Clinton years, Fed Chair Alan Greenspan explained the success of the boom economy he led as based on what he called "growing worker insecurity," and thus created the notion of "the precariat." In Greenspan's terms, when working people are insecure, they are unlikely to make demands. Good for business, good for investors.
Noam Chomsky summarized:
… If working people are insecure, if they're part of the precariat, living precarious existences, they're not going to make demands, they're not going to try to get better wages, they won't get improved benefits. We can kick 'em out, if we don't need 'em. And that's what's called a "healthy" economy, technically speaking. And he was highly praised for this, greatly admired.
We should have expected nothing less from Greenspan, a member of the inner circle of Ayn Rand, Satan's vicar on earth. The current government shutdown, wholly created by the Orange Shitgibbon, now reaches its fourth week and reveals a new layer of precariat. Look around– over 10 million federal workers, with supposedly middle class jobs, find themselves playing insulin- or groceries- or rent- roulette.
Like most Americans, federal workers live paycheck to paycheck, and have to scramble to meet their obligations. Since Individual-1 has a long and ignoble history of stiffing people who worked for him, this shutdown might have been expected. Yet the wall, that fetish object of the right, might have been advanced by legislation at any time over the last two years. Yet it was not, for the simple reason that most border state Republicans realize it's an idiotic thing to do with billions of dollars, and don't want any part of it. Only after the Democrats took control of the House did "the wall" rise to the level of "emergency."
That the rich get richer and the poor get poorer seems baked in to American life. "Middle class" means today that you're poor, but without a meth habit. In spite of the fact that we're told that the economy is strong, with unemployment at all-time low, most Americans do not have as much as a paycheck in savings and cannot withstand a major unplanned expense. Aside from the fortunate few who maintain an employer-supported 401(k), fewer workers have adequate savings for retirement.
The functional cutoff point for being middle-class is whether the family has health insurance. Meaning real health insurance, as opposed to those predatory options that cost $600 dollars a month with $5000 deductibles, rendering them useful only in catastrophe.
One step, one inch at a time..and all by design. The squeeze on workers has been incremental and has unfolded over time, enabled by politicians who have dutifully passed the legislation handed them by the donors who own them. All leading to a pervasive sense of helplessness, and a collectively inability to imagine fixing what's broken: not only the flawed distribution of income, but larger issues like climate change. Complicated issues require long-term thinking, which is difficult to entertain when the wolf is at the door and you're figuring how to "stretch" your insulin to stay alive for the month.
A second generation of workers unable to save, living from paycheck to paycheck, and living in fear of uncertainty of the next missed paycheck comprise a new level of "precariat." Now swollen by 10 million federal workers, and sustained in part by spontaneous eruptions of generosity in the form of food pantries and relief efforts in evidence all over the country.
---
Two articles made similar points: that collapse American-style is already in progress and well on its way, the culmination of decades-long trends. The #Trumpshutdown brings those trends into relief.
Umair Haque describes Six Megatrends That Will Shape the Future, in terms readers of this website will recognize. He is not optimistic about summoning the political will to address the needs of ordinary people (working healthcare, higher education, safety nets, or retirement), because even  though those are what most Americans want, their efforts will run headlong into the waves of organized money marshaled to make sure such solutions never happen.
The average American's plight is so desperate that people in other rich countries can scarcely comprehend it. Dying from a lack of insulin? The elderly working at Walmart? Less than a week's pay in savings? It sounds like a dystopian film, not reality. Yet this points to my second megatrend. American incomes have been flat since the 70s — but all the while, the basics of life, all the things above, from retirement to healthcare, have grown in price…
Authoritarians don't need a majority — they never have, and that is foolish myth promoted by American intellectuals. It's enough for fascists and tyrants to capture perhaps 30–40% of a nation to take over its institutions, norms, and future — because that 30% is like a wrecking ball, that can be used to intimidate, bluster, threaten, and bully (as long as the rest is split). That fringe, lunatic 30% now controls America wholesale — not just making any kind of progress not just impossible, but demanding wholesale regress: banning books, taking science out of schools, putting fundamentalist religion into public life, and so forth. That is my fifth megatrend, authoritarianism, and I am sorry to have to tell you that it will not stop with this President — it will continue, gain strength, and shape America for the foreseeable future…

…my sixth megatrend: ignorance. It is not just American economics, politics, society, and culture which have failed — at a deeper level, American thought has failed. Its intellectuals cannot explain decline, its pundits predict it, its gurus understand it, or its leaders fix it. That is because American ideas became ideologies — capitalism, individualism, aggression, cruelty, rationalism, selfishness, greed — which are all obsolete now.
Normalcy bias keeps us underestimating the breadth of financial stresses on our neighbors, and blind to the human toll of living with collapse with the wolf at the door. We become numb to the overwhelming despair, rage, and anxiety of living in a collapsing society. Many have responded to our neighbors' need with spontaneous outpourings of relief for the affected. But such decency can only deflect the trends of larger American society that is increasingly broke, and as unable to keep its promises as it is to maintain paved roads.
---
Daisy Luther's article, Here's What an American Economic Collapse Could Actually Look Like, is worth the read.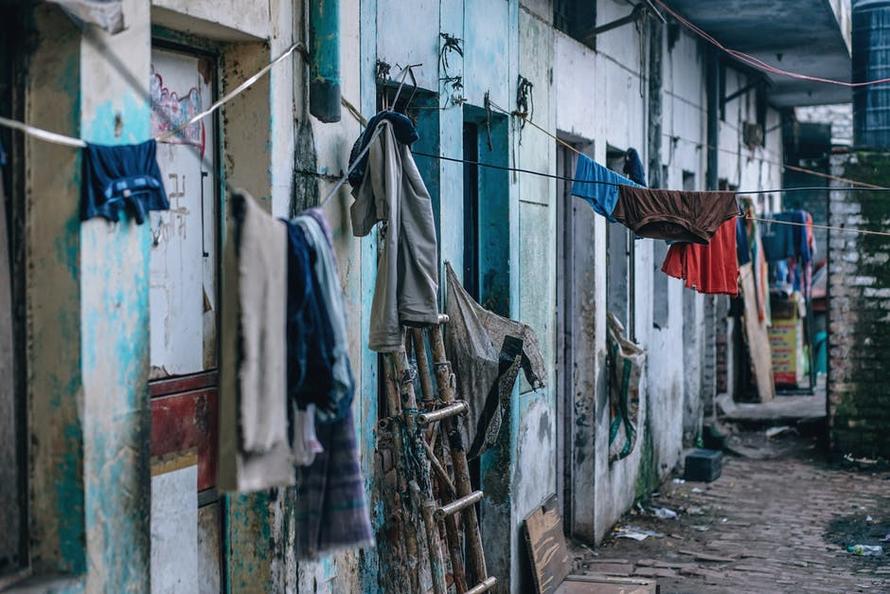 When we think of "economic collapse" we think of the desperation documented in places like Venezuela or Greece. Starvation, lack of medical care, and waves of suicide by people who simply can't cope: an apocalyptic breakdown that is immediately visible.
Here in America, Luther also notes collapse is gradual, It will seem like it's just individual families having a hard time, with money problems out of our hands. The shutdown illuminates a financial divide getting larger. Expenses that are normal will soon become luxuries. How much of a stretch is it to imagine that no one will afford to pay their utility bills?
Jefferson County in Alabama is the state's most populous county and also its poorest. One of the poorest of those poor areas is Birmingham, Jefferson County's largest city. Here water and sewerage bills have quadrupled in the last 15 years and with combined sewerage and water bills coming in at around $300 a month, this leaves the same amount out of the average social security check of $600 a month to cover everything else, food, clothing, and all other utilities. Low paid workers, of which there are many fare no better.

Many people have opted to buy drums of water from petrol stations rather than pay their ever increasing bills. They use these drums of water for drinking, washing and in their portable toilets which can be seen dotting back yards across the area, the modern version of the outhouse. They pay a fee to a sanitation company to remove the waste. It's cheaper than letting the city take care of it.
Rather than expecting single vectors of large scale catastrophe, look closer to home. Take a clear-eyed look at the decline that's already at hand, then consider our options in a world where only rich people can afford electricity, running water and food all at the same time. As we remember that the average American lifespan has decreased for the third consecutive year, and that many fellow citizens find themselves living hand to mouth in a developing nation.
---
Two existential threats shadow these observations and pose existential threats to humanity: the threat of nuclear war, with us since 1945. and environmental catastrophe, obscured by a propaganda system that tries to convince people that climate change is just a liberal hoax.
We find ourselves slipping bit by bit down the trajectory John Michael Greer has titled the Long Descent—the process by which every previous human civilization has ended in a dark age. Not something that can be stopped or reversed; merely observed as it unfolds. The normalcy bias noted above tells us that this is as bad as it can get— right? That things cannot possibly get much worse —  and at every juncture, we will go on being painfully wrong.
Collapse is not at hand in America. Collapse is here.
---
Surly1 is an administrator and contributing author to Doomstead Diner. He is the author of numerous rants, screeds and spittle-flecked invective here and elsewhere. He lives a quiet domestic existence in Southeastern Virginia with his wife Contrary. Descended from a long line of people to whom one could never tell anything, all opinions are his and his alone, because he paid full retail for everything he has managed to learn.
From the keyboard of Surly1
Follow us on Twitter @doomstead666
Like us on Facebook
Originally published on the Doomstead Diner on October 6, 2018
"Unimpaired prosperity cannot withstand a single blow; but he who has struggled constantly with his ills becomes hardened through suffering; and yields to no misfortune; nay, even if he falls, he still fights upon his knees."
― Seneca, "On Providence" (II, 6-10)
---
So Bart O'Kavanaugh has been steamrolled onto the Supreme Court, the crowning achievement of Mitch McConnell and the cult of vicious, old, white bigots now known as the Republican Party. The lying racist traitor in the White House nominated a lying, movement-conservative hit-man to the Supreme Court, whose nomination was a sham orchestrated by a smirking reptile willing to break the Senate. McConnell was willing to go to any lengths to tip the Supreme Court for a generation and secure Karl Rove's "permanent Republican majority" against any reform laws that might be passed by some future Democrat Congress.
Orange Jesus enjoys 85 per cent approval among Republicans, even as those who identify as Republicans shrinks to 26 per cent of the electorate. What that will mean in the coming midterms is anybody's guess..
Give mad props to Trump: he understands his marks, a base of pimple-backed mouth breathers certain that no matter how low their circumstances, they are still better than women. The GOP has constructed an entire political party out of such swamp creatures, and nourished it by feeding their rage and paranoia.
They love Trump's utter shamelessness about sex, money, and basic human decency. When the Kav nomination seemed to be wavering, he stood up a rally in Mississippi where he went against the advice of counselors and openly mocked Dr. Christine Blasey Ford. As a creature of television, Trump knows audiences. And that where he goes, the cameras must follow, and that his most outrageous pronouncements will be excerpted and repeated, repeated, repeated on the cable news programs that exist as filler to hold aloft pods of commercials for reverse mortgages, dick pills and psoriasis meds.
Give Trump credit for dragging this nomination over the finish line by putting steel in the spines of a handful of wavering senators out of step with the GOP's geriatric junta. Loathsome homunculus Mitch McConnell (R-Tartarus) gave full credit to "the mob:"
"We refused to be intimidated by the mob of people that were coming after Republican members at their homes, in the halls. I couldn't be prouder of the Senate Republican Conference."
McConnell had the audacity to thank the grassroots activists who spoke out against Brett Kavanaugh's sham confirmation as part of a "mob" who has finally energized the GOP's base for 2018, "the one thing (the R's were) having trouble doing." Whether or not he remains grateful on November 7 remains to be seen.
---
The demand for the FBI to investigate, as Splinter's Rafi Schwartz observed last week, was "a classic Jeff Flake move to cover his ass." It was a fig leaf and a nod to process to get Flake, Collins and Murkowski in line. The investigation spoke only to nine witnesses, Ramirez and a phalanx of Kavanaugh frat boy friends, who observed the code of Georgetown Prep omertà and said nothing. They did not speak to Blasey Ford, Julie Swetnick, or to the dozens of others who desperately called offering corroborating information.
Anyone who expected anything other than a "yes" vote from Jeff Flake (R-Handwringing) or Susan Collins (R-Hypocrisy) was kidding themselves. Flake received enough phone calls threatening his prospect of post-Senate guaranteed lobbyist employment to bringhim to his knees. And Collins raised a brief murmur of self-importance on Friday to make the most of selling out her female constituents. Her vote has already raised $2.5 million for her as yet-unnamed Democrat challenger.
"To Flake" is now a political verb: "to make speeches, tweets and gestures only to be a coward when it truly matters"
Medhi Hasan of The Intercept put it best
Never again believe Sens. Susan Collins, R-Maine, or Jeff Flake, R-Ariz., when they claim to be critics of Donald Trump or posture as "moderate" Republicans.

Never again let the media call them the "swing" voters in the Senate or "our best hope for profiles in courage in Congress…"

The debate is over: Collins and Flake are frauds, fakes, pretenders. Their high-minded claim to bipartisanship was always an act; a (melo)dramatic performance. Unlike their fellow so-called swing voter Sen. Lisa Murkowski — who will vote against Kavanaugh thanks, in part, to "Alaska's complicated politics" — Collins and Flake were never going to oppose Kavanaugh's nomination to the Supreme Court.
Perspective: remember that Collins has voted with Trump 79 percent of the time — or 4 out of every 5 votes. Flake has voted with Trump 84 percent of the time. Alligator mouth, hummingbird ass.
The votes of Flake and Collins flatly assert they didn't believe Blasey Ford. But men never believe the women. Ask any victim of sexual assault who has reported the crime. This simple fact has fueled the #MeToo movement, and has enraged men. Trump and his idiot son, Donnie Half-Scoop, were on the trail last week procliming that American men are under attack. Just running the tried-and-true right wing playbook: reflexive snap into the victim pose when caught out, then attack-attack-attack. This invariable follows lie-and-deny-deny-deny. As for the aftermath of pent-up "rage" of female voters as November approaches, who can say?
Jessica Valenti observes the disconnect across the gender divide in Kavanaugh is the Face of American Male Rage. One in six women is sexually assaulted in the US. The assault marks a woman's life, and often expresses itself in addictions of various kinds, sexual promiscuity, trust issues, difficulties in future relationships, and occasional blasts of volcanic anger.
Even as women calmly and expertly explain the ways in which men have hurt us, our pain is immediately drowned out and glossed over by men's belief that they should not have to answer to us, of all people.
One of the cruel ironies of sexual assault and harassment is that the traumas which frequently inform the trajectory of women's lives are often not even worth remembering to the men who have inflicted them. And are certainly worth denying, when a job is on the line.
---
Umair Hague is quickly becoming one of the more dependable writers documenting American collapse, joining emigre Morris Berman in his assessment that we Americans are on the collapse clock. He traces the escalating sense of unease, lack of faith in institutions, and the falling dominoes of ruinous decisions that have led us to the current era of "smash-and-grab" looting beloved of fascists and their apologists.
Umair notes that in a the same week we have installed an "accused rapist as a Supreme Court justice for life, the Nobel Peace Prize goes to a man and a woman who've fought to define mass rape as a war crime. It's vivid evidence: the world's richest country is a ruinously failed state, plunging into an authoritarian abyss."
As Americans, we are so relentlessly propagandized and bought into our founding myths, we can no longer discern reality.
"One of the greatest ironies of American collapse is that American leaders thought that it was defeating the terrorists which would give Americans a sense of safety. But predatory capitalism was producing a greater feeling of unsafety, threat, danger, the sense of living in a hostile, unsurvivable world, among Americans than cave-dwelling terrorists ever really could. America beat the terrorists — but it never beat the capitalists."
Before Haque came along,.Morris Berman had traced the Great American Unwind across a series of books. Decline started with Reaganomics, when we learned that "government was the problem," and we stopped investing in ourselves . As a result, by the 90s we lived shorter, poorer, uglier lives than Europeans, And then 9/11 happened, resulting in another decade of underinvestment while sieving off small fortunes for war profiteers and fortunate sons. Few societies survive such cannibalization of resources for long. At its height, Rome had 33 foreign bases; today the US maintains over 1,000.
When the history of American collapse is written, I think it will be seen as a series of great leaps, which punctuated slow, steady erosions, corrosions, and crumblings. In norms and values, among institutions and expectations, of rules and responsibilities — until at last democracy itself was a smoking, belching wreck, and in its place arose every kind of backwardness, from authoritarianism and kleptocracy to theocracy and fascism.
American hegemony has resulted in a world where people no longer feel safe. Infrastructure and systems crumble around us, the chance to live a better life fades, and no past promise is guaranteed to be negotiable in the future. Even those able to put aside some crumbs for the future have no guarantee they won't outlive their savings, or that their small sums will be safe from inflation or currency debasement. American society has becomes a kind of jungle, a war of all-against-all, where it's every man and woman for themselves, and the big fish eat the smaller.
Smash-and-grab late stage capitalism has resulted in heavier burdens borne by the productive class while social mobility has eroded. My wife has observed that time was when a well-turned out young women with confidence and a gift of gab could talk her way into most any party. Today such a woman would never get past the bodyguards. With commoners divested from a financial stake in the system, and political power concentrated in an oligarchy shaking them down for pocket change and waiting to steal the coins from the eyes of their corpses, one wonders who will be eager to fight the next war.
Another recent post from Umair, Why America's a More Violent Society Than You Think. is also on point.
"Americans aren't just at the risk of being shot, or their kids shooting each other — they're forever at the brink of of losing their livelihoods, homes, belongings, incomes, families, health, and even their lives. Bang! Gone. The spectre of ruin, just one step away, is relentless, and it never ends, tires, or changes. Hence, the average American lives his whole life under an ever-present billy-club of threat and intimidation — of genuine and very real violence befalling them, if they're not 'productive' or 'useful' or 'employable' (or even 'healthy' or 'strong' or 'young') enough."
And he sounds very Berman-like when he says
… the U.S. is first & foremost a business and the vast majority of its citizens are brainwashed to believe hustling, opportunism, hyper-individualism, and climbing the ladder are exemplary "qualities."
For those interested in Morris Berman and what he is up to, he has released a new book, "Are We There Yet," which consists of a collection of lectures, unpublished essays and reflections on the continued decline of American Empire. Berman has been living in Mexico since 2006, and writes and speaks at length about the sense of community found in Mexico and so missing in the US with its culture of "hustling."
In a recent podcast interview Berman said
Sociologists who've written about how in America the religion is America itself… it doesn't matter how good your empirical data are, people caught in the mythology of the "American dream" will not change their mind based on any factual material. In the industrialized or industrialized world in terms of health care quality, America's number thirty-seven. Most Americans believe it's number one! It's a debacle, a tragedy.

These kinds of facts don't matter and that's when their faces get red they start to spit and wave their arms because they understand that some level that you've got the fact all they've got is the myth and the myth is thin by now.
America will have tried everything to salvage the Empire to no avail and its foreign interventions will continue to fail. Like Alfred McCoy and others, Berman sees the next 2008-style event coming in 2020-21, then the Crash From Which There is No Recovery in 2026. Interestingly, a number of those interested in the question of civilizational decline have all come to the same conclusion independently and almost precisely to the same years.
When asked what he would tell young people asking about their futures, Berman replied
I would say that leaving the country is a sign of great intelligence.

I give lectures and young people come up to me and they say, "what should I do, what should I do," and I say, "Look you're not going to take my advice but I'll give it to you straight. One of the best things an American can do is emigrate.

What do you think is waiting for you forty years down the line? 40 years in the future:, we will be at war with a country on the other side of the planet that poses no military threat to us whatsoever and will have spent ten trillion dollars. Doing it, we're going to loot the Treasury for no good reason at all. There will be no social safety net, no social security, no Medicare, no Medicaid, none of that will be available to you. And if you're lucky enough to get a job (which will probably be flipping burgers at McDonald's), you're not going to be able to retire because you're not going to be paid enough to be able to afford private health insurance, food, a car, a house.

Whatever you think, you will not be able to retire and you'll die like a dog. Now it's up to you whether you want to stick around. But… forty years from now you're going to say, "You know some guy came to our college when I was an undergraduate and we thought he was a nut case, and he told us all of us that we should emigrate, and now I'd give my left arm to have taken his advice."
Of course the question that remains is, "Go where?"
---
Surly1 is an administrator and contributing author to Doomstead Diner. He is the author of numerous rants, screeds and spittle-flecked invective here and elsewhere. He lives a quiet domestic existence in Southeastern Virginia with his wife Contrary. Descended from a long line of people to whom one could never tell anything, all opinions are his and his alone, because he paid full retail for everything he has managed to learn.