Off the Keyboard of Jim Quinn
Follow us on Facebook
Follow us on Twitter @Doomstead666
Published on The Burning Platform on October 25, 2014
Discuss this article at the Economics Table inside the Diner
The desperation of retailers grows by the day. I head to Wal-Mart and Giant in Harleysville every Sunday morning at 7:00 am. to do my weekly grocery shopping. I go to Wal-Mart at opening to avoid the freaks we see weekly on the People of Wal-Mart post. The workers at Wal-Mart are only a small step above the customers. They can barely communicate, rarely look you in the eye, and generally act like they are prisoners in an asylum.
I'm in winter/bad times ahead prep mode. I had a load of fire wood delivered yesterday which I wheelbarrowed to the back yard and stacked with my already decent sized stack. Last week I took an empty propane canister back to Wal-Mart to replace it with a full canister. That would give me three full propane tanks. I left the empty tank outside next to the propane cage and went in to pay. The old lady cashier with the gravelly smoker voice told me she would call for someone to get me a new tank.
I went over the cage and patiently waited for a Wal-Mart drone to come out, unlock the propane cage and give me a full tank. Two minutes, five minutes, and eventually ten minutes go by with no one coming out to help me. The cashier pokes her head out the door and shrugs her shoulders and says no one is responding to her calls. What a well oiled machine they have at Wal-Mart. Eventually the old lady abandoned her cashier post and in a painstakingly slow manner proceeded to unlock one bin after another until she found a full tank. I'm sure a line of unhappy customers were piling up at the only register in the garden center while she spent ten minutes getting me my propane tank.
A transaction that should have taken five minutes from start to finish ended up taking closer to twenty five minutes, with another five or six customers also dissatisfied with their extra long wait. This is a perfect example of how not to do business. Maybe Wal-Mart's problems are bigger than households having less to spend. They are attempting to maintain their profit margins by reducing staff hours, hiring low quality people, and paying them shit wages. In the short run it may keep profits higher, but in the long-run customers will go elsewhere. Except most of the elsewhere stores closed up years ago when Wal-Mart arrived and underpriced them into bankruptcy.
My shopping experience at Giant is generally pleasant. The staff are nice, competent, and have been there for years. They know what they are doing and serve you with a smile. But their store is part of a worldwide conglomerate, so things have changed for the worse over the last four months. They renovated the entire store, creating bigger aisles and moving stuff around. That's annoying, but after a while you figure out where they moved the stuff you want. The real negative change was the dreaded "Everyday Low Pricing". This weasel phrase means you will be paying more. This is what the Apple idiot CEO – Ron Johnson – did at JC Penney. It put them on a rapid path to bankruptcy.
The weekly sale items at Giant have virtually disappeared. This has coincided with the drastic increase in beef, pork and fresh produce prices. Since "Every Day Low Pricing" went into affect our weekly grocery bill has gone up 20%. And I am buying far less beef and more chicken. In the past I would stock up on sale items and put beef, pork and whatever was on sale in our storage area freezer. Now I am stuck buying what we need that week. No bargains, just fully priced food items. Be forewarned, whenever you see a store announce "Everyday Low Pricing" you are getting screwed.
The Boos Begin in August & Bells Start Jingling in October
The desperation of Wal-Mart and most of the other mega-retail chains is no more clearly evident than in their relentlessly ridiculous acceleration of holiday marketing displays. I was flabbergasted when I saw Halloween candy, decorations and costumes in row after row BEFORE Labor Day at my local Wal-Mart. Selling Halloween candy two months before Halloween is idiotic and a sure sign of desperation. Retailers have run out of merchandising ideas. I wouldn't even consider buying Halloween candy until the week before Halloween. Do Wal-Mart freaks of the week actually buy Halloween merchandise in September?
Holidays used to be special occasions that lent a sense of sales urgency for retailers for a week or two, to pump up sales. Now Wal-Mart and the rest of the dying retailers have Christmas, Easter, Fourth of July, and Halloween displays up for 80% of the year. There is no sense of urgency to buy. From September 1 though October 31 there are rows and rows of bags of corporate produced chemicals disguised as candy. I suppose the obese masses buy this crap in anticipation of Halloween, tell themselves they'll only take one, and then shovel the entire bag down their gullets.
So last week, still a full two weeks before Halloween, Wal-Mart had already converted their entire garden center into a Christmas wonderland of cheap mass produced Chinese cookie cutter Christmas decorations and lights that will blow out after three hours of use. They had also converted aisles at the front of the store to Christmas displays. Who the hell shops for Christmas crap in October? There is nothing like having cheap Chinese Christmas crap available for over two months to create a sense of urgency to buy. Wal-Mart and the rest of the mega-retailers have got nothin. They have no original merchandising ideas. They don't even try anymore. They source low quality goods from China and compete solely on price. I can't wait for the Easter candy to appear on Wal-Mart's shelves in late December.
Black Thanksgiving
Black Friday is dead. Long live Black Thanksgiving. The riots and stampedes by the ignorant masses for toasters and HDTVs on Black Friday are now being replaced by retailers and malls across America opening at 6:00 pm on Thanksgiving. It actually seems fitting. How better to give thanks for our mass consumption, debt financed, materialistic, iGadget addicted society than to open stores on Thanksgiving. Spending time with family is overrated anyway. If you had to spend six hours with cousin Eddie and aunt Bethany, you'd be looking forward to an early opening at Macy's.
The bullshit message from the mega-retailers is: "We're not opening on Thanksgiving out of desperation or greed. We're doing it simply to satisfy the demands of our customers". It's a racist national holiday anyway. We should be going to an Indian run casino on Thanksgiving to make up for our past sins. Opening stores and forcing workers to work on Thanksgiving is pathetic, disgusting and a truly desperate measure in this consumer empire in decline. The law of diminishing returns has been invoked upon the mega-retailers that dominate our suburban sprawl paradise.
These retailers can start holiday merchandising three months before the actual holiday. They can open their doors on Thanksgiving, Easter and Christmas. It's nothing more than shuffling the deck furniture on the Titanic. We've allowed bankers, politicians and corporate titans to financialize our economy, gutting the once thriving middle class, sending manufacturing jobs overseas, and convincing the clueless masses that consumer goods purchased with debt is equal to wealth. But, we've reached the point of no return. There are 248 million working age Americans and 102 million of them are not employed. Of the 146 million working Americans, 82 million of them make less than $30,000 per year.
While retailers have added billions of square feet since 1989, real median net worth is 5% lower over 24 years. Retailers are attempting to get blood from a stone. The stone is in debt, approaching retirement with no savings and dead broke.
We have one entity that deserves the most credit for destroying the American Dream. Real median household income is lower than it was in 1989. The 2008 collapse was caused by the easy money bubble machine at the Federal Reserve. We had the opportunity to hit the reset button, implement rational economic and monetary policies, take our lumps, and make the banking culprits pay for their crimes. Instead, the easily manipulated masses believed the Wall Street storyline and allowed the Federal Reserve and feckless politicians to save the banking cabal with extreme money printing and debt creation. This has pushed the middle class closer to the breaking point, while further enriching the oligarchs. The Federal Reserve saved their owners and lured the masses further into debt.
The Fed, Wall Street, and Washington DC have successfully driven consumer debt to an all-time high, blasting through the $3 trillion level. Declining real incomes and rising debt are a sure recipe for success.
Our entire economic paradigm is built upon desperate measures. Zero interest rates, $3 trillion of QE, systematic accounting fraud, fudged economic data, and doling out subprime loans to auto renters and University of Phoenix wannabes have failed to revive our moribund economy. Delusions don't die easily. But they do die. We are reaching the limit of this delusionary dream built upon debt, denial, and deception. Make sure you wolf down that Thanksgiving feast before 5:00 pm. There are HDTV's to fight for at 6:00 pm.
Off the keyboard of Jim Quinn
Follow us on Twitter @doomstead666
Friend us on Facebook
Published on The Burning Platform on May 25, 2014
Discuss this article at the Economics Table inside the Diner
The definition of death rattle is a sound often produced by someone who is near death when fluids such as saliva and bronchial secretions accumulate in the throat and upper chest. The person can't swallow and emits a deepening wheezing sound as they gasp for breath. This can go on for two or three days before death relieves them of their misery. The American retail industry is emitting an unmistakable wheezing sound as a long slow painful death approaches.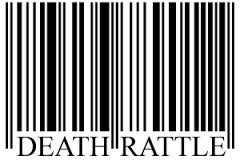 It was exactly four months ago when I wrote THE RETAIL DEATH RATTLE. Here are a few terse anecdotes from that article:
The absolute collapse in retail visitor counts is the warning siren that this country is about to collide with the reality Americans have run out of time, money, jobs, and illusions. The exponential growth model, built upon a never ending flow of consumer credit and an endless supply of cheap fuel, has reached its limit of growth. The titans of Wall Street and their puppets in Washington D.C. have wrung every drop of faux wealth from the dying middle class. There are nothing left but withering carcasses and bleached bones.
Once the Wall Street created fraud collapsed and the waves of delusion subsided, retailers have been revealed to be swimming naked. Their relentless expansion, based on exponential growth, cannibalized itself, new store construction ground to a halt, sales and profits have declined, and the inevitable closing of thousands of stores has begun.
The implications of this long and winding road to ruin are far reaching. Store closings so far have only been a ripple compared to the tsunami coming to right size the industry for a future of declining spending. Over the next five to ten years, tens of thousands of stores will be shuttered. Companies like JC Penney, Sears and Radio Shack will go bankrupt and become historical footnotes. Considering retail employment is lower today than it was in 2002 before the massive retail expansion, the future will see in excess of 1 million retail workers lose their jobs. Bernanke and the Feds have allowed real estate mall owners to roll over non-performing loans and pretend they are generating enough rental income to cover their loan obligations. As more stores go dark, this little game of extend and pretend will come to an end.
Retail store results for the 1st quarter of 2014 have been rolling in over the last week. It seems the hideous government reported retail sales results over the last six months are being confirmed by the dying bricks and mortar mega-chains. In case you missed the corporate mainstream media not reporting the facts and doing their usual positive spin, here are the absolutely dreadful headlines:
Wal-Mart Profit Plunges By $220 Million as US Store Traffic Declines by 1.4%
Target Profit Plunges by $80 Million, 16% Lower Than 2013, as Store Traffic Declines by 2.3%
Sears Loses $358 Million in First Quarter as Comparable Store Sales at Sears Plunge by 7.8% and Sales at Kmart Plunge by 5.1%
JC Penney Thrilled With Loss of Only $358 Million For the Quarter
Kohl's Operating Income Plunges by 17% as Comparable Sales Decline by 3.4%
Costco Profit Declines by $84 Million as Comp Store Sales Only Increase by 2%
Staples Profit Plunges by 44% as Sales Collapse and Closing Hundreds of Stores
Gap Income Drops 22% as Same Store Sales Fall
American Eagle Profits Tumble 86%, Will Close 150 Stores
Aeropostale Losses $77 Million as Sales Collapse by 12%
Best Buy Sales Decline by $300 Million as Margins Decline and Comparable Store Sales Decline by 1.3%
Macy's Profit Flat as Comparable Store Sales decline by 1.4%
Dollar General Profit Plummets by 40% as Comp Store Sales Decline by 3.8%
Urban Outfitters Earnings Collapse by 20% as Sales Stagnate
McDonalds Earnings Fall by $66 Million as US Comp Sales Fall by 1.7%
Darden Profit Collapses by 30% as Same Restaurant Sales Plunge by 5.6% and Company Selling Red Lobster
TJX Misses Earnings Expectations as Sales & Earnings Flat
Dick's Misses Earnings Expectations as Golf Store Sales Plummet
Home Depot Misses Earnings Expectations as Customer Traffic Only Rises by 2.2%
Lowes Misses Earnings Expectations as Customer Traffic was Flat
Of course, those headlines were never reported. I went to each earnings report and gathered the info that should have been reported by the CNBC bimbos and hacks. Anything you heard surely had a Wall Street spin attached, like the standard BETTER THAN EXPECTED. I love that one. At the start of the quarter the Wall Street shysters post earnings expectations. As the quarter progresses, the company whispers the bad news to Wall Street and the earnings expectations are lowered. Then the company beats the lowered earnings expectation by a penny and the Wall Street scum hail it as a great achievement.  The muppets must be sacrificed to sustain the Wall Street bonus pool. Wall Street investment bank geniuses rated JC Penney a buy from $85 per share in 2007 all the way down to $5 a share in 2013. No more needs to be said about Wall Street "analysis".
It seems even the lowered expectation scam hasn't worked this time. U.S. retailer profits have missed lowered expectations by the most in 13 years. They generally "beat" expectations by 3% when the game is being played properly. They've missed expectations in the 1st quarter by 3.2%, the worst miss since the fourth quarter of 2000. If my memory serves me right, I believe the economy entered recession shortly thereafter. The brilliant Ivy League trained Wall Street MBAs, earning high six digit salaries on Wall Street, predicted a 13% increase in retailer profits for the first quarter. A monkey with a magic 8 ball could do a better job than these Wall Street big swinging dicks.
The highly compensated flunkies who sit in the corner CEO office of the mega-retail chains trotted out the usual drivel about cold and snowy winter weather and looking forward to tremendous success over the remainder of the year. How do these excuse machine CEO's explain the success of many high end retailers during the first quarter? Doesn't weather impact stores that cater to the .01%? The continued unrelenting decline in profits of retailers, dependent upon the working class, couldn't have anything to do with this chart? It seems only the oligarchs have made much progress over the last four decades.
Retail CEO gurus all think they have a master plan to revive sales. I'll let you in on a secret. They don't really have a plan. They have no idea why they experienced tremendous success from 2000 through 2007, and why their businesses have not revived since the 2008 financial collapse. Retail CEOs are not the sharpest tools in the shed. They were born on third base and thought they hit a triple. Now they are stranded there, with no hope of getting home. They should be figuring out how to position themselves for the multi-year contraction in sales, but their egos and hubris will keep them from taking the actions necessary to keep their companies afloat in the next decade. Bankruptcy awaits. The front line workers will be shit canned and the CEO will get a golden parachute. It's the American way.
The secret to retail success before 2007 was: create or copy a successful concept; get Wall Street financing and go public ASAP; source all your inventory from Far East slave labor factories; hire thousands of minimum wage level workers to process transactions; build hundreds of new stores every year to cover up the fact the existing stores had deteriorating performance; convince millions of gullible dupes to buy cheap Chinese shit they didn't need with money they didn't have; and pretend this didn't solely rely upon cheap easy debt pumped into the veins of American consumers by the Federal Reserve and their Wall Street bank owners. The financial crisis in 2008 revealed everyone was swimming naked, when the tide of easy credit subsided.
The pundits, politicians and delusional retail CEOs continue to await the revival of retail sales as if reality doesn't exist. The 1 million retail stores, 109,000 shopping centers, and nearly 15 billion square feet of retail space for an aging, increasingly impoverished, and savings poor populace might be a tad too much and will require a slight downsizing – say 3 or 4 billion square feet. Considering the debt fueled frenzy from 2000 through 2008 added 2.7 billion square feet to our suburban sprawl concrete landscape, a divestiture of that foolish investment will be the floor. If you think there are a lot of SPACE AVAILABLE signs dotting the countryside, you ain't seen nothing yet. The mega-chains have already halted all expansion. That was the first step. The weaker players like Radio Shack, Sears, Family Dollar, Coldwater Creek, Staples, Barnes & Noble, Blockbuster and dozens of others are already closing stores by the hundreds. Thousands more will follow.
This isn't some doom and gloom prediction based on nothing but my opinion. This is the inevitable result of demographic certainties, unequivocal data, and the consequences of a retailer herd mentality and lemming like behavior of consumers. The open and shut case for further shuttering of 3 to 4 billion square feet of retail is as follows:
There is 47 square feet of retail space per person in America. This is 8 times as much as any other country on earth. This is up from 38 square feet in 2005; 30 square feet in 2000; 19 square feet in 1990; and 4 square feet in 1960. If we just revert to 2005 levels, 3 billion square feet would need to go dark. Does that sound outrageous?
Annual consumer expenditures by those over 65 years old drop by 40% from their highest spending years from 45 to 54 years old. The number of Americans turning 65 will increase by 10,000 per day for the next 16 years. There were 35 million Americans over 65 in 2000, accounting for 12% of the total population. By 2030 there will be 70 million Americans over 65, accounting for 20% of the total population. Do you think that bodes well for retailers?
Half of Americans between the ages of 50 and 64 have no retirement savings. The other half has accumulated $52,000 or less. It seems the debt financed consumer product orgy of the last two decades has left most people nearly penniless. More than 50% of workers aged 25 to 44 report they have less than $10,000 of total savings.
The lack of retirement and general savings is reflected in the historically low personal savings rate of a miniscule 3.8%. Before the materialistic frenzy of the last couple decades, rational Americans used to save 10% or more of their personal income. With virtually no savings as they approach their retirement years and an already extremely low savings rate, do retail CEOs really see a spending revival on the horizon?
If you thought the savings rate was so low because consumers are flush with cash and so optimistic about their job prospects they are unconcerned about the need to save for a rainy day, you would be wrong. It has been raining for the last 14 years. Real median household income is 7.5% lower today than it was in 2001. Retailers added 2.7 billion square feet of retail space as real household income fell. Sounds rational.
This decline in household income may have something to do with the labor participation rate plummeting to the lowest level since 1978. There are 247.4 million working age Americans and only 145.7 million of them employed (19 million part-time; 9 million self-employed; 20 million employed by the government). There are 92 million Americans, who according to the government have willingly left the workforce, up by 13.3 million since 2007 when over 146 million Americans were employed. You'd have to be a brainless twit to believe the unemployment rate is really 6.3% today. Retail sales would be booming if the unemployment rate was really that low.
With a 16.5% increase in working age Americans since 2000 and only a 6.5% increase in employed Americans, along with declining real household income, an inquisitive person might wonder how retail sales were able to grow from $3.3 trillion in 2000 to $5.1 trillion in 2013 – a 55% increase. You need to look no further than your friendly Too Big To Trust Wall Street banks for the answer. In the olden days of the 1970s and early 1980s Americans put 10% to 20% down to buy a house and then systematically built up equity by making their monthly payments. The Ivy League financial engineers created "exotic" (toxic) mortgage products requiring no money down, no principal payments, and no proof you could make a payment, in their control fraud scheme to fleece the American sheeple. Their propaganda machine convinced millions more to use their homes as an ATM, because home prices never drop. Just ask Ben Bernanke. Even after the Bernanke/Blackrock fake housing recovery (actual mortgage originations now at 1978 levels) household real estate percent equity is barely above 50%, well below the 70% levels before the Wall Street induced debt debacle. With the housing market about to head south again, the home equity ATM will have an Out of Order sign on it.
We hear the endless drivel from disingenuous Keynesian nitwits about government and consumer austerity being the cause of our stagnating economy. My definition of austerity would be an actual reduction in spending and debt accumulation. It seems during this time of austerity total credit market debt has RISEN from $53.5 trillion in 2009 to $59 trillion today. Not exactly austere, as the Federal government adds $2.2 billion PER DAY to the national debt, saddling future generations with the bill for our inability to confront reality. The American consumer has not retrenched, as the CNBC bimbos and bozos would have you believe. Consumer credit reached an all-time high of $3.14 trillion in March, up from $2.52 trillion in 2010. That doesn't sound too austere to me. Of course, this increase is solely due to Obamanomics and Bernanke's $3 trillion gift to his Wall Street owners. The doling out of $645 billion to subprime college "students" and subprime auto "buyers" since 2010 accounts for more than 100% of the increase. The losses on these asinine loans will be epic. Credit card debt has actually fallen as people realize it is their last lifeline. They are using credit cards to pay income taxes, real estate taxes, higher energy costs, higher food costs, and the other necessities of life.
The entire engineered "recovery" since 2009 has been nothing but a Federal Reserve/U.S. Treasury conceived, debt manufactured scam. These highly educated lackeys for the establishment have been tasked with keeping the U.S. Titanic afloat until the oligarchs can safely depart on the lifeboats with all the ship's jewels safely stowed in their pockets. There has been no housing recovery. There has been no jobs recovery. There has been no auto sales recovery. Giving a vehicle to someone with a 580 credit score with a 0% seven year loan is not a sale. It's a repossession in waiting. The government supplied student loans are going to functional illiterates who are majoring in texting, facebooking and twittering. Do you think these indebted University of Phoenix dropouts living in their parents' basements are going to spur a housing and retail sales recovery? This Keynesian "solution" was designed to produce the appearance of recovery, convince the masses to resume their debt based consumption, and add more treasure into the vaults of the Wall Street banks.
The master plan has failed miserably in reviving the economy. Savings, capital investment, and debt reduction are the necessary ingredients for a sustained healthy economic system. Debt based personal consumption of cheap foreign produced baubles & gadgets, $1 trillion government deficits to sustain the warfare/welfare state, along with a corrupt political and rigged financial system are the explosive concoction which will blow our economic system sky high. Facts can be ignored. Media propaganda can convince the willfully ignorant to remain so. The Federal Reserve can buy every Treasury bond issued to fund an out of control government. But eventually reality will shatter the delusions of millions as the debt based Ponzi scheme will run out of dupes and collapse in a flaming heap.
The inevitable shuttering of at least 3 billion square feet of retail space is a certainty. The aging demographics of the U.S. population, dire economic situation of both young and old, and sheer lunacy of the retail expansion since 2000, guarantee a future of ghost malls, decaying weed infested empty parking lots, retailer bankruptcies, real estate developer bankruptcies, massive loan losses for the banking industry, and the loss of millions of retail jobs. Since I always look for a silver lining in a black cloud, I predict a bright future for the SPACE AVAILABLE and GOING OUT OF BUSINESS sign making companies.