Off the keyboard of Steve Ludlum
Follow us on Twitter @doomstead666
Friend us on Facebook
Published on the Economic Undertow on September 20, 2016
Discuss this artile at the Geopolitics Table inside the Diner
Carl von Clausewitz famously remarked, "War is the continuation of policy by other means … " What do the experts at the New York Times say?
Syria's Paradox: Why the War Only Ever Seems to Get Worse

What is true for Syria is true for everything else. The economy only ever seems to get worse. Business and trade only ever seem to get worse. The state of the environment is flat-out getting worse no 'seems to' about it; much more of our precious industrial 'prosperity' and our world will be reduced to barren rocks surrounded by raging oceans of poisonous slime, an 'out-world' from a sci-fi novel. Our social- and political discourse only ever seems to get worse … our media … our public services. In our rapidly unfolding Age of Less, 'Worse' is the corollary. Heaven help us when we get to worst, we'll be looking back at the Syria war as a kind of Golden Age.
Experts on civil wars say there are several reasons Syria is

"a really, really tough case" that defies historical parallels.

There is a basic fact about Syria's civil war that never seems to change: It frustrates any attempt at resolution.

Despite many offensives, peace conferences and foreign interventions, including this week's Turkish incursion into a border town, the only needle that ever seems to move is the one measuring the suffering of Syrians — which only worsens.

Academic research on civil wars, taken together, reveals why. The average such conflict now lasts about a decade, twice as long as Syria's so far. But there are a handful of factors that can make them longer, more violent and harder to stop. Virtually all are present in Syria.

Many stem from foreign interventions that were intended to end the war but have instead entrenched it in a stalemate in which violence is self-reinforcing and the normal avenues for peace are all closed.

The fact that the underlying battle is multiparty rather than two-sided also works against resolution.
The experts' conclusion in twenty-five words or less: there is indeed a war, it's a big one, it has many adversaries arrayed against each other and it is likely to get worse. The subtext is 'lucky for us Syria is safely out of sight'. This is the same subtext behind the endless barrage of marketing for the Pentagon and its minions. "Thank you for your service," means 'thanks for starting and fighting your endless, stupid wars somewhere far away.'
The experts never mention resource depletion and the battle over what little remains. In the conversation about wars that get worse, anyone bringing up limits is a Luddite consigning the human race to living in caves …
Other experts weigh in … offering more of the same. It turns out experts are one of our corrosive, undermining problems; there are too many of them, they intermediate everything, or rather they insert their all-knowing intermediation into every aspect of our lives. Our economies are managed by bankers and economists, the environment by business executives and process engineers, foreign policy by think tanks and shadowy, unaccountable 'intelligence' agencies, by diplomats and generals and their staffs of sub-contracted experts … sorcerers' apprentices and their armies of mop-slaves.
The professionals always seem to begin well, there are reasons why they become experts in the first place. Soon enough, they falter and then they are stuck; they have done their worst already they have nothing more to offer. All that remains is for them to throw up their hands and 'rationalize' which is expert jargon for 'lie'. "Thank me for my service, suckers!"
The Syria war like all the others is the product of experts, their prescription is always more of what has failed already. According to them the war in Syria is about the war in Syria and nothing else. Obviously the experts cannot conclude they- or their fellows are at fault because doing so would call into question the entire enterprise. Expertise pursues it own internal logic, the perpetuation of the status quo in a kind of self- suspending animation until the problem — or the experts themselves — fade away, lose interest, become senile and die of old age.
Expertise is a form of marketing. The experts' job is to craft narrative myths that 'sell' American-style material progress: more and more modernity, more cars and diversions, more real estate, consumer goods and services … Experts are actors, their first job is to conform to public expectations, 'as seen on TV". By so doing, the expert fixes his place within the culture while the materialist culture's supremacy is reinforced at the same time.
Given the relationship between war and politics one would think the experts would put the players into some sort of political context. After all, politics is the art of resolution. Instead, they dance around the subject or leave it out of the conversation altogether as if it is distasteful. Politics is the dog that doesn't bark; a Vatican convocation where Jesus is never mentioned; dying patients surrounded by doctors who cannot bring themselves to make a diagnosis. Part of the confusion is 'the fog of war'; participants have little- or no idea what is going on right in front of them. Analysts have perspective that comes with distance but must rely on second- and third hand material. What appears in the media including the social networks is public relations intended to serve business interests. The Syria war is among the first taking place in real time on Twitter and YouTube, untangling trends from the background noise and red herrings becomes a labor of the gods. There are endless, conflicting 'official versions' layered with wishful thinking and the purposefully malign indifference of corporate marketing.
Meanwhile, around the corner, over the horizon and through the forest of trees lurks reality and its invisible, entropic, smashing hand. Reality is never hard to see, but like the nameless horrors of H P Lovecraft, one must be able to bear looking at it. We never do, we'd rather look at the pretty pictures, instead: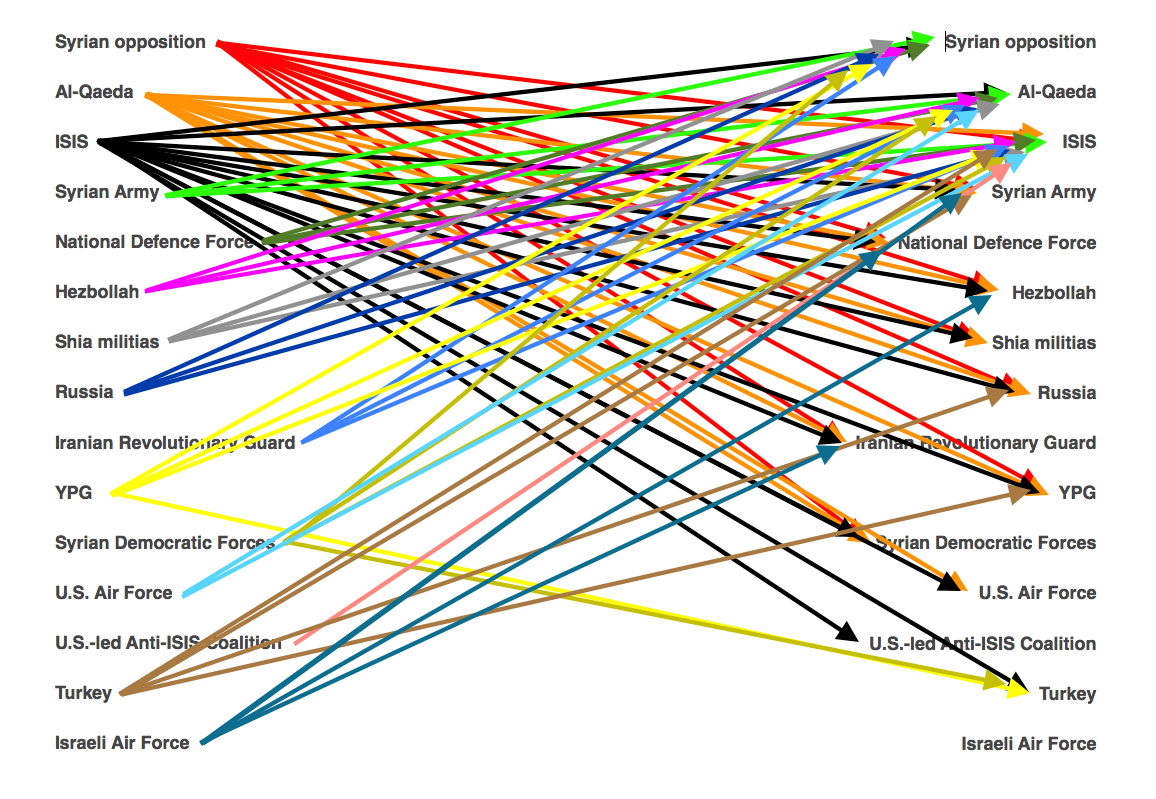 This *simple* chart shows all states of hostility currently being played out on #Syria's territory#IntractableWar
Nice color scheme by Charles Lister, a bona-fide Middle East Expert! Can a six-figure Defense Department hire be far off? Here is another version from CNN, they both say 'there is a war in Syria': Dudes, we know that already!
Figure 1: Syrian combatants tastefully arranged in a circle by CNN, Note the central position of Islamic State. The graphics restate the obvious — and nothing else. Meanwhile, experts are busy creating more problems, all of which require more 'expert' solutions.
Figure 2: click on the image or on this link to bring up the full-size version in a new tab, (.pdf alert). If this looks familiar, it should be, it's been used previously, courtesy of economist Ha-Joon Chang.
The chart is more or less self-explanatory: to the side are the countries involved along with non-state actors or 'interests'. The global superpowers are at the top with militants toward the bottom. In between are regional powers such as Iran and Israel, the 'in-theater states' including Turkey, and the 'innocent bystanders', Lebanon and Jordan. Excluded for arbitrary reasons are Libyans, Iranian Kurds, Palestinians and Yemenis. They are engaged in related struggles but not within the Syria-Iraq theater.
Across the top are categories; what the countries and interests intend to gain by fighting; the overall cost up to and including national bankruptcy; what the nation or group 'sells' or offers as blandishments to its subjects and others; the political system of the enterprise and what it envisions for Syria or other areas of control. The final category is each country's economy … all the above formatted into a table that is viewable on the web page!
Comparing Combatants in Syria – Iraq Theater

COUNTRIES –

INTERESTS

WHAT THEY INTEND TO GAIN
COST
WHAT THEY OFFER
GOVERNMENT: CURRENT | PROPOSED
ECONOMY
USA
Arms sales. To destabilize region to import consumption
Operational expenses & loss of influence
Transient tactical advantage for no one in particular
Corporate plutocracy / None
Capital destruction – consumption / Ponzi finance
EC – UK
Arms sales, thwart militant attacks on the Continent
Irrelevance; expanses related to managing migrant influx
Homeland for migrants
Corporate plutocracy / None
Capital destruction – consumption / Ponzi finance
RUSSIA
Arms sales, increased international prestige
Bankruptcy of Russia
Transient tactical advantages for Syrian – Assad government
Single party police state 'Tyrant on a stick' (TOAS) / Single party police state (TOAS)
Petro-state
IRAN
Regional hegemony vs. Saudi Arabia, strategic advantage vs. Israel
Bankruptcy of Iran
Transient tactical advantages for Syrian – Assad government
Sectarian dictatorship (TOAS) / Single party police state (TOAS)
Petro-state
SAUDI ARABIA
Regional hegemony vs. Iran
Bankruptcy of Saudi Arabia, civil war
Funds, weapons, political cover, tactical advantages for anti-Assad forces
Sectarian monarchy (TOAS) / Single party police state
Petro-state
QATAR
Collaborator w/ junior partner of Saudi Arabia
Bankruptcy of Qatar
Funds for militants, ideological support
Sectarian monarchy (TOAS) / Single party police state
Petro-state
ISRAEL
Destabilize rivals – neighbor states
Unknown
Nothing
Republic trending toward single party police state / None
Capital destruction – consumption / Ponzi finance
SYRIA
Perpetual rule by hereditary tyrant
Total destruction of the country
'Stability myth'
Genocidal single party police state (TOAS) / Genocidal single party police state (TOAS)
Post-peak oil petro-state / agrarian
IRAQ
Control over territory and resources (by factions)
Partition of the country of the country into three components & operational expenses
Sectarian intolerance
Effectively partitioned 'IRAQ' is an Iranian protectorate – fake republic / Various – None
Petro-state(s)
TURKEY
Organic fuel supply by way of a protectorate including Syria and Northern Iraq
Bankruptcy of Turkey, civil war and partition
Sanction for genocide (by way of proxies)
Sectarian single party police state (TOAS) / Neo-Ottoman satrapy sectarian police state(s)
Capital destruction – consumption / Ponzi finance
JORDAN
Repulse jihadi militant inroads, resolve refugee crisis
Operational and refugee management expenses
Nothing
Old-school constitutional monarch / None
Capital destruction – consumption / Ponzi finance
LEBANON
Repulse jihadi militant inroads, resolve refugee crisis
Political instability, refugee management expenses
Nothing
Quasi- republic (see Hezbollah) / None
Capital destruction – consumption / Ponzi finance
ISLAMIC STATE
Control fuel supply in Syria – Northern Iraq (for Turkey)
Destruction of its basis of support
'Fake' political – religious legitimacy
Warlord on a stick | 'Sharia' type warlord state
Outright theft
NON-ISIS JIHADIS, FSA
Replace current Syrian government (acting for Turkey, KSA, US, Qatar)
Destruction of its basis of popular support
Nothing
Warlord(s) on a stick | 'Sharia' type warlord state
Proxies of external powers w/ external funding
HEZBOLLAH
Become Shia sectarian successor to Assad's 'Baathist' regime in Syria: (Iranian proxy)
Severe manpower losses, loss of credibility leading to the destruction of the organization
'Security myth'
Sectarian single party police state ex-Lebanese Republic (TOAS) / Sectarian police state (TOAS)
External funding by Iran
SYRIAN KURD
Autonomy within a Syrian federal republic framework
Operational expenses, subject to genocide by Turkish proxies
Self-determination, womens' rights, anti-jihadi secular government
Modified self-rule / To be determined
Agrarian – smuggling
IRAQI KURD
Independent Kurdish state
Operational- and refugee management expenses
Anti-jihadi secular redoubt
Hereditary duopoly, pan-Kurdish nationalist / possible amalgamation with other Kurdish states
Petro-state
TURKISH KURD
Political legitimacy within framework of Turkish constitution
Operational expenses, political marginalizatin
self-determination within framework of Turkish constitution
Modified self-rule / Call for independence under certain circumstances (see below)
Agrarian – smuggling
NOTE: 'Government current / proposed' lists the countries' governments along with what they would impose on the areas where they operate.
A glance at the chart makes it clear why the experts avoid politics … and why end of the Syria war remains out of reach. Except for the Kurds in Syria and Turkey, also Lebanon, Jordan and Israel there are no politics at all, they have either failed or been swept aside. What remains are tactics and leverage intended to gain transient advantages; administrative overlordship by whatever means come to hand.
Of the seventeen state and non-state actors in the theater, ten are single party police states with personality cults erected around their aggressive, paranoid leaderships. These are 'Tyrants on a Stick', (TOAS) named for the official portraits carried by weeping followers at military parades. These Dear Leaders live like termite queens in impenitent splendor; their feet never touch the ground, they hear only what pleases them or else their (ex-)experts are taken out and … well, you know! Meanwhile, the business bloat-ocracies of the west are just as corrupt, their leadership just as isolated. They are concerned only with finding greater fools and maintaining the flows of credit- and resources toward themselves.
Tyrants rely on experts because they cannot trust anyone else: in a real democracy, the public decides to go to war … or perhaps not. They might decide the bosses have overstepped their bounds or are incompetent. In a police state, the expert reaches for his calculator, the boss nods and the yes-men go forth to announce the decision and break heads. In a tyranny the leader thinks himself better than his public because he has stolen power from them. The power itself is evidence of the tyrant's capability: that the thief is smarter than his victims. In a democracy the people are smarter than the leaders, if nothing else they are more in touch with reality because they are not insulated from it. The people save the leaders from their vanities and those of their lackeys. In a tyranny there is no restraint on the bosses, as a consequence they are always one misstep from disaster.
This is why the Kurds are succeeding … without powerful patrons or great wealth, without a country to call their own or much in the way of an economy. By the accident of history and an abundance of good sense they've taken advantage of zero-cost resources that are spurned by the others or are useless to them; the inclusion and participation of women in their national project and bottom-up decision making. They know their neighbors are out to steal from them or murder them all; that their own leaders would be killed or thrown into prison. They have had to decentralize to survive, to push decision making down the ladder of authority then cut off the top. By doing so the Kurds have saved themselves from the tyranny of experts and self-centric malfeasance that weighs down their adversaries …
Like everything else in the West, politics has been hollowed out, turned into a 'Punch vs. Judy' spectacle that plays out in the media. Small-d-democracy is given lip service and nothing more, all the important decisions are made out of sight by 'others': as George Carlin famously remarked, "It's a club and you aren't in it." Our representative system has devolved into a shopping network for cartels. Because politics are conversations intended to build consensus and resolve disputes they are an anathema to the tycoons and the system that enables them. Consensus cannot be compelled from the top only apathy and a grudging acceptance. Allowing the citizens their own initiatives is dangerous, they might balk at taking on the tycoons' obligations. This would leave the tycoons to meet the obligations themselves, they would all go broke! The strategy is for the bosses to trivialize everything within reach, to boil away the character of resolution leaving a scrim of incomprehensible noise. The current US election campaign is a perfect example: billions are spent on marketing with winner certain to be 'none of the above'.
Clausewitz could not have imagined war as being 'business by other means'. There is also 'war as the means to murder' which would have been unthinkable to the bourgeois Prussian aristocrat, yet we have it. A drilldown into the Syria war reveals American meddling for short-term business gains from the beginning, expanding now to include the Russians. The intent on every side — except for the Kurds in Turkey and Syria — is to make money. When war is good for business — as the Middle East wars are for the Pentagon — there are few- if any incentives to end it.
Off the keyboard of Anthony Cartalucci
Follow us on Twitter @doomstead666
Friend us on Facebook
Published on Land Destroyer on September 11, 2014
Image: Despite the NSA's immense resources and all encompassing
spying activities both abroad and domestically, it appears to miss many
even obvious world events unfolding. It is likely this "ignorance" is
feigned to afford plausible deniability between global chaos and US
culpability.  
Discuss this article at the Geopolitics Table inside the Diner
The U.S. government is tracking and gathering intelligence on as many as 300 Americans who are fighting side by side with the Islamic State group in Iraq and Syria and are poised to become a major threat to the homeland, according to senior U.S. officials.
Officials say concern is widespread in Washington that radicalized foreign fighters could return to the homeland and commit terrorist attacks with skills acquired overseas, according to officials who spoke on condition of anonymity due to the sensitivity of the information. Those concerns were heightened by the disclosure Tuesday that a California man was killed fighting alongside militants with the group, also known as ISIS.
It is incredible because the United States' National Security Agency (NSA) has not only been tapping and recording phone conversations of Americans for years, but also tracking phone locations as well. How is it that this massive, invasive, illegal, abhorrent surveillance control grid can be put in place, sold to the public as a necessity to "protect Americans" and "national security," yet miss entire battalions of Americans signing up for and joining overseas, a terrorist organization like the Islamic State in Iraq and Syria (ISIS)?
If the very scenarios the NSA uses to justify its abhorrent means have unfolded unimpeded, revealed only by "chance" with the passport of an American turning up in the pockets of dead terrorists upon an alleged battlefield in Syria, either the NSA's existence serves another purpose, or the narrative we are being fed regarding the true nature of ISIS is a lie, or the most likely scenario – both.
Not the First Fit of Feigned Ignorance 
Image: A tank flying Al Qaeda's flag – it is difficult to believe the US when
it claims it did not foresee ISIS' emergence when the CIA itself had been
operating in ISIS territory for the past 3-4 years. 
The very appearance of ISIS on the battlefields of Iraq and Syria allegedly took the US intelligence community by surprise. The unlikely narrative was designed entirely to maintain plausible deniability between ISIS mercenaries and their paymasters in Washington, London, Brussels, Riyadh, Doha, and Ankara respectively. In reality, headlines over the past 3-4 years such as, "C.I.A. Said to Aid in Steering Arms to Syrian Opposition," "First Syria rebels armed and trained by CIA 'on way to battlefield'," "Arms Airlift to Syria Rebels Expands, With Aid From C.I.A.," and "Official says CIA-funded weapons have begun to reach Syrian rebels; rebels deny receipt," indicate precisely how and from where the immense, multinational ISIS mercenary force originated.

The US has yet to account how its CIA could be operating within territory held by ISIS – including all along the Turkish-Syrian border and within Turkish territory itself – and neither know the existence, movements, or intentions of ISIS forces.
Between NSA surveillance at home, and the CIA operating side-by-side with ISIS and other Al Qaeda-linked terrorist organizations, the sudden revelations that Americans are fighting within ISIS' ranks seem to be more a matter of politically-motivated propaganda, timed perfectly to justify US military intervention in Syria, than a case of yet another convenient lapse in American intelligence.
Washington Menacing America With Its Own Mercenaries 
Indeed, in order for the US to begin military operations in Syria under the guise of fighting ISIS forces, it must first demonstrate the threat ISIS poses to America. Already, likely false flags serving ISIS no benefit, but giving the US the green light to begin military operations in Syria have begun making their rounds across Western media. A CBS/Associated Press story titled, "Former Deputy CIA Director: 'I Would Not Be Surprised' If ISIS Member Shows Up To US Mall Tomorrow With AK-47," claims:
"The short-term concern is the Americans that have gone to fight with ISIS and the west Europeans that have gone to fight with ISIS could be trained and directed by ISIS to come to the United States to conduct small-scale attacks," Morell stated. "If an ISIS member showed up at a mall in the United States tomorrow with an AK-47 and killed a number of Americans, I would not be surprised."
Morell warned that over the long-term the extremist group could be planning for a 9/11-style attack that killed thousands of Americans.
The same report would also claim:
The United States launched a new barrage of airstrikes Wednesday against the Islamic State extremist group that beheaded American journalist James Foley and that has seized a swath of territory across Iraq and Syria. President Barack Obama vowed relentless pursuit of the terrorists and the White House revealed that the U.S. had launched a secret rescue mission inside Syria earlier this summer that failed to rescue Foley and other Americans still being held hostage.
The current justification for ongoing preparations against Syria has been the Foley execution video, which experts have agreed upon was staged. The London Telegraph in its article, "Foley murder video 'may have been staged'," would state:
Analysts believe the British jihadi in the video may not have been James Foley's killer, although it is accepted that the journalist was murdered.
Of course, if the video was staged, and every claim about it made by ISIS thus far proven a fabrication, no evidence at all suggests when and where, or even if Foley was murdered. If he was, no evidence suggests by whom. And despite this revelation, the US continues building momentum to intervene in Syria.
Imperialism Hiding Behind Righteousness 


Image: Image accompanying Seymour Hersh's
prophetic 2007 report, "The Redirection," exposing
a US-Saudi-Israeli conspiracy to arm terrorists
aligned to Al Qaeda to fight Iran and its allies in a
cataclysmic regional sectarian bloodbath – a
scenario now fully realized. 
Several years and hundreds of millions of dollars later, ISIS is clearly the product of long-laid Western designs to overthrow the Syrian government and reorder the Middle East as warned by the prophetic 2007 9-page report titled, "The Redirection: Is the Administration's new policy benefitting our enemies in the war on terrorism?," written by Seymour Hersh and published in the New Yorker. In it Hersh warned about a cataclysmic sectarian war that would ravage the entire region, targeting not only Syria and neighboring Lebanon, but also Iran. He also warned that it was an intentionally engineered conspiracy between the United States, Saudi Arabia, and Israel, with many smaller regional players serving in supporting roles.
With the emergence of ISIS creating the very cataclysmic sectarian conflagration warned about in Hersh's 2007 report, with no other credible explanation to account for ISIS' incredible size, strength, and success beyond multinational state-sponsorship, Hersh's reportage has once again been vindicated.
It is clear that the US has created ISIS, and is to this day using it as both a means to target and attack its enemies across the Middle East, as well as serve as a pretext for direct US military intervention when proxy wars flounder. It is also being used in a third context – on the domestic front – as a manufactured and perpetual threat with which to further justify the militarization and centralization of America's police forces and the continued expansion of the NSA's invasive domestic spying.
It is also clear that all of this adds up not to promoting freedom and democracy abroad while ensuring national security at home, but rather achieving full-spectrum domination in regions abroad and over the population at home. It is naked hegemony and imperialism playing dress-up in the wardrobe of righteousness.
Tony Cartalucci, Bangkok-based geopolitical researcher and writer, especially for the online magazine "New Eastern Outlook".
Off the keyboard of Monsta666
Discuss this article at the Diner Newz Channels Table inside the Diner.

So 2012 has ended and we can look forward to another year tentatively wondering if 2013 will finally be the year when TEOTWAWKI arrives. In a morbid kind of way we find ourselves in a most peculiar position; on the one hand we wish for extra time to get some extra preps in but on the other we almost wish for it to come and finally get rid of the doomer fatigue that seems to plaguing the old veteran doomers. I know it is next to impossible predicting what will come in 2013 with any degree of certainty. In fact predicting such stuff is largely a fool's game which could explain why economists and politicians like to base their careers on such predictions. Still, despite this fact I am willing to lay my neck on the line and try and predict what may come about in the following year. I just hope my predictions are not so bad so I end up being a head shorter.
USA
The beginning of the year promises to start with a bang as we get front row seats on how the fiscal cliff will be handled. Even now I wonder as I type this on December 30th whether I have started too early with the guessing game and should allow the year to end properly before dishing out the predictions to see if a deal is finally made on the eleventh hour. If the worst does indeed come to pass we can expect a series of ($370 billion) tax hikes and ($230 billion) spending cuts which will amount to about $600 billion.[1] Seeing as that is half the entire deficit one has to wonder how that will affect the economy. I should add that the main thing that has kept the US afloat has been this wild deficit spending, without it we are likely to see a big plunge in growth rates if we can even believe the massaged GDP numbers. According to Filch Ratings they are saying that this fiscal cliff could cut world GDP growth in half.[2] And toadd to all these fiscal cliff dramas is the fact that Timothy Geithner recently stated that the US will hit its debt ceiling of $16.394 trillion on December 31st 2012 and can only extend this limit by two months at which point the US would default so at this point congress will have to decide on what to do about the fiscal cliff AND debt ceiling.[3]
What seems most likely to me is the debt ceiling will be raised while the payroll tax holiday will be allowed to expire; people will need to make more payments towards Medicare, long-term unemployed benefits will end and people will see a hike in personal taxes. To me I predict and this is only based on a hunch that the Bush-cuts, at least for the vast majority of Americans, will be extended for a little longer. However if we are to assume the worst then the combination of taxes rises will cost the average American $3,500 or $2,000 for middle-earners which consist of 60% of the population.[4] Scary numbers and the results should be pretty predictable if this cliff really comes to pass. One need only look at the experiences of the UK and other European countries who engaged in cuts to see what will happen. Not only did those cuts cause a recession but they did not even reduce the budget as much as promised. In fact if the subsequent recession is bad enough then deficits could even rise on the count of lower tax revenues and higher expenses that need to be paid for the rising unemployment. On this end I predict the deficit will be cut but only to about $900-800 billion.
As for broader US energy situation, I foresee softening prices for oil with WTI oil prices likely to remain around the $90 mark and may even dip as low as $75 if the fiscal cliff induced recession really bites hard, a bold prediction perhaps especially coming from a peak oiler. The shale gas situation should see some more dramas developing here as the rig count for gas has consistently been dropping throughout this year.
US Active rigs engaged in oil/gas drilling, according to Baker Hughes.[5]
Seeing as these shale gas wells have such steep decline rates it seems quite possible that a peak of natural gas production will come at some point in 2013. As a result I predict natural gas prices to exceed $5 per million BTUs. These higher natural gas costs are likely to raise energy bills for the average US consumer thus reducing discretionary incomes even further. Speaking of high costs the drought of 2012 is also likely to lead to an inflation in food prices although I do not expect it to hit the wallets of the American too badly, the ones that are likely to suffer the most from these food price hikes are the people who live in poorer nations that rely on US food exports.
So with all those points put into consideration, I predict a recession coming (official one that is) for the US how big it will be is an interesting question…
UK
2013 promises to offer much of the same as 2012, despite an almost year long recession that only showed growth in the quarter following the Olympics Cameron seems hell bent on carrying out further austerity measures. It is all done under the misguided belief that spending cuts will reduce the colossal deficit. It doesn't take a genius to see this strategy has clearly failed in mainland Europe but in typical Tory fashion which takes clear abandon of common sense they will consider the UK a special case that is different to the irresponsible pigs. Problem is the fundamentals of high debt:
UK Public Debt with growth projections until 2015.[6]
And exploding deficit says there is not much difference between the two and despite assertions to the contrary these cuts have done nothing to bring the deficit down. England's deficit for the financial year of 2012/13 is projected to be even higher than the financial year of 2011/12. For those unfamiliar the austerity measures only began in earnest in 2012.
UK budget deficit according to ONS sources[7] with projected 2012/13 deficit calculated by extrapolating current deficits from first seven months of 2012/13 financial year.[8]
 In fairness to Cameron as big as the public debt problem is it is not the main issue. You see if you aggregate British private and public sector debt then the amount comes to 507% GDP![9] What's more it maybe even as high as 900% if you want to include liabilities and obligations such as public sector pensions.[10] That is no typo! It is all the product of an economy that is too heavily centred on banks not to mention having a debt based monetary system (again no word in the media or schools about how money is REALLY made) but that is another story that deserves its own tale… To put this into perspective the PIIGS states of Portugal, Ireland, Italy, Greece and Spain have total debt loads of 356%, 663%, 314%, 267% and 363% respectively.[9] The only thing staving Britain from bankruptcy is the low interest rates it pays on bonds but those low rates can't last forever especially if foreign investors finally catch on we are broke… It would seem the EU crisis can have some unintended benefits for Britain!
In any case with higher energy bills, petrol, housing and food prices coupled with anaemic growth in wages it is hard to see anything but another year of recession. Overall I predict the economy will contract over the full course of the year but "official" unemployment will hover around the same total which is 7.8% or 2.51 million people.[11] I should add however that this unemployment is clearly massaged as many unemployed people will be shifted into training programs that go nowhere or the unemployed will be encouraged to become "self-employed" for one hour a week… In addition some of the people on job seekers will be booted out of their benefits. Nothing will really change as a result of these shenanigans but Cameron can at least look smug with the outstanding improving figures these games will produce.
I can see the papers trumpeting any news that suggest extra jobs are being created; the thing they will be loath to mention is the fact most of these jobs are part-time or worse zero contract hour jobs which pay hardly anything. It continues to amaze me how senior economists such as Stephanie Flanders can continue to be baffled that service jobs paying £6 an hour for 30 or less hours a week cannot create a recovery! It is times like this where I almost want to hide the fact I studied economics…
As for the energy situation in England well the island is mostly tapped out. The North Sea continues to post double digit decline rates (this year it is 18%) and could even dip below 1mb/d next year which is a far cry from its peak of 2.7 mb/d in 1999.[12] Hardly any mention of this in the media but it will have a significant effect on the economy as we will need to import more expensive oil (assuming demand does not fall) and that will increase the trade AND fiscal deficit. The same story holds true for natural gas although as usual the government has the hair brained idea that UK fracking of shale gas can somehow solve that problem. In any case the overall energy strategy for the UK can at best be described as muddled and the name of the game seems to be denial. If we can deny the worsening energy situation hard enough then maybe, just maybe, it will go away and solve itself. Alas it is never so. My advice, look at the energy bills as an indicator of how much gas and oil this country has. The onward trend is up. Oil prices have only levelled off recently due to the poor economy and the continued postponing of the planned rises in fuel tax duty. We can expect those breaks in fuel duty to end going into January 2013 however.[13] My prediction for UK gas prices is it will top £1.50 a litre for unleaded petrol at some point in 2013.
 EU

I am almost at a loss to say what will happen in the EU. Upon reflection of 2012 I am actually a little surprised by how well the people from the PIIGS nations are taking austerity considering the sky-high unemployment and worsening future outlook. It cannot last and it is only a matter of time before Europe experiences its own "Arab Springs". Saying that I do not see an implosion of the Euro as an imminent event so I am predicting there will still be a Euro come the end of 2013. Super Mario has made his intentions very clear that he will buy bonds in unlimited quantities to keep European banks afloat.[14] While I am not suggesting this can ever be the ultimate solution I do think if Mario keeps true to his words then the sinking ship should hold for another year. Italian and Spanish bonds which are arguably the most important factors to consider have declined in recent months in light of this news so it is having its intended effect.[15]
What's more the temporary rescue funds provided used to help Greece, Ireland and Portugal will become permanent with the establishment of the European Stability Mechanism (ESM). This coupled with the relaxation of meeting various fiscal targets and the likely restructuring (politically correct way of describing a default) of Greek debts should ensure some measure of stability so that this charade can go on a little longer. Sure these measures are never a REAL solution but they do buy time which is what can kicking is all about. I am sure if need be extraordinary measures will be taken to safe to the Euro as there is no way the Euro will collapse on the year Merkel runs for election this coming November.
As always though, it is the issue of growth that will continue to be an issue that can undermine all the plans mentioned above. I don't think it really counts as a prediction to say Greece, Spain and Italy will experience further recessions as austerity measures continued to bite. What becomes harder to predict is how Germany and some of the northern states will fair. The Bundesbank currently projects that growth for the German economy will be around 0.4% in 2013.[16] Considering how these predictions are invariably over optimistic I will stick my neck out on this one and predict an overall recession for Germany in 2013. Could get burnt as the call is a little dicey but let us see how things fair out, eh?
Far East
The Far East, which for the purpose of this article consists of the Asian tigers (Hong Kong, Singapore, South Korea and Taiwan) plus China and Japan. These economies are generally regarded by many pundits as the future of the world economy with the influence of west waning in favour of the east. Indeed some go so far to claim that the 21st century will be the Asian century in the same token the 20th century was the US and 19th UK. Yet when we look back on 2012 we find the growth rates of several of these economies have been slipping.
To take the poster child of Asia let us look at China which posted a robust growth rate of 7.2% for the last quarter (if you can even believe the numbers). While this may sound impressive it has been the seventh consecutive quarter of declining growth.[17] However seeing as much of their governmental figures are manufactured to the extent that even Li Keqiang – the favourite to become the next head of state – suggests that the figures are manmade[18] we might need to consider that maybe, just maybe these numbers are bogus. As usual most of the mainstream press seem to ignore this inconvenient fact preferring to side with the China bulls. Fact is the best way to gauge China's economic performance is not through GDP numbers but by monitoring electricity production/consumption, rail cargo volume and bank lending (as recommended by Li Keqiang).[18]  On that front China's performance has not been doing so well with some regions reporting a 10% year-on-year decline. It remains to be seen how accurate this form of measuring is but what we can say is that since 2008 China has depended less on exports and more on investments to drive its economy. What is more investment now makes up a whopping 48% of GDP. To put this into context Japan and South Korea; who are other export driven economies that are also heavily dependent on fixed capital investments reached a peak investment rate of just under 40% of GDP.[19]
Such a high investment figure suggests there is likely to be numerous bubbles as there an oversupply AND misallocation of capital, witnesses the ghost cities, bridges to nowhere and empty malls as proof of this wasted industrial capacity. So what do I predict for 2013 for China you ask? Well the Chinese government will NEVER report negative growth numbers so I can only predict growth if I hope to be right. However I do think China will actually grow in real terms not by much but some however since we can say the numbers are so fudged we will never really know how right (or wrong) my prediction will be, well I suppose there is always the chance of another Chinese revolution and in that case I would definitely be wrong if I predicted growth. But I don't think the time has come for that… Yet!
As for the other economies of Asia Japan continues to experience more woes with recessions and more surprising their balance of trade going negative for a number of quarters. For an export nation to have the value of their imports exceed exports for numerous months can only be described as a disaster. To stop the rot newly elected president Shinzō Abe has pledged to fully open the money printing press spigot to devalue the yen.[20] In addition in an attempt to shore excess imports of fossil fuels and bring back the trade deficit to the positives he has foolishly pledged to restart Japan's nuclear plants. I guess nuclear disasters don't have the impact they once had or consensus based group think is unusually strong in Japan… In any case despite such measures I do not predict many good things for the land of the rising sun and see another recession in 2013 with Abe being the next prime minister to pass through the revolving doors of Kantei soon after 2013. Some people suggest that Japan will be the surprise package that implodes financially due to its burgeoning public debt levels of 235.8% GDP but I do not see that crisis happening in 2013 later certainly but not now.[21] For the crisis to really take effect bond rates need to rise and since about 90% of bonds are held by Japanese investors [22] the risk of interest rates rising quickly are not high, for now. The number of foreigner holders of Japanese bonds is rising however due to the fact that Japanese pension pay-outs to pensioners now exceeds pension contributions from existing employed workers so in time interest payments on bonds will rise.[23]
The Asian tigers should see more promising growth and I expect them to show more positive results for 2013 so I will make a fairly bullish prediction and say that growth for these economies will exceed about 3%. A fun fact to keep in mind is that South Korea's economy is heavily based on big conglomerates which are known as chaebol in South Korea. In fact the five largest chaebol control 57% of the GDP of South Korea so if you want to monitor the countries fortunes just look out for how Samsung, Hyundai, LG, SK and Lotte are performing.[24]
Global Summary
It is hard to make any firm bets on what the outlook for the global economy will be for 2013 especially since the whole fiscal cliff issue has yet to be resolved. What we can say with some degree of certainty is the economic conditions in Europe are likely to worsen as further austerity measures are applied. Greece has been in a solid recession for many years and there is little evidence to think why this should not continue. As for the other PIIGS nations, wage reductions will be made in order to make the southern European states more competitive but this will lower economic output and increase unemployment. Expect to see more protests and strained nerves as the economic troubles we have seen in Greece begin to spread in earnest to Spain and Italy and as always low economic growth will lead to more bank problems/bails outs. These lower wages will also harm Germany who is a major exporter to these regions and since those nations are poorer they will buy less BMWs.
Poor performances in Europe is also likely to negatively impact other exporting nations such as China and the Asian tigers so growth is likely to slow there as well. Japan on the other hand will continue losing ground to its competitors so at best they will see further stagnation but more likely there will be another recession. The low interest rates in Japan and its perception as a safe haven will insure the Yen remains strong much to the chagrin of its exporting industries.
As for overall growth of the world economy, it is likely that there will be some growth overall but it will be small and it will be less than what we have seen for 2012. I will not discount the possibility of an outright global recession especially if the fiscal cliff is handled poorly in the US. Other issues to be aware of is the effects of the 2012 drought which is likely to lead to food inflation across the globe. The poorer countries in Africa the Middle-East and India will suffer to a disproportionate degree to these higher food prices. This will lower growth in those regions as incomes become squeezed and we cannot discount the possibility of food riots erupting in localised regions if prices rise high enough.
On the energy front 2013 should mark a few interesting landmarks namely that global coal consumption is likely to exceed oil for the first time in 60 years. This has come about because oil production since 2005 has roughly plateaued at 74mb/d while coal production has ramped up due to high growth of Asian nations which primarily use coal for electricity generation.
However these Asian nations have not just increased their consumption of coal, they have also increased their thirst for oil and 2013 should also mark the time when total oil consumption of the developed OECD countries will fall below 50% which will be an unprecedented event.
Predicting oil prices for 2013 will be a challenge, on the one hand you have rising demand with a constrained supply which will serve to higher prices but at the same time the on-going demand destruction in the West will lower prices. As a result I predict that average Brent prices of oil will for the most part stagnant at around $110 for the year which has been the average price for 2012. I cannot say with any certainty when we will leave the plateau in global crude oil production but according to the grapevine the year I keep hearing is 2015 which finally enough is what a former expert in the IEA is suggesting.[25] In any case, global oil net exports are likely to decrease over 2013 as has been the general trend since 2005.[26]
References:
[1] = US Senate leader Harry Reid voices fiscal cliff fear (BBC)
[2] = All-out U.S. 'fiscal cliff' could cut world growth in half: Fitch (REUTERS)
[3] = Geithner: Debt Limit of $16.39 Trillion Will Be Met New Year's Eve (CNSNews)
[4] = Q&A: The US fiscal cliff (BBC)
[5] = Rotary Rig Count (Baker Hughes)
[6] = Total Planned* Public Spending (UK Public Spending)
[7] = Office for National Statistics (ONS) data
[8] = Osborne Says He Needs More Time to Rid U.K. of Budget Deficit (Bloomberg)
[9] = Total Debt in Selected Countries Around the World (Global Finance)
[10] = The End of Britain (MoneyWeek)
[11] = UK unemployment falls by 82,000, says ONS (BBC)
[12] = North Sea oil tax revenues fall offers glimpse into a diminishing future (the guardian)
[13] = Labour loses fuel rise delay vote (BBC)
[14] = All hope not lost (The Economist)
[15] = Spanish Bond Yields Drop to 8-Month Low (Bloomberg)
[16] = Bundesbank Slashes 2013 German Growth Forecast to 0.4% (Bloomberg)
[17] = China's economy slows but data hints at rebound (BBC)
[18] = China's GDP is "man-made," unreliable: top leader (REUTERS)
[19] = Capital controversy (The Economist)
[20] = Yen Weakens to 20-Month Low on Abe BOJ Pledge; Euro Drops (Bloomberg)
[21] = IMF urges Japan to tackle debt problem (Financial Times: Google headline name to see full story)
[22] = OECD: Japan Public Debt in 'Uncharted Territory' (Wall Street Journal)
[23] = Japanese pension assets fall as payouts exceed contributions (Pensions & Investments)
[24] = Business as usual for South Korea's chaebol under Park (Yahoo! News)
[25] = Oil will decline shortly after 2015, says former IEA oil expert (The Oil Drum)
[26] = Updated "Gap" Charts, using annual data through 2011 (The Oil Drum: westexas)