From the keyboard of Surly1
Follow us on Twitter @doomstead666
Like us on Facebook
Originally published on the Doomstead Diner on June 4, 2018
"Whom the gods would destroy, they first make mad."
― Nemesis
---
Madness in DC is certainly in evidence, with the Lout-in-Chief hurling tweets like Zeus' thunderbolts, with the primary intention being suspension of the rule of law. Trump further weaponized the pardon power as a political tool, issuing a presidential pardon for confessed felon and right wing ideologue Dinesh D'Souza to the delight of right wingers and the annoyance of those who care about the rule of law. On Monday Morning, Trump tweeted, "As has been stated by numerous legal scholars, I have the absolute right to PARDON myself, but why would I do that when I have done nothing wrong?" Melania was still missing after 22 days, prompting speculation as to her whereabouts and safety. Rumors that she had been renditioned to a black site in Thailand for threatening divorce remain unproven at press time.
Each week seems to have a day bruised by a flurry of Trump rage-tweets. His bouts of fury are well-documented. In Trump's 81 weeks as POTUS, has threatened individuals, institutions, businesses and countries, including the media, the NFL, NATO member countries, allies and enemies with bluster and braggadocio. He's even promised Joe Biden a physical beat-down for challenging him.
Morris Berman in his blog Dark Ages America, has said it best:
Trump's historical mission is to dismantle the country, and he couldn't be doing a better job. John Kiriakou is worried about the state of the American soul (see his essay…), as though the jury was out on that one. In fact, it can be summarized in a single word: rotten. As he notes, 67% of the American public approves of torture, and Trump's approval rating continues to rise.

It's all over but the shouting.
Two-thirds of Americans support torture. The same number believe in guardian angel who keeps them safe from spiders and muslims. As one raised Roman Catholic who left the church after learning about the Spanish Inquisition, I'm appalled that anyone can think such a thing is even remotely acceptable. And now it is policy, part of the Trump governing ethic of putting a fox in charge of every henhouse. There is a dark terror and viciousness in the American soul, given full expression by the Lout-in-Chief. D.H Lawrence one wrote, "The essential American soul is hard, isolate, stoic, and a killer. It has never yet melted." And the magisterial American historian Richard Hofstadter acknowledged that "Americans certainly have reason to inquire whether, when compared with other advanced industrial nations, they are not a people of exceptional violence." Make that "they" a "we."
Meanwhile, the shouting continues. As Shakespeare once said, "Words, words, words."
---
On Again, On Again

In a triumph of low expectations, the once-off "summit" with North Korea is back on again. "It went very well," Trump declaimed, "And now we're going to deal."
This did America's greatest showman arrange to receive a letter delivered from the North Korean leader, Kim Jong Un, in a symbolic show of good intentions. The delivery boy, one Kim Yong Chol, a former spymaster still legally sanctioned by the United States and reputedly the second-most powerful man in North Korea, was there to provide the photo op that the Koreans are savvy enough to know that the figurehead and loose cannon needs.
Just the week before, Trump cancelled the first ever summit between American and North Korean leaders in a dramatic letter to Kim, whose government had not been picking up the phone regarding summit preps and terms.
Some speculate that Trump appears to have recognized that diplomacy is more complex, more nuanced, and potentially takes much longer than a business deal. After all, it's not like Trump can make a phone call and get someone to lean on some troub lesome unions working on a high rise. And in diplomacy there are no sub-contractors to stiff.
"We'll be meeting on June 12 in Singapore," Trump told reporters on the South Lawn of the White House after escorting Chol to his vehicle.
Trump tempered expectations for what the meeting in Singapore will yield, saying nothing would be signed during the summit and that it would simply be the beginning of a process toward denuclearizing North Korea.

"It's a process. … We're not going to go in and sign something on June 12 and we never will," the president said. "We're going to start a process."
Trump just can't get enough of those chants of, "Nobel! Nobel! Nobel!"
---
Roseanne and the Art of War

If you're not living on an island, by now you are aware that Roseanne Barr has been fired from ABC and her hit show canceled after making a particularly egregious series of racist tweets. ABC abruptly canceled their top-rated show "Roseanne," bringing an end to one of Hollywood's boldest efforts to reach out to red-state viewers in the Trump era.
"Roseanne's Twitter statement is abhorrent, repugnant and inconsistent with our values, and we have decided to cancel her show," ABC Entertainment president Channing Dungey said in a statement.

Added Disney chief Robert Iger: "There was only one thing to do here, and that was the right thing."
In an article that informs the title of this segment, Kevin Tully puts the episode is a larger, useful perspective. The entire soul of Trumpism and thus what passes for Republicanism/ conservatism is bound up in Roseanne's compulsion to tweet and the white nationalist, racist impulses she has been empowered to vent.. She couldn't suppress her bigotry, anger and racism and more than her pole star, The Orange Lout, is able to. Last summer in Charlottesville, we saw the consequences of white nationalist rhetoric. Last week, we saw that although speech is "free" in this country, it does carry commercial consequences.
Republicans talk about taxes, deficits, defense and on and on — but what do they really talk about in a significant way? The Trump phenomenon has absolutely nothing to do with government, just as Roseanne's rant had nothing to do with governing — it was selfish, personal garbage wrapped in political clothing. This is what ninety percent of Republican/conservative rhetoric is. The pretense that the Republican party continues as a political party is ridiculous. It is a cult. It is a cult of destruction — it has traded a rudder for a hammer. Roseanne just used that hammer on the "family" that depended upon her.
---
Ireland overturns abortion ban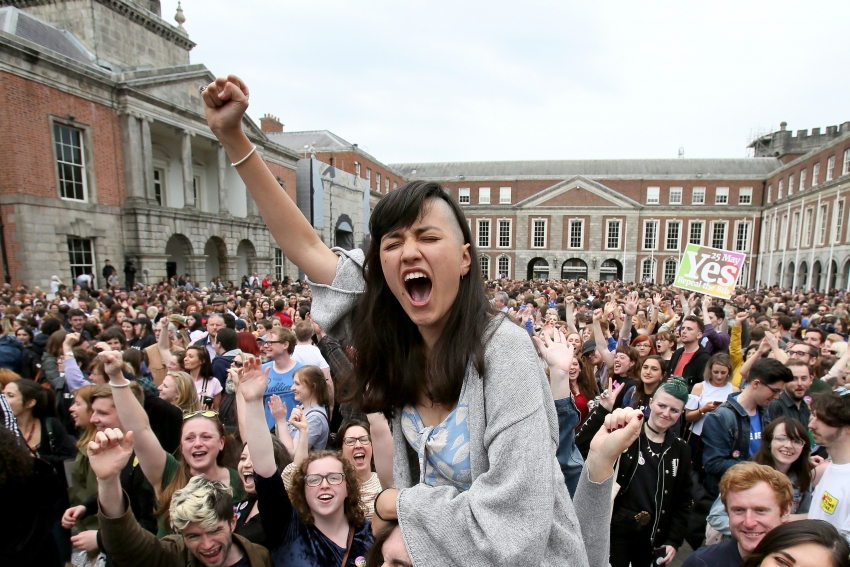 Ireland repealed a constitutional amendment that banned abortion by a two-to-one margin. The vote was to overturn the abortion ban by 66.4% to 33.6%. The referendum held on Friday resulted in a landslide win for the repeal side.
Currently, abortion is only allowed when a woman's life is at risk. The Eighth Amendment, which grants an equal right to life to the mother and unborn, will be replaced.
Some think that Ireland's "Yes" Vote on Abortion Changes Everything. The historic vote to enshrine reproductive rights is the result of decades of organizing by Irish women—and its impact will be felt in countries across the globe. This follows another vote signaliing the loosensing of the Roman catholic Church's grip on Irish politics: in 2015 the country voted overwhelmingly to legalise same-sex marriage in a historic referendum.
The decades-long battle to repeal Ireland's eighth amendment—the 1983 law that gave equal value to the lives of a pregnant woman and a fetus—may be the biggest news to hit Catholic-majority Ireland since the country gained majority independence from England in 1922 (and that battle took 800 years).

The winning "yes" vote comes as welcomed vindication not just for the 170,000 Irish women who have obtained overseas abortions since 1980, but for everyone who supports human rights.

"This is a celebration of women's equality," says Susy Freelove, an artist who lives in Ballydehob, County Cork. She says Irish women who have openly shared their experiences of traveling to London to terminate their pregnancies can now finally feel a weight has been lifted.

"It's a real sea change in Ireland in terms of how we view sexuality," says Beth Wallace, a therapist who was born in a Dublin home for unwed mothers. "Generations of shame are falling away."
---
Media Lies, That's Their Job

News provided by mainstream media properties is delivered on a two-edged sword. On one hand, professional media organizations have resources, reporting assetsand a reach far beyond the solitary scribbler. And they also have editorial staffs devoted to fact checking and source-vetting. Their occasional stumbles are much publicized, but for many stories they are excellent. The problem comes with the editors and publishers, strategically placed with a thumb close to the scale to soften language, change verbs, reframe or even spike coverage of stories that challenge the current regime's status quo. Such it is with these: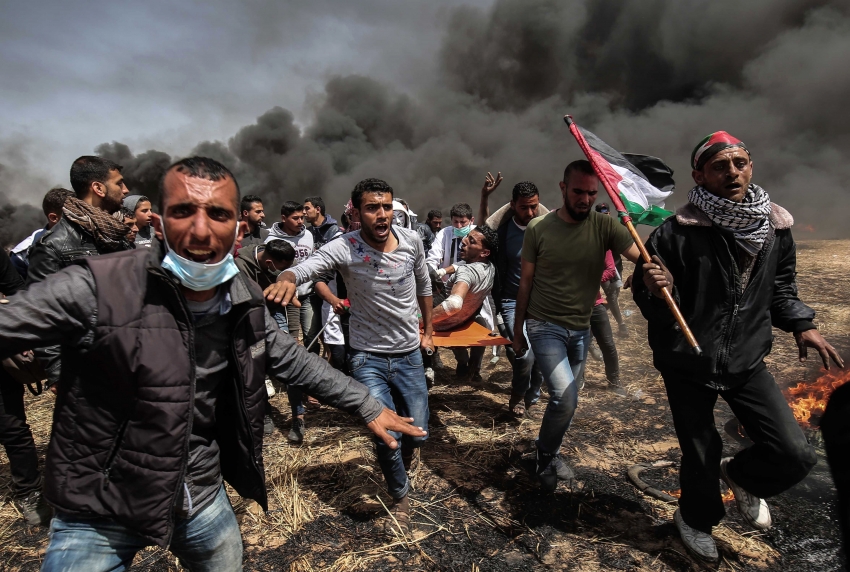 The one lobby that may not be flouted in the USA is the Israel lobby. Well funded and interlocked, it provides the political underpinning for a base of American support for any Israeli policy, no matter how inhumane.
And it in stories about Israel, or Gaza, that the heavy thump, of editorial censorhip and influence cna be most readily seen in the American press. By any measure, the Palestinians in Gaza or horribly oppressed. It is inhumane to expect a massacred population not to resist their own decimation, like the Jews of the Warsaw ghetto.
Since the beginning of the Great March of Return on March 30, Israel has killed over 100 Palestinians and injured over 12,000. Only one Israeli, a soldier, has been injured in the context of the march.

Most mainstream western media coverage of Gaza's march has systematically decontextualized the mass civilian protest, brushed off Israel's weekly massacres as "clashes," reified the boundary fence between Gaza and Israel a "border," presented Palestinian protesters as "Hamas pawns" passively "dying for photo ops" and deployed other strategic falsehoods to dehumanize Palestinians fighting for their freedom. The net effect is the demonization of the march and the absolution of Israel of its murderous assault.

Since Israel imposed a blockade on Gaza in 2007, it has waged routine invasions that level infrastructure and kill thousands—a policy described by some Israeli analysists and politicians as "mowing the lawn." According to the UN, Israel's attacks, coupled with the siege, have rendered Gaza "unlivable." Over 96 percent of Gaza's water is unsafe for drinking and 57 percent of households are food insecure.

The Gaza Strip is often called the world's largest open-air prison. Israel controls the maritime, aerospace and land borders of the coastal enclave.

Israel determines who and what can enter or exit Gaza. They control shipments of fuel, medicine, building supplies, and food—at one point allowing only the minimum calories each person in the strip could consume without starving.
There are details rarely mentioned in America's MSM. There was a time when America attempted to influence and shape Israel's policy. Now the shoe is on the other foot.Veneuuela is often also lied about, in accordance with policy.
Venezuela also gets the red pencil treatment, in large measure because the avowed socialist economy spends more money on "the people" then the avatars of austerity" think prudent. Never forget that every penny spent on a crust for a poor child comes out of the pocket of a multinational construction company or an international banker.
Daniel Kovalik, who teaches international human rights at the University of Pittsburgh Law School, published the linked article in the Pittsburgh Post-Gazette. Kovalik recently visited during the recent election. Did you know that Jimmy Carter has called Venezuela's electoral system "the best in the world?" Me, neither. Prior to the election on May 20, which included an opposition candidate, Henri Falcon, from the business community, the U.S. government announced that it would not recognize the outcome, no matter who won. It also threatened Mr. Falcon with sanctions if he even ran in the election, and threatened further economic sanctions on Venezuela if incumbent leftist Nicolas Maduro won. After Maduro's victory, the trump administration wasted no time imposing yet additional sanctions, further immiserating the Venezuelan people.
How about another chorus of "Home of the Brave?"
First, the true patriots of Venezuela, not surprisingly, resent the United States' devastating economic sanctions as well its constant call for regime change. Some U.S. officials even talk of military intervention to overthrow Mr. Maduro. In part, the vote for Mr. Maduro was a vote against U.S. meddling in the affairs of Venezuela.

In addition, despite the real hardships in Venezuela — for which the U.S. is largely to blame — most of Venezuela's poor are better off now than they were before the Bolivarian Revolution of Hugo Chavez and Nicolas Maduro. For example, over the past 7 years, the government has built 2 million units of housing for low-income Venezuelans. In a country of only some 30 million people, these units are now home to a large proportion of the Venezuelan population. The current government also has provided free health care and subsidized food.
Many of us read blogs like these to try to find a voice in the wilderness, in Leonard Cohen's lyric, "a crack where the light gets through." The Venezuela report reminds us that while poor people have been given a voice in Venezuela, their voice remains muzzled in this country, and by a press which passes off pro-intervention and pro-war propaganda as journalism. Little wonder the United States continues to careen into one disastrous military adventure after another.
---
Immiseration At Home

The U.S. immigration and border complex has never been particularly rational or humane. Yet with the latest iteration of "zero tolerance" border policing, Attorney General Jeff Sessions has brought a disgraceful legacy to a new low.
As Debbie Nathan reports, Sessions's cruel policy of deliberately separating immigrant parents from their children as a deterrent to would-be border crossers has even outraged a federal judge in south Texas.
Time was when It used to be rare to charge migrants seeking asylum with crimes. Those so charged would be put into detention with their children while they pursued their claims. Or they were released with supervision — along with their children. The best interests of the children were considered paramount, and those interests included keeping families together.
No more.
Such asylum-seekers now find themselves charged with "illegal entry," and now the Trump administration's policy is breaking up families, sending children to detention centers, often hundreds of miles from their mothers and fathers, or to distant foster homes.
In practice, this means that even parents fleeing violence to protect their young children will be deemed smugglers — that is, criminals. Sessions's announcement came just two weeks after an official with the Department of Health and Human Services told Congress that the agency had lost track of 1,475 unaccompanied migrant children it had placed with sponsors.

The anguish that parents communicated in Morgan's courtroom, and the spectacle of dozens of migrants being convicted and sentenced en masse, in proceedings lasting just a few minutes and with only the most perfunctory legal representation, has shocked courthouse employees. …

A young father then said he'd been separated from his 6-year-old and was very worried.

The judge tried to assume his crisp air. But he seemed overwhelmed, with the parents' worry and with suspicion that the government was misrepresenting to him what was really happening to the children.

"The way it's supposed to work," he told the parents, "you're going to be sent to a camp where your child will be allowed to join you. That's my understanding of how it's supposed to work."

"They told me they were going to take her away," a mother interjected about her young daughter.

"Well, let's hope they don't," said Morgan. "You and your daughter, you should be joined together."

And then, for many seconds, he was silent.
This the freedom our young men and women in uniform are fighting and dying to protect? Oh, right, it's about corporate interests.
---
Short takes:

"This is not about the American people. We have to believe that at some point their common sense will prevail," said Canadian Prime Minster Justin Trudeau.
At privately run detention centers, immigrants say they're forced to work for $1 a day.
The miracle material has made modern life possible. But more than 40 percent of it is used just once, and it's choking our waterways.
---
That's more than enough for one week. Every story here demonstrates that Americans do not understand that the country is addicted to economic growth, and cannot account fo, what is happening as the pyramid scheme is approaching its limits. These are the stories that sadly mark the "days of our lives," as America's final decades consist of an increasingly frenzied no-holds-barred focus on keeping its economy from collapsing.
---
Surly1 is an administrator and contributing author to Doomstead Diner. He is the author of numerous rants, screeds and spittle-flecked invective here and elsewhere, and was active in the Occupy movement. He lives in Southeastern Virginia with his wife Contrary and is the proud parent of a recent college graduate. He will have failed if not prominently featured on an enemies list compiled by the current administration.