Off the keyboard of RE
Follow us on Facebook
Follow us on Twitter @Doomstead666
Published on the Doomstead Diner on February 1, 2015
Discuss this article at the Energy Table inside the Diner
As my good friend Steve on Economic Undertow often points out, probably 90% of the energy problems we have right now come from the incredible WASTEFULNESS of so many people driving around individual Carz, often to little real purpose and certainly not generating any new "wealth". just burning up old wealth in energy from increasingly depleted energy reservoirs around the world.
Clearly, as a society we need to STOP using so much Oil, and the biggest waster of that Oil is the current Car oriented paradigm, particularly in the FSoA which has been pursuing it the longest, but also in Europe and China now too.  It's really ridiculous that every single commuter is riding in his or her individual car 20 or more miles to work every day from their Suburban McHovels, then leave the car parked all day in the lot or garage and drive another 20 or miles back to the McHovel after the workday is done.
As the population increases while the available SPACE on the planet does not, you end up getting some AMAZING traffic problems from this system.
NY Shity Traffic Jam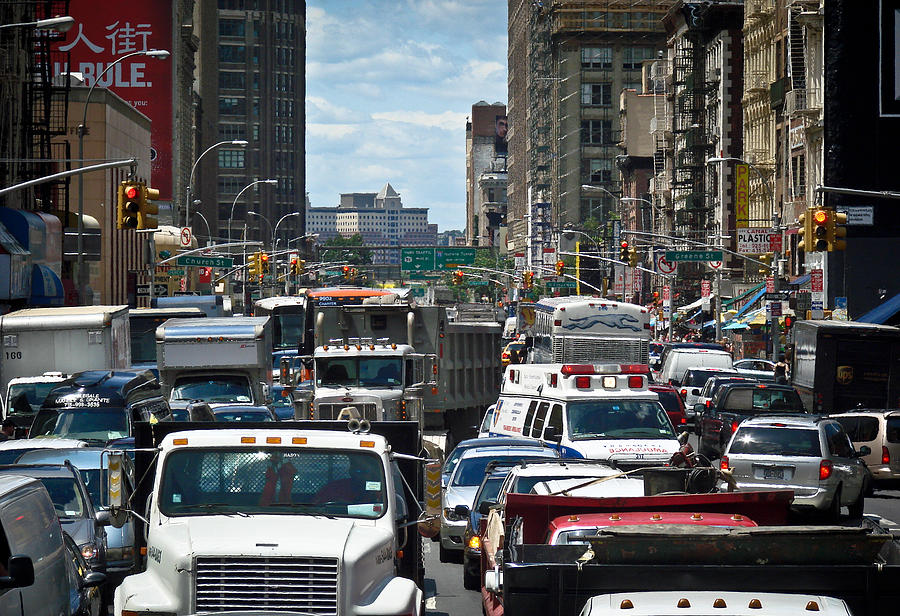 Beijing Traffic Jam
This of course makes the whole system even MORE inefficient, with MORE waste of energy as cars sit in interminably long traffic jams from NY Shity to London to Paris to Beijing and back again.
The SOLUTION many folks propose is more Public Transportation, back to the Railroads as it were. This is a favorite paradigm for Jim Kunstler, but he is not alone in this idea.  What's wrong with it?
Well, if you grew up inside NY Shity riding the Subway, you know immediately what is wrong with it, it absolutely SUCKS waiting for trains, muscling yourself in on crowded train platforms to get a seat on the next arriving train, etc.  Besides that, the train almost NEVER goes EXACTLY where you need it to go, like the Parking Lot of Walmart does.  You drive to Walmart, you buy a Big Screen TV, you wheel it out to  your SUV in a Shopping Cart and then you drive it home.  Good luck with getting your Big Screen TV home if you ride the Subway to Best Buy!
So, it is waste, Waste, WASTE everywhere here on a daily basis, and in fact the entire infrastructure has been designed in such a way that you can't STOP this, not on a Dime anyhow.  If you took out the Carz tomorrow with no decent alternative plan to substitute for them, just about every Bedroom Community in the FSoA would be totally FUCKED.  Really, they would be UNLIVABLE.  However, you cannot rebuild an entirely new infrastructure overnight to accommodate for this, so you have to start thinking about how to ADAPT the current infrastructure
Besides utilizing Mass Transport and Light Rail, the other main substitute often proposed by Cornucopians are EVs, aka Electric Vehicles which usually means Electric Carz like the Chevy Volt or Toyota Prius.  These vehicles take the SAME idea that every single person can have their own Powerful Individual Car which can travel Continent Size Distances, and instead of putting in a Gas Tank, they drop in an INCREDIBLY expensive set of Li-I batteries to run the thing.
People who promote this never really deal with the fact that if EVERYONE was charging up this sort of vehicle off the grid to do the same sort of Happy Motoring they do now, the energy requirement necessary would collapse the grid!  There is not enough electric generation capacity to substitute for all the ICEs, in fact there really is not enough Electric Generation capacity in many places to handle what we have NOW in terms of demand.
So, you have a few issues here you need to solve simultaneously.  You need to reduce the total energy demand.  You need to keep the current suburban model functioning at least through a Transition Period.  Outright INSTANTANEOUS abandonment of the Suburban Model is IMPOSSIBLE without a Mad Max style dislocation.  You just cannot move so many people so fast with an infrastructure that took decades, even CENTURIES to build.
Believe it or not, there is means and method to meet these goals, not perfectly but at least enough to avoid the Mad Max outcome IMHO.  It's not with Rail, though that is a part of it, and its not a large Mega-Infrastructure project either.  It's an adaptation that works on a Cellular Level, is redundant and easily achieved.
The SOLUTION here is PERSONAL SCOOTERS and ELECTRIC VANS.
The biggest issue you have in the daily commute if you do NOT use a car to get from PointA to Point B is the First and Last Mile.  AKA, if you are using some sort of Mass Transit, the distance from your McHovel to the Boarding Train Station, then the distance from the disembarkation point to your workplace, and vica-versa.
To resolve the First and Last Mile problem, you use the Scooters, which can be Electric or Gas Powered.  Gas powered ones get in the neighborhood of 80 MPG, so even there you have more than 70% savings usually.  Electrics, no gas at all, and renewable generation can charge them most of the time.  You drive your Scooter to a Pick Up location served by Independent Entrepreneurs who run 10 Passenger Vans with a Trailer capable of pulling 10 Scooters, Gas or Electric.
Where there were before 10 individual SUVs all running on GAS, now there is only ONE Van running on renewable electricity.  Even if the scooters are running on Gas, they do only the first and last mile of the commute. Besides that, even if Gas powered, the scooters get 80 mpg while the SUV gets 30 at best.
Productivity is increased here, all the folks who used to be busy driving for an hour or more each way to work now sit for that hour in a comfortable Workstation in the Electric Van, answering emails and getting ready for morning Trading on the NYSE.  LOL.
There are now 1/10th of the Carz on the road than there were before, since 10 Pigmen were in the Electric Van instead of 10 each in their own Mercedes.  Parking your Scooter is easy anywhere in Manhattan also, even down on Wall Street!
Getting the Big Screen TV Home from Best Buy with a Scooter remains a problem with this meme.  However, Big Box Stores aren't doing too well anyhow, so you just order the the Big Screen TV from Amazon.com or Alibaba and an electric truck deposits it in your driveway, or maybe a Drone will do it!
Overall, my estimation is that pursuing this paradigm would drop Oil consumption AT LEAST in half, maybe even 70%.  There would not be THAT much change in the industrial societies resultant from that.
Over time here, keeping all the Scooters charged or gassed up will become difficult.  However, in the INTERMEDIATE time, conservation of this sort can extend out the industrial lifestyle 20 or more years.
Of course, as of today, for most Amerikans not yet off the Economic Cliff, the Individual lifestyle of having boundless energy resource to waste remains the driving paradigm.  It doesn't matter what Idea you present these days, be it High Speed Rail from the Chinese or Scooter Econmics from me.
Before any significant change can occur,  a lot more Shit has to Hit the Fan.
Meanwhile, before it all collapses, Prep up with Scooters and Bikes! 🙂
RE