Off the keyboard of Rivera Sun
Follow us on Twitter @doomstead666
Friend us on Facebook
Published on Rivera Sun on July 30, 2016
The Rim Fire in California's Sierra Nevada burned over a quarter million acres in 2013. Seemed amazing then, now it's just another day in the woods (and on the tundra). (US Forest Service photo)
Discuss this article at the Environment Table inside the Diner
Tune in to the Collapse Cafe tomorrow Sunday August 14th @ 4PM EDT for an interview with Rivera Sun
The forest sways in ripples of green. Wind sends the dappled sunlight sparkling through the branches. These are the things we forget in the heat of the political season. There are few politicians who will speak on behalf of all people . . . and even fewer who will speak for the beings that comprise the other 99 percent of the planet and are essential for human existence.
Sitting in the forests of rural Maine last week, I stared for hours at the swaying walls of green. Having lived too long in dry places, in landscapes of dust and drought, on concrete and asphalt flatlands, in the stench of exhaust, I had nearly forgotten the beauty of a forest deep in the verdant sigh of summer. As I sit here in a tucked-away section of woods between small farms and fishing coves, the forests return to prominence in my thoughts, replenishing . . . yet troubling.
More than half of the population of the United States has become urbanized. We live under the canopy of skyscrapers. Asphalt is the new green. Climate change is measured by increased air conditioning bills. For many citizens and public officials, nature is an abstract idea hanging like a wall calendar in our minds.
Even among the rural populace, many live in mono-cropped landscapes amidst thousands of acres of genetically modified soy and corn. How many rural voters believe the misinformation on screens rather than their eyes and lifetimes of experiences? Climate denialism still spouts from the mouths of many. The disconnection is severe and dangerous.
For most Americans, the holocaust of mass species extinction has already occurred within their neighborhood. Within our human-dominated landscapes, most of the native and wild species have long since been crowded out. The death of our fellow species is abstract because they died to our "world" decades ago. Why would an inner-city child mourn the death of a butterfly she's never seen? Who in the suburbs realizes how sterile and deathly still their yards have already become?
How many more election cycles do we get?
The answer is not many. In November, millions of Americans will go to the polls, line up on concrete, wait in office buildings, and then tap screens of choices for political candidates. They will vote for the lesser evil, to make America great again, to put a woman in the White House, or in vain hopes of ousting corporatocracy, oligarchy, or big government out of power. They will vote on slogans, circuses, email scandals and celebrity hat tricks. They will vote on what the pundits tell them.
And all the while, the clock is ticking. Another day passes. The sun is touching the tips of the green trees across the meadow. The planet is heating. Where I live, the mountains are burning. The twisted pines of the desert forests are yellowing with disease and bug infestations. The rivers are shrinking. We normalize these things, attuning to the increasing heat levels, compensating for the lack of rain and humidity by drawing up more water from underground aquifers. A few years ago, a catastrophic forest fire nearly burned Los Alamos National Laboratory – and tons of radioactive waste and stored plutonium – into ash. That record-breaking fire was turned aside just miles from Los Alamos. It raged so hotly that the earth literally melted. Sections of the burn area still look like black moonscapes, even years later.
Who mourns these forests? Who remembers them? Who invokes these swaying giants of trees as they ride the subway? Who consults these leafy communities of being as they make public policies that affect our world? We have largely forgotten these things and our responsibility to them. Humans gather in windowless rooms illuminated by burning kilowatts of fossil fuels or deadly nuclear fission, amplifying a few voices to crowds of other human beings, declaring why this candidate or that should become the next president.
Outside, the trees outnumber humans. Voiceless, unable to travel to conventions or vote, without any hope of political representation, the forests, the Earth, and our fragile, interdependent existence have been left out of democracy. The forests transform the exhaust of our words, breath, cars, and factories into the oxygen we require for existence. And yet, who speaks for them from the podium? Who honors the gift of life the forests bring? Who acknowledges the heavy burden of responsibility we are faced with now?
I am sitting in Maine, in the forest, remembering the things that we seem to have forgotten as we traverse concrete and drought-cracked landscapes, dusty and grimy. My breath is slow and saddened as I watch the tidal sway of the trees rippling in the wind. The sun sets over the branches, shadows lengthen. No easy answers come. Election Day draws closer.
_____________
A
uthor/Activist Rivera Sun, syndicated by PeaceVoice, is the author of The Dandelion Insurrection, Billionaire Buddha and Steam Drills, Treadmills, and Shooting Stars, the cohost of Love (and Revolution) Radio, and the cofounder of the Love-In-Action Network. She is a trainer and social media coordinator for Campaign Nonviolence and Pace e Bene. Sun attended the James Lawson Institute on Strategic Nonviolent Resistance in 2014 and her essays on social justice movements appear in Truthout and Popular Resistance. www.riverasun.com
Off the keyboard of Thomas Lewis
Follow us on Twitter @doomstead666
Friend us on Facebook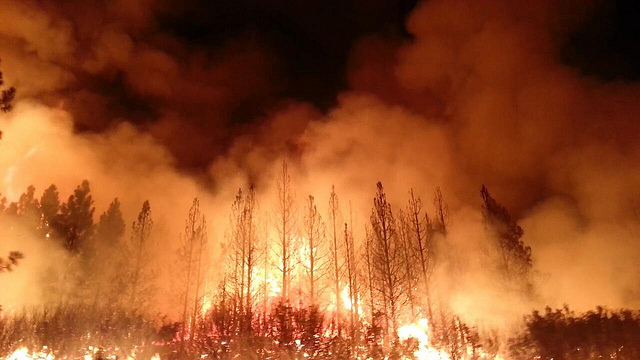 Published on the Daily Impact on July 22, 2015
Visit the New Diner News Page for Daily Updates from around the Collapse Blogosphere
---
An appalling amount of the Northern Hemisphere is on fire. At the beginning of this month, 314 wildfires were raging in Alaska alone. They have seared 5 million acres so far this year and have torched up to half a million acres in a single day. Meanwhile, to the east in Canada's Northwest Territory, hundreds of fires were raging in the permafrost zone, having covered over two million acres by the end of June. The forested northern provinces of British Columbia, Alberta and Saskatchewan were similarly afflicted — 522 fires in northern Saskatchewan alone by June 30, nearly four times as many as last year in the same period.
Southward from Alaska, at the beginning of this month, wildfires dotted the landscapes of all the western states as far south as southern California and as far east as Colorado. One California fire overran a traffic jam on a freeway, leaving behind a dystopian landscape of burned-out cars (but, remarkably, no serious casualties).
Wildfires were raging across southern Siberia and Inner Mongolia by mid-April. At the moment, more than 50 wildfires are burning in troubled Greece, their smoke casting a dark pall over Athens.
A new study published last week confirms that wildfires worldwide are larger, more numerous, and their season is longer every year; and that it is all a direct consequence of climate change. Hotter and drier conditions, beginning earlier each spring, have over 30 years doubled the area of the planet's surface that is vulnerable to wildfire; and have lengthened by 18% the average length of fire seasons worldwide.
In addition, climate change has extended northward the range of the mountain pine beetle, which has killed swaths of western pine trees so vast that there is fear of a single wildfire sweeping through dead trees from New Mexico to Alberta.
The effects of these fires go far beyond the immediate danger to homes and persons. Wildfires do not "destroy" the land across which they travel, as is often heard in the lamestream media, fire is an integral and necessary part of natural ecosystems. However, massive fires temporarily denude the land they scorch of the leaves that deflect and slow rainfall, and the root systems that hold topsoil in place. Thus muddy floods and landslides follow the fire until undergrowth is replaced.
The smoke from these titanic fires is becoming a major threat. It contains tiny particles that bypass the body's defenses against pollution and enter the lungs and bloodstream, aggravating lung and heart diseases. Fire 50-100 miles upwind from a city have been shown to degrade air quality by a factor of 5 – 15 times. Carried into more southerly latitudes by the undulating planetary wave between the polar and temperate air masses, the smoke has been darkening the summer skies and tinting sunsets as far south as Tennessee and West Virginia.
But the most ominous thing about these fires is that they are not merely an effect of climate change, they are a cause. The burning of the forests and tundra is releasing astounding quantities of carbon, stored for centuries in the wood and the permanently frozen subsoil. Melting permafrost releases methane, a greenhouse gas many times more destructive of the world's climate than carbon dioxide. The fires are in fact a feedback mechanism, accelerating climate change as climate change accelerates them.
In one of Ray Bradbury's searing, never-to-be-unread short stories, an astronaut in a space suit is floating languidly in space, musing on his existence and the wonderful perspective he has on the blue planet Earth below him. Shortly we learn that these are the musings of a doomed man, as he is in fact hurtling toward that earth and will die a fiery death when he hits the atmosphere. Just before that happens, we leave him, and join a mother and small child taking an evening walk as the child looks up in wonder and says, "Look, Mom! A shooting star!"
Somewhere in the northern hemisphere tonight, a small child will look up in wonder and say, "Look, Mom! What a pretty sunset!"
---
Thomas Lewis is a nationally recognized and reviewed author of six books, a broadcaster, public speaker and advocate of sustainable living. He also is Editor of The Daily Impact> website, and former artist-in-residence at Frostburg State University. He has written several books about collapse issues, including Brace for Impact and Tribulation. Learn more about them here.