1
« Last post by agelbert on August 20, 2017, 05:55:59 PM »
Final post on Matthew 13:1-58 (continued from the previous post).
In parable no. 8 (Matthew 13:52 KJV), we have the execution of the responsibility of the sons of the kingdom to accomplish their work through sacrifice.
The disciples asked Christ why He taught using parables. His answer (Matthew 13:10-17) reveals a hard truth that many nominal Christians out there do not want to hear. Those are the "Christians" who prefer to view Jesus Christ's work as a free lunch providing sinners the "grace" (
i.e. "It's under the blood so let's party."
) to get to heaven regardless of their refusal to make daily Holy Spirit guided efforts to avoid being willingly enslaved to whatever sin the natural man desires.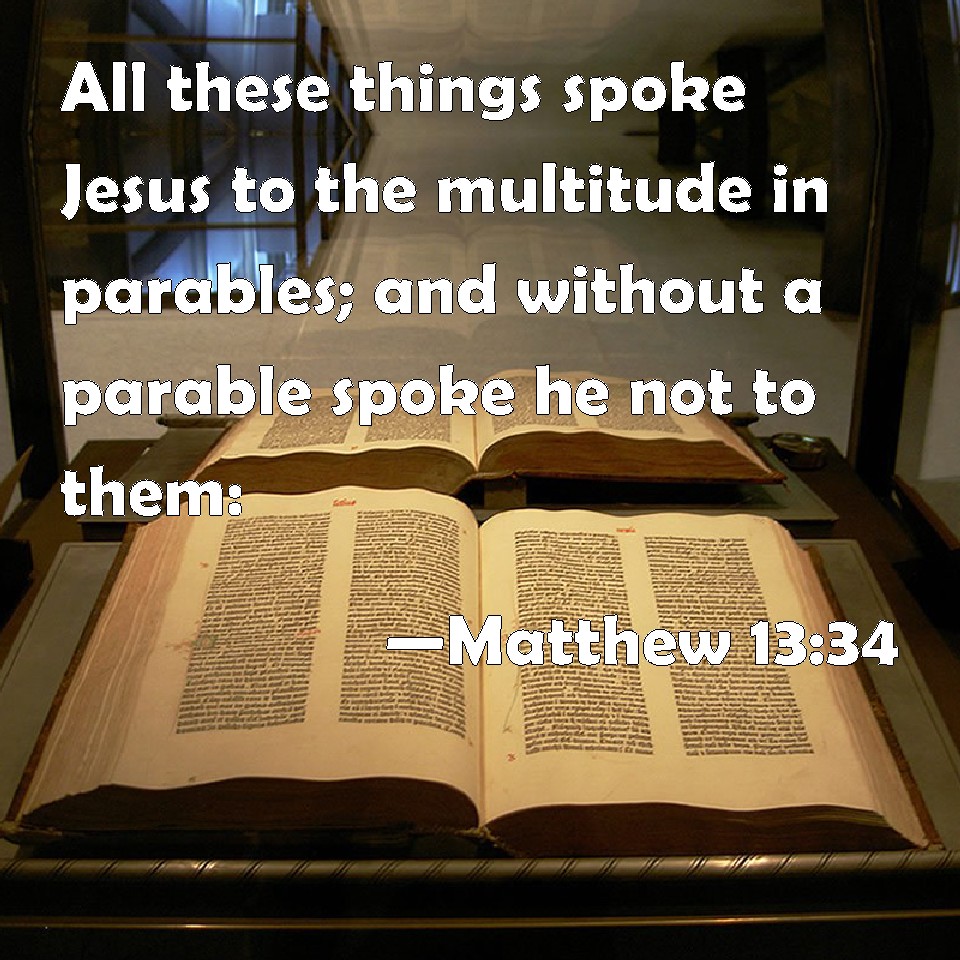 The passages in Matthew 13:10-17, along with Mark 4:10-12, are some of the most difficult sayings of the Lord Jesus. The clue to understanding is found in the correct translation of a Greek word,
mēpote
(Mt 13:15; Mk. 4:12), usually translated
"lest."
However,it should be translated as a suppositional particle,
"if perhaps."
Christ's reasoning was this,
"If I speak plainly to these people knowing they are going to continue to reject what I say to them, their understanding of will increase their guilt. They would be rejecting not what they do not understand, but what they do understand. If I speak to them in parables, and they do not understand what I am saying, then their rejection is based on their lack of understanding and it will diminish their guilt. Their guilt is not based upon whether they understand or not, but on their rejection of God and Me, not because of what I say, but because of what I am, which should have been clear enought to them."
It is inherent in the entire teaching of the Bible that God will not hold us responsible for what we do not know or understand, but for what we do know and understand (Romans 2:12-20; 4:15).
The nonunderstanding of some of the words of Christ in reality alleviates unbelievers of their guilt for the rejection of Jesus Christ. Every human on earth has an inner consciousness of God's requirement of him (Rom. 2:15; John 1:9).
As one knows and understands more, his responsibility increases
pro

por

tion

ately

.
This applies to everyone, many in the degree of their punishment in hell (
yes readers, there ARE DEGREES of punishment in hell, just as there is a hierarchy of reward in heaven
), and the remnant in the degree of their heavenly reward.
Hiding the meaning of the depths of God by Jesus Christ to unbelievers is an act of mercifulness toward them in reducing their comprehension of His words.
Yes, Christ is merciful, but He is not now, or ever was, wishy washy about sin and the existence of Heaven and Hell, as well as who would be sent to one of those two places. It wasn't some "fire and brimstone Old Testament fundamentalist preacher whacko" that said the following, it was the Lord of Creation, the Lord Jesus Christ:
Matthew 13:41-43 KJV

41 The Son of man shall send forth his angels, and they shall gather out of his kingdom all things that offend, and them which do iniquity;

42 And shall cast them into a furnace of fire: there shall be wailing and gnashing of teeth.

43 Then shall the righteous shine forth as the sun in the kingdom of their Father. Who hath ears to hear, let him hear.
After Christ explained the paraples to His disciples, He said:
Matthew 13:51 KJV

51 Jesus saith unto them, Have ye understood all these things? They say unto him, Yea, Lord.
After this tremendous teaching spree by Christ, you would think that the remaining verses would document evidence of a subsequent great spiritual victory,
but the

exact reverse

is what happened.
Matthew 13:53-58 KJV

53 And it came to pass, that when Jesus had finished these parables, he departed thence.

54 And when he was come into his own country, he taught them in their synagogue, insomuch that they were astonished, and said, Whence hath this man this wisdom, and these mighty works?

55 Is not this the carpenter's son? is not his mother called Mary? and his brethren, James, and Joses, and Simon, and Judas?

56 And his sisters, are they not all with us? Whence then hath this man all these things?

57 And they were offended in him. But Jesus said unto them, A prophet is not without honour, save in his own country, and in his own house.

58 And he did not many mighty works there because of their unbelief.
In closing, let me say that when I read these passages I understand more clearly why Jesus was known as the Man of Sorrows. It's not just that He knew His destiny; it's the in-your-face unbelief of so much family around Him that must have weighed heavily on Him.
See that your unbelief does not limit what Christ does in your life. Repent of your sins, ask God to forgive you, and accept Jesus Christ as Lord and Savior.
If you believe you are a Christian but can sin all you wish, you have never been anything but a
fraud
.
Any person who has never heard a word about the Gospel of Jesus Christ has a greater opportunity to shine like the sun than
you.
Christanity is not a get out of hell free card; it's a call from our Creator to be the person He wants us to be in this valley of tears. The Grace our Lord Jesus Christ obtained for us by His Sacrifice on the Cross does not absolve us of our responsiblity to respect others as we respect ourselves.
May God Bless you by granting you the wisdom to do the right thing.