Off the microphone, cameras & keyboard of RE


Follow us on Twitter @doomstead666

Friend us on Facebook


Published on The Doomstead Diner on September 6, 2020


Discuss this article in the Diner Pantry inside the Diner


I toyed with many different titles for this article from "A Tale of Two Steaks" to "Birthday in Collapse", but in the end it got the title at the top due to some unforseen circumstances which came after I did the recordings and shot the pics. More on that in a bitt.


This week marked the beginning of my 64th year walking the earth as a meat package in this iteration of my immortal soul.. Many ups & downs through the years, some of which veteran Diners know from prior birthday articles and autobiographical ones as well. One consistent joy for me through all the years and trials & travails was FOOD, both eating it and cooking it. I love fine restaurants, although of course these days you can hardly find an open one. Not to mention up here where I live "Fine Food" is pretty much relegated to Pizza and Chicken Wings. lol. OK, to be fair there are a couple of decent restaurants here in the Mat-Su Valley, but they ain't Lutece or Smith & Wollensky in NY Shity.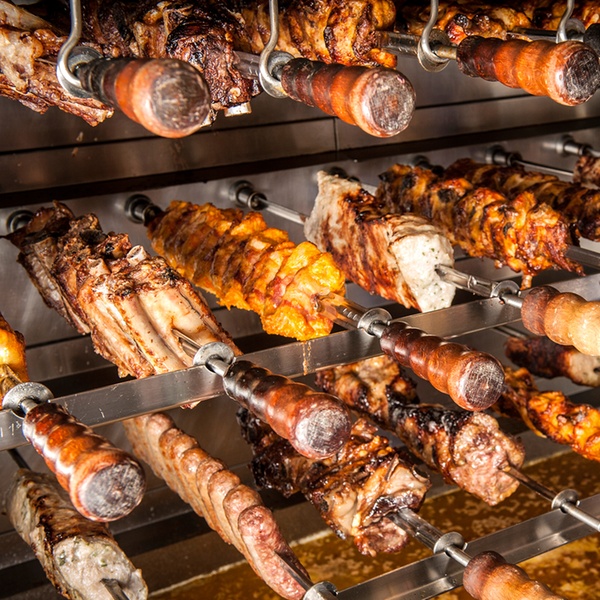 Of all the food I loved to cook and eat through the years, one stands out as #1. STEAK! "Beef. It's what's for Dinner." In Brasil we had the great Churrascarias (Brazilian BBQ), and when we returned I started BBQing on a little Cast Iron Hibachi in the backyard of our McMansion in Queens. After the divorce of my parents, when my Dad had me on the weekends for his visitations, every once in a while he would take me to Tad's Steajhouse in NYC. Pretty decent steak grilled over an open flame for around $2 at the time as I recall.


So to celebrate my arrival here on the Big Blue Marnle 63 years ago I decided I would cook up a restaurant quality STEAK Dinner worthy of Delmonico's or any of the other great steakhouses around the world, generally located in the Big Shities where they can charge the customers through the nose for them. As it turned out I ended up making not one but two STEAK dinners, one for just me on my actual birthday, the other a couple of days later for a neighbor and his family.

For a great restaurant quality STEAK, you have to start with a great piece of Cow Flesh, generally USDA Prime, although sometimes a Choice cut is about as good if you find a good one. AVOID Select except for Stews unless you like chewing Shoeleather. Of course if you really wanna pay through the nose you can go for Wagyu beef, but I can't see spending THAT much money on a STEAK dinner. I'm not a Billionaire of course.

Anyhow, over the course of the year whenever I saw a great cut of meat at a great price at 3 Bears, I would buy it and stick it in my chest freezer. For the dinner I cooked for myself, I pulled out a Filet Migon and prepared it in real Gourmet style as Steak Au Poivre. That's the cooking video at the top of the page. If you want to see a SPECTACULAR flambe, do not miss this vid! lol.


For the family dinner with the neighbors, I had scored a FABULOUS Standing Rib Roast whick I intended to cook for the Community for the Summer Solstice,but unfortunately COVID-19 jumped in and my Mobile Restaurant plans for this summer hadda be scrapped. So it hung out in the freezer a couple of more months until I found enough people to cook it for and a Celebration WORTHY of such a lovely piece of a Dead Cow. My Birthday definitely qualified as worthy. 🙂


Now, many ecologically aware Kollpsniks are vehemently against eating meat, for all sorts of reasons. You have your traditional Vegans, Religions which are against it, animal rights activists who feel thiis is cruelty to animals and climate activists worried about Cow Farts and resource depletion. Raising beef for the dinner table uses up a lot of water and land..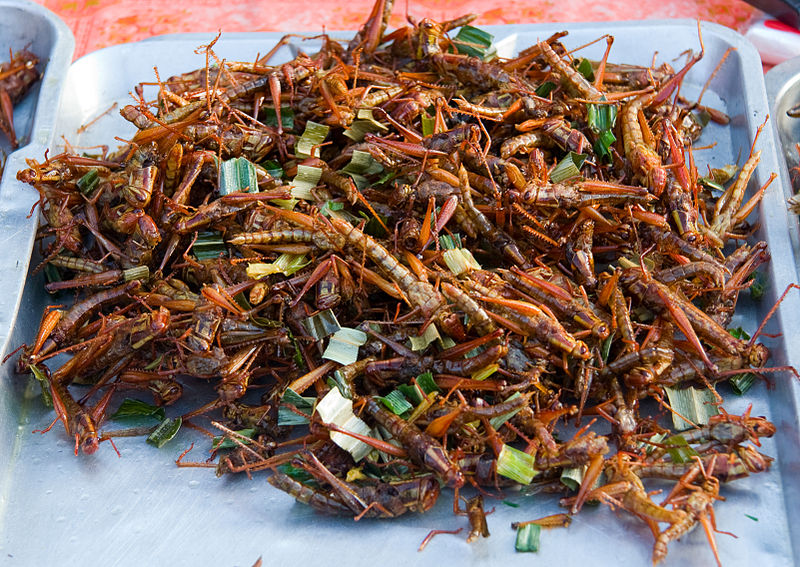 Also true is we can't possibly feed the current global population the way Amerikans have become accustomed to, with a Hamburger Joint in every Strip Mall, There's just not enough arable land and water around to do that. The most likely candidate for animal protein in the Homo Sap diet moving forward into the Collapse future are insects, which really can be quite good. Grasshoppers and Mealworms are pretty good, at least if prepared well.


There is the other side of the coin though,which is that Homo Saps have been Omnivores ever since we dropped down out of the trees a few million years ago. We are geared to eat a mixed diet of veggies and animals, which makes us very resilient as a species. Given the choice, most HS would choose Filet Mignon or Prime Rib over Grasshoppers & Mealworms.


There is aso the acculturation aspect. I have been cooking and eating STEAK basically my entire life. I like it! Now at 63 years old with one foot already in the grave I should switch to a Vegan diet when there is stiil plenty of top quality beef in the refrigerated meat department at 3 Bears? This will save the world? OF COURSE IT WON'T! This will go on until it can't, and all the animal rights protests won' change that. If I don't eat that STEAK, somebody else will or it will get thrown out. The cow is already dead. This is an utterly useless for of trying to improve the world and Homo Sap behaviors.


Now let us move on to the STEAKS themselves, which both were among the most perfectly done I have ever cooked, which you should be able to get a good idea of from the pics. 🙂 Well seaasoned and super juicy too! Sadly, I couldn't eat more than a couple of bites from either one straight out of the stove/oven and hot like you would get it in a restaurant. My appetite and ability to eat has once more taken a vacation/crash. So most of my portions went in the fridge for leftover meals.


In terms of The Cooking Zone YouTube channel, the Steak au Poivre video is likely the last one I will do for quite some time, because my physical collapse has taken a rapid and marked turn for the worse over the last 2-3 weeks. Now, I not only cannot Walk, , but I can't even stand up or do some seat transfers. My legs are horribly swollen and extremely painful. So I cannot stand in the kitchen to cook, and doing it from my Ewz is not at all practical. I am now subsisting on Frozen TV Dinners, Canned Soups and Fritos. lol. For the record, this stuff is almost all Vegan. Pasta dishes for the frozen, Minestrone soup and Fritos are of course just Corn Chips. I have them with Bean Dip or Salsa, also both Vegan friendly.


I now can no longer avoid going into Hospital, and if I make it out of there alive, then into some sort of assisted living arrangement. I would rather go to a Euthanasia Clinic, but sadly I don't think they exist here. I will look into an Assisted Suicide. I think it's legal in Oregon. I'm too big a coward to do it myselft, and I would probably fuck it up.


So I am likely to be quite scarce around the Diner as time progresses here, although I will bring my laptop to hospital as I usually do and report from there. I fully expect to be admitted. I will be shocked if I am not, although there may be a shortage of beds due to Coronavirus.


It is fitting here that my own personal Collapse so closely matched the timeline with Industrial Civilization Collapse. About the only thing I missed here is the Zombie Apocalypse and Global Thermonuclear War. Not sorry to miss those.


Take care of the Diner for me, I will drop enough money on the server to keep it running for a couple of years after I Buy My Ticket to the Great Beyond.