Systems Science in Collapse: An interview with George Mobus
Off the keyboards, microphones & cameras of RE & George Mobus
Follow us on Twitter @doomstead666
Friend us on Facebook
Published on The Doomstead Diner August 18, 2019
Audio Only:
(audio-only MP3 provided in case you want to multi-task and listen while sitting in traffic on the way to work in your cubicle or digging post holes for your fencing on the Doomstead or kneeling by the throne and Praying to the Porcelain God. mp3 Audio can be downloaded from Diner Soundcloud.)
Discuss this Video at the Collapse Morning Wake-Up Call Table Inside the Diner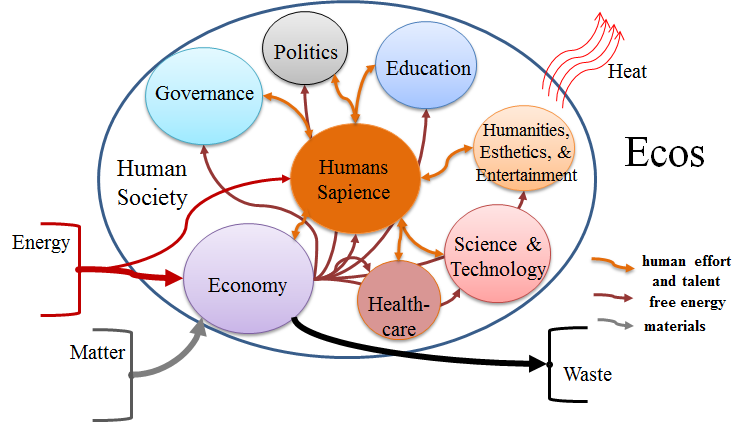 A few weeks ago I had a great conversation with George Mobus, the university academic famous for his work in Systems Science. George is now Professor Emeritus at the University of Washington, spending his time writing still more books on this subject and the topics relating to Collapse in general. He also still maintains the blog Question Everything, although these days he only puts out 4 blogs a year, on the Summer & Winter Solstices and on the Spring & Fall Equinoxes.
George also appeared on the original Collapse Cafe we produced a few years ago, discussing topics of Sapience, Evolution and Eugenics in July of 2013.
Coincidently directly following this discussion I traveled down to Seattle on other bizness and George, K-Dog of the blog Chasing the Squirrel and myself had a great Kollapsnik Dinner at the Buffet of the Emerald Queen Casino. I'm not supposed to reveal what anybody ate at this meal since it's probably not Politically Correct for Kollapsniks. lol. Conspicuous Consumption of food is of course not a Sustainable System. However, as long as somebody is going to eat it, it might as well be me! If you are not familiar with K-Dog, here's a recent interview with him done by Sam Mitchell:
Getting the interview with George up on the Diner took so long because so much else has been ongoing with me personally as well as in the world of Collapse in general. Besides that I had video problems with my cameras, and trying to edit together the good footage was a nightmare I finally quit on. So the Utoob "video" for this one is just a still picture screenshot from my line feed. It's really a Podcast, not a Vidcast in this case.
You can read further about George's theories on Sapience in his new book, available in pdf for a FREE download. I love free. 🙂
A Theory of Sapience: Using Systems Science to Understand the Nature of Wisdom and the Human Mind


MAHB Admin | May 16, 2019 | 1 Comment

Humanity faces what can only be called existential threats created by its own hands. We have cleverly built advanced cultures that use extreme amounts of energy to make life easy (at least for some) and that energy, for the last several hundred years, has come from carbon-based fossil fuels. Now we sit on the precipice of a calamity for ourselves and many other species as well.

Why?

If human beings are so clever, why have we not learned to moderate our activities, to consume only in proportion to what the Earth system can sustain in terms of resources and waste removal? We have gained the knowledge to understand what is happening and what we need to do. But we don't do it in a timely way to avert devastation. What is wrong with us?

The answer to this question is surprising. Society is not wise in its choices – the collective decisions of humans – because individuals are not wise in theirs. And that is because wisdom, the tacit knowledge that develops in human minds through experiences, is lacking in the majority of humans. Most humans do not develop wisdom adequate to deal with the complexities of the modern world. As a result they make choices not based on rational long-range thinking about consequences or how those consequences interact systemically. They tend to look only at short-term gains in their own selfish wellbeing.

This book reports on investigations into the underlying causes of the lack of wisdom in average people. Sapience is the set of nascent mental competencies, situated in the human brain, that make us human. Sapience is the basis of higher-order consciousness experienced by humans. It is linked with the emergence of the language facility and our ability to work in symbols. It is the reason that we can think about future states of the world, especially those that may be different from the current and past states we have experienced. It is the product of a remarkable evolutionary process that produced hyper-social animals with sufficient cleverness to invent tools, languages, symbols, even art. We invented agriculture to help bring stability into our living world and reduce uncertainty in our access to resources. But, we had only just crossed the threshold to sapient thinking.

We need to evolve further.

Sapience is the product of brain structures and functions that set the human species, Homo sapiens, apart from the rest of the animal world. It represents a major leap forward in the evolution of the Universe. It contributed to tremendous boosts in our general intelligence and creativity. It provided the basis for morality and concerns for the wellbeing of others. But, even so, it was just a beginning. It does not go far enough in terms of providing individual minds with the ability to grasp the larger and deeper meanings of their choices and actions.

This book explores the nature and evolution of sapience as it is found in human beings today using systems science. It explores the psychological implications of having some capacity for developing wisdom in one's life but not enough capacity to fully grasp the big picture of the human condition, and thus, make tragic errors in judgements. It attempts to answer the question of why we are in this predicament.
George as usual has many interesting observations and opinions regarding Collapse and where we are headed. They are different in many ways than what you read from other pundits discussing the subjects, and we are in good agreement about most of them. I hope you enjoy listening to the discussion as much as I enjoyed having it with him.